This time around, while the market and prominent altcoins were soaring, Bitcoin is only moving from consolidation right now. Which cryptocurrency news created this situation? We tried looking into it and summing it up.
Key Takeaways
Bitcoin has seen a significant surge in trading volume and price only on Friday, while for the rest of the week it bounced between $49k and $47k;
Solana and Cardano are on the rise, as well as most currencies from the top-100;
In other news, Twitter beta client shows code for BTC tips, Binance eventually will go public in the US. Centre Consortium creates a team for a global stablecoin network.
ChangeHero Updates
New Currency + Zero Fee Offer: StormX (STMX)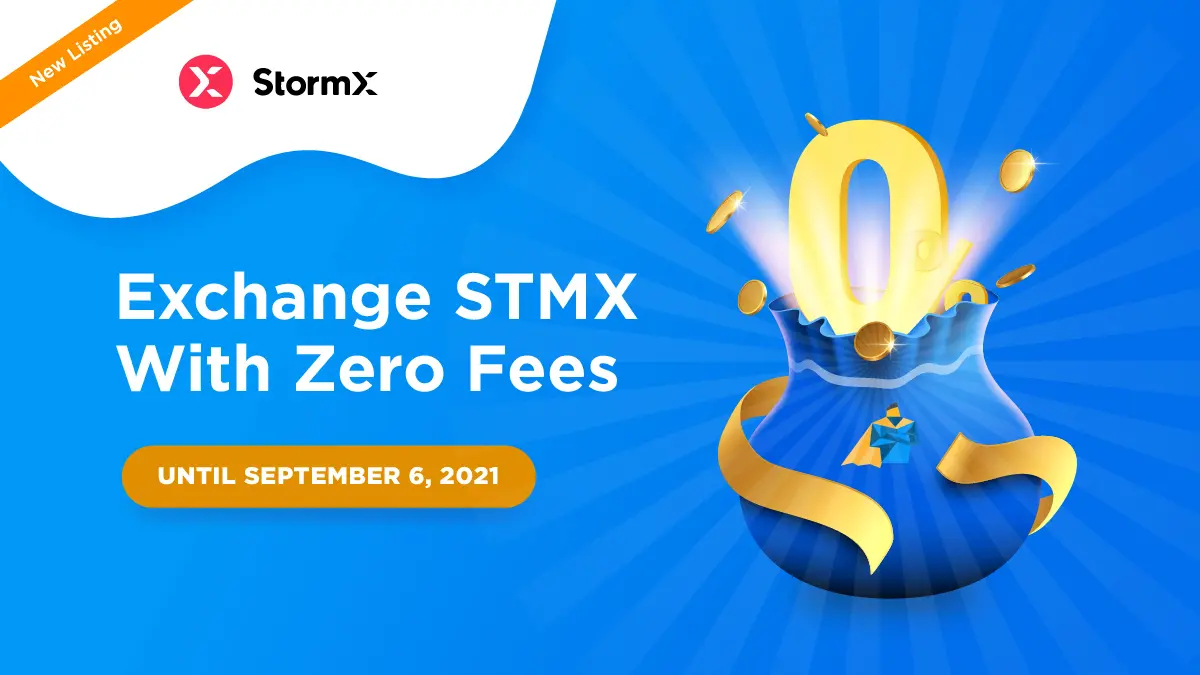 This week we have not only added the support of STMX token across our platform, but also waived all fees for a week! You only have this weekend to get a bag of StormX tokens with the limited offer.
Latest Cryptocurrency News Digest
Bitcoin This Week
Earlier this week, the Bitcoin price was bouncing between $50k and $47,900. Sellers pushed the price to a weekly low of $47k on August 31.
With the lows came trading volume and price action. Just in two days, at September's opening, BTC breached $50K. At the moment of writing, Bitcoin has printed a long green candle to $50,900 on the hourly chart, with the highest volume observed this week.
Will Bitcoin crash again from this spike? Metrics suggest not, read on in the next section!
Latest Bitcoin News
The most recent Glassnode report suggests that BTC could be repeating the 2013 double top scenario. As of now, it is in the accumulation zone, and the invalidation signal to watch is aggressive spending of old coins.
Altcoin News
Solana and Cardano reached new ATHs this week: SOL rallied from $81 to $145.97. Cardano in particular launched smart contracts on testnet, and broke through the $3 mark.
Decentralized lending protocol C.R.E.A.M. Finance suffered $18.8 million in losses from a flash loan exploit on August 31. The project team decided to collect 10% of all fees to reimburse the victims.
Business Cryptocurrency News
Multiple sources confirm that Binance has long-term plans to go public in the US. The news is especially surprising considering both the challenges of getting listed in the US and a flurry of legal warnings the exchange is receiving these days.
The Centre Consortium, run by USDC issuer Circle and Coinbase, announced plans to create a global stablecoin ecosystem. The particular focus would be given to Asian and African markets.
Cryptocurrency News on Adoption
Twitter iOS Beta Client reportedly includes an option to pay tips in Bitcoin. The feature has not been introduced to the interface yet but datamined text suggests Strike will enable Lightning Network functionality.
Decentralized search engine on Ethereum Presearch will become one of the default options for Android devices in the EU and UK. The decision followed a long legal battle with Google which is supposed to disrupt the monopoly of the tech giant.
Regulation & Politics Cryptocurrency News
The US Securities and Exchange Commission is reportedly investigating Uniswap Labs. At the time no convictions or allegations are made but the attorneys will have a deeper look into usage, reward mechanisms and the marketing of the DEX.
Social Media Cryptocurrency News Digest
Video of the Week
We talked about Bitcoin this week in detail but what about altcoins? Leave it to the YouTuber MoneyZG, who suggested top six projects to watch these days.
Cryptocurrency News from Twitter
Doing a random twitter experiment just on this day. Only the 268 people I follow can reply to this tweet. Feel free to ask things and I'll talk about anything crypto or non-crypto related.

— vitalik.eth (@VitalikButerin) September 1, 2021
For anyone vying for hot Ethereum news: Vitalik Buterin held an AMA (of sorts) on Twitter this week. Among the questions asked and answered were his experiences with other Ethereum co-founders, expectations and realities of shipping updates, ecosystem features and more!
Just bought my first ETH! Let's do this #cryptotwitter

— Reese Witherspoon (@ReeseW) September 2, 2021
Another Hollywood star announced a crypto position this week, and the choice of the first purchase became a subject of a heated debate.
So my bid of 100 ETH was accepted for the potential #Banksy first #NFT on @opensea.

The link was removed from his website so it could have been a very elaborate hoax, my guess is that is what it will be, only time will tell!https://t.co/EEmElqIvBZ pic.twitter.com/Pbs5zrht05 — Pranksy 📦 (@pranksy) August 31, 2021
The NFT world is riddled with a mystery of a 100 ETH NFT allegedly made by Banksy… or not? The lot was deleted afterwards, and the same artwork was featured on another token.
Influencer of the Week
Eth/Btc looks really fkn good. pic.twitter.com/TnfQouNiC7

— Ad_Infinitum (🎩,🎩) (@CryptoMessiah) August 31, 2021
The highlight of this week is user Ad_Infinitum: their username could be referring to the tendency of crypto to 'only go up'. Either way, they provide plenty of commentary on news and market, as well as memes.
This Week on the Market
How is the market this week? At the moment of writing the digest, the general stats are:
Total Market Cap: $2,288,627,385,598 (+12.36%);
BTC Dominance: 41.8%.
7d Change in Top Coins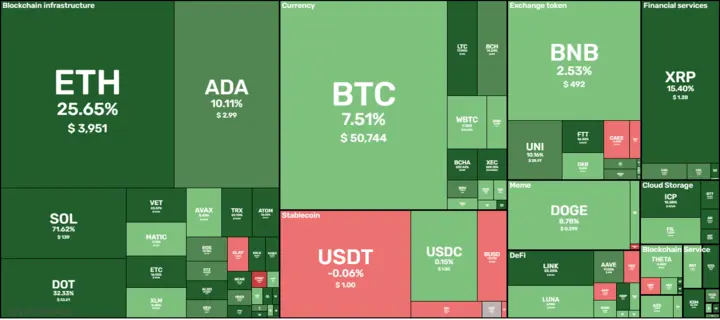 Which is the best altcoin to buy right now? Solana bore further into the top-10, while LINK and LTC are getting closer to it — definitely worth watching. At the moment of writing, the weekly change of the top currencies is:
Gainers of the Week
Here are the altcoins that have scored most gains this week (and you can get on ChangeHero):
Conclusion
This about sums up a regular week in the crypto space: healthy but not mind-blowing growth of the market, new adoption milestones. We will have to see what Binance does to secure its listing or if Uniswap Labs gets away from SEC scrutiny. If you liked it, check out the next weekly crypto news digest in our blog. Follow ChangHero on Twitter, Facebook, Reddit and Telegram for daily updates and more content.
---
Quick links: