The crypto market is in the red but some stories in the news are exceptionally loud — a few world-famous names have committed to crypto technologies. Everything you might have missed about the market, adoption and regulatory changes in crypto — summed up in our weekly crypto news digest.
Key Takeaways
The Bitcoin selloff that started late last week has stopped, and BTC is recovering from last week's losses. It is currently traded for $48,496;
Crypto adoption news this week saw a few large players join the trend: gaming giant Ubisoft, one of the largest crowdfunding platforms Kickstarter and messenger WhatsApp;
There were some controversies as well: SushiSwap and OpenSea communities watched as some divisive events were happening to the platforms.
ChangeHero Updates
Exchange ENJ with Zero Fees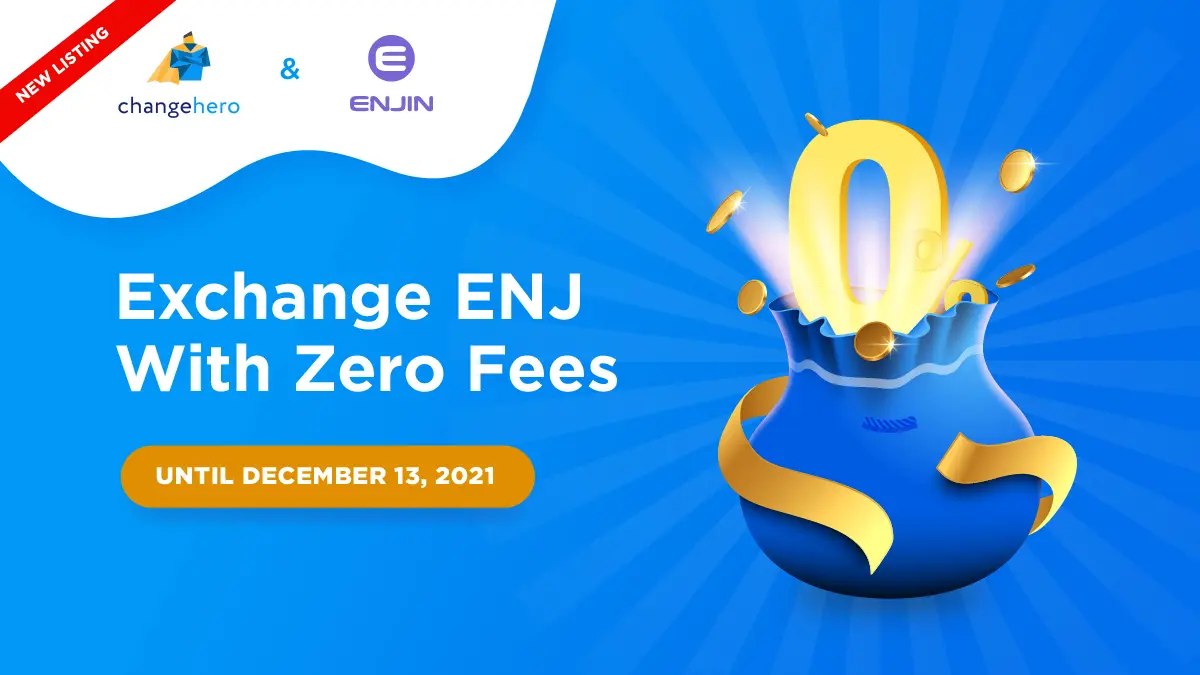 There is still a weekend left to make use of our limited offer and get newly listed Enjin Coin on very attractive conditions. You can exchange crypto to ENJ without any fees on ChangeHero only until December 13!
Latest Cryptocurrency News Digest
Bitcoin This Week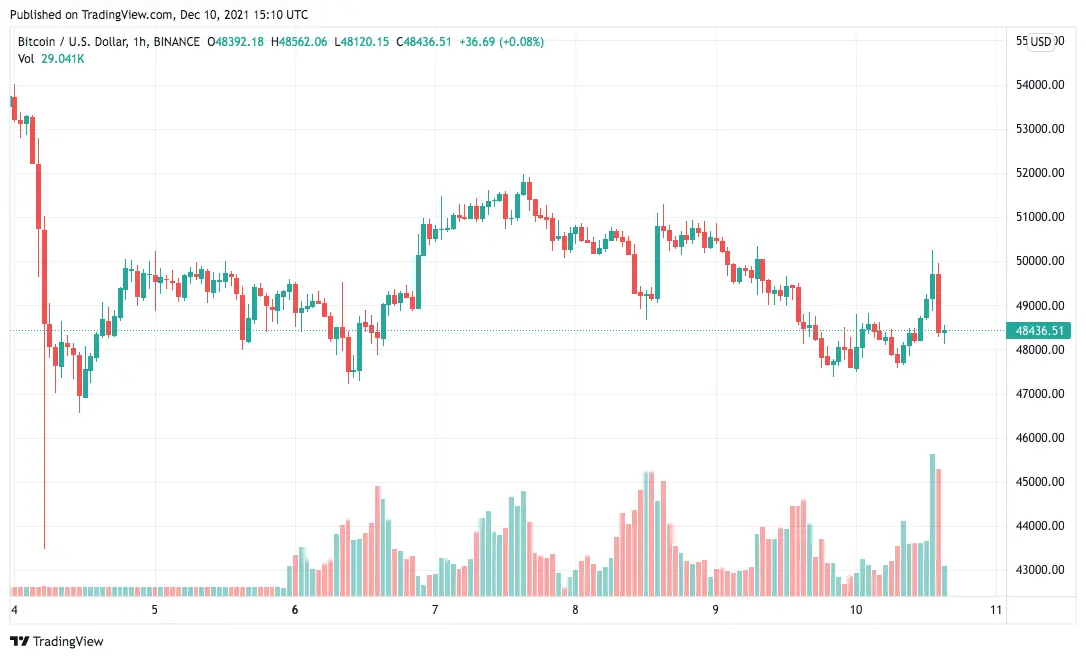 The selloff from the previous week stopped on Saturday, taking BTC to the weekly low of $43,466. Luckily, the rest of the week was not as tumultuous and saw Bitcoin recover to $50k and above.
Will Bitcoin go up again? Technicals are signaling selling and the fear and greed index is in the Extreme Fear, so Bitcoin has to go through some recovery first.
Latest Bitcoin News
MicroStrategy is purchasing Bitcoin — again — and has accumulated about 0.5% of the current existing supply of BTC. Their most recent SEC filing disclosed a purchase of 1,434 BTC, making their total holdings amount to 122,478 BTC purchased for $3.66 billion.
Bitcoin hash rate has finally recovered after the June 2021 drop and re-entered the all-time-high areas. Current mining power amounts to nearly 180 Ehash/s, about 10% below the absolute peak on May 13, 2021 (197 Ehash/s).
Altcoin News
In Ethereum news, the community is discussing a new blog post on the future of the network by Vitalik Buterin. He sees it in the adoption of various layer-two scaling solutions but admits it will take a while before users get comfortable with using them.
SushiSwap seems to be in an internal conflict, as a resignation notice from the CTO Joseph Delong suggests. Despite the departure taking place this week, the seeds of conflict have been present for many months now.
Business Cryptocurrency News
NFT marketplace OpenSea's flirtations with the idea of an IPO, put out by a new Chief Financial Officer, Brian Roberts, were met with a backlash. The community seemed to be disappointed with a more traditional approach to fundraising, causing the CFO to clarify there were no concrete plans about the IPO.
Gaming company Ubisoft has unveiled the Quartz project, the first "energy-efficient NFTs for an AAA-game". The NFT will represent rare equipment in Tom Clancy's Ghost Recon Breakpoint, and be recorded in the Tezos blockchain.
Cryptocurrency News on Adoption
Crowdfunding platform Kickstarter has announced that they will be moving to the Celo blockchain. To make the governance process decentralized, a DAO called Kickstarter PBC is eventually to take reins of the project.
Meta is reportedly testing USDP transfers in the WhatsApp client. The transfers are supported with the help of Novi wallet integration into the messenger.
Regulation & Politics Cryptocurrency News
The Bank for International Stability has published a quarterly report on emerging financial markets and technologies, in which they claim that the decentralization aspect of DeFi is illusionary. The main offender here is the governance, and by leveraging it, better regulation can be achieved, the researchers say.
Centralized crypto exchange BitMart confirmed a hack and loss of $150 million in crypto late Saturday. The fact was suspected at 7.30 PM UTC, and the possible loss could have been larger, given that the Binance Smart Chain transfers were not mentioned in the statement by the CEO.
Social Media Digest
Video of the Week
The American Congress held a hearing with the crypto key players this Wednesday. In this supercut, you can see the main points that were discussed: how the crypto market can enhance the economy, how to safeguard investors from volatility, and more.
Cryptocurrency News from Twitter
So, lets see.

I buy a 1k Weapon NFT for your game. The game ends, sooner or later, because you can develop it endlessly and put more and more stress in its engine forever. New game, new engine, new textures... and you are gonna add my weapon for free? Or its value goes to 0? — Granlago (@_Granlago) December 7, 2021
Needless to say, Ubisoft introducing NFTs was controversial. Particularly, many users were lost regarding what adding NFTs achieves in their implementation — there would be no difference if it was centralized.
Rep. @BradSherman: "The number one threat to cryptocurrency is crypto. Bitcoin could be displaced by Ether, which could be displaced by Doge which could be displaced by HamsterCoin and then there's CobraCoin what could MongooseCoin do to CryptoCoin?" pic.twitter.com/iHbHaikpx0

— CSPAN (@cspan) December 8, 2021
Congressman Brad Sherman made a semi-joking statement during the congressional hearing, claiming that any crypto could be succeeded by another coin with an increasingly absurd brand. And wouldn't you know — now there are multiple Mongoose Coins (as MONGOOSE, GOOSE and MONG, all separate tokens), Son of Mongoose and Baby Mongoose.
No surprise that OpenSea is doing an IPO instead of community governance.

Anyone who's had the displeasure of speaking with OpenSea community support would know that OpenSea doesn't care about community at all. They're not web3, they're tradfi 2.0 — davis 🐺🦊 (@basedkarbon) December 6, 2021
A crypto company going public would usually be met with enthusiasm — but not in OpenSea's case. The community decried the traditionalistic approach, and opinions that OpenSea only got as far thanks to the users were often expressed.
Influencer of the Week
Tonight I started on the back of the sculpture.. One of my goals for this was to create a "non finito" sculpture, where the ₿ appears to be emerging from the block. A lot left to do to achieve a natural rough look, and after I'll shave back and finish the upper part of the ₿. pic.twitter.com/CRtQFUg5LV

— Brekkie 🦢 (@BVBTC) December 9, 2021
It is rather unusual to see a Crypto Twitter account that centers around art but that doesn't mean there are none. For one, there is Brekkie, who as often shares their insights on Bitcoin as pieces of art.
This Week on the Market
How is the market this week? At the moment of writing the cryptocurrency news digest, the general stats are:
Total Market Cap: $2,247,055,120,999;
BTC Dominance: 40.6%.
7d Change in Top Coins
At the moment of writing, the weekly change of the top currencies is:
Gainers of the Week
Which is the best crypto to buy right now? The healthiest looking crypto on the market this week is Huobi Token (HT) $10 (↑3.19%).
Conclusion
This week had some really interesting and resounding announcements made in adoption of crypto. Kickstarter, Ubisoft and WhatsApp user bases include millions of people worldwide, and introducing them to crypto will serve as a true test of maturity for the sphere. Tune in for our next weekly crypto news digest in our blog. Follow ChangeHero on Twitter, Facebook, Reddit and Telegram for daily updates and more content.
---
Read more: