Not only crypto traders but all markets felt dangerously close to a global crisis this week. All you could have missed while catching the dips — in our fresh new weekly crypto news digest!
Key Takeaways
Bitcoin and all world markets significantly dropped on Monday, following the cautions of Evergrande collapse. The situation still seems to be unclear;
Bullish news came from Twitter which rolled out tips in Bitcoin;
Still, this was not enough as China declared all crypto trade illegal, causing another dip.
ChangeHero Updates
Exchange Tronix with Zero Fees
The limited offer this week is for TRX. Buy or sell TRX with crypto on ChangeHero easily and quickly as always — and with no fees for a couple more days!
Latest Crypto News Digest
Bitcoin This Week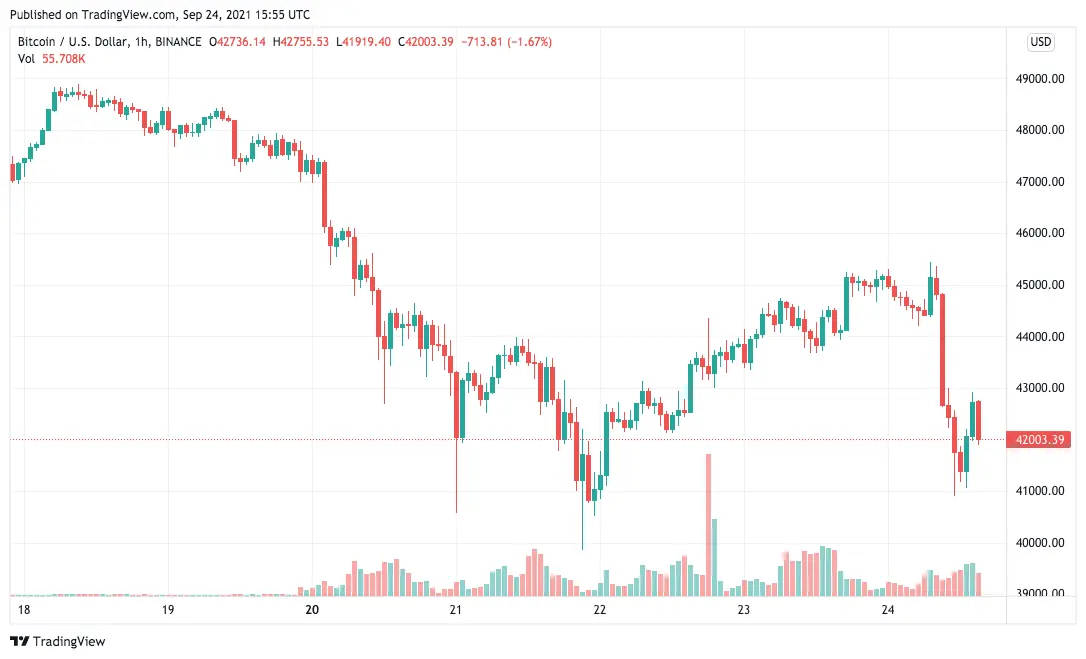 The week saw all markets, including crypto, to open in the red: a Chinese construction company Evergrande Group brinked on collapse. On Monday alone, BTC declined from $47.5k to $40,500.
Buyers slightly prolonged the fall but ultimately BTC touched a weekly bottom of $39,800 on Tuesday. Optimism returned to all markets as China's central bank injected cash into the banking system.
Twitter announced Bitcoin tips on Wednesday (more in the next sections), and the sentiment flipped bullish. Why is Bitcoin crashing now? China banned all crypto trade and the news brought BTC down to $41,192.
Latest Bitcoin News
In addition to the Evergrande, China's crypto trading ban and Twitter, options expiry also put some pressure on the Bitcoin price. Closing the week between $40,000 and $46,000 would mean an equilibrium between buy and sell calls, so bears had an incentive to keep the price lower than that threshold.
The Bitcoin.org website (arguably, the original hub since the whitepaper was published there) was hacked again this week. The hackers put up a double-your-funds scam message, and the address collected $17 thousand dollars before the control to the website was regained.
Altcoin News
Cross-chain protocol pNetwork was hacked and suffered losses of 277 pBTC ($12.7 million). The entire protocol had to be halted to fix the bug that got exploited in other bridges.
Bullish Ethereum news for the holders: JPMorgan published a report stating that institutional investors prefer ETH options to BTC.
Another DeFi protocol which was compromised this week is VEE Finance. The attacker drained the protocol of liquidity for $36 million.
Business Crypto News
Coinflux announced plans to launch a decentralized stablecoin pegged to the digital yuan for offshore trading. The project is not affiliated with the Chinese government and its primary target market is the Shanghai free trade zone.
Following disputes with the SEC, Coinbase made the decision to cancel the USDC lending product. Despite the finality of the decision, no separate statements were made to let the discontinuation be known to customers.
Crypto News on Adoption
Twitter introduced Lightning payments for Tips powered by Strike wallet API, as previously hinted by Jack Dorsey. Users will be able to provide their own BTC addresses, and the company will not be taking a cut off any transaction.
Francis Suarez shared the success of MiamiCoin initiative. The city funding initiative yielded for the city more than $5 million in the month of its existence.
Regulation & Politics Crypto News
The People's Bank of China declared all crypto businesses and trading illegal, including derivatives trading and using foreign cryptocurrency exchanges. In an even more strongly worded statement, they mentioned Tether for the first time as pertaining to cryptocurrencies as well.
United Arab Emirates authorities have signed an agreement to provide support to regulation, use and development of crypto assets. The Securities and Commodities Authority (SCA) and the Dubai World Trade Centre Authority (DWTCA) aim to provide more entrepreneurial opportunities in the free zone.
According to a Bloomberg report with anonymous sources, Binance is getting probed on possible insider trading and market manipulation. Several weeks ago, the same investigation was said to be started with Uniswap.
Social Media Crypto News Digest
Video of the Week
What are oracles and how do they work? Whiteboard Crypto answers this and many other blockchain-related questions in an easy-to-understand way.
Crypto News from Twitter
I just published Announcing the Strike API

Today, @Twitter enables free, instant, global payments for their users with their integration of the Strike API. What the internet did for communication, #Bitcoin + the Lightning Network is doing for money.https://t.co/jHkY6knXkP pic.twitter.com/FXujknG7sM — Jack Mallers (@jackmallers) September 23, 2021
Jack Mallers recorded the moment tips in Bitcoin became available for iOS users. Down the thread, he even showed how to send a tip abroad using the new function.
Things that China has banned:

Google in 2010 YouTube in 2009 Facebook in 2009#Bitcoin in 2013, 2014, 2015, 2016, 2017, 2018, 2019, 2020, 2021 — Saksham Solanki (@SakshamSolank19) September 24, 2021
China has issued another warning against cryptocurrencies and their trading this Friday. The frequency shows that it is not very effective, though.
This chart shows the Chinese debt cycles (YoY change).

I think Dalio is dead-right that bubbles are created by debt cycles. And it's clearly correlated here. So, what if the #BTC halving narrative is BS, and it's really just about Chinese debt cycles, too. pic.twitter.com/D3SQmNim4J — Material Scientist (@Mtrl_Scientist) September 22, 2021
Tired of the Stock-to-Flow model and halvings narrative? How about a theory that global Bitcoin price trends have been tied to the Chinese debt crisis instead of halvings all along? While this may look like a wild assumption, it is based on Ray Dalio research of Chinese markets. Perhaps there is more to the truth than a single model or chart.
Influencer of the Week
The best thing I did for my PA was dumping all my BTC at the start of DeFi Summer in 2020. Haven't held it since. BTC dominance is psyops. https://t.co/xWP8WtEMJt

— Ryan Watkins (@RyanWatkins_) September 19, 2021
Messari chief researcher Ryan Watkins shares deep dives into the crypto markets. If you are looking for unconventional wisdom, his account would be a good place to start!
This Week on the Market
How is the market this week? At the moment of writing the digest, the general stats are:
Total Market Cap: $1,869,080,083,140 (-12%);
BTC Dominance: 42.2%.
7d Change in Top Coins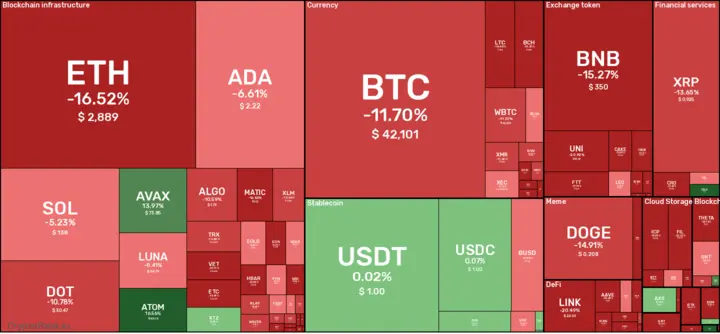 At the moment of writing, the weekly change of the top currencies is:
Gainers of the Week
What is the best cryptocurrency to buy now? Even in this week's bloodbath, there are winners:
Conclusion
With September, a historically negative month for Bitcoin, coming to close, the bulls and bears will battle each other more desperately. The shockwaves sent by the news from China will have less effect going forward, but no one knows what other news the next week may bring. In any case, you will know it from our next weekly crypto news digest in our blog. Follow ChangHero on Twitter, Facebook, Reddit and Telegram for daily updates and more content.
---
Quick links: