This has been a week full of all sorts of news: from the Solana network experiencing and recovering from massive downtime to the debunking of crypto payments in Walmart. It's easy to get lost in the day-to-day events but we prepared this cryptocurrency news digest so you stay informed, enjoy!
Key Takeaways
Litecoin got affected by a fake press release claiming Walmart will partner with Litecoin that got shared by credible sources;
Solana experienced major downtime that lasted for hours and made the validators vote on and initiate a restart;
Bitcoin price has caught an uptrend while the new version with Taproot support rolled out.
ChangeHero Updates
Exchange Litecoin with Zero Fees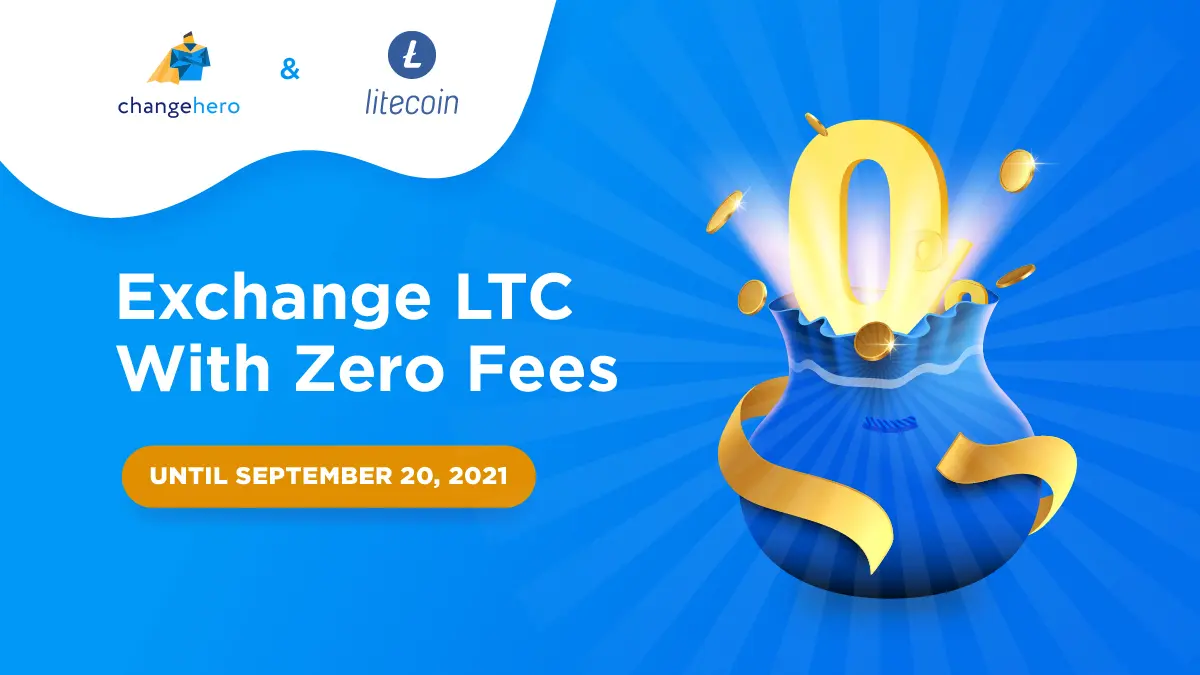 There are still a few days left to make use of the limited offer: LTC exchanges incur no fee! Make sure not to miss the deadline — September 20.
Latest Cryptocurrency News Digest
Bitcoin This Week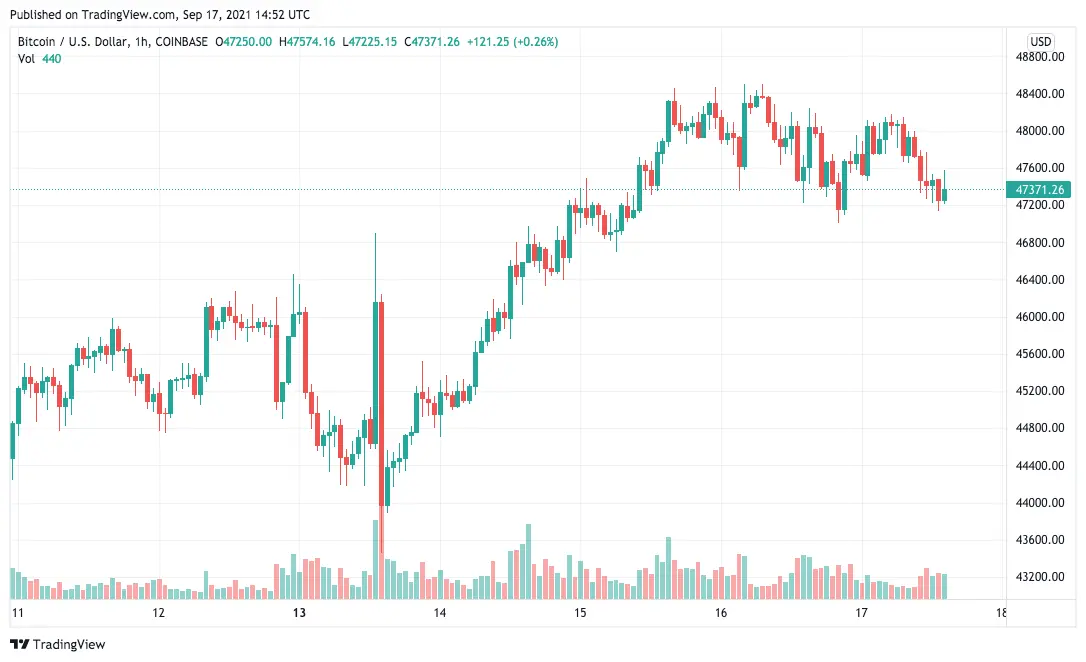 This week saw Bitcoin climb from $46,400 all the way up to $48,400 and to $47,370 now. The two long candles on September 13th coincided with the Walmart-Litecoin news (more on this later!)
Why is Bitcoin dropping now? It got rejected from the $48,100 resistance but overall, stays in a much stronger range now than previously.
Latest Bitcoin News
Bitcoin Core 0.22 with Taproot support was released on September 13. Notable changes include I2P (anonymous network layer) support, new and updated remote procedure calls, which enable external signers (such as hardware wallets).
Altcoin News
Early this week, a fake press release claiming grocery store chain Walmart was to accept Litecoin payments. The headline was widely shared by Bloomberg, CNBC and the Litecoin Foundation but deleted as soon as its legitimacy was disproved. Litecoin creator Charlie Lee had to appear on Bloomberg to address the situation, and admitted the Foundation had a role in giving the news air of legitimacy.
The Solana network experienced downtime which lasted for several hours on September 15. The validator community had to initiate restart of the whole network after it essentially got overloaded. The price immediately started falling from $177 prior to the issue to the weekly bottom of $135.4.
Business Cryptocurrency News
Blockchain-based music streaming service Audius, known for their integration in TikTok, raised $5 million from industry giants. Investors include Katy Perry, Jason Derulo, SonyMusic and K5 Global.
Binance CEO Changpeng Zhao told the South China Morning Post that the company halted plans for a decentralized HQ after facing regulatory pressure. The executive admitted that running a centralized exchange requires this.
Cryptocurrency News on Adoption
Fidelity Assets Digital published the results of a survey of 1,100 institutional investors worldwide. 70% of the respondents, with the majority in Asia, expressed neutral-to-positive attitudes towards digital assets, and 52% of them are already invested, with the majority in Europe (84%).
Regulation & Politics Cryptocurrency News
Following the fallout with Coinbase Lend, US Securities and Exchange Commission chairman Gary Gensler clarified that actually most crypto lending and staking products would qualify as securities. Senator Elizabeth Warren also joined in the conversation citing Coinbase downtimes during market instabilities as a threat to retail investors.
Laos is to lift a ban on cryptocurrencies by authorizing several businesses to trade and mine cryptocurrencies while the regulations are drafted for the rest. Laos being in a beneficial position to use hydropower can make it an attractive place for miners who move from China.
Social Media Cryptocurrency News Digest
Video of the Week
In this video, influencer Anthony Pompliano and the SoFi team go through the news about Fidelity Investments having a call with the SEC lobbying for a Bitcoin ETF approval. First they give a more leveled perspective on the event than the headlines made it seem. Then, they go through the implications of approval of such an ETF: principally, it will give Bitcoin more legitimacy as an asset.
Cryptocurrency News from Twitter
Someone unsuccessfully tried to attack #ethereum today by publishing a long (~550) blocks which contained invalid pow's. Only a small percentage of @nethermindeth nodes switched to this invalid chain. All other clients rejected the long sidechain as invalid

— MariusVanDerWijden (@vdWijden) September 14, 2021
In Ethereum news, a hacker managed to cause a split in Ethereum nodes that ran a Nethermind client. The split chain eventually was overtaken in block length and difficulty by the majority, and the consensus of nodes rendered an attack unsuccessful.
Hey @opensea why does it appear @natechastain has a few secret wallets that appears to buy your front page drops before they are listed, then sells them shortly after the front-page-hype spike for profits, and then tumbles them back to his main wallet with his punk on it?

— ZuwuTV.eth 👻🎃🦇 (@ZuwuTV) September 14, 2021
A Twitter user Zuwu managed to discover the fact that (now ex-) product lead of OpenSea NFT marketplace Nate Chastain was using his position to trade NFTs before they go public. Ethereum blockchain being transparent and uncensorable made it possible to hold him accountable for what essentially constituted insider trading.
😱 Hungary just unveiled a statue of #Bitcoin inventor Satoshi Nakamoto. pic.twitter.com/yOcbVnuSDQ

— Bitcoin Archive 🗄🚀🌔 (@BTC_Archive) September 16, 2021
Bitcoin enthusiasts in Budapest, Hungary erected a bust of Satoshi Nakamoto this week. The face of the bust is left featureless and polished to drive a message: we are all Satoshi.
Influencer of the Week
I remember watching an entire senate committee hearing with the chairman of the SEC in 2018, wondering if our entire industry was going to be killed. Today I'm not watching anything because I know it can't be, no matter how much anyone tries. Wagmi

— Spencer Noon 🕛 (@spencernoon) September 14, 2021
Spencer Noon is a well-known figure in the space, mainly focusing on Ethereum and Bitcoin but not ignoring the rest of the market. His level-headed insights come from the experience in venture capital and analysing startups, mainly in the crypto sphere.
This Week on the Market
How is the market this week? At the moment of writing the digest, the general stats are:
Total Market Cap: $2,124,545,572,966 (+4.3%);
BTC Dominance: 42%.
7d Change in Top Coins
Which is the best crypto to buy right now? The top was shaken up again, some currencies that were on the decline last week started to recover: XRP, UNI, LINK. At the moment of writing, the weekly change of the top currencies is:
Gainers of the Week
Among the coins and tokens you can swap on ChangeHero, these ones brought in the highest returns this week:
Conclusion
Bitcoin and the market are on the track to recover and even continue the bull run. More institutional investors are looking into the space, and more countries realize the prospects of crypto businesses. If you liked it, check out the next weekly crypto news digest in our blog. Follow ChangHero on Twitter, Facebook, Reddit and Telegram for daily updates and more content.
---
Quick links: