2023 is going to be a significant year for Litecoin: it will celebrate its 12th anniversary, as well as go through another block subsidy halving. The halving especially gets mentioned more and more frequently as the date of the event looms on the horizon. But what is the reason? ChangeHero is going to give an overview of Litecoin price predictions in 2023 and explain what can affect its price in both the short and long term.
All Litecoin Price Predictions 2023–2033
| | | |
| --- | --- | --- |
| Year | Minimum price, USD | Maximum price, USD |
| 2023 | $40 | $200 |
| 2024 | $64.27 | $194.77 |
| 2025 | $62.22 | $97.4 |
| 2028 | $214.73 | $656.16 |
| 2030 | $273.59 | $1,428 |
| 2033 | $294 | N/A |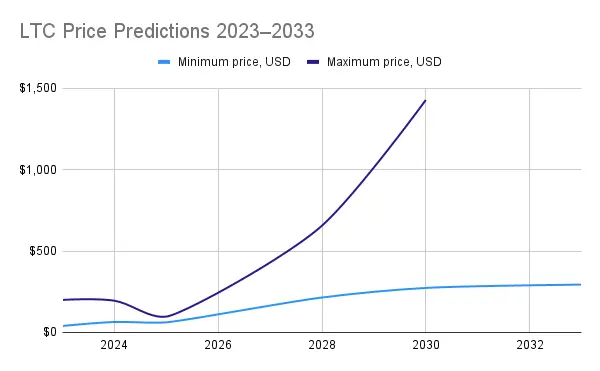 Short-term Litecoin price prediction for 2023 has to be the most bullish in comparison with other time frames. Some analysts claim LTC has the potential to surge to $100 and even $200;
In contrast, Litecoin's price prediction for 2024 and the next few years is very moderate and divisive. The halving narrative is present but historically did not have the same effect as in BTC;
In 2030, Litecoin is expected to still be around, and bulls expect it to breach $1,000.
What is Litecoin?

Litecoin is a code fork of Bitcoin: it shares its source code, but no blocks. It was intentionally designed to provide an alternative to Bitcoin fit for daily use.
Among the improvements made for this purpose, Litecoin features faster block times (2.5 minutes) and a larger total supply (84 million), in comparison to Bitcoin.
Charlie Lee is credited as the creator of Litecoin. Litecoin development and promotion are overseen by a non-profit organization, Litecoin Foundation.
If you are interested in more details about Litecoin's history, tech, and community, you can find more specifics in our Litecoin guide for beginners.
Litecoin Price History
The initial price for Litecoin soon after its launch in 2011 was only about 30 cents. By 2013, it had established a presence in the market and rose to $3.
LTC Price in 2013–2017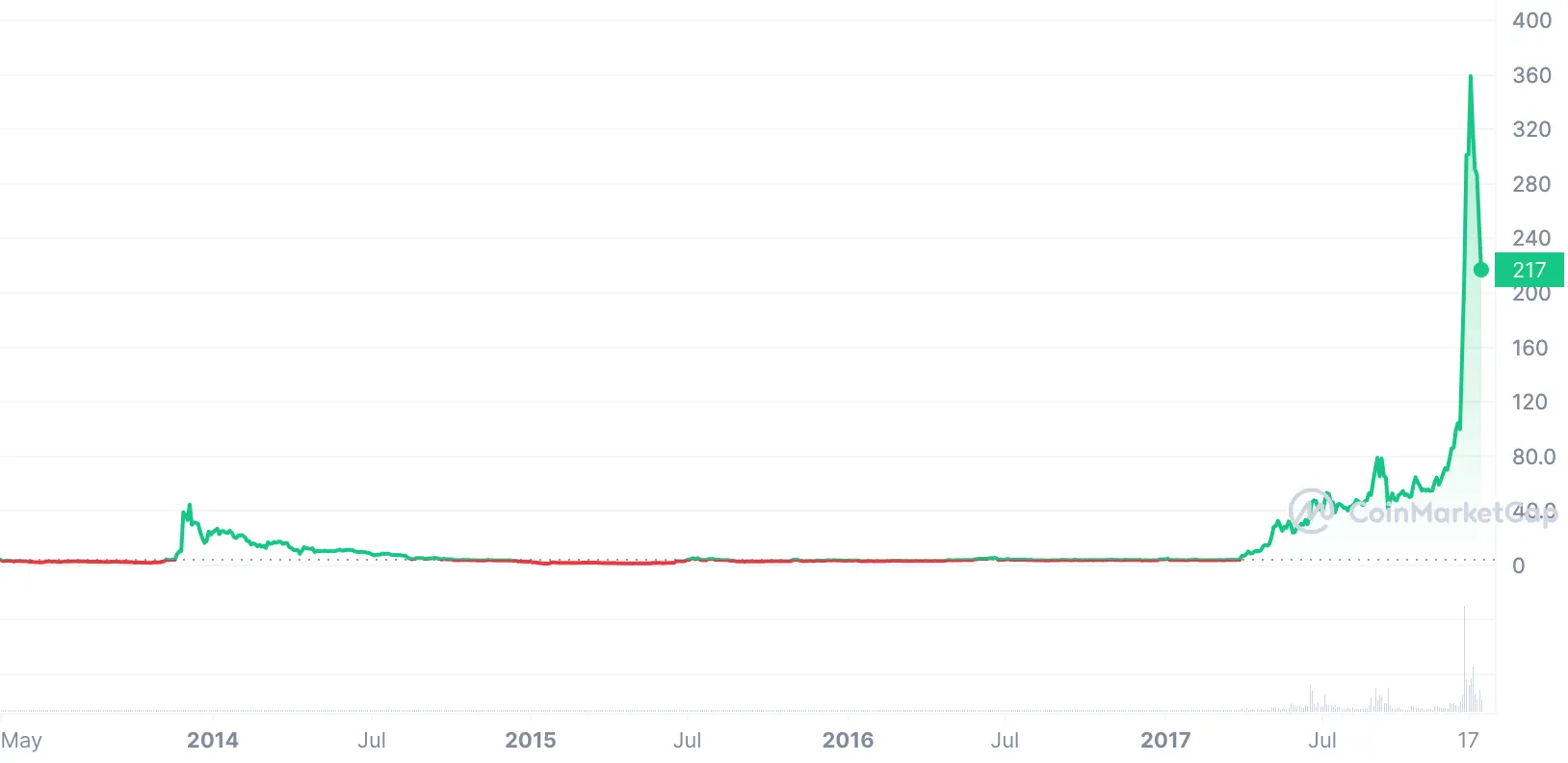 In late 2013, the first bull run for Litecoin began, taking its price almost to $45 ($44.73) by the start of 2014. By late 2014, Litecoin's price had returned to $2. After two short periods of recovery in January and spring of 2015, Litecoin entered the consolidation period.
This period, when the Litecoin price stabilized at the $3 level, lasted for almost two years. The second bull run began in March 2017 and culminated in a previous all-time high — $375.29 on December 19, 2017.
LTC Price in 2018–2020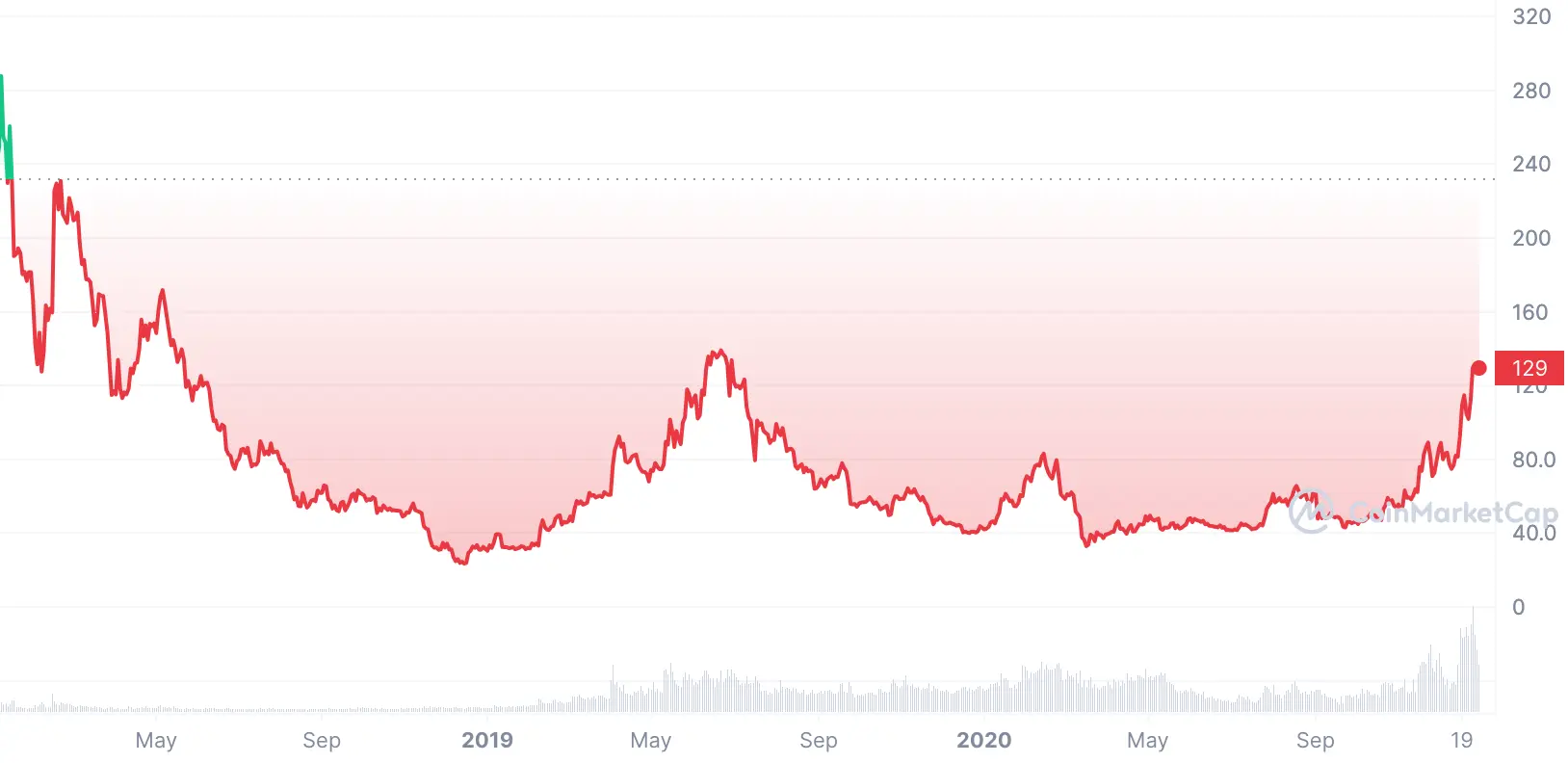 And again, a sudden rise was, as expected, followed by a market-wide correction. For Litecoin it lasted for the entire 2018, and the closing price for that year was $30.47.
In 2019, Bitcoin had another brief bull run in a bear market, and incidentally the LTC price climbed up to $146.43. By the end of the year, it was back at $40, which became a starting point in 2020. After the March 2020 crash, Litecoin was recovering slowly but steadily.
LTC Price in 2021–2023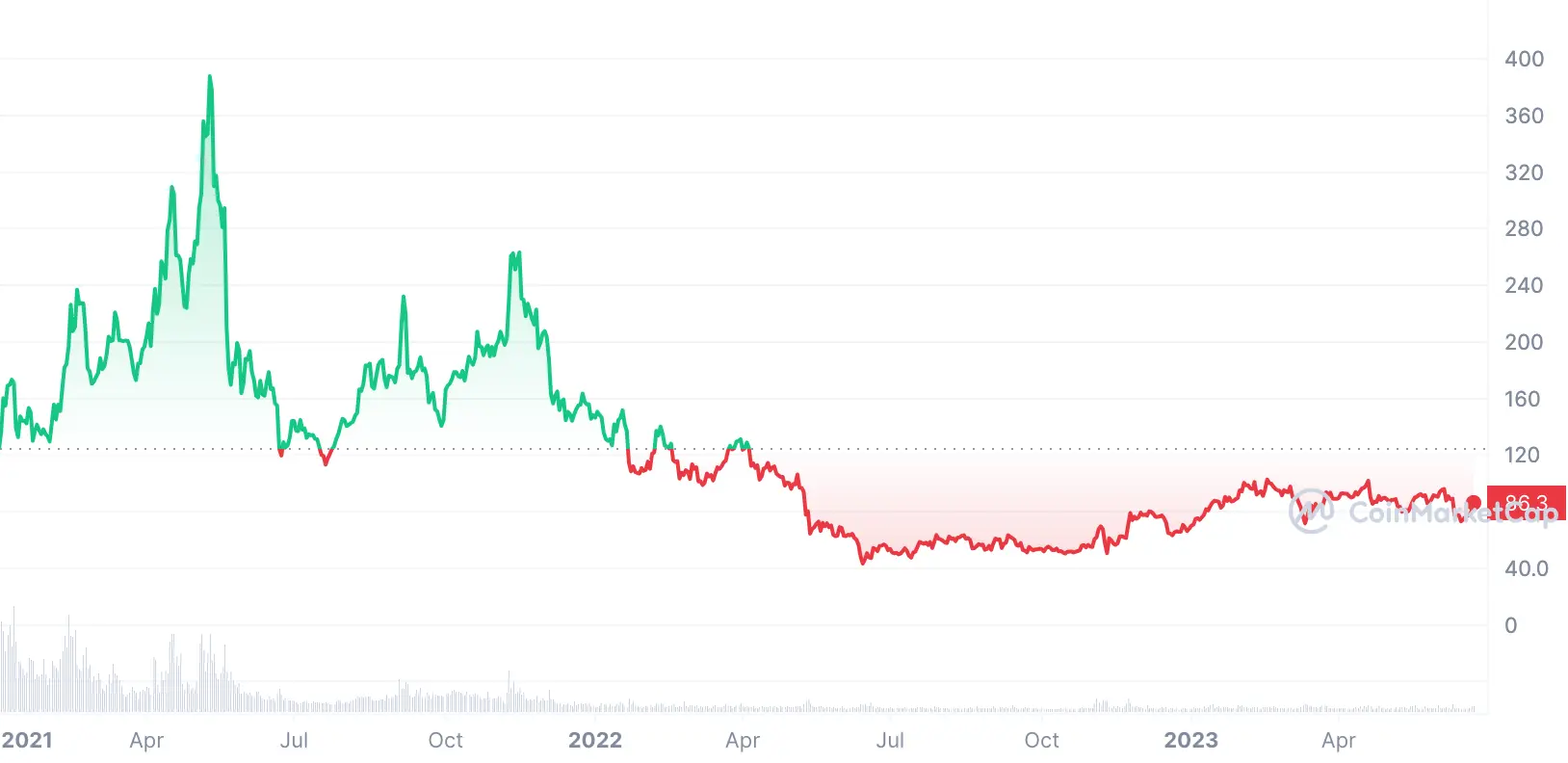 Since November 2020, following Bitcoin, it got as high as $412.96 — a presently standing all-time high LTC price (May 10, 2021). Following the peak, like Bitcoin and the whole market, Litecoin pulled back drastically, bottoming at $113.16.
On September 13, 2021, a press release claiming retail chain Walmart is going to accept Litecoin went public. The price instantly reacted by jumping from $175 to $231 before the press release was confirmed as false.
In comparison, 2022 was a more pessimistic year on record. For the most part, Litecoin was stuck in a downward trajectory. The LTC price declined from $146.54 at the start of the year to $68 at its close.
The first half of 2023 is considerably more optimistic for Litecoin. At the moment of writing, LTC ranks 12th on CoinMarketCap by market capitalization. With a circulating supply of 73,199,639.23 LTC, the current price of Litecoin is $85.55.
What Can Influence the LTC Price?
Partnerships
Litecoin Foundation which oversees outreach of the project is often announcing different kinds of partnerships and collaborations. For example, they sponsored NASCAR driver Landon Cassill in July 2021, and their ambassadorship spreads as wide as from Gucci to Gene Simmons.
In 2022, the Foundation continued with the strategy. They scored a wealth of business partnerships: Moneygram, Blockbank, and PayPal. At the same time, more exotic cameos in the public eye kept happening: a couple of mentions on television dramas and appearances at the San Diego Comic-Con.
Updating tech
One of the latest updates, the MimbleWimble protocol upgrade, now known as MWEB was implemented in 2021. It was intended to make Litecoin more attractive to crypto users that need privacy. The optional nature of the privacy feature alleviates the risks of being delisted from exchanges that are strictly compliant.
Nevertheless, this did not prevent LTC from being delisted from major South Korean exchanges in mid-2022. At the same time, it is listed on a US-based institutional-investor-focused Bakkt and EDX.
Litecoin also introduced the OmniLite protocol for creating assets on the Litecoin blockchain. This specification, based on the Bitcoin-compatible Omni protocol, supports the creation of non-fungible tokens (NFT). The feature was in demand: in 2022 alone, at least two NFT marketplaces for Litecoin assets were established.
Network Growth
Litecoin's adoption and outreach efforts lead to increased network activity, and the additions to the protocol make sure it is not lagging behind in scaling the network. This holds especially true because Litecoin is now one of the biggest Proof-of-Work networks, excluding Bitcoin. PoW remains popular with crypto enthusiasts and miners.
In 2023 so far, network growth is being reported in anticipation of a halving event. In these scheduled events which occur every certain number of blocks, block subsidies get reduced by half. Bitcoin's market cycles and halvings occur roughly every four years and are believed to be connected.
The same bullish expectations hold true for other cryptocurrencies where this occurs. However, in Litecoin, the pattern does not seem to play out the same as it does in Bitcoin. The next halving in Litecoin is expected on August 4, 2023, and after it, the block reward will be 6.25 LTC.
Our Litecoin (LTC) Price Analysis and Forecast
Halvings are events that have both long- and short-term effects. In the short term, miners may be more inclined to go offline or take profits, so the price can decline. We are more interested in the long-term effect: as LTC becomes scarcer, its value is supposed to grow.
Looking at this weekly price chart, we see LTC is in consolidation right now. With the relative strength index in mind, let's see what resistance levels between the ATH and the 2022 low Fibonacci extensions point to.
The closest psychological target for LTC right now is $100, and after that, it will have to turn $123.08 into long-term support. After that, the next target is $173.68 and we can expect it to stop around $150 — another psychological level — at first. And just in case an ultra-bullish scenario plays out and the price record is broken, the first stop on this rally would be at $600–602.03.
Litecoin Price Prediction 2023
The YouTube channel Altcoin Doctor provides an even more in-depth technical analysis of Litecoin. His LTC forecast for the near term is $97.42, and the only thing in question is how soon it can be reached. Keep your eyes open for the next few weeks!
According to PrimeXBT, the near-term future of Litecoin depends on monetary policies around the world. Therefore, it is not very likely that in this period of stabilization, any crypto will shoot upward. Their reasonable expected price for LTC in 2023 is between $40 and $200.
The Previsioni Bitcoin forecast resource expects the Litecoin price to sync with the market. According to their LTC prediction, by the end of 2023, Litecoin is going to be worth $120.
Litecoin Price Prediction 2024–2025
Gov.capital's algorithmic projections suggest that a year from now, the LTC price will be approximately 128% higher. On the charts, they expect a bounce similar to the 2021 price movement. In June 2024, the LTC price is estimated to be $194.774.
Analytics service Crypto Predictions actually has a bearish forecast for Litecoin in the next couple of years. In late 2024, it can touch lows even below the current price, down to $64.271. The maximum forecast price is higher than the current, around $94.517.
By 2025, it will fail to recover and continue a slow descent. From $64.154–94.344 in January 2025 the range will move down to $62.223–91.505 in December.
Another far-from-bullish forecast for LTC in 2024 and 2025 is given by Long Forecast. 2024 will see LTC open at $121.7 and close at $72.6, showing losses. Only by the end of 2025, Litecoin will recover to $84.6–97.4.
Long-Term Litecoin Price Prediction: 2028, 2030, 2033
Based on historical data, DigitalCoinPrice predicts that Litecoin will be worth $429.46 on average in 2028, five years from now. The highest monthly average price is expected at $469.97 in August, while the lowest average can be expected in May: $421.31. Their forecast scenario for 2030 is similar, but in two years the estimated range will be already at $833.51–865.56.
As for the more distant future, not many analysts feel up to the task. Using existing price data, Coin Price Forecast tries to predict that LTC will reach $214.73 by 2028, $273.59 by 2030, and $294 by 2033.
An even more bullish scenario is painted by PricePrediction.net, in which they give a range of $566.91 and $656.16 for LTC in 2028, and $1,149.12 and $1,428.01 for LTC in 2030. Given the time until then, this is far from far-fetched for the crypto market!
How to buy Litecoin with ChangeHero?
The fastest and easiest way to get Litecoin is to swap it with other cryptocurrencies on ChangeHero:
Choose the currencies on the home page, amounts, and the type of exchange. Provide your wallet address in the next step and check the amounts;
Double-check the provided information, read and accept the Terms of Use and Privacy Policy;
Send in a single transaction the sum of the cryptocurrency you will be exchanging. Fixed Rate transactions have a 15-minute limit;
Done? Now we are doing all the work: checking the incoming transaction and doing the exchange as soon as it arrives;
As soon as the exchange has been processed, your LTC is on its way to your wallet.
ChangeHero's customer support is available 24/7 in the chat on the website or through the email: [email protected].
Conclusion
Litecoin turns out to be divisive when it comes to predicting its future: after all, new projects emerge all the time. On the other hand, Litecoin has withstood a decade on the market and shows no signs of being abandoned.
Take care and stay tuned for more content in our blog and our updates on Twitter, Facebook, Telegram, or the subreddit!
---
Frequently Asked Questions
What will Litecoin be worth in 2023?
Analysts are moderately bullish on Litecoin in 2023. They project that in 2023, LTC prices can dip as low as $40 and pump up to $200.
What will Litecoin be worth in 5 years?
Different price target estimates give a range of $214.73 to $656.16 for Litecoin in 2028.
What will Litecoin be worth in 2030?
Although not certain, predictions give estimates from $273.59 to $1,428 for LTC in 2030.
Will LTC reach $1,000?
Some analysts are still bullish on Litecoin and predict it has the potential to reach and exceed $1,000 in the long term.
Is there a future for Litecoin?
Most experts agree that the probability of Litecoin going to zero is non-existent. The reason for that is Litecoin's long history and active awareness campaigns.
Learn more:
Quick links:
Disclaimer
This article is not a piece of financial advice. No price prediction is guaranteed to provide exact information on the future price. When dealing with cryptocurrencies, remember that they are extremely volatile and thus, a high-risk investment. Always make sure to stay informed and be aware of those risks. Consider investing in cryptocurrencies only after careful consideration and analysis and at your own risk.