The governance token of the pioneering lending protocol in decentralized finance, AAVE is an asset worthy of attention. It has it all: strong fundamentals, a reasonable degree of volatility, and exciting news to come. Before it blows up, check out what analysts and experts think about AAVE price prediction for 2023 and further.
AAVE Price Predictions 2023–2033
| | | |
| --- | --- | --- |
| Year | Minimum price, USD | Maximum price, USD |
| 2023 | $69.27 | $1,000 |
| 2024 | $35.20 | $162.18 |
| 2025 | $17.4 | $246.52 |
| 2028 | $84.06 | $642.51 |
| 2030 | $100.20 | $1,049.21 |
| 2033 | $125.20 | $1,745.81 |
The main psychological levels that people watch in AAVE are $100 and $1,000. The former has been already reached in the past and is much closer to the current AAVE price than the latter. Nevertheless, some bullish AAVE price predictions claim it is achievable soon, either this year or this market cycle;
The majority of opinions on the AAVE price forecast are bullish. However, there are also bearish opinions that see its price going below AAVE's all-time low.
What is Aave?
Aave was originally an Ethereum-based decentralized lending protocol that expanded to eight different blockchains today. It acts as an intermediary between lenders and borrowers but since it is powered by smart contracts, it is less centralized than a bank and non-custodial.
In addition to these upsides, Aave offers an opportunity to earn a yield on crypto locked as liquidity to lenders. Borrowers in turn can get some crypto they haven't owned by taking a loan and leaving collateral to ensure the loan is returned. The two parties are not connected on a peer-to-peer basis but through a liquidity pool that adjusts rates based on the demand from each side.
If you feel the need for a more detailed introduction to Aave, we recommend reading our Beginner's Guide before this article.
AAVE Price History
AAVE Price In 2020–2021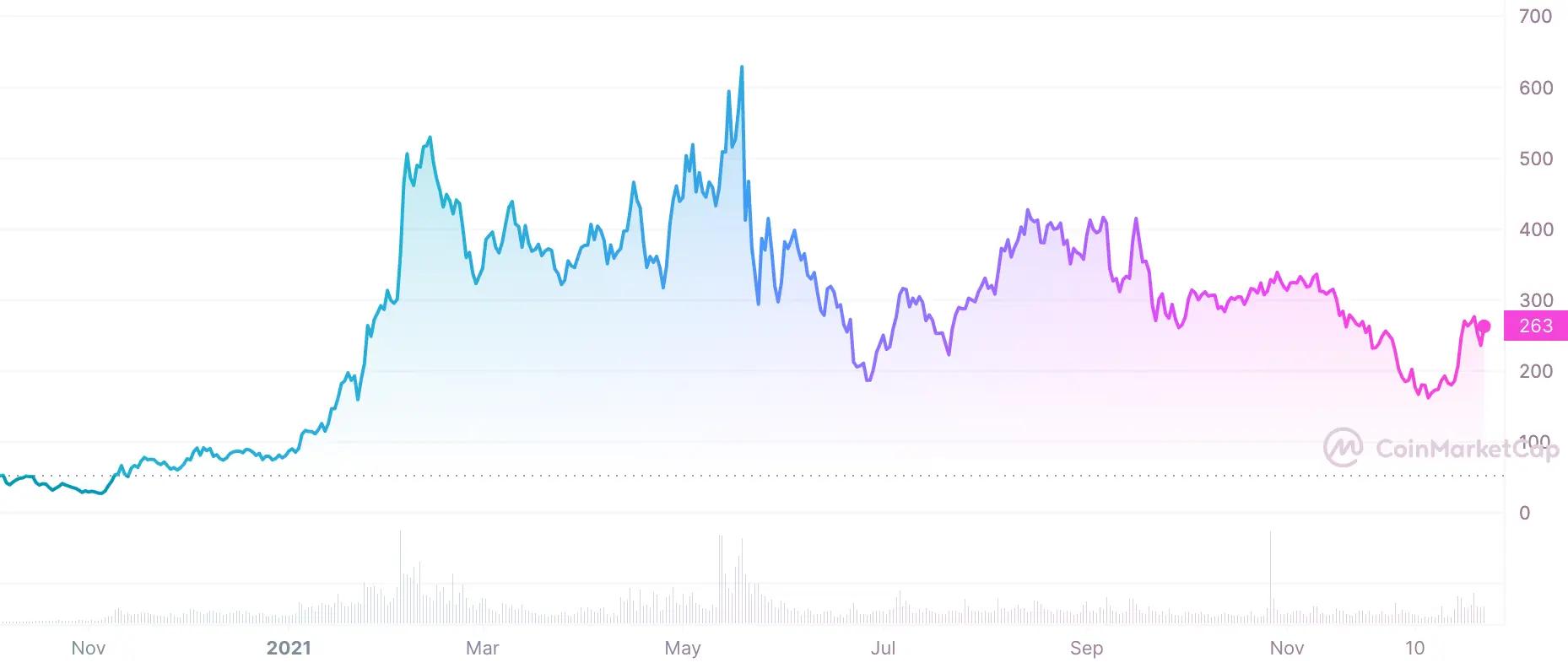 In 2017, ETHLend, the predecessor of Aave was presented to the crypto community by Stani Kulechov. At the time, DeFi was not even a thing and decentralized lending was something new. The Initial Coin Offering (ICO) of ETHLend was a success, and tokens went for $1~1.8. By 2018, the branding was changed to Aave, and a while later the token was migrated to a new contract to change the ticker from LEND to AAVE.
In its current iteration, the Aave coin has been around since late 2020. In comparison to the ICO price, AAVE had a strong start near $50. While it was not bad from the start, it would go on to even higher levels. By the end of 2020, AAVE was worth $80.
2021 will be remembered in the crypto community as the year of the latest Bitcoin bull run. Following BTC, most of the coins surged, and AAVE was not an exception. On May 18, 2021, it reached its all-time high of $666.86. It had been roughly a month since Coinbase went public, and in May 2021, Aave announced plans for a permissioned pool for institutional investors.
The second half of 2021 was less bullish for the AAVE price but decent nonetheless. After a leg up in November, the market entered a pullback phase but somewhat recovered before the year's close. The closing AAVE price in 2021 was over $250.
AAVE Price In 2022–2023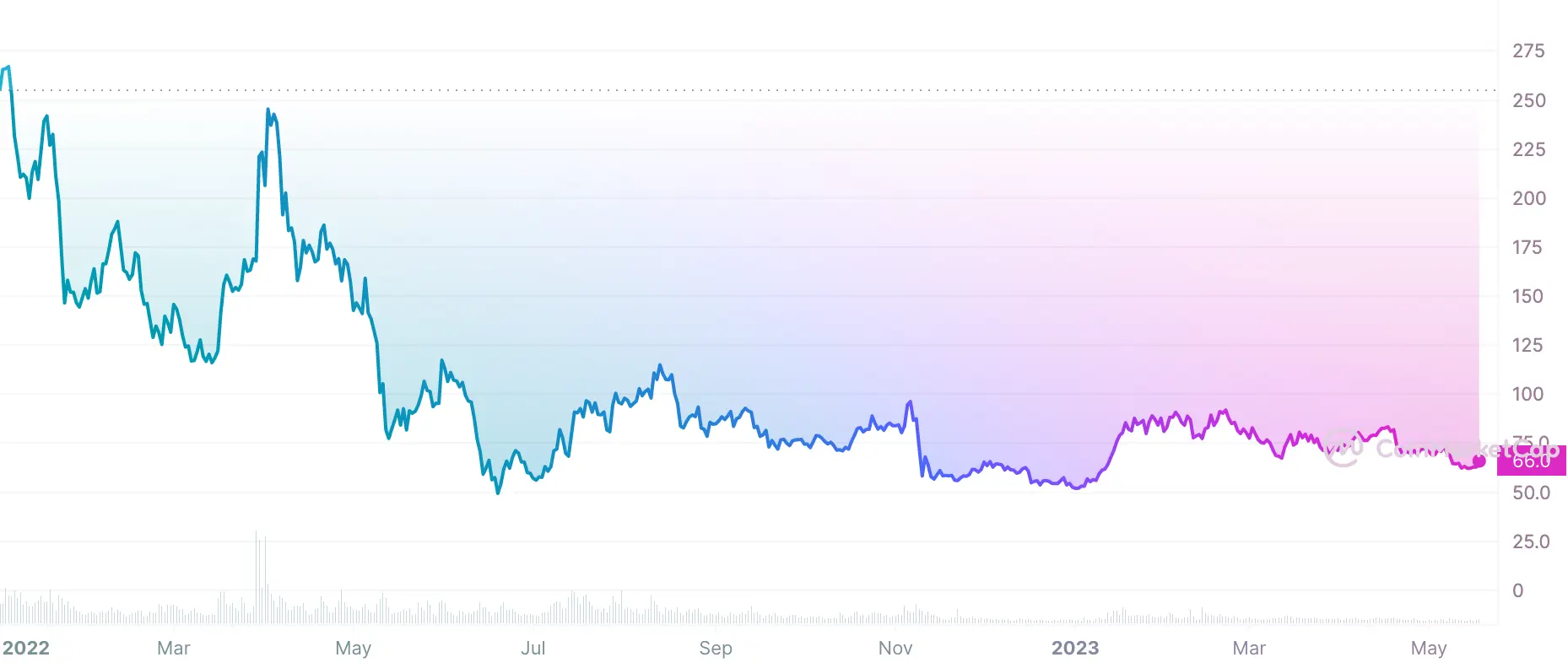 2022, in turn, was the year when the cryptocurrency market prices turned to the downside. What started as a correction from the rapid rise of BTC turned sour after multiple companies and projects such as Terra (LUNA) and then FTX collapsed. During 2022, AAVE went down from $250 to a bit over $50.
This year so far has been more than just a tumble down for Aave's price. It is shaping up to be a consolidation phase but not without volatility and a trend reversal. Since the start of 2023, AAVE has gained approximately 30%.
At the time of writing, the current price of AAVE is $64.99 and the token ranks 49th by market capitalization according to CoinMarketCap.
What Influences the Price of AAVE?
Protocol Updates
Early in 2023, Aave rolled out to all supported networks the latest global version of the protocol: Aave V3. It has risk management tools, lower gas fees, and increased capital efficiency. Enabling V3 across the Aave ecosystem helps improve the user experience even further, boosting the market sentiment and confidence in the future of Aave.
The updates are not simply increasing the value of the Aave protocol and consequently, the value of the AAVE tokens. Being a governance token of Aave, AAVE represents voting power and is needed to vote in the first place.
AAVE holders have voted on and pushed through proposals such as expansion to Polygon's zkEVM and BNB Chain. Thanks to these initiatives, Aave has wide support across the DeFi landscape and an impressive TVL (total value locked) of over $5 billion.
One feature that is currently highly anticipated is the protocol's stablecoin GHO. It is already live on the Ethereum testnet. Its design draws on the MakerDAO's stablecoin Dai: to mint it, you will need to provide collateral multiple times over the amount to mint. This crypto-backed stablecoin model has proved to be more sustainable than algorithmic stablecoins.
Legal Regulation
As a decentralized technology, the Aave protocol and DeFi as a whole have to self-regulate. More often than not, these measures align with the legal framework that is applied to crypto today. For example, as soon as Paxos — the issuer of Binance USD stablecoin — received a Wells notice from the US Securities and Exchange Commission, the Aave community put forward a proposal to disable BUSD on the Aave platform.
Aave also strives to come up with customer protections that are compatible with crypto. They collaborate with entities such as Chaos Labs to have them design risk management tools to prevent hacks and exploits.
Efforts to self-regulate do not mean that Aave is exempt from the encroaching regulation from the government. The question looming over the crypto market these days, coins and tokens especially, is whether a cryptocurrency they operate can be considered a security. The examples of tokens that voluntarily sought government registration as security tokens are few and far between. The rest can be charged with operating an unregistered security, which implies consequences that for many crypto projects are nothing less than an existential threat. On May 13, AAVE was dropped by an institutional platform Bakkt, among other 25 cryptocurrencies, due to regulatory compliance.
Contribution to DeFi
By now, Aave is one of the largest players in DeFi: according to DefiLlama today, it ranks third by TVL with an estimated $5.16B locked in the protocol across eight chains.
Aave pioneered flash loans, uncollateralized loans that are settled as soon as they are issued (within a block time). This feature is generally used in arbitrage but is also frequently mentioned together with exploits and hacks. Just a month ago, Aave and Yearn Finance were targeted by a flash loan exploit that managed to drain $10M in various stablecoins from the latter.
This is not to say that this is Aave's only contribution to DeFi. They introduce other best practices as one of the leaders of the industry. In March, the Aave DAO proposed a "rescue plan" for tokens that were mistakenly sent to a contract address. It is a common issue, and since crypto transactions are irreversible, these tokens are as good as burned. Returning the lost tokens to the circulating supply can be seen as controversial in other crypto communities but the 99.9% approval rate signals a positive attitude from the Aave users.
Our AAVE Price Analysis and Forecast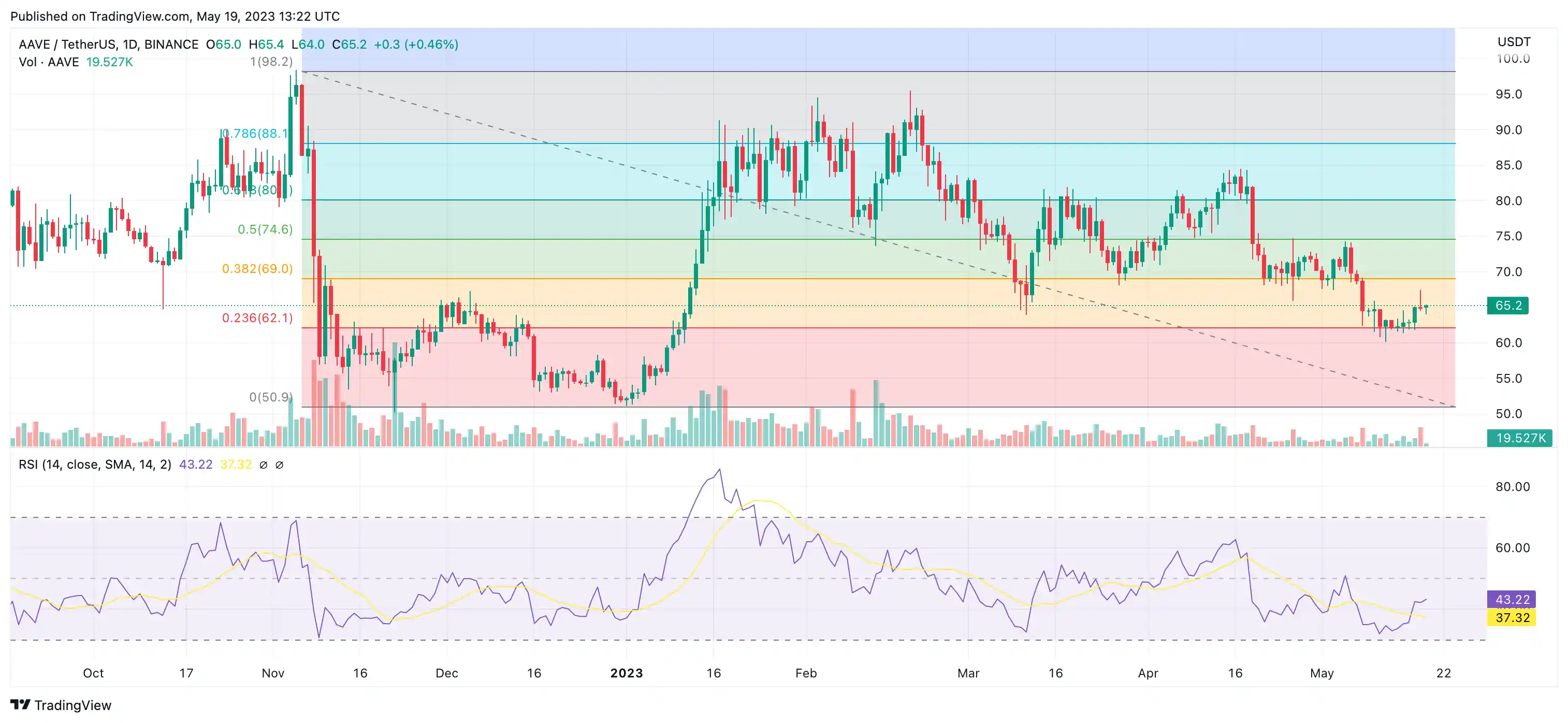 To evaluate the short-term prospects of the AAVE price, let's look at the price chart with Fibonacci extensions on. The price has not fully recovered from a sharp fall in November 2022, one probably due to the FTX crash. Taking this as the top and bottom of a local cycle, we can see that the price is clearly consolidating, so a move to the upside is likely. The 1.618 level corresponds to the $127.4 target. Pair the chart with the relative strength index chart and you can see that due to RSI being in the oversold area and a crossover with its simple moving average, a move to the upside is likely. The closest stops on the way up for the time being are $69 and $74.6.
AAVE Price Prediction 2023
The CryptoNewsZ experts are confident: the AAVE rise will continue. It should be able to take it up to $175 or at the very least, $75. Their colleagues at Telegaon provide a similar AAVE price forecast: $69.27 in 2023, and if the conditions allow it, a maximum price of $179.93.
Crypto with James analyst believes AAVE has the potential to reach four digits in the near future due to its fundamentals. It is a working, reputable project with significant backing, and it is safe enough to be in demand from both retail and institutions.
AAVE Price Prediction 2024, 2025
What about AAVE a year from now and in 2025? Let's hear from market analysts and see some algorithmic forecasts.
Bitnation's algorithm predicts that in a year, AAVE will have grown to $162.18 on average. By 2025, the floor price of AAVE will have risen to $207.59 and the highest it can go in this time frame is $246.52.
In the PricePrediction.net AAVE forecast, new highs are expected for the coin later down the line. The average trading price of AAVE in 2024 is estimated to be $128.67. In the middle of the decade, its value will rise to levels around $186.05~$214.08.
The third AAVE price prediction comes from LongForecast. Unlike other sources, they are bearish on Aave. In May 2024, the token's trading price will be anywhere between $35.2–45.0. The following year will not get better for the AAVE price, and its minimum price can go down as low as $17.4. However, 2025 will also see the start of a recovery in AAVE, and the maximum price that year will be $43.4.
AAVE Price Forecast 2028, 2030, 2033
Reliable long-term crypto price predictions cannot be made with technical analysis simply because there is not enough historical data. The best bet is to look at algorithmic forecasts to analyze potential price trends.
The one by Traders Union projects AAVE will organically rise to $642.51 in 2028; $1,094.21 in 2030; and $1,745.81 in ten years, in 2033. AMB Crypto's expectations are a lot tamer: $157.40 in five years; $203.43 in 2030; and anywhere between $239.11 and $358.67 for AAVE in 2033. Finally, Coin Price Forecast has the following AAVE price prediction for the long term: in 2028, down from $90.88 to $84.06; back up to $100.20 by the end of 2030. Ten years from now, the maximum price AAVE is expected to hit is $125.20.
How to Buy AAVE?
You can buy AAVE on ChangeHero's website in a few steps without obligatory KYC or registration. Just swap any crypto for AAVE on ChangeHero!
Choose the currencies on the home page, amounts, and the type of exchange. Provide your wallet address in the next step and check the amounts;
Double-check the provided information, read and accept the Terms of Use and Privacy Policy;
Send in a single transaction the cryptocurrency you will be exchanging. Fixed Rate transactions have a 15-minute limit;
Done? Now we are doing all the work: checking the incoming transaction and doing the exchange as soon as it arrives. The Best Rate transactions will use the rate current to the time when your funds arrive. The Fixed Rate will use the rate at the time of step 1;
As soon as the exchange has been processed, your AAVE is on its way to your wallet.
Customer support is here for you 24/7 in the chat on the website or through the email: [email protected].
Conclusion
Aave is one of the most reputable players in DeFi because of its pioneering role. It may not be something that rare gem hunters look for but for someone dabbling in altcoins, this protocol and token are a relatively safe bet to stake in crypto.
How accurate do you think these price predictions are? Let us know on Twitter, Reddit, Facebook, and Telegram, and subscribe while you are at it! For more content to help you navigate the crypto world, try browsing our blog.
---
Frequently Asked Questions
How much will Aave be worth in 2025?
AAVE's projected price in 2025 varies depending on sources, with targets ranging from $1.41 to $4.06.
Could Aave reach $10,000?
Even the most bullish AAVE price forecast does not go that far. For AAVE to reach $10,000 for one token, its fully diluted market capitalization has to flip Tether USD and come close to Ethereum's.
What is the prediction for Aave in 2030?
There are differing predictions for AAVE's 2030 price target, with estimates spanning from $7.16 to $9.25 across multiple sources.
Disclaimer
This article is not a piece of financial or investment advice. No price prediction is guaranteed to provide exact information on the future price.
When dealing with cryptocurrencies, remember that they are extremely volatile and thus, a high-risk investment. Always make sure to stay informed and be aware of those risks. Consider investing in cryptocurrencies only after careful consideration and analysis of your own research and at your own risk.
Learn more:
Quick links: