Some serious change is cooking up in the PancakeSwap protocol, so it's time to have a look at CAKE price prediction 2022 and review PancakeSwap token news — there is a lot to digest.
CAKE price predictions 2022–2030
| | |
| --- | --- |
| Year | Price, USD |
| 2022 | $2.25–30 |
| 2023 | $34.40 |
| 2024 | $10.32–12.47 |
| 2025 | $11.96–60 |
| 2030 | $89.96–106.95 |
The range of multiple CAKE price predictions in 2022 is really wide: from a realistic $2.255 to a bold $30;
Most of the long-term predictions show little confidence that CAKE can overtake its ATH of $44.18 even in 2025;
However, there are ultra bullish forecasts that predict PancakeSwap exceeding $100 by 2030.
What is PancakeSwap and CAKE?

Established in 2020, PancakeSwap is a Binance Smart Chain-based decentralized finance platform. At the time, decentralized finance (DeFi) was picking up the pace on Ethereum but ran into the hurdles of exorbitant network fees and transaction congestion — Binance Smart Chain became a popular alternative.
PancakeSwap is an automatic market maker (AMM) powered decentralized exchange. Provided you grant liquidity to a pool, you can list your own token on PancakeSwap with no sweat.
The native token CAKE is a governance token of the platform that can be earned through yield farming. The more liquidity you contribute, the more CAKE you can earn and the more weight your vote has in steering the protocol.
PancakeSwap Price History (2020–2022)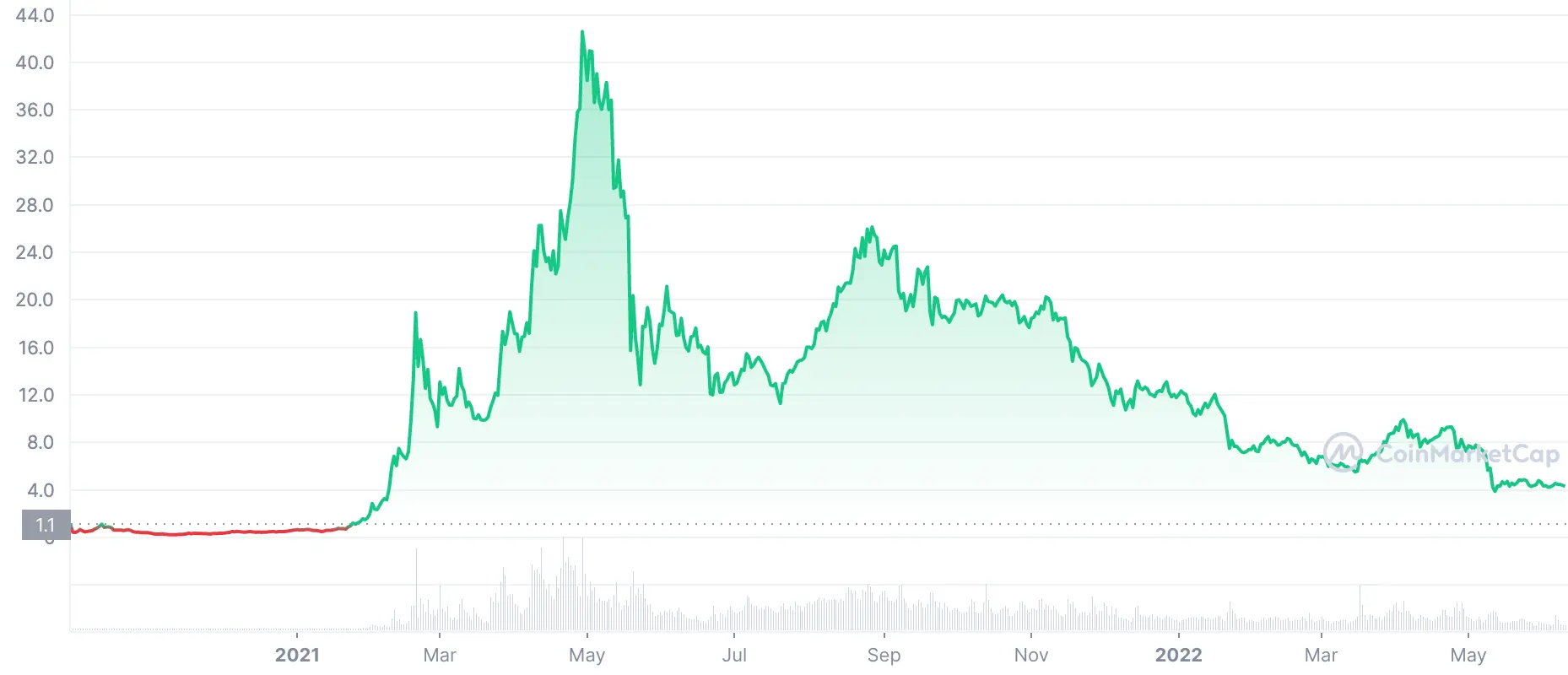 PancakeSwap launch happened in late 2020, and it was trading for roughly half dollar in the bull market. The real growth started in early 2021 in sync with BNB and Binance Smart Chain, when traders and DeFi enthusiasts picked it as a cheaper and faster alternative to Ethereum.
At the time, it rallied from below a dollar to $18.92 in February and then to its current all-time high on April 30, 2021: $44.18. Since then, it has been closed in a tightening downtrend.
In 2022 so far, CAKE is continuing this trend: having started at $11.90, by March it dipped to $5 but showed signs of recovery. In April, it managed to grow back to $10 only to fumble down again.
At the time of writing, CAKE is worth $4.31 and the token ranks 70th by market capitalization according to CoinMarketCap.
What influences the CAKE price?
CAKE Tokenomics
Having a coin be deflationary or at least disinflationary seems to be popular with cryptocurrencies, and burning is the most common approach.
Burning means removing coins or tokens from the circulating supply by sending them to an inaccessible address.

There are programmatic burns (even in Ethereum!) that automatically burn a portion of circulating supply, or burn events: quarterly burns in BNB or community-initiated burn events like in SHIB. PancakeSwap opts for programmatic burns: 100% of CAKE raised in Initial Farming Offerings (IFOs), 10% of PancakeSwap lottery profits, and a floating percentage of farmed CAKE are destroyed.
To further adapt to the changing market, the developer community decided to revamp the tokenomics of CAKE further and introduce a limit on the supply at $75 million CAKE.
Protocol Growth
Deflationary pressure is not the only thing that grows with the PancakeSwap user base: straightforwardly, the more users there are on PancakeSwap, the higher the total value of the platform. So far, so good: PancakeSwap remains one of the top DEXs by daily volume.
The anonymous community members regularly post updates to the protocol stats and the roadmap. This April, they introduced long-awaited MasterChef v2 and fixed-term staking, boosting the active trader metric by a whole 1 million from 3 million in March 2022.
Partners and Backing
PancakeSwap is one of the most popular protocols on Binance Smart Chain but it had a fair launch and is developed by an anonymous team. Which is why it became big news that Binance is officially backing them only now.
CAKE jumped up 9% on the news that Binance Labs made a strategic investment in the project's governance token. The exact size of the stake purchased by a venture arm of the exchange and the extent of their involvement has not been disclosed.
PancakeSwap on Twitter
Binance knows what's up 👀.$CAKE 😍🥞 https://t.co/JuGa9gPHll

— CryptoKip 🔶🥞 (@crypto_kip) June 6, 2022
PancakeSwap community member CryptoKip shared the announcement from Binance Labs with their fellows. Seems like the community needed good news about the DEX.
Binance knows what's up 👀.$CAKE 😍🥞 https://t.co/JuGa9gPHll

— CryptoKip 🔶🥞 (@crypto_kip) June 6, 2022
Not only the price of CAKE reacted to the announcements. The total value locked in PancakeSwap soared and it dominated the BSC ecosystem.
Introducing Syrup Protocol, coming soon to Binance Smart Chain

Makes your $CAKE sweet and easier to swallow 👀#BNBChain #PancakeSwap #BNB #Tombfork pic.twitter.com/GtrX4Ofgt8

— Syrup Protocol 🔶 (@SyrupProtocol) June 7, 2022
Meanwhile, new products and features get added to the ecosystem. Syrup Protocol claims to operate an algorithmic stablecoin pegged to the price of CAKE.
CAKE Price Prediction 2022
Prediction service by CoinCodex paints the near future of PancakeSwap token in no pretty colors. According to their calculations, the outlook of CAKE is bearish, and the price will keep declining beyond $3.10 in July 2022.
CoinPedia authors have noticeably more confidence in the project. They speculate that by the end of 2022, CAKE will close the year anywhere between $20.51 and $30.
YouTuber Crypto Dynamics analyzes the price chart of CAKE with a wave theory in mind. In late May, he claims, the correction could extend all the way down to $2.255. However, once the correction is over, by the end of 2022 CAKE can break out to new all-time highs.
CAKE Price prediction for 2023–2024
And now, for more optimistic theories. In fact, this one may be even less realistic than others: Gov Capital predicts that in a year, in 2023 1 CAKE will be worth $34.40.
In a more realistic scenario provided by Cryptopolitan, by 2024 1 CAKE will average out at $10.69. The highest price this year will reach $12.47, while $10.32 is the lowest they expect.
CAKE Price prediction 2025
In three years, CoinQuora claims, CAKE can be worth more than $60, continuing its growth from the previous years. Their colleagues from CryptoNewsZ are less bullish but also believe CAKE will be worth $20 in 2025.
TechNewsLeader uses algorithmic forecasting, according to which CAKE in 2025 will reach $16.87 on average at the year's end. This is the result of the growth over the course of 2025 from $11.96 in January.
CAKE Price prediction 2030
There are too many factors, some of which do not even exist yet, that will keep influencing the price of CAKE this decade. Trying to predict it more or less accurately is a futile task.
However, some analysts and web services still try. Algorithmic forecast by PricePrediction.net estimates that in 2030 CAKE will stay in the range between $89.96 and $106.95.
ChangeHero's Pancake Swap prediction
PancakeSwap is all over the crypto news with their updated tokenomics, Binance backing and growing numbers. Nevertheless, the governance token CAKE is still stuck in a downtrend and is 90% down from its ATH.
It would take a situation similar to the Ethereum exodus in 2021 to induce another meteoric rise of PancakeSwap and the BSC ecosystem. Unless something like this happens, CAKE will be growing at a moderate pace organically.
Conclusion
PancakeSwap keeps its crown in the BSC ecosystem for years, and Binance Labs investment proves it. However, the community hopes that the updates to tokenomics will focus on utility rather than bare supply dynamics, and the involvement of investors will not change the community-driven development.
Check out and subscribe to our blog for more tips and guides. Give ChangeHero a follow on Twitter, Facebook and Telegram for live updates and even more content.
---
Frequently Asked Questions
What is CAKE?
PancakeSwap is an automatic market maker (AMM) powered decentralized exchange. The native token CAKE is a governance token of the platform that can be earned through yield farming.
Is PancakeSwap a good investment 2022?
Recently, PancakeSwap introduced new tokenomics for CAKE, with the main change being a 75 million limit. It became a scarce asset, but gained no new use cases.
What will PancakeSwap (CAKE) be worth in 2022?
Analysts give varied targets for CAKE in 2022, from $2.255 to $20 and even $30.
What will PancakeSwap (CAKE) be worth in 2025?
Depending on the source, Pancake Swap predictions give targets between only $11.96 or up to $60 in 2025.
What will PancakeSwap (CAKE) be worth in 2030?
If PancakeSwap is around in 2030, CAKE is predicted to be worth up to $106.95.
Quick Links