In 2021, Chainlink continued its success of 2020 and renewed price records, but does it hold up now? We review Chainlink's fundamentals and current state, and give a Chainlink price prediction 2022 and the future years.
Chainlink Price Prediction 2022-2030
| | |
| --- | --- |
| Year | Price |
| 2022 | $30-128 |
| 2023 | $47.99 |
| 2024 | $19.924–41.785 |
| 2025 | $51.07-863 |
| 2030 | $805-1,056 |
Bullish Chainlink price prediction 2022 claims that it can climb above $100 as early as this year;
In a couple of years, in 2023, Chainlink is expected to appreciate by at least twice from now;
Opinions differ on how far Chainlink can rally in 2025. Some estimates put it at twice the current price while others think it will be high in triple digits;
As for breaching $1,000, this is a target for the further future of LINK up until 2030.
What is Chainlink and LINK?
Chainlink is a decentralized network of oracles — programs that can connect off-chain data with on-chain functionality like smart contracts. An oracle does it by "translating" this data into a set of smart contracts and verifying it with other oracles. The Chainlink network is finding a lot of use in DeFi: for instance, it can feed the price data to the decentralized exchanges. Google Cloud is using Chainlink as a tool for developing blockchain applications. The oracle operators in Chainlink are rewarded for verifying data in LINK tokens. They can serve as a collateral to improve the trust rating of their node, which means more jobs for it. If you want to know more details about how exactly Chainlink works, we recommend referring to our Beginner's Guide to Chainlink.
Chainlink Price History
Chainlink Price in 2017–2019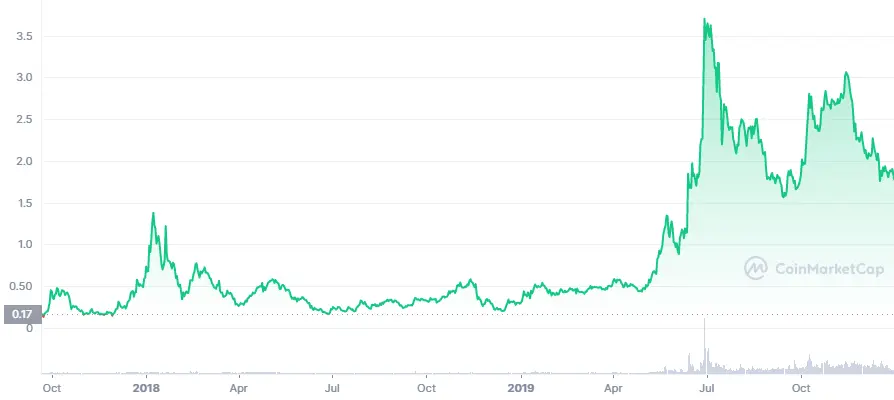 Chainlink testnet and LINK was launched in Q3 of 2017. In an ICO, LINK was sold for about $0.11, and at the same price it entered the market. At the end of 2017, following the market, it rose to over $1.The 2018 correction was followed by a bear market in LINK as well. The closing price for LINK in 2018 was about $0.3. 2019 was the year when the Chainlink's success truly began with the launch of mainnet. Not long before the mainnet went live, Google Cloud announced they will start developing hybrid blockchain-cloud solutions using Chainlink. After this Chainlink news, the price pumped to little short of $4. The year closed with the LINK price at $1.80, but it ended up being one of the best performing assets in 2019.
Chainlink Price in 2020–2022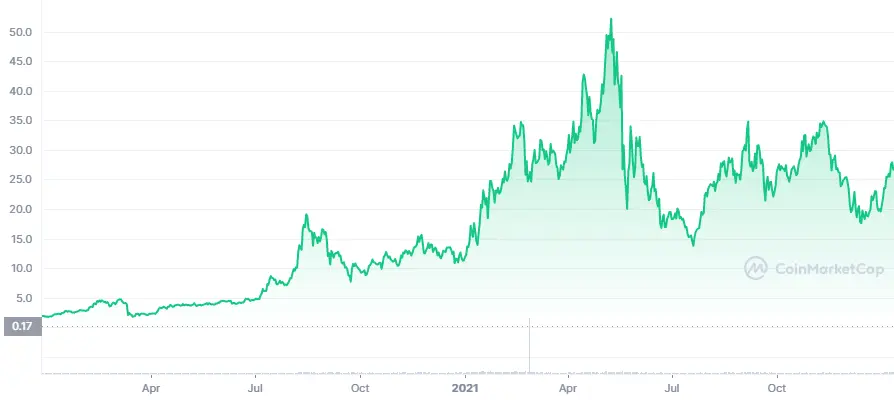 By the end of June 2020, LINK already beat the previous price record, and on July 16 reached $8.80. It was mostly caused by the launch of the Chinese national blockchain network, which has Chainlink price oracles integrated. Over the course of 2020, LINK was among the top performing DeFi coins. The rally continued in 2021, and the current ATH of $52.88 was reached on May, 10. The sell-off in cryptocurrencies caused LINK to fall off that high sharply back to $13.78 by July. When the bull run resumed, LINK managed to climb up only to $34.34. At the opening of 2022, Chainlink token was worth $20.67. Today, at the moment of writing, the LINK price is $27.13, and in the CoinMarketCap rating it ranks 16th.
What can influence the Chainlink price?
Partnerships
For Chainlink, the most value comes from the partners who use their product. Existing collaborations include large players such as Google, SWIFT and Intel. The focus of the team today is in integrating other blockchains into the network. For that purpose, they are giving grants for projects that will include Solana, Polkadot, Filecoin and Tezos in the ecosystem. Chainlink's utility can be an asset for the booming NFT market as well. American footballer Dez Bryant recently announced a collection of non-fungible tokens that will change stats based on the athletes' performance, the information provided by Chainlink.
Decentralized Finance
Since Chainlink's utility comes from on- and off-chain communication, there are a plethora of use cases for Chainlink in DeFi. For this purpose, Chainlink is being integrated into such projects as Bancor v2, Celsius Network and Synthetix. In 2021, Chainlink expanded their Verifiable Randomness Function to dApps on Binance Smart Chain and Polygon. Expanding beyond Ethereum's layer one to layer two solutions and other blockchains presents a unique opportunity for the project.
Institutional Adoption
The Chainlink network is also seeing a considerable amount of recognition for its utility even from the government and financial institutions. As it was mentioned, it is integrated in the Chinese national Blockchain Service Network. Grayscale is now offering LINK exposure with its trust. Partnerships and working use cases like this certainly increase the credibility and value of the project and, as a result, attract the interest of investors to the token as well.
Tweets about LINK
I missed the Internet & dotcom boom. I missed the rise of gold. I missed Amazon & Google. I punted on Apple right before the explosion. I missed the rise of bitcoin & ethereum. I've learned hard lessons. There is no damn way I'm missing the $LINK explosion.

— Dan⛓TheHopiumGod⛓Gaines (@DMG3465) January 11, 2022
One of the "LINK Marines", as the community calls itself, Dan Gaines has faith that Chainlink can do what Apple, dot-com companies and Google have done. Given the background, this is not baseless.
How will the metaverse connect to the real world in a reliable way? $LINK is how

Verifiable and trustworthy data is EVERYTHING A project that utilizes VRF powered by @Chainlink immediately increases their legitimacy — LINK Collector (@Crypto_BitC) January 11, 2022
Another user, LINK Collector suggests that after DeFi and NFTs, Chainlink will break into the metaverse. After all, it will need a reliable way of interacting with the real world.
$LINK up 35% on the year while many coins are down negative on the year.

What I see is a strong up trend with higher highs and higher lows. Little bit of consolidation going, next leg starts soon with the flip of $27.10 Targeting mid $30's pic.twitter.com/iB4dX5Q5YE — Johnny (@CryptoGodJohn) January 12, 2022
Trader Johnny analyses the rally that started this year and is confident that it will keep up at it. The key to moving past $30 is a strong uptrend and bullish sentiment upon a net-positive 2021 close.
Chainlink Price Prediction 2022
CoinsKid LINK price prediction 2022: $128
Chainlink closed December and 2021 below the moving average, pointing at a possible downtrend. To add to that, the monthly chart is making up a descending triangle, a bearish pattern. However, back in late 2019 to early 2020, the same pattern formed and was followed by a breakout to the upside. Projecting the same rally to the current charts would put resistance all the way up to $128 by the end of 2022.
AMB Crypto LINK Price Prediction 2022: $30-50+
Varuni Trivedi of AMB Crypto analyzes the current price movements of LINK. Her conclusion is that Chainlink markets can move well over the current ATH. The main condition for this to happen is retail interest, which is on the rise as the address activity increases. The crucial support area lies at the psychological mark of $30, and if it is breached, the uptrend could continue.
PricePrediction.info LINK Price Prediction 2022: $39.93
PricePrediction.info at the moment of writing estimates that LINK can reach $39.9366 until the end of 2022. With the current price at $27.13, the change that will occur is +47.2%.
Chainlink Price Prediction for 2023–2024
CoinArbitrageBot Chainlink Price Prediction 2023: $47.99
The CoinArbitrageBot info hub today shows that by 2023 Chainlink token's price will increase. The 2023 average is predicted to be $47.9894.
TradingBeasts LINK Price Prediction 2024: $19.924–41.785
Another source gives a moderately bullish prediction for Chainlink in 2024. Holders have to be ready for some negative changes, too, as 2024 can start as low as $19.924 for LINK. However, ultimately the change is projected to go upward to maximum $41.785 for LINK in December 2024.
Chainlink Price Prediction 2025
LINK Price Prediction 2025 by DigitalCoinPrice: $56.67 average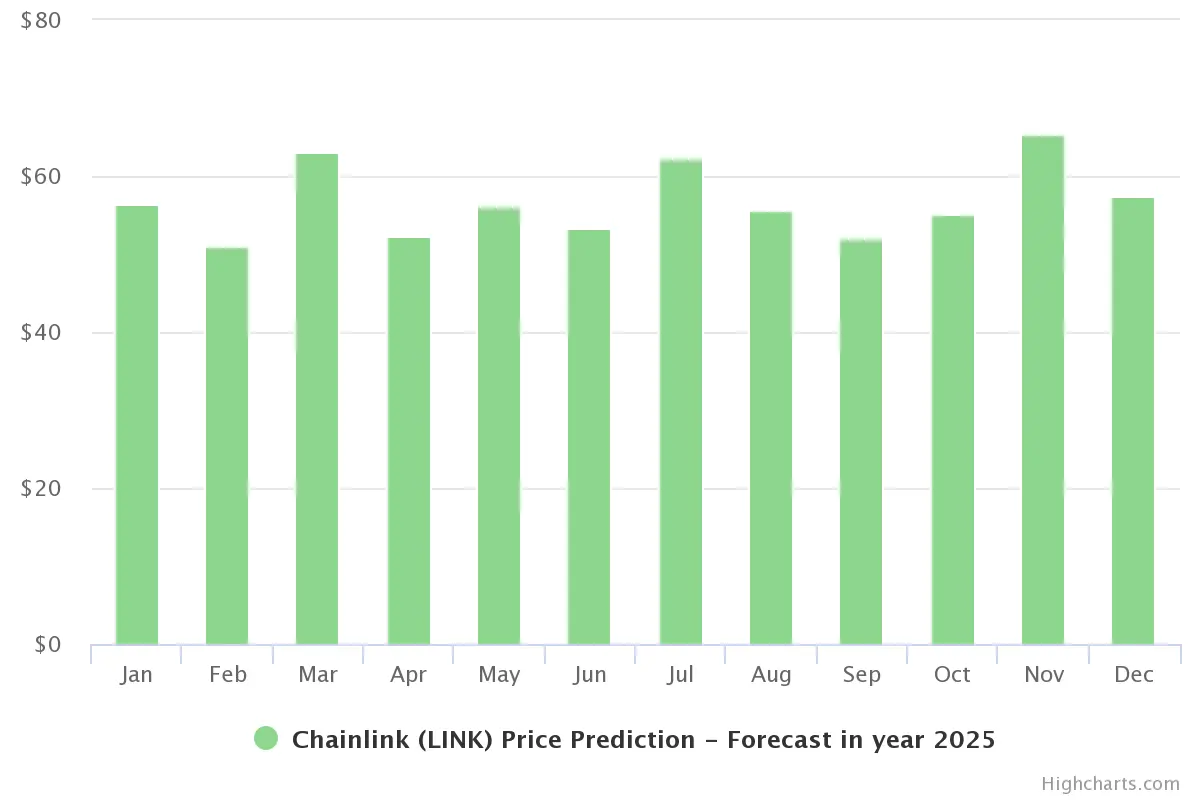 DigitalCoinPrice gives a somewhat conservative prediction. By December 2025, LINK will be traded around $57.56. Lowest prices that year are expected to be seen in February, when on average LINK will be worth $51.07.
CryptoRating LINK Price Prediction 2025: $863
Due to the strong fundamentals and use case of Chainlink, CryptoRating gives a very bullish Chainlink forecast. Over the course of five years, the token's price on average will grow and increase by +3,823%, coming up to $863. While this return looks too promising to be true, mind that LINK's return on investment is already 16,539%. Anything is possible in the world of crypto!
LongForecast Chainlink Price Prediction 2025: $75.02-138.52
Longforecast paints a pretty bullish picture for LINK in a few years. Even the lowest lows of 2025 at $75.02 will amount to a 300% growth in comparison to today. As for the highs, summer promises to be hot with LINK trading for up to $138.52.
Chainlink Price Prediction 2030
Trying to guesstimate a possible Chainlink price in ten years is far from easy. The LINK Price Prediction by Cryptocurrency Price Prediction gives the estimated range of $805–1,056 for LINK price throughout the year 2030.
Chainlink Price Prediction by ChangeHero
Chainlink is truly one of the most promising projects connecting crypto with the real world — literally and figuratively. The experts' informed opinions confirm that with more partners joining the ecosystem, the value of the network will keep rising. It is very likely, in our opinion, that another new all-time high will be reached this year.
How to buy Chainlink (LINK)?
You can get LINK tokens on ChangeHero at the best rates and with no registration — feel free to join the ranks of LINK marines!
Choose the currencies on the home page, amounts and the type of exchange. Provide your wallet address in the next step and check the amounts;
Double-check the provided information, read and accept the Terms of Use and Privacy Policy;
Send in a single transaction the sum of cryptocurrency you will be exchanging. Fixed Rate transactions have a 15-minute limit;
All done? Now we are doing all the work: checking the incoming transaction and doing the exchange as soon as it arrives.

The Best Rate transactions will use the rate current to the time when your funds arrive.
The Fixed Rate will use the rate at the time of step 1;

As soon as the exchange has been processed, your LINK is on the way to your wallet.
Our customer support is available any time, any day in the chat on the website or through the email: [email protected].
Conclusion
Here is our prediction and experts' opinions on Chainlink's future price. It may not be as hyped as it was in 2020 but by now it is a project with a well-established reputation. Let us know what you think in the comments in our blog! Join the discussion on Twitter, Facebook, Reddit and in Telegram. We'd be happy if you subscribed, while you're at it :)
Frequently Asked Questions
[sc_fs_multi_faq headline-0="h3" question-0="What is Chainlink?" answer-0="Chainlink is a chain-agnostic decentralized oracle network. It is able to relay real-world information and data to smart contracts on supported blockchains." image-0="" headline-1="h3" question-1="What will Chainlink be worth in 2022?" answer-1="Depending on the source, experts predict that in 2022 LINK can cost from $30 to $128." image-1="" headline-2="h3" question-2="What will Chainlink be worth in 2025?" answer-2="By 2025, LINK is expected to have grown up to $51.07 and even $863." image-2="" headline-3="h3" question-3="What will Chainlink be worth in 2030?" answer-3="The estimate for LINK's price in 2030 is between $805 and $1,056." image-3="" headline-4="h3" question-4="Is Chainlink a good investment?" answer-4="Most of the cited opinions support the idea that Chainlink is a solid investment." image-4="" count="5" html="true" css_class=""]
Disclaimer
This article does not constitute financial or investing advice. No price prediction or forecast is guaranteed to provide exact information on the future price. Past performance is not indicative of future results.
When dealing with cryptocurrencies, remember that they are extremely volatile and thus, a high-risk investment. Always make sure to stay informed and be aware of those risks. Consider investitions in cryptocurrencies only after careful consideration and analysis and at your own risk.
Learn more:
Quick links: