Binance is, without doubt, one of the largest names in the industry these days. It is not only an exchange, but an ever-growing ecosystem of products and applications that utilize cryptocurrencies. One of the key components of this system is Binance Coin or BNB, and in this guide, we are going to tell you about its significance not only within its system but for the whole market as well.
What is Binance Coin (BNB)?
By definition, Binance Coin (BNB) is a coin native to the Binance Chain. As a native currency, it powers the ecosystem: BNB has its uses on Binance Exchange, DEX, Launchpad and other applications. 
How BNB started
ICO for Binance Coin ran through July 2 to July 21, 2017, simultaneously to the opening of Binance Exchange, and raised $15 million USD. Initially, it was an ERC-20 token, and the mainnet migration happened in April, 2019. The success of the whole Binance Ecosystem could not be imagined without the team behind it and their intense marketing and expansion efforts. Of all the funds raised through ICO, only 35% were allocated to building the platform in contrast to the whole 50% that would be directed to brand development. The most well-known person from Binance team is its CEO, Changpeng Zhao, also known as CZ. Before launching Binance, he has been a CEO at BijieTech, cloud-based exchange provider, CTO at OKCoin and Head of Technology at Blockchain.info. Other equally experienced members of the team include Roger Wang, CTO, who has worked in Nomura Securities and Morgan Stanley, and James Hofbauer, Chief Architect.

The team has a significant online presence, most notably, on Twitter, as well as a community of ambassadors. And as we know, any news can be an external influence to the market movements. With the ever-growing list of integrations and new products by Binance, the general sentiment around the coin is bullish, as people expect more use cases to emerge for BNB and more utility.
What is Binance Chain?
Binance Chain is a blockchain mainly dedicated to supporting Binance DEX (Decentralized Exchange). It was developed to overcome the hurdles that hindered DEX adoption: slow transaction times (Binance Chain block time is only one second), and liquidity issues (by the time of migration to BEP2, BNB has already been in the top 10 coins by market capitalization). The network uses Tendermint consensus, running on an application layer. Nodes in the network are categorized into validators that vote on block production, and witnesses that participate in the witness consensus process. Though the block size is limited at 1 MB, scalability is not a problem thanks to swift propagation rate. Binance Chain itself doesn't have programmable extendibility, or simply speaking, does not support smart contracts and virtual machines. This was a design choice, since these features can slow the network down. However, a solution in the form of Binance Smart Chain, a parallel to the main blockchain, is under development, which is a proof of community coming up with ways to improve the network.
BNB Burn
A noteworthy feature of BNB is quarterly burning. Instead of reducing emission, a certain amount of existing BNB is burned every three months to increase scarcity and add to the value of remaining coins. The amount burned is determined by the volume of trades made on Binance, and the events will continue until 50% of total supply of issued BNB – 100 million – is burned. However, experts claim that right now there is hardly any correlation between the price dynamics and the burn events. Perhaps, it has to do with the fact that while the burns involve really impressive sums, it amounts to little in the big picture. For example, the most recent April 2020 burn has eliminated 3,373,988 BNB from the circulation, $52.5 million USD, and was the largest one in the history of Binance Coin, but ultimately it was just 1.69% of total supply.
Use Cases for Binance Coin
The main use case for Binance Coin is to pay various fees on Binance Exchange with a discount;
It powers Binance DEX by being a means of payment for smart contract executions and validator rewards;
On Binance Launchpad, you can gain early access to Initial Exchange Offering (IEOs) held on the platform.
With the recent announcement of Binance Card, BNB has checked a massively important use case off its list — purchases with crypto in any store that accepts Visa payments. Bundle is another recent addition to the roster of products in the ecosystem that marks the same checkbox of real-world use for Binance Coin.
Future Plans for BNB
Binance is going to bring on board even more fiat currencies and markets: the already mentioned Bundle is targeted at African crypto-community. The improvement proposals for Binance Smart Chain, or "Binance Chain 2.0" as CZ dubbed it, will increase the network capacities. The platform development is not stopping, which means good news for Binance Coin, for sure.
BNB Price Performance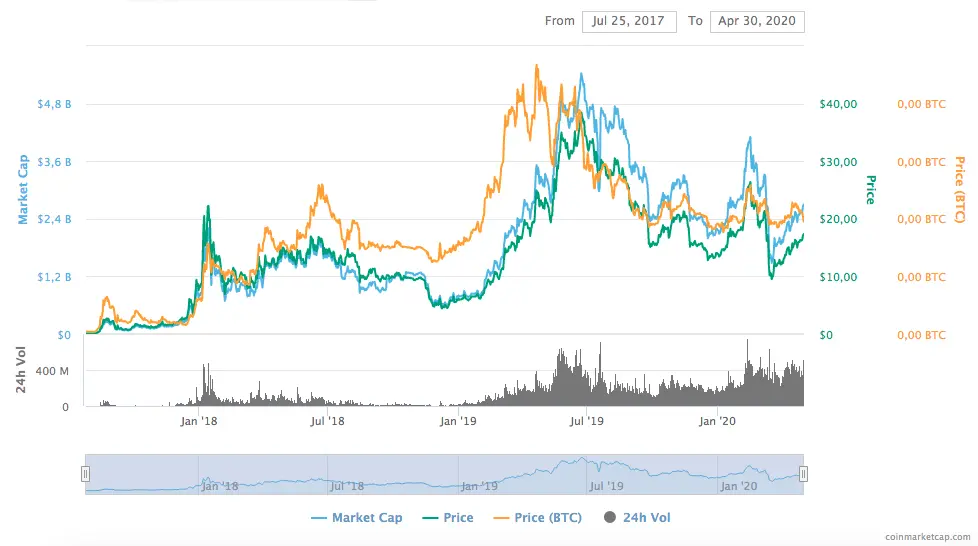 Historically, BNB has been moving in sync with the market as a whole and BTC in particular: on the graph we can see how it was affected by the so-called Crypto Winter of 2018, continuing into early 2019. The first half of the year was a period of impressive growth, as BNB was expanding its presence on different exchanges and finally migrated to its own chain. The subsequent corrections happened under the influence of Bitcoin price and market movement.
Where to Keep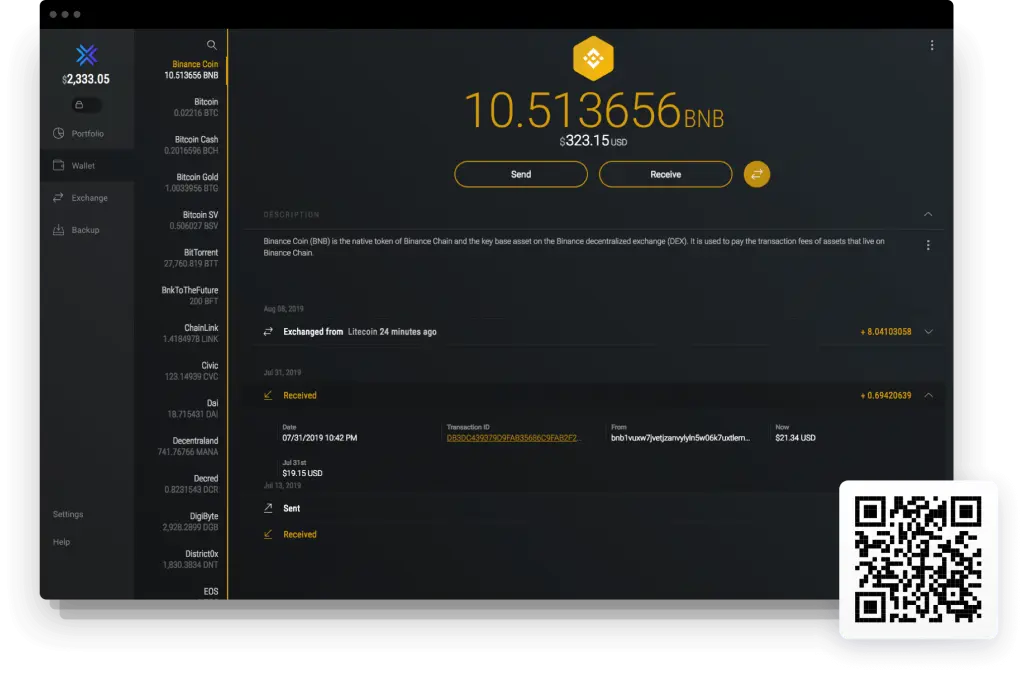 BNB is supported in most popular wallets, like Atomic Wallet, Guarda and Enjin Wallet. In some, like Exodus and Magnum, you can not only store Binance Coin, but also exchange it thanks to ChangeHero integration. And, of course, the best option to keep your funds secure would be a hardware wallet: Binance Chain is supported by CoolWallet and Ledger.
Where to Spend Binance Coin
A variety of online stores and gateways accept BNB. Any merchant that uses Coinify, CoinGate or CoinPayments, for example, has the option to accept it. You can book accommodation in Travala, Trip.io or TravelbyBit, get a cloud server on CenterServ, use it as collateral for loans on Nexo and ETHLend, and get in-game valuables in Decentraland, Axie Infinity and Steemmonster. Did we mention that ChangeHero supports exchanges to and from BNB? Try it now for swift, secure and hassle-free exchange experience.
Summary
Binance Coin is definitely the currency to keep an eye on, since it has been in Top 10 for the most of its history, consistently shown positive growth and is backed by one of the largest and rapidly developing crypto enterprises. Besides, it is technologically sound and is constantly improving thanks to the community. Let us know if you find the article useful! You can do it on our Twitter, Medium, in Telegram and Facebook groups or on our subreddit. To not miss out on more guides, news and articles, subscribe to our blog. Take care!
---
Learn more:
Quick links: