Chainlink is a project that entered the market fairly recently but if you are following the news of the altcoin world, you certainly must have heard about it. The LINK token has already been in the top-10 currencies, so it's quickly making a name for itself. In this guide, we are going to introduce you to the LINK cryptocurrency, explain how it works and see what the hype is all about.
What is Chainlink?
Chainlink is a project with a mission to connect off-chain data with on-chain utility. Basically, the goal of Chainlink is to serve as a gateway to connect real-world data with smart contracts through the mechanisms called Oracles.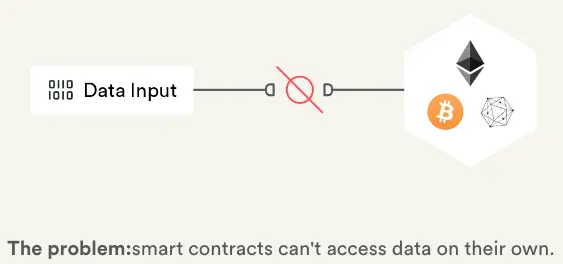 Smart contracts by their nature are executed with a virtual machine, and the consensus is decided by the participants of the network. It means that there is a connectivity problem between the on-chain functionality and external resources.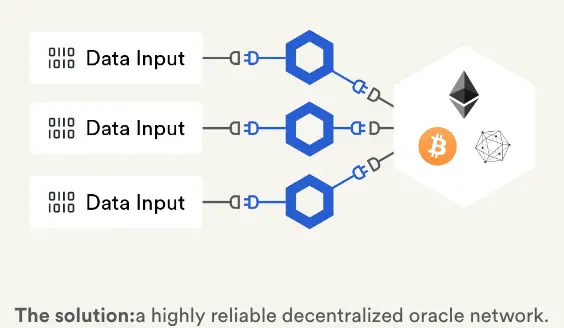 One of the possible solutions for it are oracles — data gateways. However, using gateways only creates a single point of failure in such a network, so Chainlink came up with a solution in the form of a decentralized network of oracles. Before the data input becomes a trigger for the smart contract, it is verified by the Chainlink network participants.
How and when did Chainlink begin?
ChainLink whitepaper was published in 2017. Its authors are Steve Ellis (currently CTO of Chainlink), Ari Juels (Technical Advisor), and Sergey Nazarov (CEO). Chainlink held an ICO in the same year and managed to raise $32 million. The mainnet launch happened a little more than a year ago, on May 30, 2019. The team behind Chainlink has grown over the three years to more than 25 members, all experts or experienced professionals in blockchain from all over the world. The core team is not the owners of Chainlink but rather act as contributors along with the volunteer developers.
What's so special about Chainlink?
Chainlink initially is built on Ethereum, but the developers plan to keep introducing it to other blockchains with smart contract functionality for off-chain and cross-chain interaction. It is already available on such networks, as Tezos, Bitcoin or Hyperledger. ChainLink relies on three core design principles to build a reliable and secure oracle network:
Decentralization for sustainability and openness: blockchain structures are trustless and tamperproof, which is why they can fulfil a role previously occupied by trusted third parties in securing contracts;
Modularity for flexible design: separate nodes have simple architecture, so they build a network that is easy to operate and upgrade;
Open-source for security and extensibility: in the vein of the previous two principles, building upon open-source projects lets the Chainlink network be auditable and decentralized.
How does Chainlink network work?
The oracle network designed by Chainlink is a complex system, but to put it simply, there are service users and service providers — node operators. Suppose, a service user needs to connect external resources with a smart contract. This smart contract requests data from the Chainlink network, which is registered as a Requesting Contract. Chainlink transforms the Requesting Contract into Service Level Agreement Contract on its chain and divides it into three smart contracts:
Reputation Contract evaluates the reliability of all available nodes by the amount of LINK tokens used as a collateral and the work record and prioritizes them accordingly;
Then Order-Matching Contract communicates the request to the nodes, selects the right type and amount of them to perform the job, matches the user's offer with the operator(s)' offers;
Finally, Aggregating Contract collects the data oracles fetched and either has the nodes confirm it by a majority vote or reconciles it.
After this process, the SLA Contract returns the result to the user's smart contract, triggering its execution.
What is LINK?
LINK token's part in the ChainLink system is to be a means of payment to node operators for their services. Since the nodes have to perform a wide range of tasks (retrieval of data, translating it into blockchain-readable formats, providing computation and uptime), it's important to keep as many operators working as honestly as possible. Node operators can set the price themselves depending on the amount of data they process and the demand for their services. LINK can also be staked to increase the node's reputation and secure more jobs for it.
What is the price of a LINK token?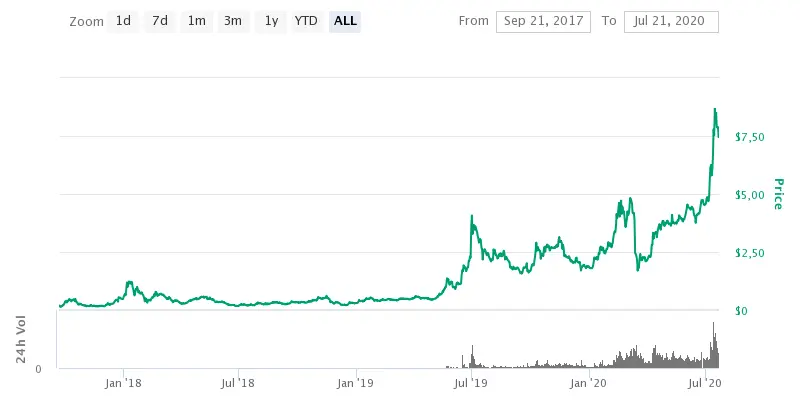 The starting price of a LINK token in the ICO was about $0.1 and it was traded at about the same price when it first appeared on exchanges. The current price of a LINK token is $7.37, which makes the ROI 4,611%. It went relatively unaffected by the Bitcoin rally in late 2017 and early 2018, the highest point at that time being slightly higher than $1. Until mid-2019, the Chainlink network was on testnet, but with the launch of the mainnet in May, the first major price spike occurred. In July, it jumped up to $4. Despite the correction, this made the LINK token one of the best performing assets in 2019: over the year, it grew from $0.29 to $1.82. In 2020, it is performing even more impressively, recently having hit a new all-time high of $8.80 on July, 16. At that time, it broke into the top-10 by market capitalization outdoing Litecoin and Binance Coin. At the moment of writing, though, it is back to rank 11 with a market capitalization of $2,580,538,010 (and circulating supply of 350,000,000 LINK tokens).
Is Chainlink or LINK controversial?
No contemporary technology, no matter how advanced, is 100% failsafe. Last February, there was a glitch in Synthetix (decentralized derivatives platform) which incorrectly fetched the prices of silver through Chainlink. The issue was quickly resolved but users managed to make $37 thousand USD while the price was detected as ~$1,600 instead of market price of $18. There is not much controversy about the LINK cryptocurrency itself but there are a few it is allegedly involved in. There have been claims that Chainlink paid CoinMarketCap to be featured as #1 DeFi project, since the CoinMarketCap team uses an unclear to the outside viewers methodology of rating the projects. A week ago, a report published by Zeus Capital LLC, widely regarded as FUD, was circulated on Twitter. The report contained arguments which were quickly debunked, and the original tweet was deleted, but the impact it made is still up in the air.
What's in store for Chainlink?
Chainlink is a project geared towards DeFi and enterprises, so its success depends on the partners they manage to get to use their service. Luckily for them, in that department everything seems to be going alright. Chainlink's services are being used by such big players as SWIFT, Google, Oracle and Synthetix, and they are not planning to stop. The areas that Chainlink CEO, Sergey Nazarov, sees the most promise in for the network are DeFi, gaming and insurance. As for the gaming, Chainlink is integrated with BET Protocol — a prediction market for eSports. To secure a niche in insurance, though, a bit more time is needed because the regulation has yet to catch up with on-chain assets.
What do people say about LINK?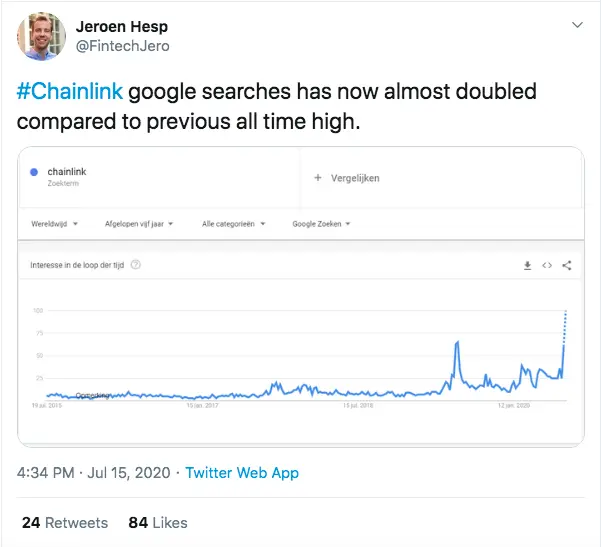 Chainlink community advocate Jeroen Hesp tweeted his observations of a sudden increase in interest in Chainlink that are evidenced by the Google Trends graph. Notice how it looks similar to the LINK price graph.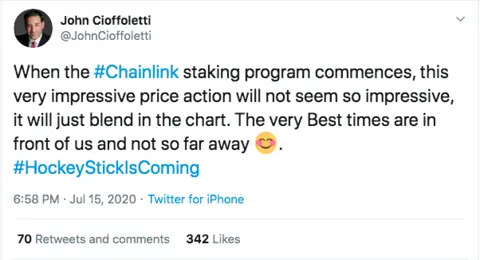 Another Chainlink advocate, John Cioffoletti, seems to be a huge believer in the future growth of the value of LINK. He also shares a very interesting piece of information: looks like staking is in on the table!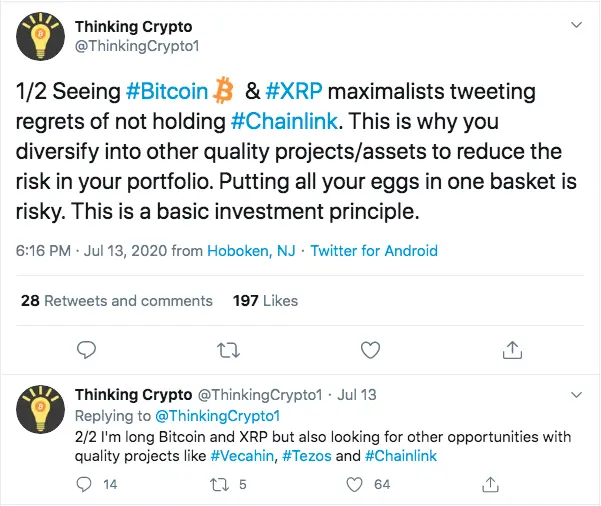 Influencer under the pseudonym Thinking Crypto reminded their followers of portfolio diversification. According to them, even maximalists are impressed by the token's performance.
Where to get LINK cryptocurrency?
Most of the LINK markets are against other cryptocurrencies, like USDT or BTC. To get it, though, you would need to have an account on an exchange, go through KYC and make a deposit. With ChangeHero, there is no need to jump through these hoops: we will handle all the order placements and best rate scouring. Check us out!
Where to keep Chainlink tokens?
Another advantage of LINK being a token of ERC-20 standard means that it is supported by most multi-currency wallets (like Trust Wallet or Atomic Wallet) and there are plenty of wallets like MEW wallet that are dedicated for this chain. ChangeHero recommends our partner wallets: Exodus for online desktop and mobile storage and management, and Trezor for cold storage. With these wallets, you can exchange crypto as easily as you would do on our website without leaving the app.
How to use LINK tokens?
Chainlink tokens are mostly used as a fuel within the network, little by little. With more LINK node operators can use more smart contracts to improve their performance! It also serves as a collateral when running the jobs. It was not really envisioned as a means of payment, and Chainlink even provides an option for node operators to receive payments in fiat currencies, but LINK crypto gateways are already being developed.
A Bottom Line
Chainlink is one of the projects that is proving their worth right before our eyes, skyrocketing in value and conquering higher positions on the market top lists. For as long as blockchain has been around, Chainlink seems to be getting the most value out of the technology. The token and the network definitely deserve to be in the spotlight, because they show promising things for the entire industry. For more informative articles, news and content about crypto and blockchain, subscribe to our blog and make sure to give us a follow on Twitter, Facebook, Reddit and in Telegram.
---
Learn more:
Quick links: