Bitcoin Cash (BCH) has always enjoyed the status of Bitcoin's closest relative but its market price did not reflect the claims its proponents were making. And now, when it has jumped 100–200%, depending on the time frame, it is being talked about once again. What Bitcoin Cash news could shed some light on what is happening? What is the Bitcoin Cash price prediction in light of recent events? Find out in our updated article about the future BCH price!
Bitcoin Cash Price Forecast 2023–2033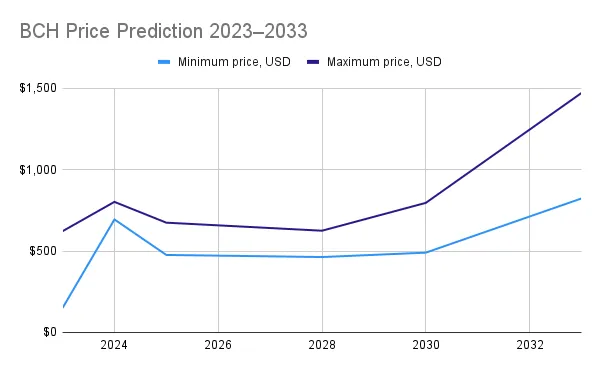 Accounting for the current rally, the Bitcoin Cash price prediction for 2023 sees it continue rising up to ~$600;
In one or two years, BCH is expected to rise to ranges around ~$500;
Even in the long term, BCH is not forecast to overtake its ATH.
What is Bitcoin Cash (BCH)?
Bitcoin Cash (BCH) is a cryptocurrency created in 2017 as a result of a hard fork from the original Bitcoin network to improve the scalability and transaction speed of Bitcoin.
One of the main differences between Bitcoin Cash and Bitcoin is the block size limit.
While Bitcoin Core improved the scalability of the chain by introducing changes to the cryptography, Bitcoin Cash straightforwardly raised the block size cap to 8 MB. The idea was to allow for more transactions to be processed in each block, resulting in faster and cheaper transactions.
Bitcoin Cash also uses the same hashing algorithm as Bitcoin, known as SHA-256. This does not mean Bitcoin Cash is compatible with the original Bitcoin, though. Since 2017, it has its own separate blockchain.
Bitcoin Cash has gained popularity among some users and businesses due to its faster transaction times and lower fees compared to Bitcoin. It is worth noting that Bitcoin Cash has also faced criticism for centralization concerns and a contentious upgrade process.
Bitcoin Cash aims to provide a decentralized peer-to-peer electronic cash system, similar to the original vision of Bitcoin. It continues to be actively traded and used for various transactions and investments in the cryptocurrency market.
ChangeHero has a beginner's guide to Bitcoin Cash if you want to learn more about the history and applications of the coin.
Bitcoin Cash Price History
BCH Price in 2017–2019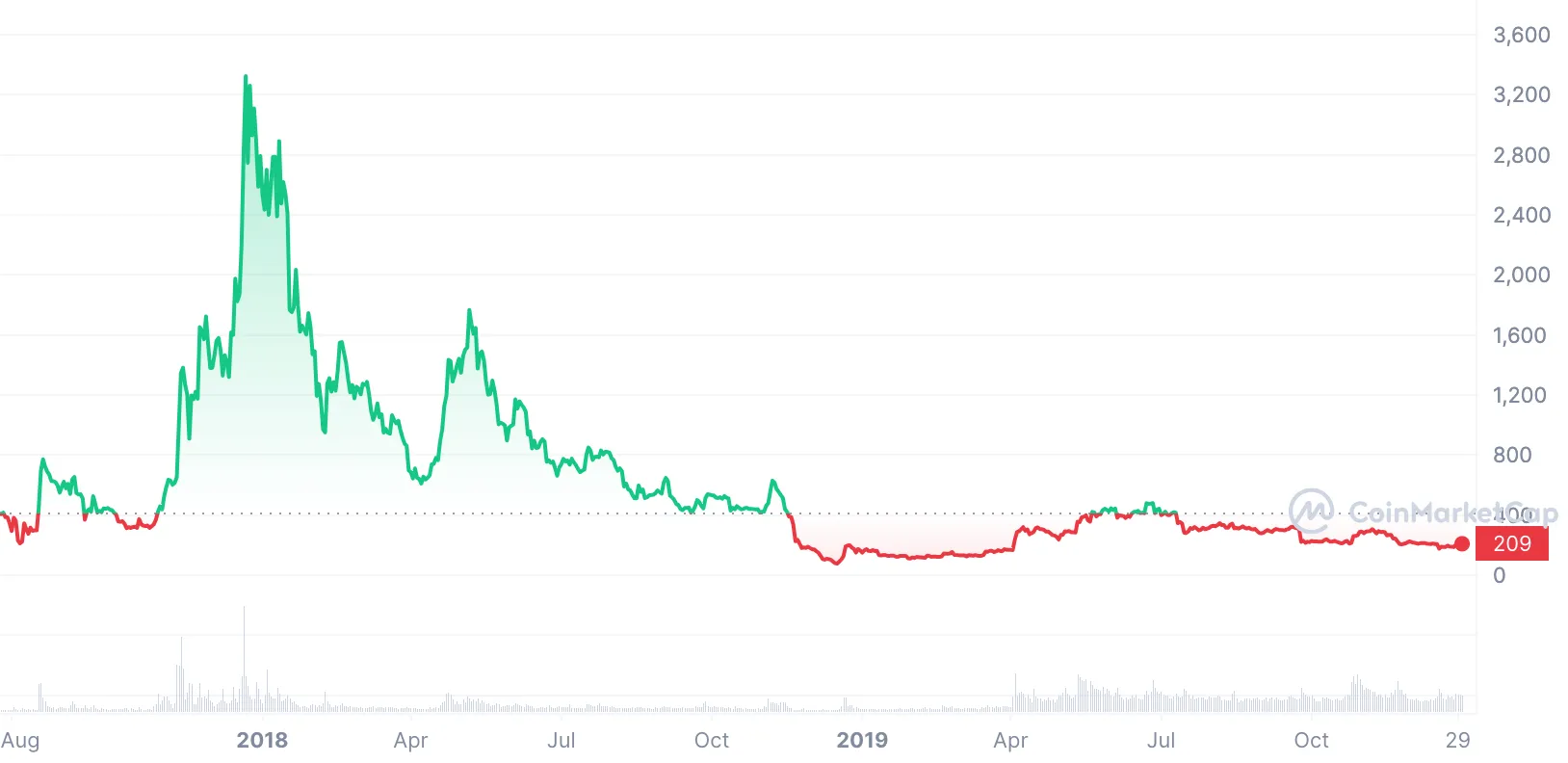 Bitcoin Cash (BCH) gained significant support when it started its independent journey at around $400. Despite initial refusals from Coinbase and Itbit, the price quickly rose to $900 just a few weeks later. However, the rise was short-lived as investors started selling the BCH they acquired during the forking process, leading to a downtrend that lasted until November.
Bitcoin Cash's price quickly caught up to the overall market boom and reached an all-time high of $4,355.62 on December 20, 2017. The subsequent correction affected the entire market, but during a brief bull market in the spring of 2018, Bitcoin Cash outperformed its parent coin and surged by +580% to $470.
In November 2018, ongoing arguments about scalability led to another chain split, resulting in the creation of Bitcoin Cash (BCH) and Bitcoin SV (BSV). Prior to this event, the price briefly spiked to $600, only to drop to double digits a month later.
BCH Price in 2020–2023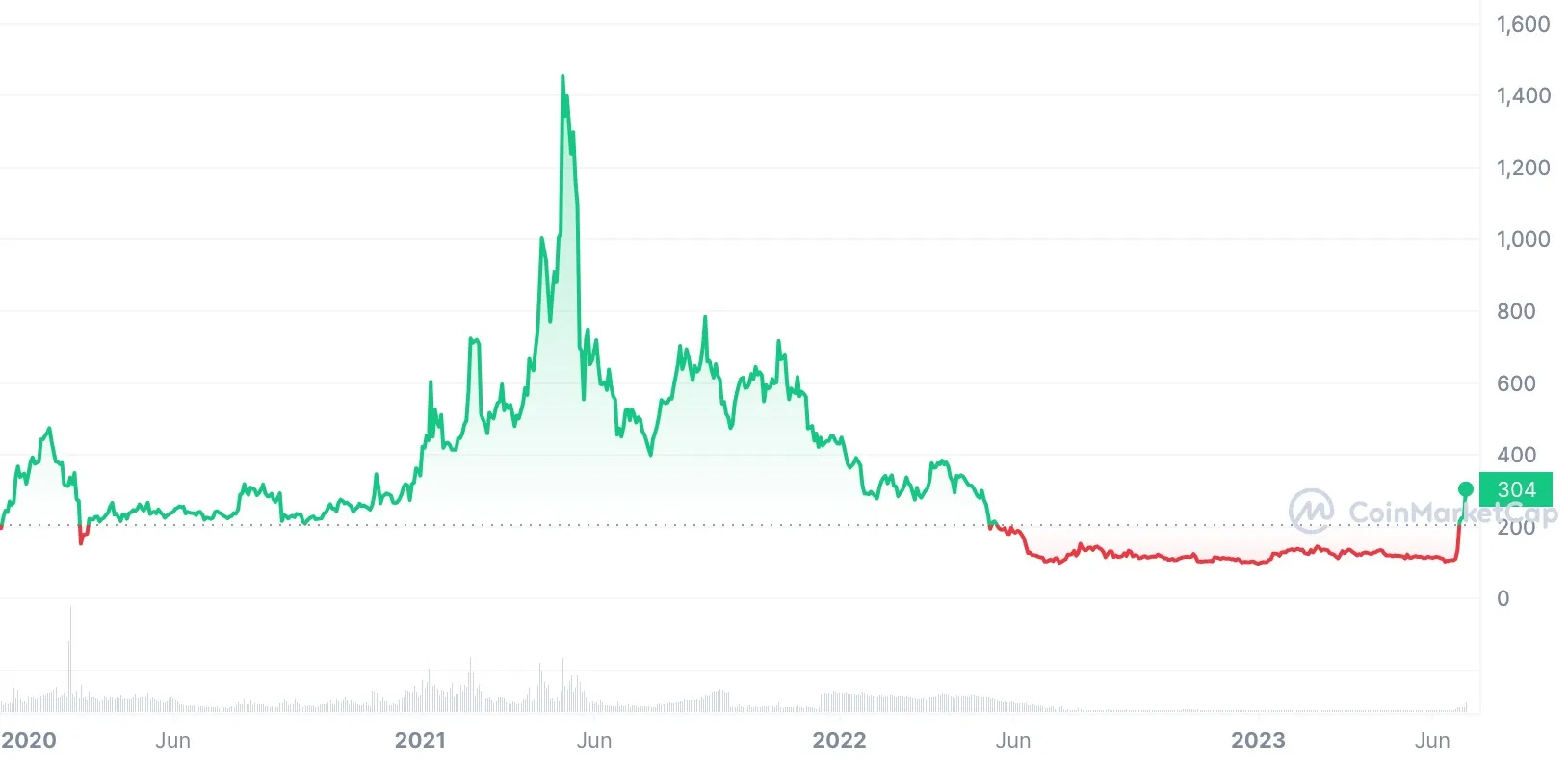 In 2019, BCH saw some recovery thanks to scheduled upgrades and improvements to network scalability. It performed decently, gaining around 30% and maintaining momentum into early 2020. However, the crypto market crash in March 2020, following the stock market, impacted BCH as well. Its halving in April did not lead to a rally as the Bitcoin halving historically does.
In 2021, BCH's price chart looks strikingly similar to its price charts in 2017-2018. While it failed to surpass its previous record, it reached $1,542.43 at the peak of the latest market cycle. However, in November, when Bitcoin was surging, BCH did not see significant price action.
By the end of 2021, BCH closed at $430.64, with a gain of 26% from the start of the year. In 2022, BCH has been on a downtrend, losing value consistently. 2023 has been a little more promising, with a downtrend turning into a consolidation. The BCH price has been staying in the $100–140 range, breaking out occasionally. That is until in June 2023 Bitcoin Cash (BCH) price jumped to $300, which is +165% on a monthly time frame and +207% in comparison to a year ago.
At the time of writing, the BCH price is $306.27 and the coin ranks 14th by market capitalization on CoinMarketCap.
What led to such a sudden Bitcoin Cash price surge? We'll talk about it in the next section.
What can Influence the Price of Bitcoin Cash?
Demand and Speculation
Bitcoin Cash was meant to become the 'digital cash' Satoshi Nakamoto wanted Bitcoin to be. The Bitcoin Cash community is interested in increasing the number of businesses that accept the currency.
There was a prospect of official adoption and a legal tender status in 2022 from the Netherlands constituent kingdom of Sint Maarten. A pro-crypto MP Rolando Brison has announced he is researching a bill that would make Bitcoin Cash legal tender in their jurisdiction. A year later, it seems that the extent of this initiative would reach only his personal salary and expenses for now.
Due to its relation to the original Bitcoin, BCH has enjoyed more clarity about its legal status than its peers. It is still listed on PayPal, Robinhood, and on eToro, which dropped some of their supported markets due to security laws concerns. It is also present in the catalog of a new regulated exchange — EDX, backed by Fidelity and Citadel Securities.
The listing did not simply coincide with the price action, it fuelled it. It's evidenced by the on-chain metrics, such as balance by time held ratio: most volumes came from recent holders. The addition of the BCH/KRW markets to a regulated Korean exchange Upbit also contributed to the rise in volumes.
Tech Updates
In addition to integrations that expand the Bitcoin Cash ecosystem, the BCH chain upgrades two times a year on a schedule. The recent May 15 update was a minor one, mostly including bug fixes and performance enhancements.
The influence of scheduled upgrades works both ways: positively and negatively. The update on November 15, 2020 saw the chain split into BCHN and BCHABC. The main point of contention was the block reward distribution: BCHABC supporters insisted 8% of it should go to a centralized treasury. Due to having the majority of miners' hash rate on their side, BCHN took over the BCH ticker. BCHABC changed the protocol even more radically after forking, becoming eCash (XEC), redenominating and even tweaking the consensus protocol.
The split didn't affect the price much but the investor confidence was shaken as this was yet another case of community disagreement.
Miner Reward Halving
Regular and pre-programmed miner reward slashing, also known as "halving" is one of the mechanisms to keep a cryptocurrency deflationary.
All three major branches of Bitcoin shared the first two halvings, but 2020's third halving was the first for BCH. The block reward was lowered to 6.25 BCH and just like before, this event was expected to trigger a bull market. There was no repetition of the events of a Bitcoin halving but the total supply of BCH (21 million) is still decreasingly accessible. With that quality in mind, it has the potential to act as a hedge asset.
Our BCH Price Analysis and Forecast
The parabolic rise of the current Bitcoin Cash price can be tricky to reliably analyze and predict but we will try. It is reasonable to expect the price to pull back shortly, so we'll place the upper range of the Fib extension near the point the relative strength index (RSI) peaked in the overbought area. Obviously, the price just keeps going beyond this point, but in the short term, let's try to cover our bases.
The $285.5 level looks like solid support. The BCH price has broken through it easily but should it pull back, it can slow down there since around this area the RSI has also started to stabilize.
If the pump continues unobstructed, which is not as likely, the next resistance would be around $402.9. Of course, there is a chance that it gets crushed just as easily as the extension below it but this feat will require even more volumes and a complete lack of pushback from sellers.
Bitcoin Cash Price Prediction 2023
The Economy Forecast Agency's LongForecast is super bullish on BCH. They claim that we will see the maximum price for BCH in 2023 as soon as July. It is predicted to rally to $622 and after having opened July at $294, not dip below $415 for the rest of the year.
Telegaon is equally bullish on Bitcoin Cash's future price: according to their Bitcoin Cash price prediction, the current prices are here to stay. The minimum price of BCH in the remainder of 2023 is expected to be $328.35, and at the very best, it can extend the rally to $424.31.
The Youtube channel Crypto4lightMarket host suggests a few areas where to take profits. From where it is now, he believes Bitcoin Cash can go up to $489. There is a chance that before that, BCH will drop back to $150.
Bitcoin Cash Predictions for 2024–2025
With volatility taken into account, DigitalCoinPrice predicts that September 2024 will see BCH at its highest that year, averaging $802.14 on a monthly time frame. Just before that, in August, it will be at its cheapest, around $694.18.
In 2025, CryptoGround projects that BCH will increase in value, although not as greatly as bulls would hope. It can grow up to $594.6996 but bear in mind that this Bitcoin Cash price prediction does not seem to account for the 2024 BCH halving.
Coinpedia analytics dismiss the possibility of BCH ever crashing simply because it is based on Bitcoin. Their conservative BCH forecast for 2025 gives a target of around $561.769 but they do not rule out it reaching $647.391. Similarly, there's a chance for it to drop down to $476.148 because of the environmental concerns around PoW mining on an industrial scale.
Bitcoin Cash Price Prediction 2028, 2030, 2033
Decent growth is predicted by CoinPriceForecast. They project that in 2028 BCH can appreciate by +102% and be worth $625 by the end of the year, up from $581. In 2030, it will add another +157% and rise from $754 to $796 by December. At this pace, ten years from now, BCH will be seen rising through the range between $823 to $857.
Most past predictions could not foresee the current rally, not to mention that long-term forecasts have even lower chances of foreseeing such factors. This is why AMB Crypto keeps its expectations from the Bitcoin Cash price prediction curbed. Five years from now, its maximum price will not exceed $463.20. At least, the minimum forecast price for BCH in 2028 is $308.80. In 2030, the range will move slightly higher, to $490.25–735.38. Finally, in ten years, the minimum price of BCH will be $980.69, and the maximum — $1,471.04.
How to exchange Bitcoin Cash on ChangeHero?
If you want to get your own share of BCH, ChangeHero is here to help. Swap cryptocurrencies, including Bitcoin Cash, lightning-fast and with no sign-ups:
Choose the currencies on the home page, amounts, and the type of exchange. Provide your wallet address in the next step and check the amounts;

Double-check the provided information, read and accept the Terms of Use and Privacy Policy;

Send the cryptocurrency for exchange in a single transaction. Fixed Rate transactions have a 15-minute limit;

Done? Now we are doing all the work: checking the incoming transaction and doing the exchange as soon as it arrives. The Best Rate transactions will use the rate current to the time when your funds arrive. The Fixed Rate will use the rate at the time of step 1;

As soon as the exchange has been processed, your BCH is on its way to your wallet.
Customer support is available 24/7 in the chat on the website or through the email: [email protected].
Did you know that you can not only swap crypto on the ChangeHero website but also buy and sell it with a bank card, wire transfer, or ApplePay? To sell BCH for USD or EUR, visit the "Buy and sell crypto" page.
Conclusion
Bitcoin Cash is seeking adoption as the "digital peer-to-peer cash" Satoshi Nakamoto described in the whitepaper that started it all. Arguably, it is one of the most reputable Bitcoin forks, so its adoption prospects are believable.
What do you think about the predictions? Leave a comment on our social media and subscribe for updates and the latest news: Twitter, Facebook, Telegram, and subreddit. Read other articles in our blog to learn more about crypto and blockchain.
---
Frequently Asked Questions
What is Bitcoin Cash (BCH)?
Bitcoin Cash is a contentious fork of Bitcoin that split after the debate about scaling solutions. The main chain opted for additional protocols while Bitcoin Cash increased the maximum block size. Bitcoin Cash's chain was split two more times in 2018 and 2020.
Will Bitcoin Cash go up again?
The opinions of experts and analysts are split but the majority believes BCH can perform well and gain value.
What will Bitcoin Cash be worth in 2023?
Depending on who you ask, experts give estimates between $150 to $622.
What will Bitcoin Cash be worth in 2025?
Analysts' opinions give a range between $476.15 and $647.39.
What will Bitcoin Cash be worth in 2030?
Analysts' opinions give a range between $490.25 and $796.
Disclaimer
This article is not a piece of financial advice. No price prediction is guaranteed to provide exact information on the future price.
When dealing with cryptocurrencies, remember that they are extremely volatile and thus, a high-risk investment. Always make sure to stay informed and be aware of those risks. Consider investing in cryptocurrencies only after careful consideration and analysis and at your own risk.
Learn more:
Quick links: