There is barely a boring day for a SHIB holder: the team and community churn out announcements one after another, and the next thing you know, the chart is vertical. What kind of SHIB price prediction for 2022 do experts and analysts give and why? Read in our new article!
SHIB Price Predictions for 2022-2030
| | |
| --- | --- |
| Year | Price, USD |
| 2022 | 0.000015-0.1 |
| 2023 | 0.00008665-0.00010428 |
| 2024 | 0.00002945-0.0000516 |
| 2025 | 0.00007468-0.00014063 |
| 2030 | 0.000079887-0.00097547 |
SHIB price prediction for 2022 varies wildly: from a bearish scenario with SHIB at $0.000015 to an overly optimistic goal of $0.1 this year;
Estimates at which SHIB will be traded in 2025 are also very far apart. Some experts see SHIB rising only to $0.00007468 and others give nice targets at $0.00014063;
Analysts that believe SHIB will be around in 2030 say it will be worth anywhere from $0.000079987 to $0.00097547.
What is Shiba Inu (SHIB)?
Shiba Inu was largely inspired by another dog meme coin, Dogecoin. The centralization of DOGE and its stagnation caused some blockchain developers, one of which is Ryoshi, to come up with an alternative. Shiba Inu positions itself as a community-run fully decentralized cryptocurrency. Unlike the Dogecoin community, SHIBArmy is none too shy to take part in any crypto trend, keeping the relevance high. It appeared in 2020, when DeFi was all the rage, and built a whole ecosystem of tokens. In 2021, it launched an NFT platform, and now the community has set their sights on the metaverse. More about Shiba Inu and the SHIB token you will be able to find in our Beginner's Guide.
Shiba Inu Price History (2020-2022)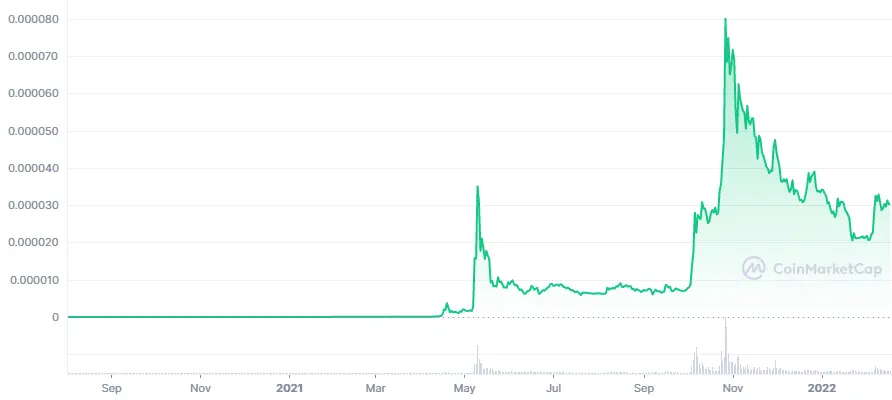 At first, when SHIB had just launched, it was being traded for as little as $0.000000000145. The low price was in part due to the humongous supply of 500 quadrillion SHIB. Both the price and trading volumes remained low until the first leg of the bull run on the crypto market of 2021. In a matter of a month, SHIB's price skyrocketed from $0.00000008 to $0.00003503, an increase of 43,687%. After the parabolic rise, the correction was also sharp and took SHIB down to $0.00000813. This level was maintained until the second leg up in October 2021. At first, SHIB appreciated to $0.00003077 (adding 278%), and then, to its current ATH of $0.00008845 (another 187%) on October 28, 2021. At the time of writing, the SHIB price is $0.00003033 and it ranks 14th by market capitalization.
What Influences the SHIB Price?
Whale Holdings
Despite the rhetoric of the team, they could not stop the process of accumulation of SHIB by large holders. More than 79% of the liquid supply is stored at addresses that hold more than 0.1% of the circulating supply. 81% of the total on-chain transaction volume is transfers worth over $100,000. Large players can easily move the market with an order big enough, intentionally or not.
Adoption
Shiba Inu's use cases are diverse on paper but have limited practicality. Nonetheless, it gained a global army of followers. WhaleStats shared the Shiba Inu coin news that in February 2022, it hit an all-time high in token holders, exceeding 1,175,000 holders. It should be noted that since the addresses are pseudonymous and not limited in number per person, it most likely means number of addresses, not individuals. Nevertheless, this is still a number that not every crypto project has pulled off. The Mover crypto card recently introduced support of the Shiba Inu ecosystem tokens. It might be tricky at the moment to find a vendor in the Metaverse to use the NFT version of the card, but their debit card is accepted everywhere where Visa is supported.
Ecosystem News
Shiba Inu often jumps when the team announces a new foray or upgrade, as it often is with other assets. This is especially true for them, since they try to keep the interest in SHIB high consistently. 2021 introduced a metaverse trend, and it did not take long for the Shiba Inu team to try finding an application there. On Feb 8, 2022 they announced early development of a metaverse initiative and shared some ideas about its future outlook. The community holds burn events to reduce the supply of SHIB and increase its scarcity. However, with all their combined efforts, they have removed 59.2 billion SHIB from circulationб or 0.01%.
SHIB on Twitter
Thank you #ShibArmy!

A new milestone for our @Shibtoken Twitter account has been accomplished. Today we reached 2.8 Million Friendshibs! pic.twitter.com/4F4WPsZVA1 — Shib (@Shibtoken) February 12, 2022
The verified Twitter account of Shiba Inu project shared some great news for the adoption of SHIB: their largest account is followed by 2.8 million accounts.
$SHIB is holding this support zone!

Only up from here! 📈🚀🚀 pic.twitter.com/kvi0UXV76O — $SHIB KNIGHT (@army_shiba) February 16, 2022
Trader Shib Knight shares daily updates and technical analysis of the SHIB-USD chart.
After 9 hours of cycling and more than 120 kilometers I drew #shibainu with gps tracks. @Shibtoken to the moon 🚀🚀🚀#shiba #nft #Crypto #SHIBARMY@ShibInformer @opensea @ShibainuCoin pic.twitter.com/1pI5TOFwC6

— Runbrandt artist (@runbrandt) February 14, 2022
Word of mouth and community members going crazy on Twitter are not the least significant factor in SHIB's popularity, after all. As long as there are passionate creatives like Runbrandt, Shib Army will only grow.
SHIB Price Prediction for 2022
News outlet Finbold gives a bearish short-term prediction for SHIB, drawing a lower base level in the range between $0.000015 and $0.000022. Generally speaking, though, they give a bullish SHIB price prediction for 2022 and are confident it can beat its 2021's ATH. Coingape analyst Brian Bollinger spots bullish patterns on the daily and 4-hour chart of SHIB-USD. A confirmed trend reversal would take SHIB above $0.00004.
YouTube is full of constantly updating SHIB price predictions for 2022 and further, making exorbitant claims. The Crypto Investing channel shared a digest of an AMA with the Shiba Inu developers, according to which they will be working on making SHIB worth 0.1 this year. For that to happen, though, the market capitalization SHIB has to reach amounts to roughly half of the global GDP in 2022 ($102.404B).
SHIB Crypto Price Prediction for 2023 and 2024
In 2023, the average price of SHIB will gain 234% and reach $0.0001042, Coin Price Forecast predicts. Provided SHIB's price history, this is quite reasonable. According to Long Forecast, 2024 will be a profitable year for all current SHIB holders but not one without slumps. Summer 2024 will see SHIB scrape $0.00002945 but by the end of the year, it will be up 141%, trading for $0.0000516.
SHIB Price Prediction for 2025
For such a long term, CryptoNewsZ expects SHIB to grow in price significantly with the mass adoption. By then, they forecast, Shiba Inu token will score $0.000125, which seems moderate. Similarly a moderate forecast is given by PricePrediction.net. They put the target higher at $0.00014063. Investing Cube author Eno Ikenna Eteng is even less confident in SHIB, largely because of its unstable price and meme coin status. He is sure that SHIB will be worth at least $0.00007468 in a bullish scenario, though.
SHIB Price Prediction for 2030
No one knows for sure if Shiba Inu will stay to see 2030. The "Meme coin" label did not stop Dogecoin from lasting eight years, but it is uncertain if the Shiba Inu team will keep their developing and promoting vigor. In case business proceeds as usual, Cryptopolitan thinks SHIB will be traded in a range between $0.00080207 and $0.00097547. Tech News Leader gives a SHIB price prediction for 2030 of $0.00079887 on average.
ChangeHero Shiba Inu Coin Price Prediction
In our opinion, it's safe to assume that in the near future SHIB will keep moving in the same patterns of parabolic pumps and sharp corrections. The effort the community takes to accelerate these surges is nothing to sneeze at. However, it is curbed by large holders that can cause a selloff that will stop any rally in its tracks. Considering that each surge of Shiba Inu was larger than before, it can beat its current ATH as soon as in 2022 or 2023.
How to get SHIB on ChangeHero?
Getting SHIB with crypto without sign-ups is possible on ChangeHero, and it's very easy:
Choose the currencies on the home page, amounts and the type of exchange. Provide your SHIB wallet address in the next step and check the amounts;
Double-check the provided information, read and accept the Terms of Use and Privacy Policy;
Send in a single transaction the sum of cryptocurrency you will be exchanging. Fixed Rate transactions have a 15-minute limit;
All done? Now we are doing all the work: checking the incoming transaction and doing the exchange as soon as it arrives. Best Rate transactions will use the rate current to the time when your funds arrive. Fixed Rate will use the rate at the time of step 1;
As soon as the exchange has been processed, your SHIB are on the way to your wallet.
ChangeHero's customer support is available 24/7 in the chat on our website or through the email: [email protected].
Conclusion
Shiba Inu was often dismissed as a memecoin copycat and a perpetual hype generator without substance, but savvy investors are able to reap the benefits of it regardless. What do you think about these predictions? Let us know in the comments in our blog or in our social media: Twitter, Facebook, Reddit and in Telegram.
Frequently Asked Questions
What is SHIB?
Shiba Inu (SHIB) is an ERC20 token that was created as a reaction to Dogecoin. The Shiba Inu team aims to achieve decentralization and innovation with their projects.
What will SHIB be worth in 2022?
Various sources give SHIB price predictions ranging from moderate $0.000015 to unrealistic $0.1.
What will SHIB be worth by 2025?
Experts name targets in the range between $0.00007468 and $0.00014063 for SHIB in 2025.
What will SHIB be worth in 2030?
By 2030, Shiba Inu can grow to $0.00079887 and even $0.00097547, analysts claim.
Will SHIB reach 10 cents?
For SHIB to reach 10 cents, its market capitalization has to be about half of the entire world's GDP in 2022. While a very bullish target, it is not quite realistic anytime soon.
Is SHIB crypto a good investment?
SHIB is a very volatile and risky asset that can potentially bring massive profits or losses. In the right hands it can be profitable but Shiba Inu is a very risky investment.
Quick links: