A month later, the ChangeHero team revisits the global trends of crypto to see what new arrivals were added to the list. Let's see what cryptocurrencies were trending in different countries and why — maybe you will find your May buy!
Crypto Assets Trending in the United Kingdom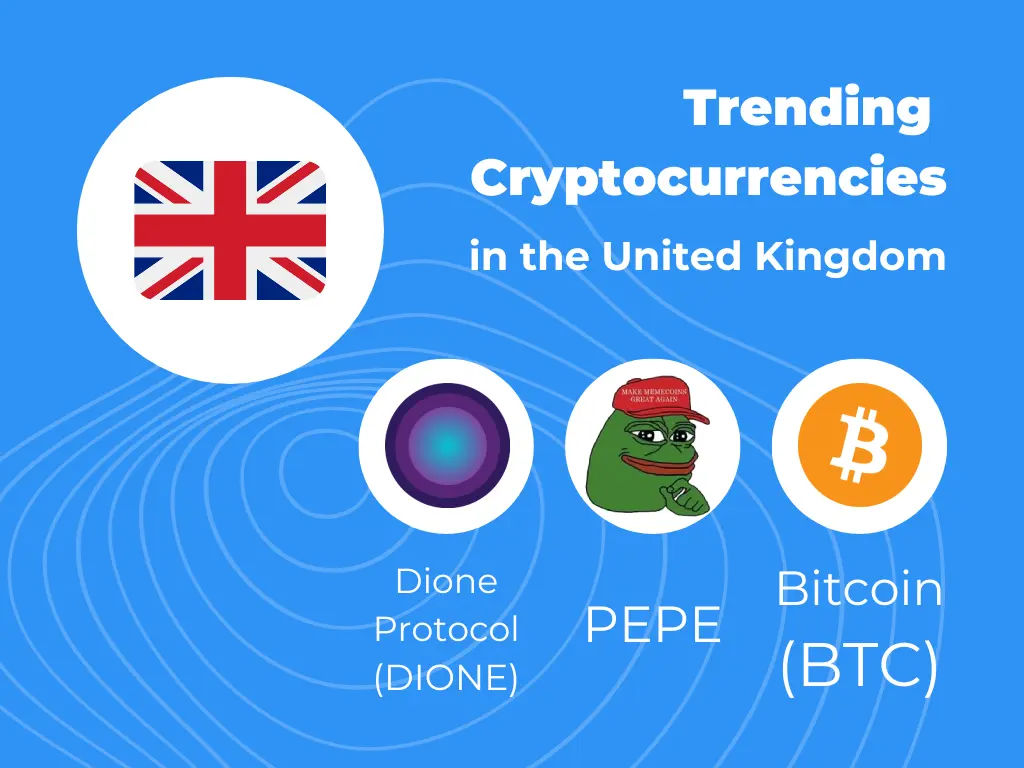 Dione Protocol (DIONE)
This small-cap and previously relatively little-known altcoin is making waves and trending globally. There is a good reason for people to seek it out and do research on it. But first, an introduction is in order.
DIONE is a decentralized platform built on the Ethereum blockchain that aims to provide secure and scalable solutions for data storage, communication, and computation. It enables users to store their data on a decentralized network, communicate securely using end-to-end encryption, run complex computations on the network, and use smart contracts to facilitate transactions and interactions between users. They position themselves as a network powered by renewable energy because of a system that incentivizes nodes to use it.
This is not a new protocol but it is gaining attention these days because of a new development in their roadmap. On Twitter, the team made a huge announcement claiming that they aim to decentralize nodes by connecting them to Starlink satellites and powering them with solar energy. The reception of it was mixed: some of the users were impressed while others remained skeptical whether Elon Musk's venture is really on board with the plan or was namedropped for clout.
PEPE
Speaking of coins that are new, this meme token is still rocking the crypto world and is a trending cryptocurrency globally, not only in the UK.
PEPE is a token that was launched in April 2023, based on an internet meme featuring a cartoon frog. It is surrounded by mystery as to who actually made it and why. One of the assumptions is that it was created as a way to poke fun at the proliferation of new cryptocurrencies and the hype surrounding them. What is out of the question, though, is that the token had a lot of buzz generated around it on launch.
Boy's Club original creator Matt Furie is on board with many crypto and NFT projects but the PEPE token is not one of them. The team is fully anonymous and a few blockchain researchers have pointed out a few concerning functions in the smart contract. For one, the transaction tax can be modified by the owner, and the contract has a blacklist function.
Bitcoin (BTC)
To no one's surprise, Bitcoin (BTC) is trending in pretty much all locales and globally. Bitcoin remains a gold standard for the state of the entire crypto-economy because it dominates it by market capitalization. At the time of writing, the BTC dominance is at 45.1% (here and in the following instances according to CoinGecko).
A narrative that emerged in March and kept going strong in April due to several banks failing propelled Bitcoin to a psychological level of around $30 thousand. Most recently, The First Republic Bank shares went to almost zero. "Be your own bank" is not a new narrative in crypto but it is strongly making a comeback.
The United Kingdom in particular has another reason to keep an eye on Bitcoin. The UK Treasury announced plans to create a legal framework for crypto transactions within the next 12 months. So far, their approach to regulation sees more favor from crypto and Bitcoin businesses than the one in the US.
Trending Cryptocurrencies in Türkiye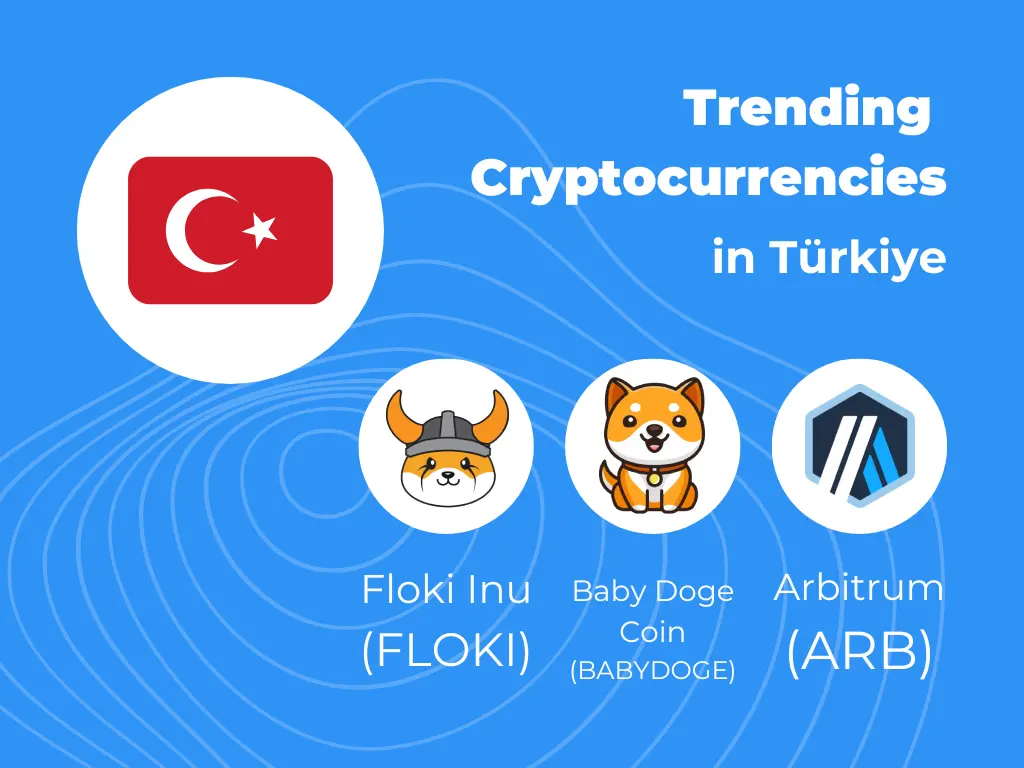 Floki Inu (FLOKI)
Floki Inu (FLOKI) is a meme coin inspired by Dogecoin but named after Elon Musk's pet Shiba Inu. Surprisingly, after the current owner of Twitter joked that the social network's current CEO is none other than Floki, the token price barely reacted. What made it jump 50% though was the news about staking enabled on testnet, as well as the Binance.US listing.
Meme coins consistently rank high in the lists of trending cryptocurrencies, and FLOKI is no exception. Its social sentiment and engagement are usually on par with its fellow dog coins, anyway. In Türkiye, though, it ranks higher than in other regions.
Baby Doge Coin (BABYDOGE)
As we mentioned, dog-themed meme coins are frequently trending, and Baby Doge Coin (BABYDOGE) is particularly popular in Türkiye. It is a small-cap coin, meaning it experiences more volatility, so its price swings are much more noticeable.
To an extent, the catalyst for growth in interest and BABYDOGE price is new exchange listings: this month, it became available on ByBit. Thanks to the integration with AntNetworX, its mascot also broke into the real world and was spotted on a digital billboard.
Arbitrum (ARB)
For the second month in a row, Arbitrum is on track to become one of the most valuable and popular Ethereum projects. The post-airdrop sell-off is no longer in the picture, and the ARB price is going strong, having gained 14.5% in a month.
The ARB token's main use case is voting on the future of the Layer-2 protocol, and the DAO has been busy. By mid-April, they have approved AIP-1.1 and 1.2 but from there on, it had not been such smooth sailing. As more ARB tokens entered circulation when the grant program started, the Arbitrum Foundation proposed to return 750 million "wrongly" airdropped ARB to the DAO treasury. The AIP-1.05 was met with controversy and ultimately failed, but at least the ARB price was up 8% as a result.
Highlights of Trending Crypto in Brazil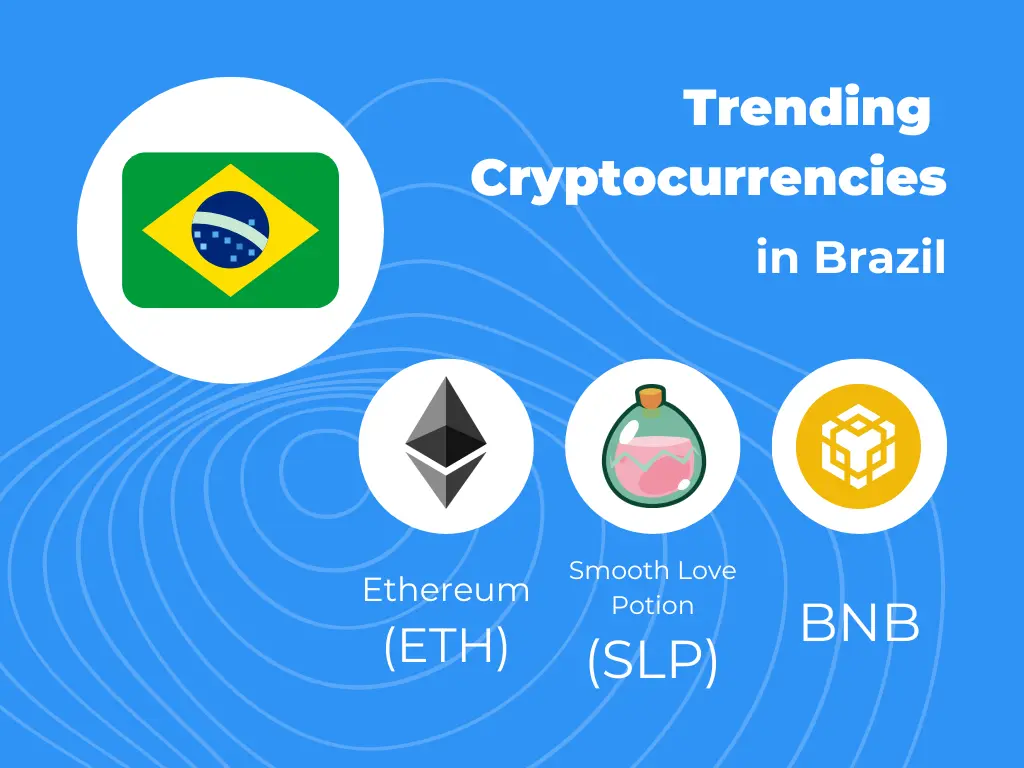 Ethereum (ETH)
Ethereum (ETH) is one of the cryptocurrencies that, like Bitcoin, attracts attention from investors worldwide. In Brazil, though, it ranks the highest among trending cryptocurrencies.
April 2023 has been big for Ethereum, since the Merge was finally completed. As we expected, the Ether price reacted by gaining 13.63% before the upgrade but dumped 14.35% immediately afterward. Whether it will have a long-term effect on the price of Ether like Bitcoin halving remains to be seen but the liquid staking industry tokens are repeating the ETH price pattern.
Smooth Love Potion (SLP)
In the previous overview, we highlighted Axie Infinity's crypto assets as they were trending in the Philippines. The extraordinary popularity of this game there has been a case study since at least 2021. However, it seems that Axie Infinity is still popular globally! Its in-game currency SLP made it to the list of trending crypto exclusively in Brazil in April.
BNB
Another major altcoin that crypto enthusiasts watch is BNB. A possible reason why BNB is one of the top trending cryptocurrencies in Brazil is optimistic BNB news about the blockchain's development.
In April, the BNB Chain team released a call for developers, validators, and storage providers to test Greenfield – their new decentralized storage solution. In addition, research found that in terms of deployed smart contracts, BNB Chain is ahead of Polygon, the runner-up, and far ahead of Ethereum: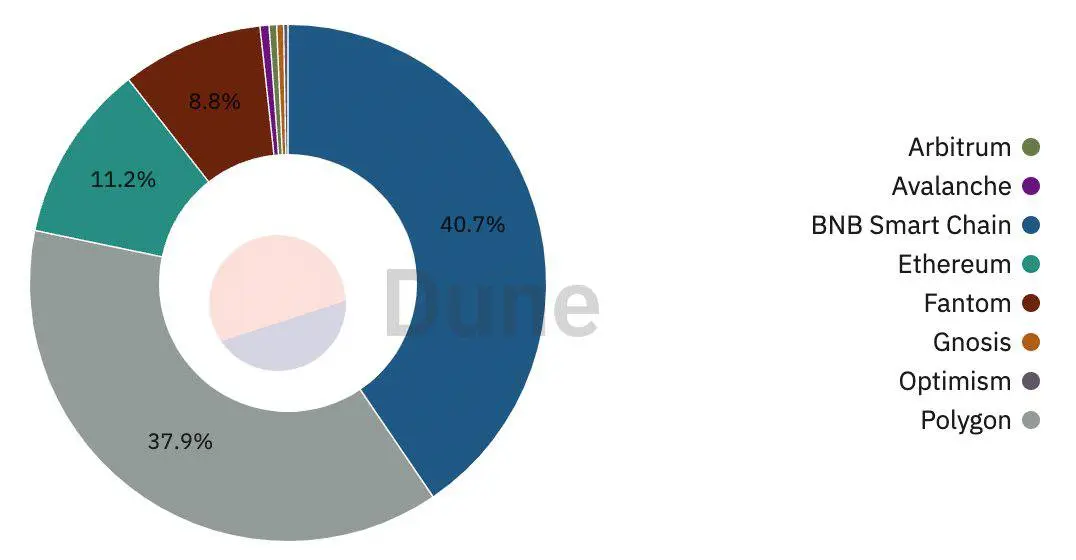 It wasn't all perfectly rosy, though. After a planned hard fork in the BNB Beacon Chain, the network experienced an outage. Controversial news for BNB is by now nothing to be surprised about.
What Crypto Is Trending In India?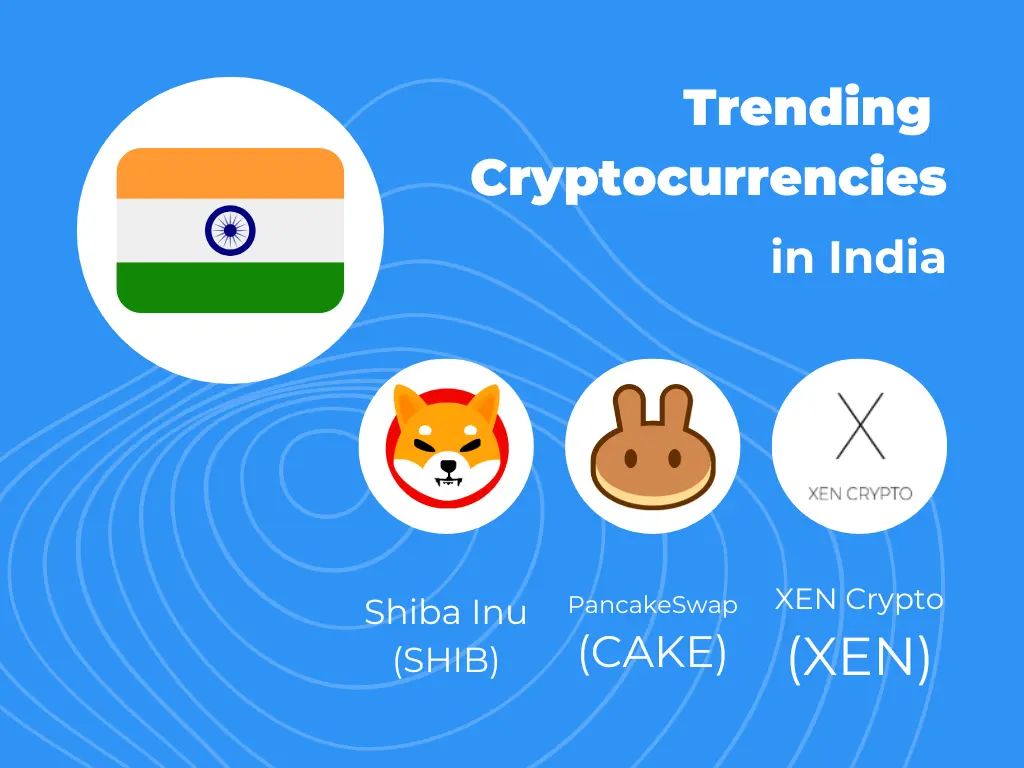 Shiba Inu (SHIB)
Overall, India is interested in more or less the same digital assets as the rest of the world. We have already talked about Dione, PEPE, Bitcoin, and Arbitrum. Although there are a few altcoins especially popular in this country.
Shiba Inu (SHIB) is one of the trending crypto tokens in India in April. There is rarely a lack of news about SHIB on any given day, driving its price in both directions. On the one hand, the hold time per Coinbase for SHIB has reached a whopping 250 days. This signals that the SHIB price is in consolidation. On the other hand, blockchain history shows that SHIB whales are selling, creating downward pressure on the Shiba Inu price.
PancakeSwap (CAKE)
The highest-value BNB Chain-based decentralized exchange PancakeSwap is a relatively well-known altcoin but these days it is going through a rough patch. The news surrounding PancakeSwap and CAKE brought it into the spotlight in a few locales, including India.
One of the versions for a sharp drop in CAKE's value is the end of the long-term staking period, introduced roughly a year ago. Meanwhile, the community is in disagreement about an ongoing proposal to revamp the tokenomics of CAKE. The team proposed to reduce inflation by shrinking staking rewards but, expectedly, this led stakers and validators to oppose it.
The news about the CAKE price going slightly down is not necessarily bad: if used right, it can present an opportunity to earn. CAKE holders can use it as a buying opportunity, and bears can see if shorting it is profitable.
XEN Crypto (XEN)
Last but not least, this low-cap altcoin is gaining steam. Is it trending because it's up 387% on a monthly time frame? Or because it's attracting more attention and trending? The jury is still out.
The most curious thing about XEN Crypto is its tokenomics and design. The aim of the project is to be the most accessible cryptocurrency on the market. Its total supply is unlimited because any newcomer can mint XEN instead of buying it. The inflation is curbed by XEN burning, which lets users get other tokens. At the moment, the issuance of XEN exceeds the burn but the protocol was designed to gradually decrease the rate at which newcomers mint XEN. Eventually, the mint and burn will reach equilibrium, and the XEN supply will start to shrink, according to the "lite paper".
Other crypto enthusiasts express concern with the protocol's mechanics because aside from the tokenomics, there is no inherent value to the token. Nevertheless, somehow it is still seeing some demand and growing in price, at least, for now.
Conclusion
Like a month ago, both established cryptocurrencies and low-cap altcoins deserved the spotlight of trending crypto. Some of them remain trending for weeks on end but there are also some new arrivals, which cause curiosity.
Find a previous entry in this series and more information about these coins in our blog. What regions would you like to see us cover in the next one? Let us know on Twitter, Facebook, Reddit, and Telegram, and subscribe while you're at it
---
Learn more:
Quick links: