Sometimes, general bullish sentiment is enough to take a coin off the ground out of a prolonged slump, even despite the news. This is what happened recently to Axie Infinity, which almost doubled in price since the start of the year. Can AXS keep it up? What will its future be? We round up experts' Axie Infinity price prediction and try to answer these questions.
All Axie Infinity Price Predictions 2023–2033
| | | |
| --- | --- | --- |
| Year | Minimum price, USD | Maximum price, USD |
| 2023 | $5.8 | $20 |
| 2024 | $42 | $66 |
| 2025 | $16.3 | $44.81 |
| 2028 | $24.22 | $115.83 |
| 2030 | $96.59 | $116.16 |
| 2033 | $124.88 | $378.83 |
From the table, we can see that overall all sources foresee long-term growth for the Axie Infinity coin. In the short-term, rally continuation is expected but it won't be until 2028 that AXS gets a chance to approach its current ATH.
What are Axie Infinity and AXS?
Axie Infinity is an online multiplayer game with RPG mechanics, available on desktops and mobiles. The core of the gameplay is Axies — cute creatures with various combat and field abilities. In battles with other opponents, players can earn rewards and grow their Axies.
Being a blockchain game, Axie Infinity puts a twist on the in-game items and characters: they are represented by crypto tokens. Each Axie is tied to an NFT (non-fungible token) that defines ownership and lets players trade their Axies on the marketplace. In-game currencies, used for growing and breeding Axies, are also represented by tokens: Smooth Love Potion (SLP) and Axie Infinity Shards (AXS).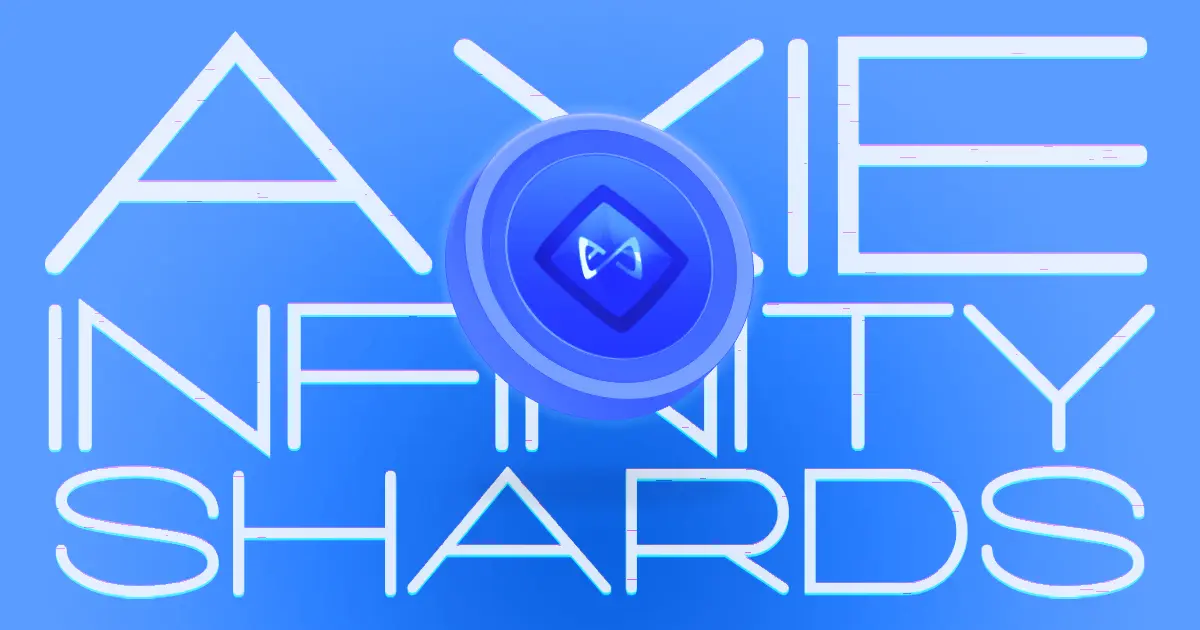 AXS tokens play an important role in the game's economy and governance and are given only to those players who invest considerable time and/or money into Axie Infinity. The game's developer chose an unconventional way of monetizing the game but it managed to make it one of the most successful play-to-earn games to date.
Axie Infinity Price History
AXS Price in 2020–2021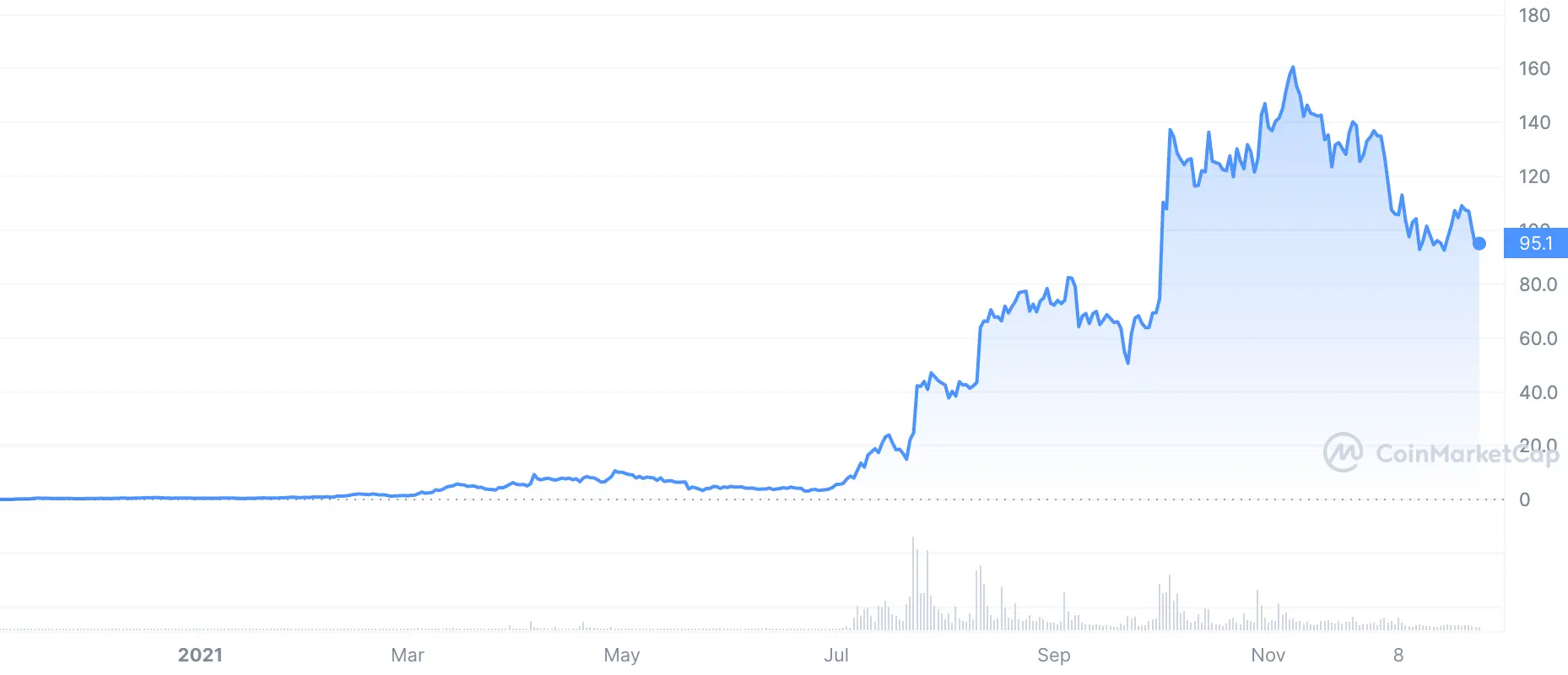 Axie Infinity was launched in March 2018 but it wasn't until 2020 that it established a fully-fledged token economy. The AXS token became a key component of decentralized governance and a coveted digital asset for the players. Another token in the Axie Infinity economy, Smooth Love Potion (SLP) became another sought-after in-game currency and a vehicle for AXS price growth.
In 2020 and the first half of 2021, the performance of AXS was relatively tame to what happened next. In the bull run, Axie Infinity became extremely popular and spearheaded play-to-earn. In the Philippines in particular, the game was often touted as a means of earning a livable income. At the peak, Sky Mavis reported having 2.7 million daily active players. On the flip side of this coin was the system of scholarships, which turned the game into a job for plenty of players. Those who could not afford an overpriced Axie NFT would rent one and farm resources — SLP and AXS — for the Axie's original owner, day in and day out, to repay the rent.
In the meantime, with its popularity, AXS's price grew as well. On November 6, 2021, AXS reached its ATH — $165.37.
AXS Price in 2022–2023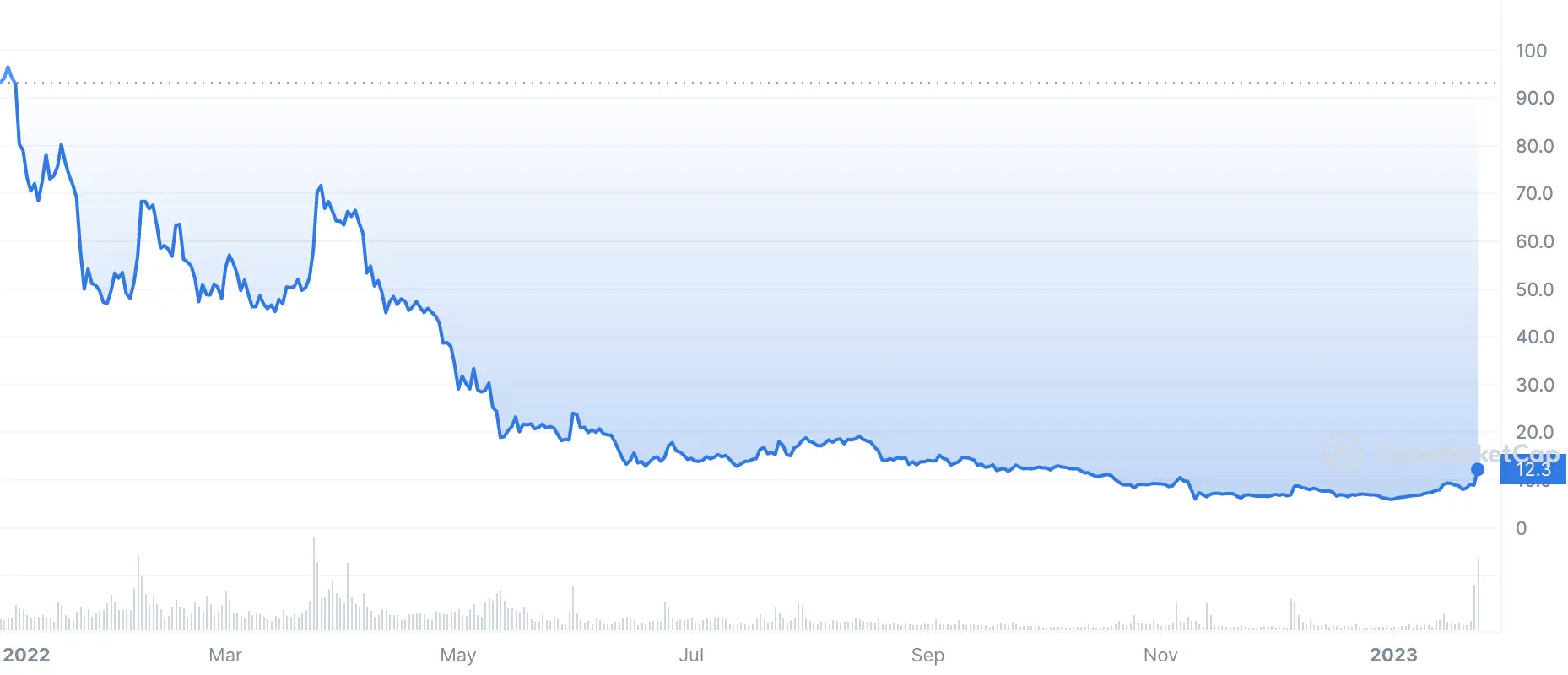 As the crypto market exited the overheated state, things started to revert back to how they used to be. Axie Infinity gradually stopped being lucrative for Axie NFT owners, so the player base dwindled.
The following correction lasted well into 2022, and the year was sometimes referred to as early "crypto winter". During that time, AXS's price went down from $93.3 to only $6 despite all the positive developments in Sky Mavis. However, negative news made even more of an impact: the Ronin side chain, launched in 2021 to move Axie Infinity off Ethereum, was hacked in March 2022. The heist ended up being the largest crypto hack in history to date, with a loss of nearly $625 million. Only three months and a few rounds of fundraising later they managed to restore access to Ronin bridge and reimburse the victims.
In 2023 so far, though, AXS is on a steady uptrend: in less than a month, its value has already doubled.
At the time of writing, the current price of AXS is $11.10, and it ranks 44th by market capitalization (according to CoinMarketCap).
Axie Infinity (AXS) Fundamental Analysis. What Influences Its Price?
Future of Play-to-Earn
For many years, the crypto community tried to make blockchain gaming a reality. Tokenized digital assets would replace in-game currencies and items, crypto proponents claim. Gamers removed from the crypto community are in turn opposed to making their favorite pastime "pay-to-win", as they call it. So who will be the one to shape the future of gaming?
For a blockchain game, Axie Infinity is actually a high-effort product, believe it or not, and its success proves it. AXS and SLP owe their growth to scholarship farms, no doubt, but they are also tied to a fun game and have tangible utility.
For sure, mainstream gaming had a head start of about forty years, but who said disruption is easy? For play-to-earn to truly succeed in the mainstream, on top of offering fun gameplay, blockchain games will have to deal with UX issues, tokenomics, and infrastructure. Axie Infinity has not solved them all but is far ahead of the competition.
Virtual Land Sales
When NFTs emerged, some developers thought of a use case for these tokens: virtual land deeds. After the metaverse became a trend, this use case really took off. The idea is to give out parcels of virtual spaces to owners to develop them as they see fit. The NFT would serve as proof of ownership, and the non-fungibility would help to distinguish between lands.
Despite not being a metaverse project, Axie Infinity offers virtual lands, too. In the game, land plots can yield not only in-game resources but AXS as well. In other words, it can be thought of as a form of NFT staking which actually gets the holder to interact with the game. At the peak, genesis plots of Axie lands went for more than 500 WETH a piece, but even today, its trading volumes are in the thousands in numbers.
Admittedly, it is taking a while for metaverse and virtual real estate to take off the ground. If things continue at the current pace, it will remain a niche use case and will see adoption but a very limited one.
Tokenomics
Axie Infinity Shards were released to the crypto market after an initial public sale and a private sale. AXS that were sold in the latter, as well as an allocation owned by Sky Mavis, were locked and distributed over time. In the last few days, its total supply increased by 1.8% due to these unlocks.
While by no means a shock to the AXS price, in the long run, the inflation will reduce the value of the token. To keep up with it, Axie Infinity will need to accrue value by developing the game and its user base.
AXS on Twitter
Got stopped out on the original $AXS long. Was a little too eager as I did not wait for the sweep to occur.
Re-entered after I saw a sweep and reclaim. #axieinfinity pic.twitter.com/An8l9lZAG8

— The Stoic Trader (@TheStoicTrader_) January 24, 2023
User The Stoic Trader estimates the AXS to USD chart and gives their technical analysis. The initial expectation for a long position did not play out but at least, the bounce helped AXS recover.
Today I like $AXS pic.twitter.com/CnkqAl2nXW

— Oldiē (@fuego_LSC) January 24, 2023
Trader fuego_LSC echoes the forecast, speculating that the breakout can take AXS up to $14. Will this AXS prediction play out?
Top Gainer Watch: #AXS (@AxieInfinity) is up 39.5% today ahead of its token unlock happening later today.

4.89M $AXS tokens, representing 1.8% of its total supply, will be unlocked.

📈: https://t.co/Mr7OEZ30vb pic.twitter.com/9wI8OpMUWB

— CoinGecko (@coingecko) January 23, 2023
Analytics portal CoinGecko highlighted the recent rally of AXS and gave some backdrop to it. Can it extend this rally, though, is anyone's guess.
Our Axie Infinity Technical Analysis and Forecast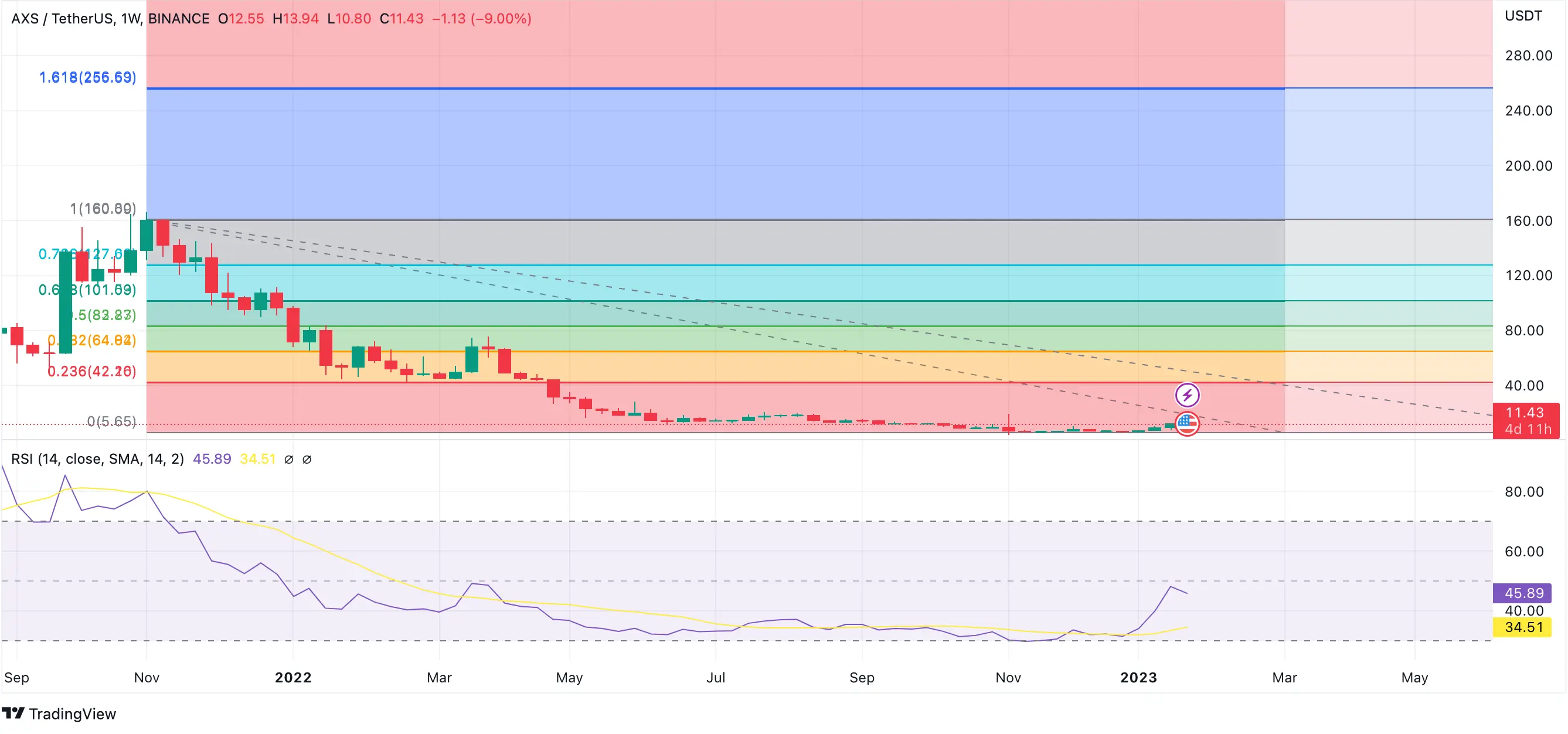 Per Coinbase, the average hold time of AXS is about 5 weeks, so let's take a look at the weekly chart. On the way to the new ATH, should Axie Infinity break out, key resistance levels would be $42 and $64.60. In case the AXS price ever breaks the record high, the first stop would be $256.69. Even despite the ongoing pullback, the bullish case is not ruled out entirely, because the relative strength index remains in the undervalued range.
Axie Infinity Price Prediction 2023, 2024
So the question is, is AXS a good buy right now? John Isige, writing for Cryptonews, concludes that it is very possible. In his analysis, he sees that the bullish impetus is strong enough to extend the move to the upside up to $20. The condition for this scenario would be defending the support levels at $12 and $10.
Ritika Sharma of CoinRepublic shares the sentiment but provides slightly different analysis results. According to her, buyers will get a chance to accumulate in an $8–10 area before moving to resistance at $15.53 and next, $19.89. A move below $5.80 will invalidate the bullish scenario.
YouTuber Mind Your Crypto validates the current rally by saying it is a breakout of a cup and handle pattern. Despite RSI being well into an overbought area, he believes that AXS can go further up to $19.6.
Let's try to look a year in advance from now. In January 2024, Gov.Capital claims, AXS will be worth $66. That is, assuming it repeats its previous performance.
AXS Price Forecast for 2025 and 2028
An Axie Infinity price prediction for 2025 by AMBCrypto is moderate with reasoning but bullish in targets. They cite a dwindling player base as a reason to think twice before buying now but don't forget to mention that this could change in the future. With this in mind, their minimum price target for AXS in 2025 is $20.64 and the maximum price to reach is $30.97.
The 2025 AXS forecast by CryptoNewsZ is based on the more or less same premise. Without taking the current relief rally into account, they see AXS growing to $16.30 and even $22.37. A buying opportunity will arise early in the year, as the token's price will steadily grow.
Prediction service PricePrediction.net is even more confident in the future of Axie Infinity. They claim in 2025 it will be trading in the range between $37.19 and $44.81. It makes the average price $38.50.
What do the same sources have to say about AXS five years from now? AMBCrypto moves the average price target up to $58.01. CryptoNewsZ predicts a range between $24.22 and $33.10. The average price of AXS in 2028 will be $115.83, per PricePrediction.net.
Axie Infinity Price Forecast 2030, 2033
One thing worth remembering is that even short-term predictions are often imprecise. This is even more true with long-term forecasts. Anyway, let's see what experts have to say.
According to DigitalCoinPrice, by the end of the decade, AXS will be worth between $108.20 and $116.16. Another website, Bitcoin Wisdom names a range between $96.59 and $102.62 for Axie Infinity Shards in 2030.
What about 2033? CoinLore tries to give an Axie Infinity price prediction for so far in the future and concludes it will appreciate explosively. At its lowest, it can be worth $124.88 but the peak they foresee is at a whopping $378.83.
Where Can You Buy Axie Infinity (AXS)?
If you already have cryptocurrencies, you can exchange them for AXS on ChangeHero in five simple steps:
Choose the currencies on the home page, amounts, and the type of exchange. Provide your wallet address in the next step and check the sums;
Double-check the provided information, read and accept the Terms of Use and Privacy Policy;
Send in a single transaction the sum of the cryptocurrency you will be exchanging. Fixed Rate transactions have a 15-minute limit;
Done? Now let us take care of your exchange as soon as the deposit arrives;
As soon as the exchange has been processed, your AXS is on its way to your wallet.
Our support service is available anytime in the chat on our website or through the email: [email protected].
Conclusion
Axie Infinity is a remarkably beloved and celebrated blockchain game that managed to break out into the mainstream. It doesn't mean that the road is complete, though. On the contrary, maintaining relevance and striving for improvement is now as vital to Sky Mavis as ever.
Did our predictions catch your eye? Read even more in our blog. Sign up for ChangeHero's updates on Twitter, Facebook, Reddit, and Telegram.
---
Frequently Asked Questions
What will AXS be worth in 2030?
Sources that give Axie Infinity price predictions for 2030 are bullish and see AXS rise up to $116.
What will Axie Infinity be worth in 2025?
AXS forecasts predict the token would cost anywhere from $16.30 to $44.81.
What is the future of Axie Infinity coin?
The future of AXS is not fully clear at the moment and largely depends on whether Sky Mavis manage to maintain game's relevance and grow its user base.
How high can Axie Infinity go?
The boldest Axie Infinity price prediction points at the $378.83 target. However, to reach it, it would take ten years from now.
Disclaimer
This article does not constitute financial or investing advice. No price prediction or forecast is guaranteed to provide exact information on the future price. Past performance is not indicative of future results.
When dealing with cryptocurrencies, remember that they are highly volatile and thus, a high-risk investment. Always stay informed and be aware of those risks by conducting your own research. Consider investing in cryptocurrencies only after careful consideration and analysis and at your own risk.
Learn more:
Quick links: