The 2020's Bitcoin halving has been all over the news, including the mainstream media, for quite a while now. ChangeHero team is bringing you this article to explain the post-halving scenario and what is happening now as a result of the halving.
So What Happened?
For everyone late to the party, let us first explain what halving is. Some blockchain networks operate on Proof-of-Work consensus algorithm, and the ones doing the "work" are miners. Using computing power, they help to process and record transactions in blocks, and completing a block yields a reward. This reward is how the new units of currency in these blockchains are minted. However, to keep inflation under control or establish a deflationary model, Bitcoin and some other networks have hard-coded regular events when the miner reward is reduced — in this case, by half, hence the name. The third halving in the Bitcoin network happened after the block 630,000 (210,000 — an interval when halving occurs, which takes about four years — times three) on May 11, 2020 at 19:23 GMT. This time the reward was reduced from 12.5 BTC per block to 6.25. At the moment of writing, a reward for solving a single block is worth $ 56,428.25 USD. Let's see what was the immediate impact of Bitcoin halving for the last 36 hours.
Effect on the Network
One of the worst-case scenarios of the aftermath of halving, fittingly called "a death spiral", involves a mass miner exodus in the event of mining becoming unprofitable. The name is not too dramatic, given that such consequences might as well spell doom for the network. Miners are the ones responsible not only for the emission, but also for network propagation and security. To be fair, no one in their right mind expected a death spiral to happen in the Bitcoin network, given how valuable the asset and massive the network is. Nevertheless, a similar, albeit much less dramatic, scenario could have occurred: miners could (or still can) switch to other PoW networks, such as Bitcoin Cash or Bitcoin SV. The rewards in these networks are worth less in USD equivalent, but if we take in account much lower power and equipment requirements, and lower difficulty, potentially, any of these networks can easily be more profitable to mine on than on the even more highly competitive BTC network. As of now, this has not been the case either. As pointed out by Twitter users @hodlonaut and @TheMoonCarl, the Bitcoin network hashrate not only did not experience a drop, but also reached a new all-time high.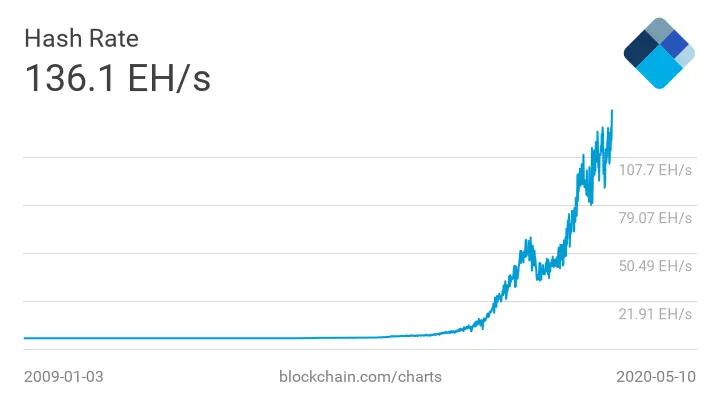 Fair to say, it is not that miners doubled their efforts in the light of halvening, but new all-time highs are bound to happen as the equipment is getting more advanced over time. Aside from some congestion in the network immediately after block 630,000, which was pointed out by the user @antpool in another tweet, it is still surprising that there was little to no decline in mining activity — at least yet.

The mining profitability did decrease sharply as a result of the event: according to the data from bitinfocharts, while on May 10 a 1Thash/s would yield $0,152 USD a day, on May 12 the same power output would give you only $0,0761USD. For now, electricity bills are not an issue, but come June, miners would have to seriously consider the profitability of their enterprise, if their bill is paid monthly. For some other miners, however, there is a silver lining in the situation: the Chinese province of Sichuan, which is responsible for a lion's share of hashrate in the BTC network, can expect subsidies from the government in the form of excess hydroelectric power, since the beginning of summer is a rainy season for most of West Asia.
Post-Halving Price Action
It should have not been surprising that in terms of daily price fluctuations the halving would not make much of a difference, yet the media is still calling it a non-event. The lack of any significant immediate change might also point at the possibility of halving being priced in. The general consensus that the actual price action will take place in the next six to twelve months is still supported by most experts, though. Here is how the Bitcoin price was performing on the day of halving: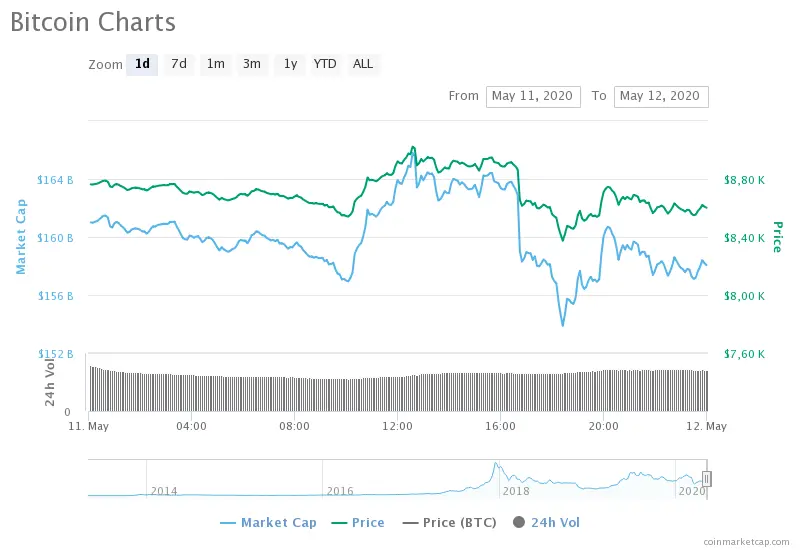 On May 11, 2020, opening at $8,755.54 USD and closing at $8,601.80 USD, Bitcoin saw a daily change of -1.78%. The 24h high of $9,033.47 USD is not as impressive, considering how in the previous few days (from May 6 to 10) it was consistently being traded above the $9 thousand mark. Moreso, the technical analysis shows that a bearish trend is about to begin: 5 and 10-day moving averages and MACD point at a change toward it. Perhaps, this is a consequence of a recent rally supported by the hype around upcoming halving and expectations of a bull market connected to it. Another possibility is that a pattern which occurred with the previous halving events is repeating: on the day after the event the prices slid by just a few percent.
Community Response on Bitcoin Halving
For the whole crypto community, of course, this was a major event. Some even called it a holiday and a cause for celebration, which is why there were numerous watch parties and online events accompanying the creation of block 630,000. Other Twitter users came up with… original ways to celebrate the event: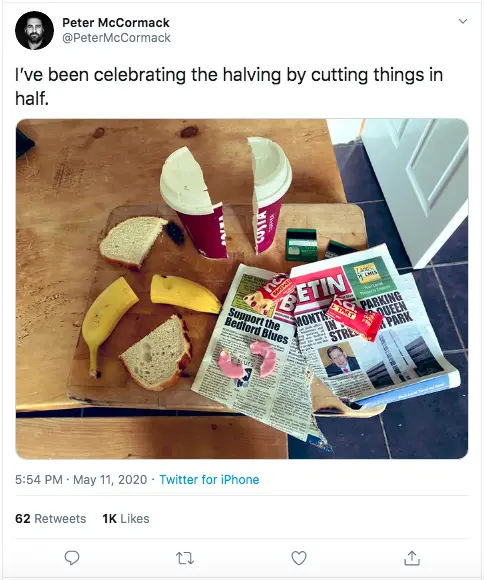 Peter McCormack, known as a host of What Bitcoin Did and Defiance podcasts, "halved" some of the objects he managed to find around the house (a "halved" debit card is an especially nice touch). Another way to mark the event in the calendars was made by f2pool, who mined the last block that rewarded 12.5 BTC and attached a message to it: "NYTimes 09/Apr/2020 With $2.3T Injection, Fed's Plan Far Exceeds 2008 Rescue". This is a clear callback to the message accompanying the genesis block, made by Satoshi Nakamoto: "The Times 03/Jan/2009 Chancellor on brink of second bailout for banks". Back in 2009, Bitcoin emerged in a world coping with the financial crisis of 2008. The philosophy of the money backed by code and free from authority is as resounding today as ever. Here are a couple more tweets about the #BitcoinHalving: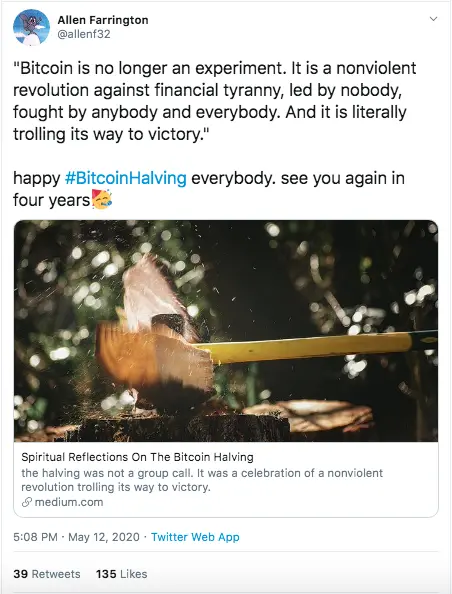 Allen Farrington is a miner, so of course he had some thoughts to share on the occasion. He seems sure that the current economic situation is only beneficial for Bitcoin to become widely embraced and revolutionize money as we know it.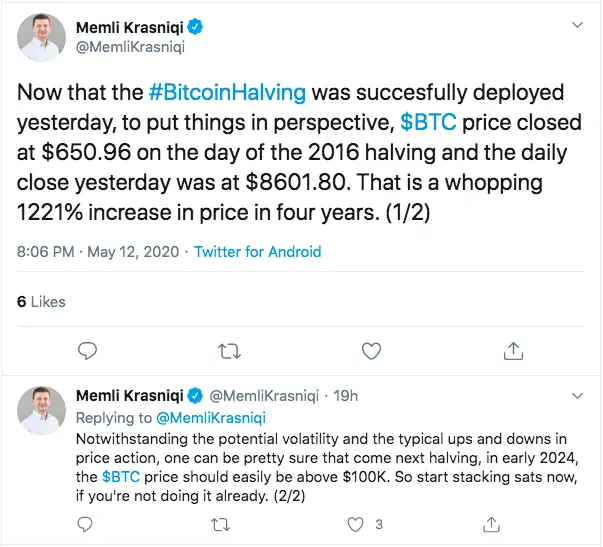 Memli Krasniqi is not only a Kosovar politician, but also a crypto enthusiast. Since the last halving in 2016, Bitcoin has gained 1221% more in value, he points out, so his opinion on Bitcoin is so bullish that he easily sees a similar gain by the next halvening.  So, in the aftermath, cypherpunks are proudly expanding their agenda of revolutionizing the economy while traders and investors are buckling their seat belts for the next several months to come. In the end, what is not to celebrate here?
Conclusion
As far as the consequences of halving go, there are not too many outcomes that are clearly predictable only two days later. It doesn't seem that miners are going anywhere, at least for now, so the network will be up and running as usual. Price action hints at a repetition of the scenario that followed the previous two halvings, so traders brace themselves while hodlers wait. The economic situation today is eerily familiar to the crises we saw in 2009 or 2012, the years that preceded the growth of Bitcoin. As the stocks and oil are plummeting, more and more investors turn their eyes to Bitcoin as a valuable asset. Now that the block 630,000 is mined and recorded on the blockchain, some of the hype will die down, which is not a bad thing, considering how irrational trading and acting on impulse can happen when there is just too much news. Isn't it just the right circumstances to hop on the train? If you think so, be sure to check out ChangeHero. On our website you can exchange, buy and sell Bitcoin at attractive rates, securely and extra fast! For more news, articles, guides and price predictions, subscribe to ChangeHero Blog, Twitter, Facebook, Reddit, Telegram and be the first to get notified. Share your thoughts about Bitcoin halving with us!
---
Learn more:
Quick links: