The HBAR coin has seen both bullish and bearish price action for the past couple of weeks. How is 2023 treating it so far? Turns out, not too badly! We will look at Hedera news to tell you more about it. What Hedera price prediction is given by experts going off the news? Read on to learn this, too.
All HBAR Price Predictions 2023–2033
| | | |
| --- | --- | --- |
| Year | Minimum price, USD | Maximum price, USD |
| 2023 | $0.0745 | $0.13 |
| 2024 | $0.18 | $0.22 |
| 2025 | $0.18 | $8 |
| 2028 | $0.42 | $8 |
| 2030 | $0.28 | $10.354 |
| 2033 | $0.57 | $57.66 |
Summing up the table above, we can see that not a lot of opinions are bullish enough to give an HBAR price prediction above $1. Even the ones that do are for the long term, but they give the maximum price for HBAR above $50.
An Overview of Hedera (HBAR)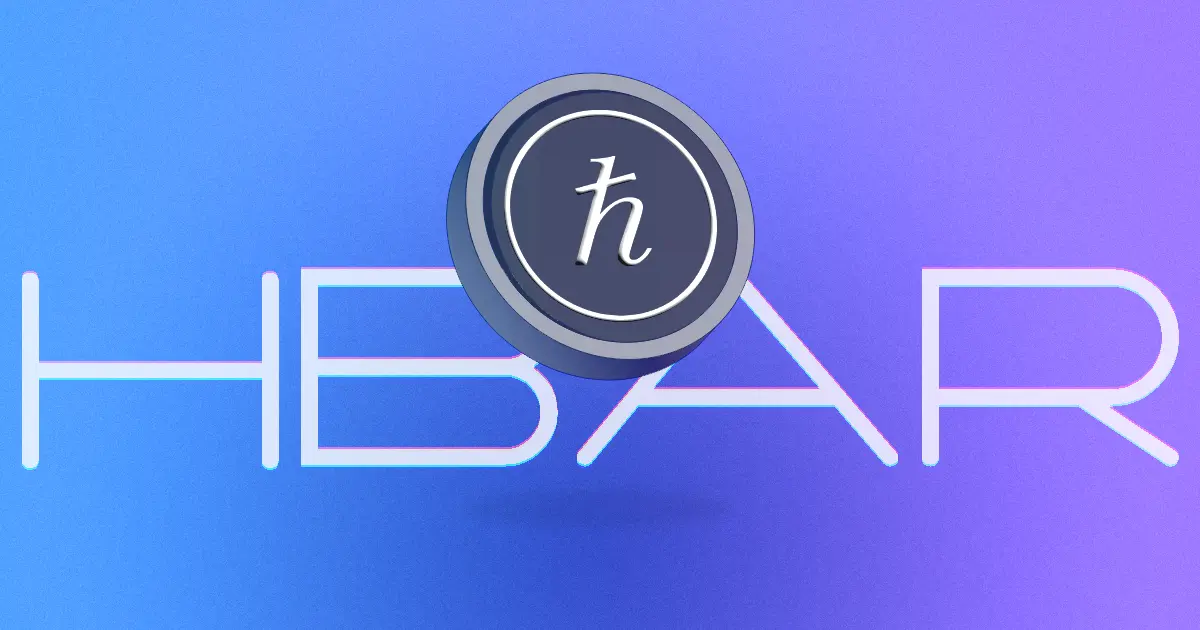 The Hedera network is an enterprise-grade layer-one public ledger. It is one of the few crypto networks that does not use blockchain. Instead, it relies on an asynchronous consensus algorithm and employs hashgraph. The platform is also known as Hedera Hashgraph.
Hashgraph does not bundle transactions in blocks or has miners validate it. Instead, nodes check the state of the network and share it with signatures as gossip. In computer networks, a gossip protocol is a way of sharing information between peers to disseminate data to all participants. In other words, in the Hedera hashgraph, every node participates in consensus. In beta, Hedera operates on a permissioned basis, meaning that only the members of the Hedera Governing Council can operate a full node. Nevertheless, the network is in the process of rolling out staking and already offers several ways to run a node or proxy stake.
Hedera finds multiple enterprise use cases across a wide variety of industries. Acoer uses it for healthcare data, datahash utilizes it for supply chains, and LG built the Art Lab NFT marketplace on it.
Hedera Price History
HBAR Price in 2019–2021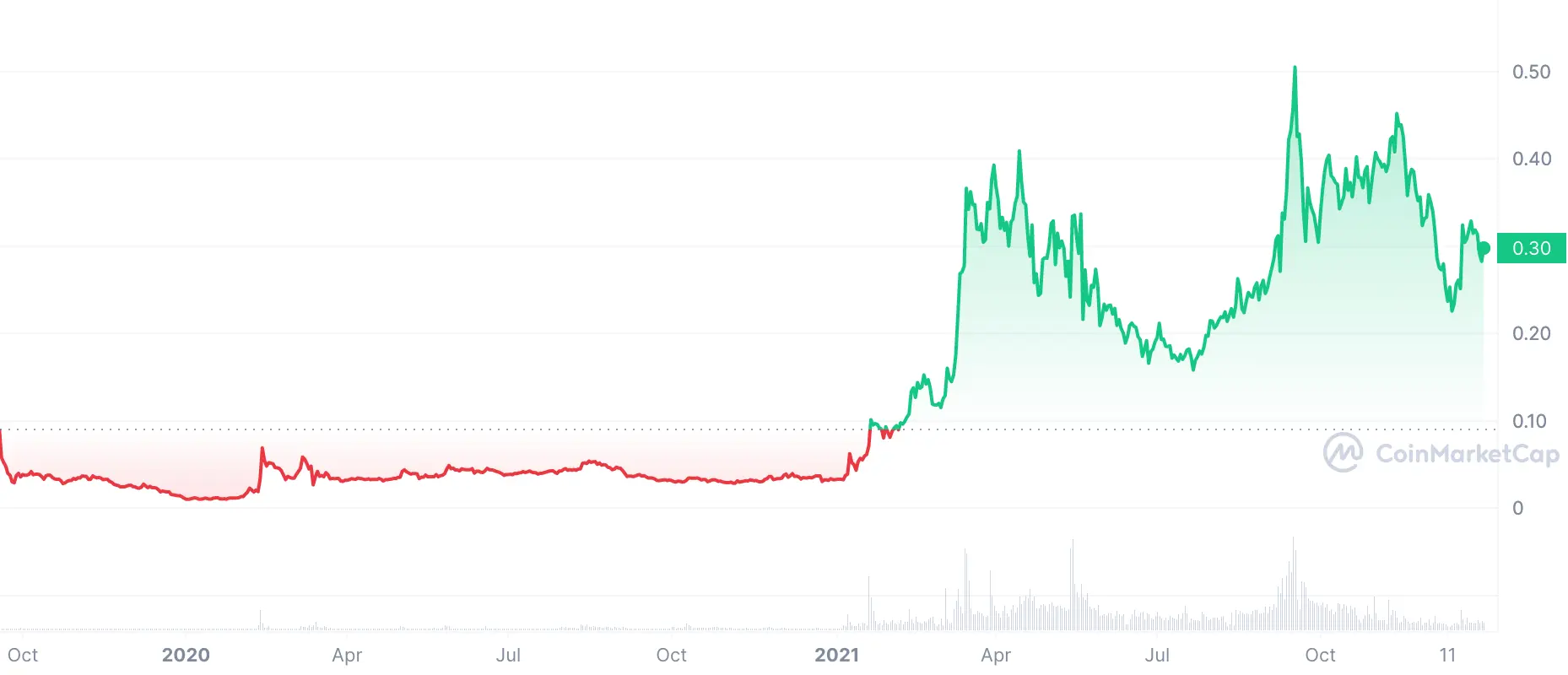 The HBAR ICO happened in the summer of 2018, and the token price was approximately $0.12. More than a year later, the token was listed on exchanges to be traded freely. Its initial price was $0.09.
2020 was largely a year with no significant price action on the crypto market. The spike in February 2020 corresponds to the news that Google Cloud joined the Governing Council. The HBAR price jumped from $0.02 to $0.07 but it was not meant to last. March 13, 2020 wiped the gains of HBAR, just like it did to the rest of the crypto market.
Luckily, as 2020 and 2021 went on, the HBAR price was slowly but surely on the mend. And in late 2021, when Bitcoin took off, HBAR followed suit. First, in April, it reached $0.4, and on September 16, 2021 HBAR reached an all-time high of $0.5701.
HBAR Price in 2022–2023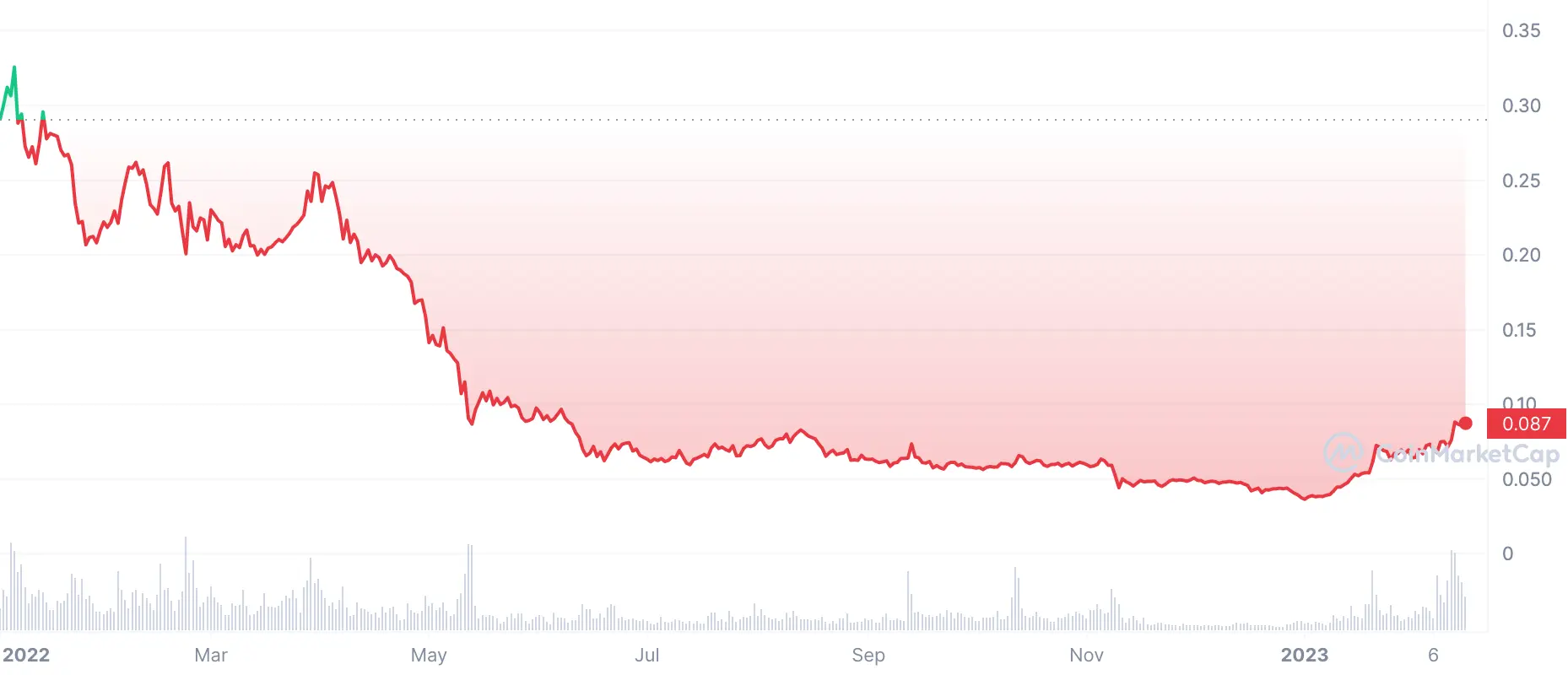 The following years saw the cycle play out and sentiment change to bearish. The HBAR price entered a downside channel which turned into a sideways one in the second half of 2022. For the rest of the year, it was being traded at around $0.05. In November, around the time of the FTX crash, the Hedera token price felt the shock but did not collapse.
2023 so far is a much better year than the previous one. HBAR closed 2022 at the price of $0.036. Today, at the moment of writing, the HBAR price is $0.09131, and it ranks 29th on CoinMarketCap.
Hedera (HBAR) Fundamental Analysis. What Influences HBAR's Price?
Success in DeFi
In 2022, the DeFi sector was not the most bustling part of the crypto world. Despite that, DeFi on Hedera set some optimistic records and activity. According to the State of Hedera Q4 2022 report, by the end of last year, its total value locked (TVL) reached a new all-time high. Due to having no exposure to FTX, it did not register losses during that quarter.
The main drivers of growth were two new DEXs, Heliswap and Bubbleswap, and Stader, a multi-chain liquid staking protocol. Compared to Q3, NFT and gaming project activity decreased, but there were plenty of new arrivals to the ecosystem nonetheless.
Governing Council
Hedera currently operates as a public-permissioned network. The full nodes are run by large enterprises across the world such as IBM, LG, Boeing, and Deutsche Telekom. They also decide the implementation of improvement proposals, at least for now. In the present, decentralization is achieved by having members of the council from different industries and regions.
The latest addition to the roster of 28 council members is Dell Technologies Inc. The tech giant will collaborate with Hedera to research distributed ledger technology and develop Web3 apps of their own. Judging by the on-chain metrics, this caused an uptick in holder sentiment and confidence, as well as the price of hbar.
Healthy Network Growth
In early 2023, Hedera went on a parabolic 40% recovery after being in a sideways channel. Because it happened against the backdrop of the general market recovery of crypto, it largely went unnoticed. In addition to the reports mentioned above, the news about LG Art Lab winning an award at Consumer Electronics Show boosted the rally.
At this point, the network effects are in full force. The more transaction activity there is on the network, the more attractive it is to builders. The more builders choose Hedera, the more often positive news associated with them boosts confidence. This creates an environment where even more participants would like to join the network. In the admittedly short span of Hedera's existence, it has managed to foster such an environment.
$HBAR on Twitter
$HBAR pic.twitter.com/WW52nMG6ud

— Shelby (@CryptoNewton) February 16, 2023
Trader @CryptoNewton keeps an eye on the 4-hour chart of HBAR/USD. According to their HBAR forecast, the next stop — $0.1182.
$HBAR thats what I am looking for. pic.twitter.com/F9qgVnZES5

— RivkRivk (@MaxRivk) February 15, 2023
Trader @MaxRivk has their eyes on the recent cycle high. Given the current climate on the market, it doesn't seem too far-fetched.
#Hedera officially hits 4 Billion transactions on the mainnet 🚀

It took just a few week to go from 3 to 4 Billion 🤯 This is how real world utility and scale looks like only possible on Hedera 🔥

Just the beginning 👀 $HBAR pic.twitter.com/b9P0eRJEsZ

— $HBAR to the Moon | moon.ℏ (@hbar_to_moon) February 13, 2023
User @hbar_to_moon, who is an apparent Hedera fan, shared a milestone reached by the network. With a billion transactions in a little more than a week, it scales to hundreds of real TPS. And, as replies bring up, this is not counting gossip relays.
Our Hedera Technical Analysis and HBAR Price Forecast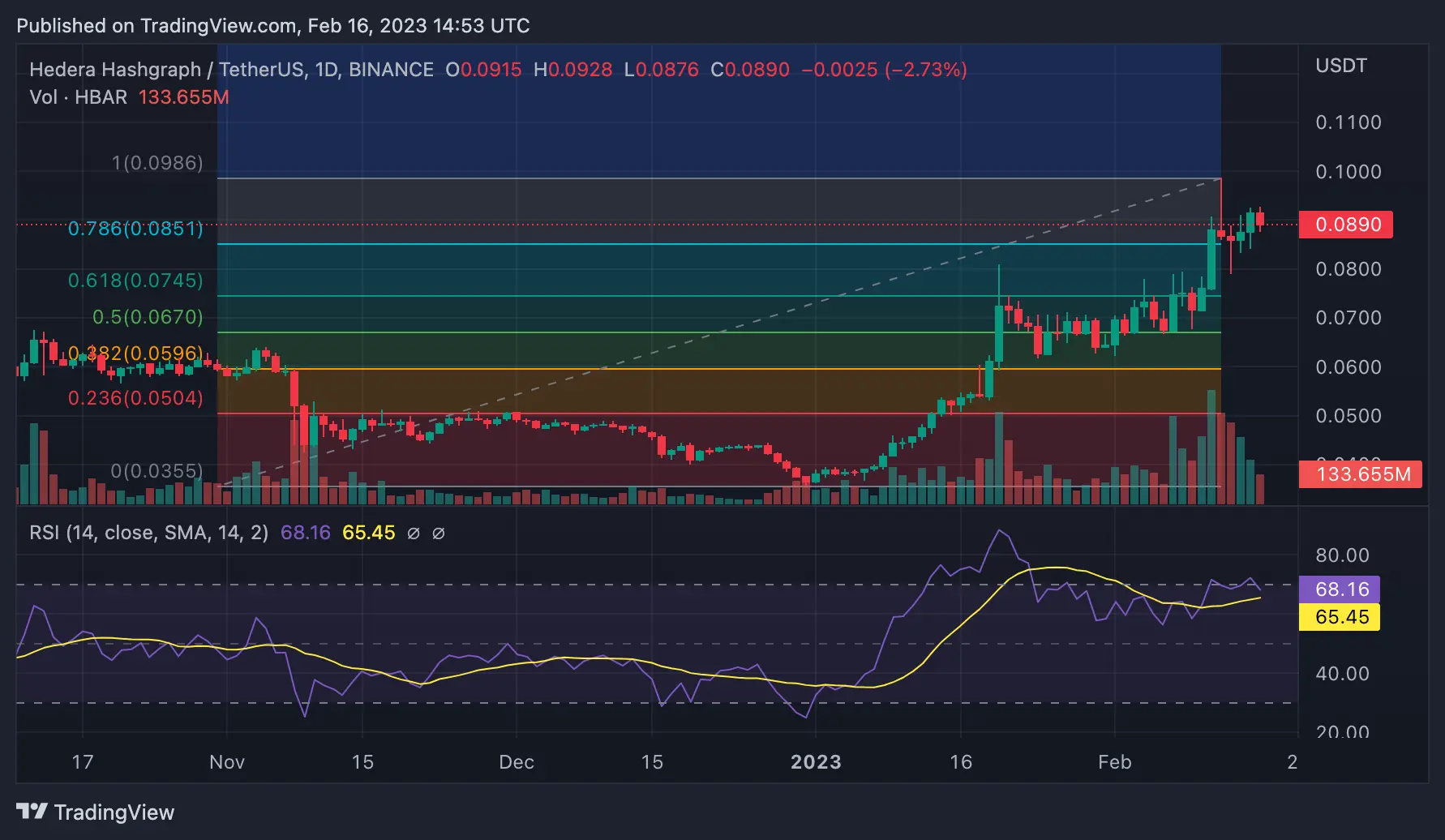 Let's start with the short-term Hedera price forecast. From the data courtesy of Coinbase, the average hold time of HBAR is 32 days. Going off this time frame, let's see some levels on the daily chart.
The Relative Strength Index is at the borderline toward the overvalued area, so a short-term correction is more likely to occur. Keep an eye on the $0.0851 and $0.0745 support levels.
Hedera Price Prediction 2023, 2024
Going off the Cryptonews HBAR price forecast for this year, the nearest target for HBAR is $0.09 but from there, it can go much higher. How much? Up to $0.13, they believe. Bitcoin Wisdom echoes that Hedera price prediction with their own targets for 2023: from $0.091587 to $0.114484 maximum. PricePrediction.net chimes in with the estimates not too far off. In 2023, HBAR will be trading for $0.13 on average. As for their 2024 Hedera price prediction, the expected range for the token price is between $0.18 and $0.22.
HBAR Price Forecast for 2025 and 2028
YouTuber Jake Gordon shares an interesting perspective on his previous Hedera hashgraph price forecast. In 2021, he estimated its fair value to be $2–4. With the benefit of hindsight, in 2023 he addressed this optimistic prediction but still believes $1–1.5 is the very least HBAR can reach in the next cycle. What about the top? Jake Gordon gives an estimate above $8 at maximum greed.
Other sources are less optimistic. CryptoNewsZ keeps their expectations for the Hedera hashgraph price prediction low: they see HBAR gaining only 22% by 2025. It makes the HBAR price around $0.25–0.29. Five years from now in 2028, HBAR's worth will increase further to $0.42–0.49.
Crowd Wisdom performs a fundamental analysis of Hedera to come up with the HBAR price prediction for 2025. They make a moderate case for investment in Hedera for a few reasons. Hedera is more focused on B2B use cases and does not provide extensive utility for HBAR aside from staking. As a result, the demand for the token is not very high, but it is there. Considering that they also expect a recession sometime by 2030, their HBAR forecast is $0.18.
Hedera Price Forecast 2030, 2033
Finally, let's imagine the crypto market at the end of the decade or even ten years from now. What role will HBAR play in it by then? No one knows for sure but some dare to make a guess.
For example, AMBCrypto doesn't think Hedera will have any parabolic growth. At most, they see HBAR reaching $0.28 in 2030 and $0.57 in 2033. Regardless, their Hedera price prediction is still bullish because the price floors are expected to be at $0.19 in 2030 and $0.38 in 2033.
BeInCrypto tries to apply technical analysis in their long-term Hedera prediction. The result is a minimum price value of $10.354 in 2030 and $44.97 in 2033. The maximum price value of HBAR in these years is even higher, to no one's surprise: $20.71 in 2030, $57.66 in 2033. Finally, another HBAR forecast that sees it go past $1!
Where Can You Buy Hedera Hashgraph (HBAR)?
If you already have cryptocurrencies, you can exchange them for HBAR on ChangeHero in five simple steps:
Choose the currencies on the home page, amounts, and the type of exchange. Provide your wallet address in the next step and check the sums;
Double-check the provided information, read and accept the Terms of Use and Privacy Policy;
Send in a single transaction the sum of the cryptocurrency you will be exchanging. Fixed Rate transactions have a 15-minute limit;
Done? Now let us take care of your exchange as soon as the deposit arrives;
As soon as the exchange has been processed, your HBAR is on its way to your wallet.
Our support service is available anytime in the chat on our website or through the email: [email protected].
Conclusion
Hedera is more of an enterprise darling than a crypto coin popular with retail investors. This creates an atmosphere of uncertainty about its future with some analysts. At the same time, for others, its ties to the world of business are something that secures its prosperous future.
Who do you agree with? Discuss and sign up for ChangeHero's updates on Twitter, Facebook, Reddit, and Telegram. Read even more content about the crypto world's prospects in our blog.
---
Frequently Asked Questions
​​Will Hedera reach $1?
Only a handful of Hedera predictions claim HBAR can reach or exceed $1. It will need a market cap of over $26M to even approach this target, which is 13 times its current market capitalization.
Does Hedera have a future?
Hedera shows healthy network growth and its network effect is already in action. However, some experts argue the pace of the growth is not enough to propel HBAR to new heights.
What will be the price of HBAR in 2030?
Cited forecasts give targets from $0.19 to $20.71 for HBAR in 2030.
How much will HBAR cost in 2025?
If we were to compile a Hedera price prediction from all the sources reviewed, a 2025 forecast would see HBAR price in the range between $0.18 and $8.
Disclaimer
This article does not constitute financial or investing advice. No price prediction or forecast is guaranteed to provide exact information on the future price. Past performance is not indicative of future results.
When dealing with cryptocurrencies, remember that they are highly volatile and thus, a high-risk investment. Always stay informed and be aware of those risks by conducting your own research. Consider investing in cryptocurrencies only after careful consideration and analysis and at your own risk.
Learn more:
Quick links: