This week has been nothing short of dramatic in cryptocurrency news. Ethereum seems to have sucked the "greed" out of Bitcoin, leaving a significant portion of "fear". So what happened? As always, find it in the weekly crypto news digest by ChangeHero.
Key Takeaways
Bitcoin registered a loss of -10% over the week, affected the most by a tweet from Elon Musk criticizing its energy consumption. In the same post he mentioned Tesla would stop accepting BTC;
The Ethereum ecosystem is thriving, with the interest in DeFi reinvigorated and ETH at a new absolute high: $4,362.35;
The Binance exchange is under investigation by the US Department of Justice on accusations of money laundering.
Latest Cryptocurrency News Digest
Bitcoin Digest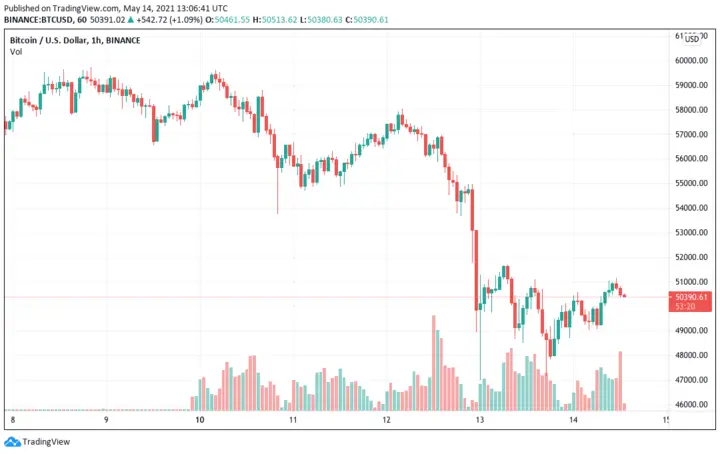 On the weekend, Bitcoin price looked hopeful if nothing unlike the last week's moves. It was on Monday that upon the market's opening it got rejected from the $59k level and went down as low as $53k. Tuesday was spent mostly in recovery but that was not meant to last.
Late on Wednesday, Elon Musk made a tweet about the environmental impact of Bitcoin which caused a bombshell effect. Arguably, that was also caused by the mention of Tesla no longer accepting BTC. In mere hours, the BTC price tanked to $47,014. Though it has bounced back up, it has topped at $51,300 since then.
Bitcoin News
This is not as bad as it may seem: those who have access to Grayscale Bitcoin Trust, can buy Bitcoin with a record -21% premium. So, is Bitcoin going to continue to rise? The demand does not seem to have decreased just yet, as MicroStrategy bought yet another $15 million share, and others are sure to follow.
Altcoin News
A curious proposal has been posted on the Uniswap forum by none other than Vitalik Buterin. He suggested that UNI could become an oracle token, as Uniswap desperately needs one to accurately quote prices. The discussion is only a couple of days old but has already caused a heated debate
Which Cryptocurrency is best to invest now? It might as well be UNI if the community accepts the proposal.
Ethereum news on the whole has been ultra positive! Ether reached a new ATH on May 12, $4,362.35.
Vitalik Buterin has also become a part of another altcoin-related story but this one is not unicorns and rainbows. The emerging dog meme market made the mistake of sending unsolicited tokens to the Ethereum creator. In turn, he sold a large part of them and donated the proceeds to charities. The whole sequence of transfers has been documented by Larry Cermak on Twitter in a lengthy thread.
Business Cryptocurrency News
EBay finally launched their own NFT marketplace for everyone to use. One of the world's largest auction platforms which is accessible to everyone plans to expand the number of blockchain-based services in the coming months.
Swiss firm UBS Group AG is exploring options to offer their clients exposure to cryptocurrencies. In America, Goldman Sachs, BNY Mellon and Morgan Stanley are already doing it but UBS will be one of the first to offer it in Europe.
Cryptocurrency News on Adoption
MoneyGram (known as one of the largest Ripple users and partners) will let their clients buy and sell Bitcoin at retail locations. This became possible with the partnership with cash exchange Coinme.
The City of Williston, North Dakota announced that they will be accepting utility bill payments in cryptocurrencies. It is a part of their strategy of expanding access to civil services through virtual payments. Williston is a town of approximately 30,000 residents, mainly involved in agriculture and oil industry.
Regulation & Politics Cryptocurrency News
Another cryptocurrency news that caused BTC to drop was that the US Department of Justice is watching Binance closely as money laundering suspicions arise. In addition, the regulators suspect that the exchange is not as diligent in preventing US citizens access as they claim. So far, no significant damage to the market sentiment has been done by the news, but the story is yet to unfold.
Social Media Crypto News Digest
Video of the Week
YouTuber Graham Stephan explained all the craziness that has been happening with DOGE for the last week. Musk tweets, his SNL appearance and the impact on the price — all ground covered! To make the analysis more complete and unbiased, he even interviewed the Dogecoin millionaire hodler Glauber Contessoto.
Crypto News Digest from Twitter
Mark Zuckerberg named his goat "Bitcoin" pic.twitter.com/msWSgHKCaZ

— Documenting Bitcoin 📄 (@DocumentingBTC) May 10, 2021
Before the end of week drama, Crypto Twitter and other social media were discussing a cute fact. Mark Zuckerberg shared to his Facebook followers that he named his new goats Max and Bitcoin. Some users decided it alludes to Bitcoin maximalists, and others thought it is Zuckerberg's way of saying Bitcoin is GOAT (slang for "greatest of all time").
The source is a financial services firm that offers bitcoin products. Its three-page-paper offers little to no details of how their SurveyMonkey monkey poll was conducted. In other words the basis for this is thinner than a Bud Light.

— Tom Hillenbrand ♠️🔲 (@tomhillenbrand) May 12, 2021
And a bit before that, the hottest topic was a new New York Digital Investment Group survey. It implied 22% of adult Americans, or 46 million people, have access to Bitcoin. Some community members were sceptical, as the survey targeted a small bunch of tech-savvy users and provided not enough transparency.
Elon Musk ditches Bitcoin

Tether publishes their reserves which are basically air DOJ starts investigating Binance for money laundering Everything in less the 12 hours. — Luca ~STOP the FUD~ Land (@LucaLand97) May 13, 2021
The last couple days have been a lot for the community. Without all the stories mentioned in the tweet, BTC would not tank as hard as it did. Still, even that 30% pullback was not enough to throw it off the trajectory completely, as history proves.
Influencer of the Week
$BTC already dumped too hard to dump again on the Binance news like... pic.twitter.com/XodRwlvnFY

— Jonny Moe (@JonnyMoeTrades) May 13, 2021
Our trader of choice this week is Jonny Moe, who incredibly balances relevant comments in memes with cold-headed market analysis. A recommended follow for anyone who would like to not miss a bit of neither sentiment and cryptocurrency news nor price movements.
Top Coin Digest
At the moment of writing the crypto news digest, the general market stats are:
Total Market Cap: $2,313,359,753,630 (+2.64%);
BTC Dominance: 40.7%.
7d Change in Top Coins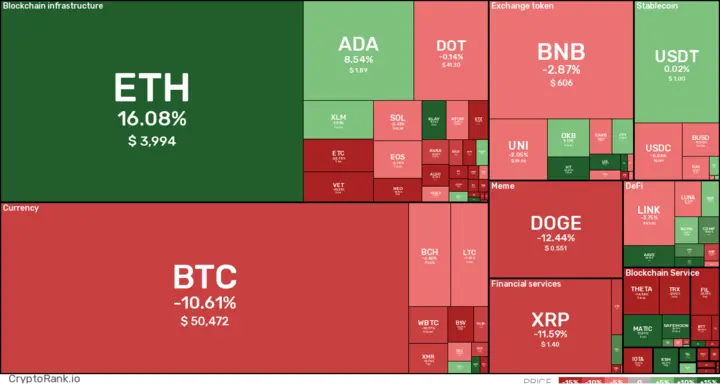 Some currencies dipped following Bitcoin, and some decoupled and flew, like ETH. At the moment of writing, the weekly change of the top currencies is:
Gainers of the Week
Which altcoin has the most potential? Now that the dog meme coins are dead, DeFi is thriving again. The altcoins on the rise at the time of writing are:
Polygon (MATIC) $1.32 (↑70.35%);
yield.finance (YFI) $73,838.79 (↑42.08%);
Ethereum (ETH) $3,994 (↑16.08%).
Conclusion
The confidence of some BTC investors may have been shaken but ultimately, Bitcoin and the market are on their way to shrug off the dip. If you were in Ethereum, you might not even have noticed all the FUD! Anyway, it will be riveting to see all the events play out.
Catch more cryptocurrency news and digests in our blog! You can follow us on Twitter, Facebook, Reddit and Telegram for live updates.
---
Quick links: