In this weekly cryptocurrency news digest, once again we're covering the latest news from the industry. Bitcoin analysis and updates, Ethereum 2.0 hiccup, Chinese miner woes — all essential topics rounded up in this crypto digest by ChangeHero. 
Key Takeaways
After a week in the red, cryptocurrency market is back in recovery. Bitcoin is targeting $56,000 and higher;
Xinjiang miners that had to go offline because of coal mine accidents returned and the hash rate is back to normal. Beijing reportedly investigates whether data centres are used to mine cryptocurrency because of environmental concerns;
Iran makes an important step to acknowledge cryptocurrency by authorizing banks to use it. At the same time, South Korea plans to tax income from gains off it.
Latest Cryptocurrency News Digest
Bitcoin Digest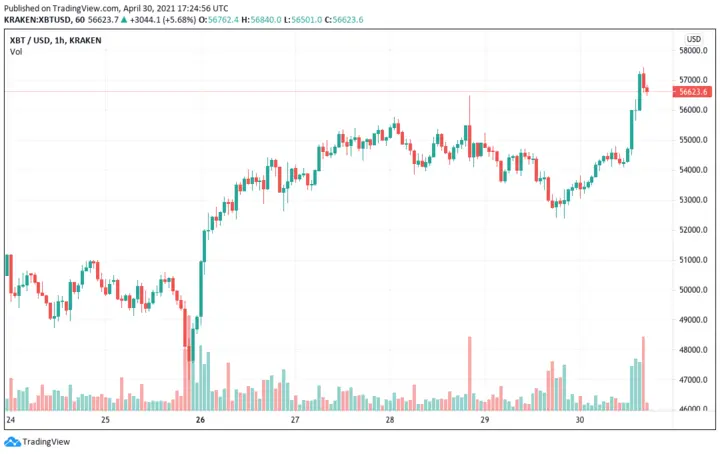 This week Bitcoin price behaved rather like what we're used to seeing. Weekend liquidations made it touch the bottom at $47k, but this buying opportunity led to an impressive bounce to $54,000 and above. A local high is $55,500 on Wednesday, and right now BTC is bouncing off $52,400 back to the same level and above.
Is Bitcoin going to crash? Not unless there is an unforeseen emergency: crypto market this week is in healthy recovery.
Bitcoin News
If you were wondering last week why crypto market is down, one of the reasons is outages in Xinjiang. The miners are back online again, the hashrate rebounded but a new cause for concerns looms. Beijing is reportedly investigating mining farms in rising concerns over environmental impact (more on this later in this crypto digest).
Altcoin News
Ethereum 2.0 had its first major incident last weekend. A bug which would prevent block production was detected in the Prysm client, used by 70% of validators. A hotfix allowed the issue to be resolved in a couple of hours, but 15 ETH was lost in the process.
Cointelegraph reports at the time of the weekend dip, Dogecoin liquidations ($4.368B) exceeded even Bitcoin's ($17.756M). This fact can point to the altcoins being in high demand and seeing more trading activity than the first cryptocurrency.
Business News
Binance Exchange announced expansion of the choice of tokenized stocks on the platform. Now its users can trade tokens tied to Microstrategy (MSTR), Apple (AAPL) and Microsoft (MSFT) stock.
Online game development company Nexon converted 2% of the holdings, coming up to $100 million, into Bitcoin. KartRider and MapleStory developer now holds 1,717 BTC on the balance sheet, supposedly to preserve shareholder value.
Cryptocurrency Adoption News
Payment companies HIPS and The Payment House collaborated to allow tens of thousands of cab drivers to accept cryptocurrencies in the UK and Scandinavia. Initially supported currencies will include USDC and HIP's Merchant token MTO.
Caribbean island of Bequia is planned to become the first community fully powered by Bitcoin. Bequia's developers intend to use the cryptocurrency to alleviate the problems international buyers might have when transacting in that jurisdiction. BTC is planned to be accepted for both real estate and daily essentials.
Cryptocurrency News Digest: Regulation & Politics
Iran, famous for its strictly negative stance on cryptocurrencies, has legally allowed banks and exchangers to use cryptocurrencies in payments. The requirement to not step outside of the law is to use the Bitcoin mined by the state-authorized mining enterprises.
Meanwhile, in South Korea, the policies seem to be less progressive than before. The country that was set to develop comprehensive legislation for crypto, now defined cryptocurrencies as intangible assets, not means of payment. The regulation will begin at taxing crypto trading gains, which may as well cool down the surging Korean crypto market.
Social Media Crypto Digest
Video of the Week
Promptly named as the question almost everyone asks these days, this video by Johnny Harris is the quality tutorial. Harris is not involved heavily in the cryptocurrency topic in his content, but thanks to this, this guide is approachable. And, of course, it is made with the same quality editing and pacing all his videos can boast.
Crypto Digest from Twitter
This caused some panic in China. However, the Chinese government said it was only conducting an investigation. Data centers are difficult to use for Bitcoin mining, and are mainly used for ETH Filecoin.

— Wu Blockchain (@WuBlockchain) April 29, 2021
Colin Wu reported Beijing officials issued a notice of investigation of data centers. The reason for that is growing concern about energy usage and carbon emissions of cryptocurrency mining farms. Data centers being of interest led him to conclude Bitcoin miners are not in any jeopardy.
NEWS NOT REPORTED YET: State of #Wyoming appropriated $4m for nodes/staking in at least 3 cryptocurrencies, run by Univ of Wyoming. This kickstarts program where gains from this pool, if matched by private donations, go to fund UWyo! @rothfuss 🤠🚀🔥https://t.co/LDul3iGtS4 pic.twitter.com/KxFVm5YhLp

— Caitlin Long 🔑 (@CaitlinLong_) April 28, 2021
Ahead of the news, Caitlin Long of the Wyoming Blockchain and Fintech Select Committee shared the plans of Wyoming University. The university plans to allocate $4 million to at least three nodes for staking, potentially increasing the revenue.
How about we all just agree nobody bids on this ?

Let's come together as a community Not even 0.001 ETH https://t.co/4YjNAwnub7 — ∞ CO฿IE (@CryptoCobain) April 27, 2021
You would often see news about high-profile NFTs being auctioned off for millions of dollars these days. The news usually doesn't tell you about all other tokens that do not sell, unless it's a spectacular failure. Ellen DeGeneres' low-effort attempt to capitalize on the trend was ridiculed even by the crypto community, which did not appreciate the irony.
Influencer of the Week
Okay now that we ran everybody's stops we can go up now. pic.twitter.com/6AX5BRGg1b

— Flood (@ThinkingUSD) April 29, 2021
Crypto influencer going by Flood engages in pretty much every activity popular with Crypto Twitter denizens. Trading, gem hunting, dunking on backwards politicians? You name it, all with no words minced.
Top Crypto Digest
Which Cryptocurrency is best to invest now? Of course, altcoins! The BTC dominance keeps decreasing, which is a definite sign of an alt season. At the moment of writing the crypto digest, the general market stats are:
Total Market Cap: $2,120,705,620,260;
BTC Dominance: 48%.
7d Change in Top Coins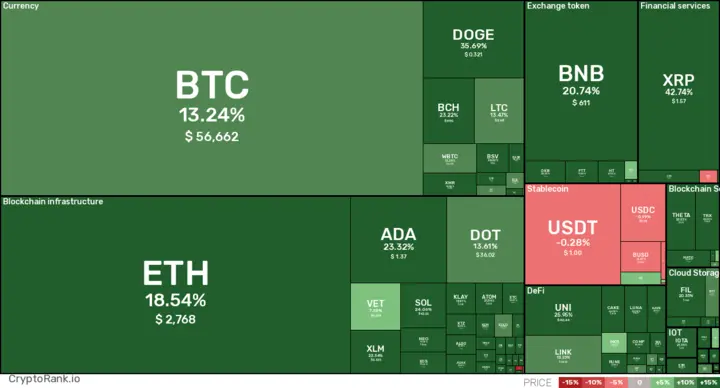 Despite closing the previous week in the red, this time all cryptocurrencies have recovered. At the moment of writing the crypto digest, the weekly change of the top currencies is:
Gainers of the Week
The altcoins on the rise at the time of writing the crypto digest are:
Conclusion
News coming in from everywhere around the world was a source of both hope and anxiety to cryptocurrency enthusiasts. Most certainly, the developments in China will be the most impactful for Bitcoin, as it influences its price.
The next cryptocurrency news digest will be in a week in our blog. For the time being, you can follow us on Twitter, Facebook, Reddit and Telegram for live updates.