This week there wasn't much news from the market as Bitcoin somewhat struggles to show a definite trend. Despite that, there is plenty of news on adoption and institutional investments: learn more in our weekly crypto news digest!
Key Takeaways
Bitcoin tried to fix above $50,000 this Monday but did not last and is not showing any directional bias;
MicroStrategy and Morgan Stanley report increases in Bitcoin holdings and exposure respectively. Cuba signals readiness to recognize digital currencies legally, but none of these news seem to have affected the market;
Some altcoins like Solana, Binance Coin and Tezos continue their rallies but other alts demonstrate loss: DOGE, XRP, DOT.
ChangeHero Updates
Exchange Tezos with Zero Fees on ChangeHero

Tezos is on a roll this week! Here is your reminder that there are still a few days left to exchange it without any fee on ChangeHero.
Latest Crypto News Digest
Bitcoin This Week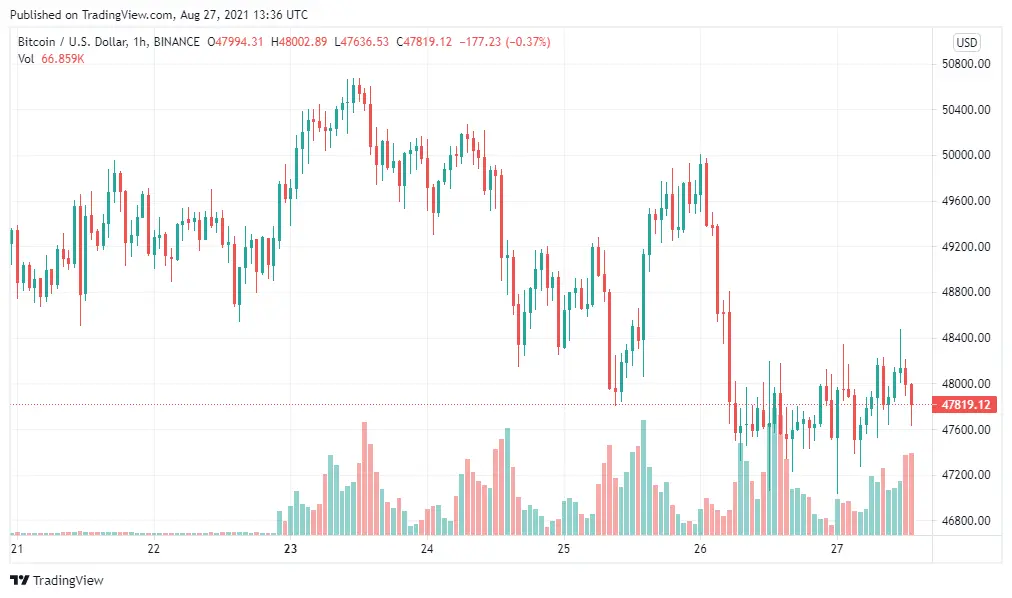 The week started with Bitcoin making the jump above $50k on Monday. A day later, though, the momentum faded and the resistance was lost.
Another attempt was made on Thursday but this time the rejection was stronger. BTC was thrown down to $47,800 where it has been trading sideways.
Will Bitcoin crash further? Not likely but there isn't much ground for a strong upward move for now either.
Latest Bitcoin News
After a recent readjustment in Bitcoin, the difficulty algorithm increased after a long streak of decline. This change signals miners returning to securing the network.
And yet again MicroStrategy has announced a purchase of Bitcoin. After buying 3,907 BTC the company holds $5.3B worth of Bitcoin on the balance sheet.
Altcoin News
Stablecoin Paxos Standard (PAX) is rebranding to Pax Dollar (USDP). Together with the announcement, the company disclosed that 100% of the USDP reserve is represented in cash and cash equivalents.
Business Crypto News
Morgan Stanley disclosed increased exposure to Bitcoin through the Grayscale Bitcoin trust. The asset manager owns GBTC shares across dozens of funds, with the majority of 928,051 shares held by Morgan's Insight Fund.
PayPal is rolling out crypto services outside of the US, this time in the UK. Customers with a UK-based account will be able to buy, hold and sell BTC, ETH, BCH, LTC but not withdraw or transfer.
Crypto News on Adoption
Starting from 2021, Chainalysis intends to research DeFi adoption, too. In contrast with the global mass adoption of crypto, DeFi is more widespread in countries with higher incomes and substantial crypto adoption: the leaders are the US, Vietnam and Thailand.
Regulation & Politics Crypto News
The Cuban Official Gazette reports the government is considering legally recognizing payments in Bitcoin and digital currencies (and not digital currencies as legal tender). Reasons to make this move keep piling up: growing remittances market, US sanctions, hyperinflation.
Crypto TikTok creators found themselves in a vulnerable position as the platform enforces the community guidelines more strictly now. Even mentioning names of cryptocurrencies or exchanges can lead to a takedown and subsequent decrease in exposure.
Social Media Crypto News Digest
Video of the Week
Scott Melker, also known on Twitter as Wolf of All Streets, covers the news from the past few days. MicroStrategy accumulation, ADA rally, market analysis and NFT updates are only a few of the topics touched upon.
Crypto News from Twitter
Exclusive: Multiple sources told that Binance is considering obtaining investment and protection from government funds at a valuation of $200 billion. Singapore is one of the most likely options. pic.twitter.com/y0ghk1vlYd

— Wu Blockchain (@WuBlockchain) August 23, 2021
More crypto news from Colin Wu: according to him, Binance could be seeking government funding. One of the possible sources could be Singapore, known for being relatively crypto-friendly.
También habrán #CajerosChivo en todas partes y podrán retirar en EFECTIVO, las 24 horas del día y SIN COMISIONES, por más que la oposición diga lo contrario.

El problema para ellos es que podrán convencer a algunas personas de que sí habrán comisiones, pero solo hasta el 7 😘 pic.twitter.com/H8gkYTEucc — Nayib Bukele 🇸🇻 (@nayibbukele) August 23, 2021
El Salvador president Nayib Bukele shared the progress towards the rolling out of the Bitcoin law on September 7. The government is developing an official wallet application and preparing to increase the number of Bitcoin ATMs.
Yay! #PolyNetwork has completed the recovery of all #PolyNetworkExploit affected user assets. (approx. worth $610M)#PolyBridge has now restored cross-chain functionality for a total of 59 assets. Other advanced functions will be gradually restored.https://t.co/bGOXc7xJS1

— Poly Network (@PolyNetwork2) August 26, 2021
Good news to everyone who has been following the Poly hack! The assets have been returned and the protocol is getting ready to start working again.
Influencer of the Week
Ether rock website: These virtual rocks serve NO PURPOSE beyond being able to be brought and sold, and giving you a strong sense of pride in being an owner of 1 of the only 100 rocks in the game They just described traditional art https://t.co/cuViHWb08w

— frxresearch (@frxresearch) August 25, 2021
User frxresearch specializes in all sorts of activities popular with Crypto Twitter: crypto news commentary, trading and, of course, memeing.
This Week on the Market
How is the market this week? At the moment of writing the digest, the general stats are:
Total Market Cap: $2,036,735,756,685 (-0.32%);
BTC Dominance: 43.7%.
7d Change in Top Coins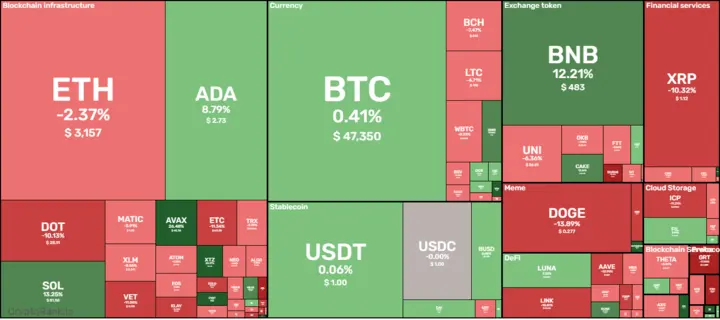 What is the next big cryptocurrency to invest in? Several top altcoins dipped significantly this week: XRP, Polkadot, Dogecoin, Uniswap. At the moment of writing, the weekly change of the top currencies is:
Gainers of the Week
Here are the altcoins that have scored most gains this week (and you can get them on ChangeHero):
What is the best penny cryptocurrency to invest in? Siacoin (SC) is showing the best results on the weekly $0.0204 (↑9.64%).
Conclusion
Bitcoin is stuck between bulls and bears, and the whole market is moving ambivalently. It seems that for now there won't be large moves soon, but who knows about the next week! Anyhow, you will know it in the weekly crypto news digest in our blog. Follow ChangHero on Twitter, Facebook, Reddit and Telegram for daily updates and more content.
---
Quick links: