Past seven days were full of both extremely optimistic and discouraging news: BTC became legal tender as markets crashed. Our team rounded up every relevant piece of news to give you a full picture of this situation in our newest crypto news digest!
Key Takeaways
Bitcoin received its legal tender status in El Salvador on September 7. It coincided with a flash crash, in which BTC plunged 20% from $51 to $42 thousand;
In Ethereum news, British banking giant Standard Chartered published a report bullish on ETH, expecting $35,000. An OpenSea bug caused several dozen NFTs to end up at an inaccessible address.
Following El Salvador and Cuba, Ukraine has passed and Panama started reviewing laws to recognize and regulate cryptocurrencies.
ChangeHero Updates
Exchange Polkadot with Zero Fees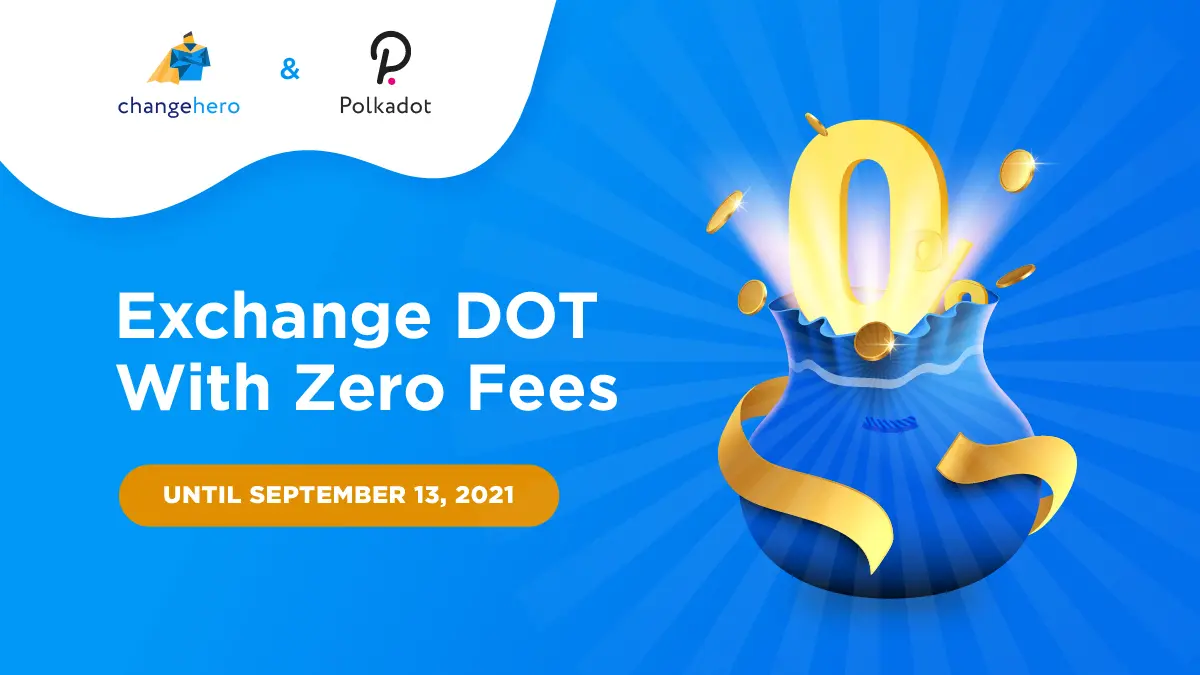 A friendly reminder: you only have until September 13 to swap DOT without a fee. Get the most out of the offer while it lasts!
Latest Crypto News Digest
Bitcoin This Week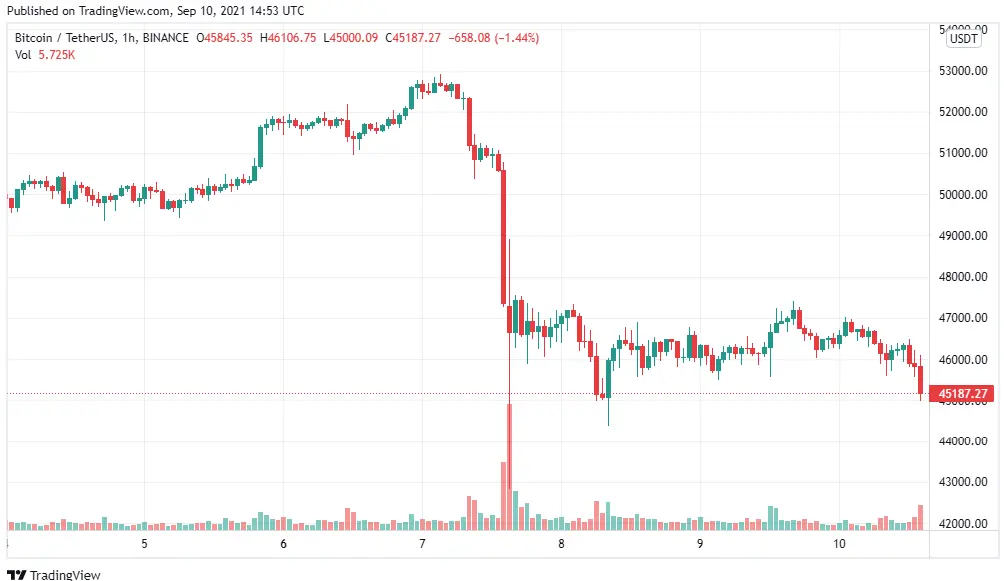 These past seven days, the BTC price did not give anyone asking themselves "Why is Bitcoin going up?" a lot of time to wonder. Until Tuesday, it was climbing up and even managed to attempt to get near the $53,000 resistance.
On September 7, a massive cascade of long position liquidations caused a chain reaction and a selloff. At its lowest point, the BTC price touched $42,843 (Binance).
The dip was quickly bought out and the price recovered to $47,500. Since then, it has been stuck in a narrow range between $45k and $47k.
Latest Bitcoin News
Bitcoin development enterprise Blockstream and green infrastructure developer Macquarie announced a strategic partnership to explore carbon-neutral mining of Bitcoin. Macquarie will provide investment and expertise for Blockstream's mining facilities in the pilot phase.
Altcoin News
Standard Chartered, a large British bank, published its first report on cryptocurrencies. What is interesting about it is that the bank considers Ethereum a more profitable investment than Bitcoin. Particularly, they believe Bitcoin can grow up to $175 thousand, and in that case, Ethereum price can multiply tenfold up to $35 thousand.
An unexpected contender rolls into the NFT arena: Litecoin has launched OmniLite protocol which can be used for stablecoins and NFTs. It uses Omni protocol as basis, which is already used for issuing assets on Bitcoin's blockchain.
Business Crypto News
UK residents will be able to purchase Bitcoin and Ether with the Post Office's EasyID. The option will be provided with a Swarm Markets' voucher system.
Binance US appointed ex-Ant Group (Alibaba affiliate) and Uber executive Brian Shroder as a President and board member. The new leadership is supposed to help them go public and deepen the connection between the US subsidiary and the parent company.
Crypto News on Adoption
September 7 marked the Bitcoin law coming into effect in El Salvador, and was dubbed "Bitcoin Day". Global businesses such as Starbucks and McDonalds started accepting Bitcoin locally.
Industry experts are already weighing in about the repercussions of the move: particularly, remittance providers can lose up to $400 million in profits. The remittance market in El Salvador accounts for $6 billion, and Salvadorans had to pay extra for cross-border payments. Commission-free BTC transfers in an official digital wallet Chivo render these services obsolete.
Regulation & Politics Crypto News
Panamanian congressman Gabriel Silva finally submitted the bill to regulate cryptocurrencies on Bitcoin Day. The plan is to help digital currency businesses grow to integrate Panama into the emerging digital economy.
Meanwhile, in Ukraine, parliament approved the law to regulate digital currencies. It sets apart backed digital currencies, which e-hryvnia will be considered to be, and non-backed cryptocurrencies, which include all existing cryptocurrencies.
Social Media Crypto News Digest
Video of the Week
Why did the flash crash happen and will Bitcoin crash again? Nick Merten of the YouTube channel DataDash explains that there was no large negative news. The sellout impacted the market so significantly because of leveraged trading, which caused a cascade of liquidations.
Crypto News from Twitter
Very soon we will have this in our Elektra store network.🚀 #Bitcoin #LightningNetwork https://t.co/Y4n7pAsBS0

— Ricardo Salinas Pliego (@RicardoBSalinas) September 5, 2021
Possibly inspired by the developments in El Salvador, Grupo Elektra chairman announced plans to introduce Lightning Network payments in the stores of the chain. By the way, Elektra is one of the largest appliance store chains and cash advance service providers in Latin America.
Today I accidentally burned the first ENS name ever registered. A short 🧵.

— nick.eth (@nicksdjohnson) September 7, 2021
It was not enough for OpenSea to be one of the top burners of ETH, and it started burning people's NFTs (albeit, not intentionally). Due to a bug described in the thread, some 42 NFTs, including the very first Ethereum Name Service domain, got burned.
1/ Some really sketchy behavior coming out of the SEC recently. Story time…

— Brian Armstrong (@brian_armstrong) September 8, 2021
Coinbase CEO Brian Armstrong took to Twitter to tell a story how the SEC threatened the company with legal action. The point of contempt here was Coinbase Lend, which promised a return on USDC (Circle, the issuer, is in consortium with Coinbase) and was deemed a security.
Influencer of the Week
So…. @brian_armstrong just retweeted a tweet saying Coinbase should move ahead and knowingly get sued so they can take this battle to court.

I know retweets ≠ endorsements, but still, I respect the boldness. Things may get spicy soon pic.twitter.com/3KpaJkjjWh — Altcoin Psycho (@AltcoinPsycho) September 9, 2021
And speaking of the previous tweet, here's a comment from one of popular crypto influencers, Altcoin Psycho. In their account, you can find commentary on the latest crypto news and helpful trading advice.
This Week on the Market
How is the market this week? At the moment of writing the digest, the general stats are:
Total Market Cap: $2,036,999,517,986 (-11%);
BTC Dominance: 41.8%.
7d Change in Top Coins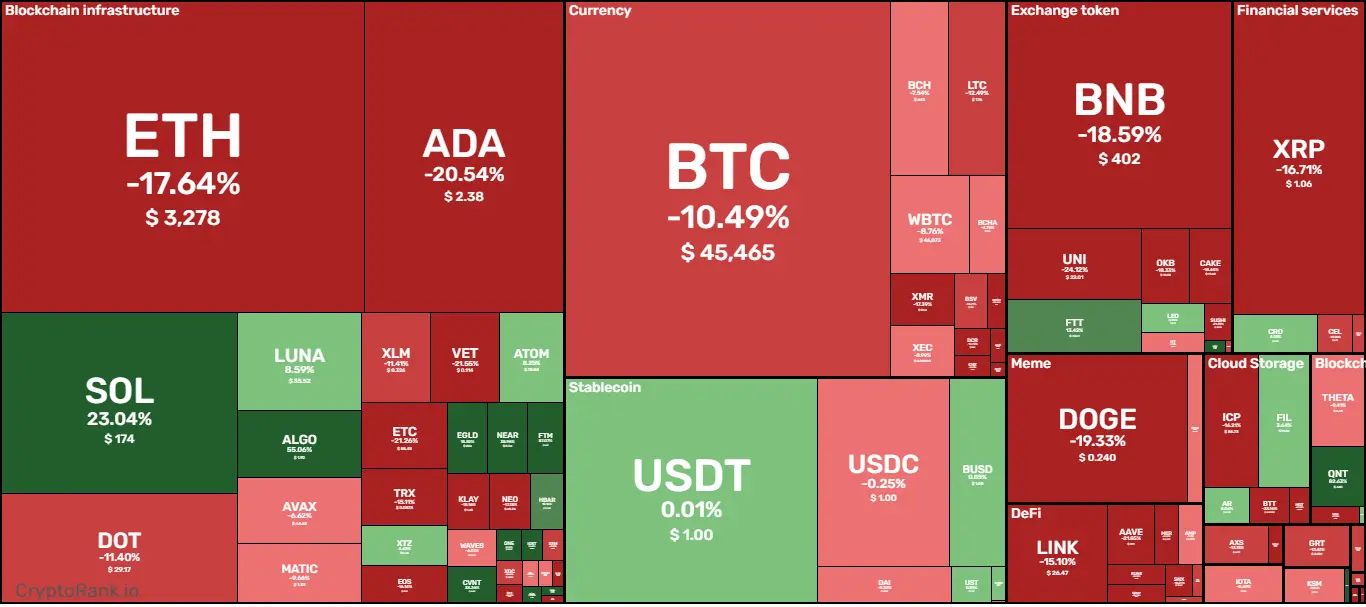 At the moment of writing, the weekly change of the top currencies is:
Gainers of the Week
What is the best cryptocurrency to invest in for the long term? Holders of these tokens are reaping benefits this week:
Conclusion
Hope you were not discouraged by the dip — the rest of the news from the crypto world this week is wildly promising! From BTC receiving legal tender status to crypto purchases becoming more accessible, the sentiment is bound to catch up with the news. If you liked it, check out the next weekly crypto news digest in our blog. Follow ChangHero on Twitter, Facebook, Reddit and Telegram for daily updates and more content.
---
Quick links: