If you are following the news about the stock market, this has been a historical and a pretty crazy week. But in case you missed some other news in the noise, we have collected them for you! As always, weekly market and Bitcoin digest and the most significant cryptocurrency news are here for your convenience.
ChangeHero Updates
Evolution of Money: Digital Currencies and Crypto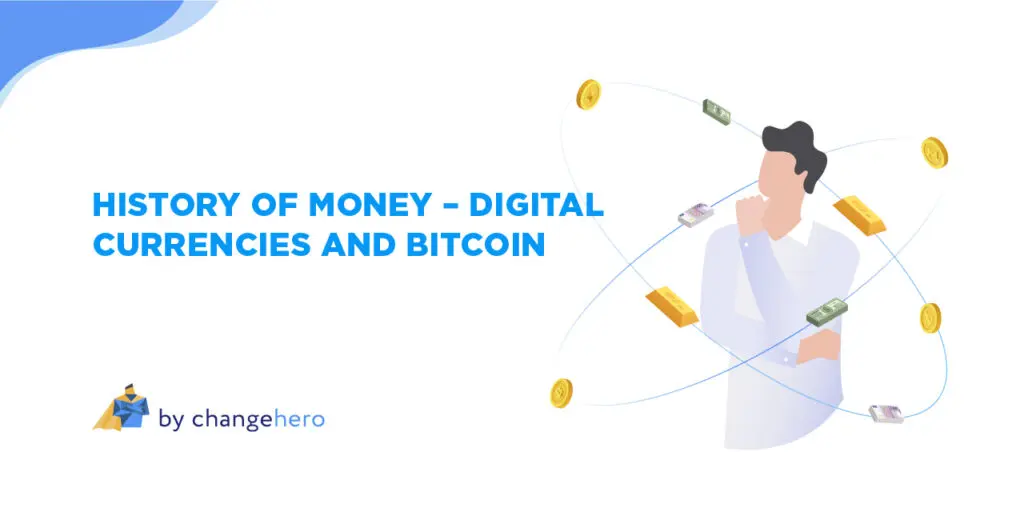 This week, we published the second entry of our series on the history of money. Read part two in our blog and find out why digital currencies are the future, and cryptocurrencies have the most potential out of them.
Latest Cryptocurrency News
Bitcoin Digest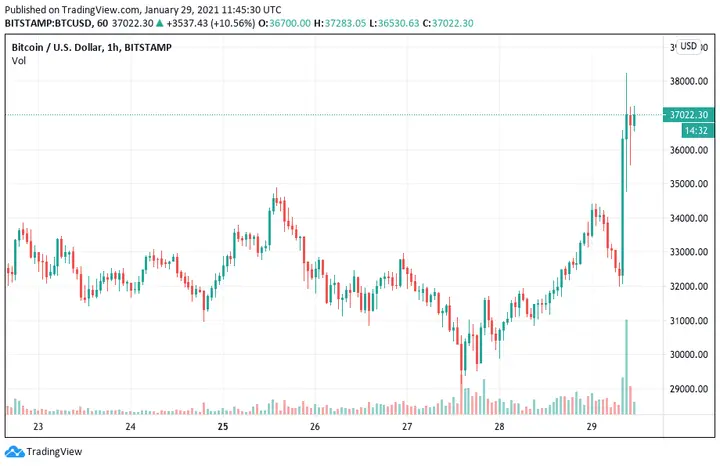 Before we address the elephant in the room, let's see how the rest of the week went. Trading went more or less as usual. The working week opened with BTC bouncing off $31k support level. The bounce even let BTC retest $35k this day. However, this level was too resistant, and it rejected the graph violently. On Wednesday, Bitcoin dipped below $30k twice. The response was as nice as before, launching the price up to $34k again. 
Now, normally we would expect the same thing after the rejection to happen. However, Bitcoin momentarily shot up to $38k in a couple of hours. Is now a good time to buy Bitcoin? It is better to wait and see, as sudden bursts of volatility are generally not sustainable.
Bitcoin News
This pump was most likely caused by a series of events. A Reddit community of traders, WallStreetBets, has driven the price of stocks parabolically up, primarily, GameStop. This resulted in hedge funds that had short positions to suffer multi-billion losses. The popular trading app, Robinhood, was pressured into suspending purchase of several stocks, and the community was banned in Discord. 
By that time it was widely reported and discussed. That's when Elon Musk made several crypto-related tweets and changed his Twitter bio to say "#Bitcoin".
Business Crypto News
The Investor's call in Visa revealed the plans of the payment processor giant to develop crypto solutions. The company was vocal about blockchain development before, and collaborated with on-ramps. However, they are now looking into enabling crypto payments directly;
Digital asset manager Grayscale applied for six more altcoin trusts. These include Polkadot, EOS, Monero, Aave, Cardano and Cosmos. Though trust formation does not necessarily mean a product will be complete, potentially it means even more options for investors;
Sources in Harvard, Yale and Brown report the universities' endowment funds were discreetly purchasing Bitcoin for more than a year. If the information is true, it means that BTC was used to bolster the universities' budgets.
Crypto News on Adoption
Reddit announced collaboration with Ethereum Foundation. A bilateral partnership will help allocate resources to scale Ethereum blockchain, as well as bring the value of the technology to the website. Introducing blockchain to the points and rewards system on Reddit has already been tested in Scaling Bake-Off;
Binance Research presented the results of the crypto owners survey. The questionnaire was distributed in Binance newsletters and in social networks. It found that there are now approximately 100 million crypto users, most of whom are motivated by investing long-term. 17 out of 20 markets showed a lower than 40% level of trust into local governments.
Regulation & Politics Crypto News
New research by the Bank of Singapore states that cryptocurrencies might become the new store of value instead of gold. As a medium of exchange, the researchers seem sceptical that privately issued currencies will ever replace national currencies. However, once trust, liquidity and acceptance hurdles are overcome, cryptocurrencies will be a better alternative to safe-haven assets.
Twitter Crypto Digest
A lot of you are talking about Dogecoin. What's that? A meme crypto?

— WSB Chairman (@WSBChairman) January 28, 2021
If we needed a timestamp when the WallStreetBets movement opened up to crypto, this might be it. Dogecoin being traded on Robinhood helped immensely, as well. Sure, WSBChairman may no longer be verified on Twitter, but now they're verified in the eyes of the crypto community.
In retrospect, it was inevitable

— Elon Musk (@elonmusk) January 29, 2021
The tweet that preceded the pump and the bio change is right above. Cryptic! That is one way to leave a message to Crypto Twitter.
Regarding the settlement between Bitmain's two co-founders

Resilio Sync key: BEHPKSVC4IHNZ7YXP2K5TAVZYVYUAO57E — Jihan Wu (@JihanWu) January 26, 2021
And here is another! Jihan Wu, Bitmain founder and prominent member of the Bitcoin Cash community used a key to encrypt a message. In it he cleared up that he decided to move on from Bitmain.
Influencer of the Week
$DOGE is the purest form of $crypto. No ICO. No dev premine or ninja'mine like #bitcoin. Hell, not even really any devs to muddle things up.

A truly immaculate conception. pic.twitter.com/f5W8zGaI15 — Sicarious (@Sicarious_) January 28, 2021
One a scale from one to ten in approachability, Sicarious gets a three. That is how thick laden in irony their account is. If you are able to see through it, you can get valuable ideas on trading and the state of the market. And the jokes they make and share are pretty nice, so give them a follow for a fun time.
Top Crypto Digest
The market cap is back over $1 trillion. The dominance index remains at the same level as last week, signaling the growth of both Bitcoin and altcoins. At the moment of writing the crypto digest, the general market stats are:
Total Market Cap: $1,086,031,440,166;
BTC Dominance: 64.83%.
7d Top Coin Digest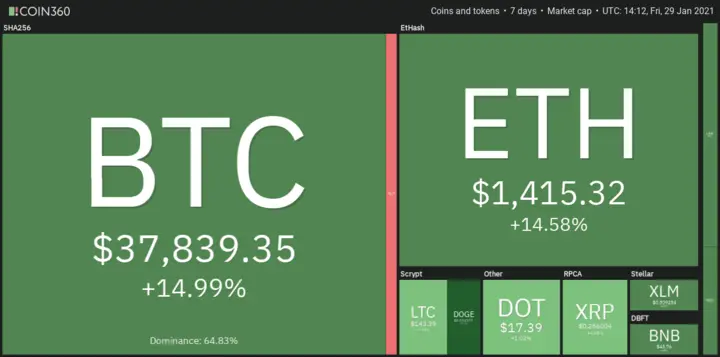 Ethereum news reported a new all-time high ($1,467.78), and the rest of the market is back in the green. Is it safe to buy ethereum now? Despite the price being at a top, the technicals are either neutral or in the strong buy area.
Dogecoin makes a debut in our top after surging in capitalization. Congratulations!
At the moment of writing the crypto digest, the 7-day change of the top currencies is as follows:
ChangeHero Gainers of the Week
At the time of writing the crypto digest, the currencies that showed the best growth are:
Dogecoin (DOGE) $0.051205 (↑499.20%);
Uniswap (UNI) $14.41 (↑71.59%);
1Inch (1INCH) $2.93 (↑65.45%).
Key Takeaways
The American stock market this week was going through an unprecedented case. Retail investors on Reddit united to pump random stocks. The retaliation showed how easily stock exchanges are manipulated, and cryptocurrencies came into the spotlight. This market is unstoppable and global;
As a result of escapades on Twitter and Reddit, Dogecoin and Bitcoin pumped to serious amounts: Dogecoin scored a new ATH ($0.051205), and Bitcoin grew by $5,000 in an hour;
Crypto has had a spectacular week in terms of adoption: among the names that made the headlines are Visa, Yale, Harvard and Reddit. Grayscale and MicroStrategy continued with their crypto investments.
Conclusion
What we are witnessing this week is historic, and this is not an exaggeration. Crypto is getting recognition and a massive boost in popularity. There was plenty of cryptocurrency news on adoption that might have been overlooked, but is not less significant.
Tune in to the next crypto digest in our blog. Don't forget to subscribe to ChangeHero's updates on Twitter, Facebook, Reddit and Telegram.
---
Learn more:
Quick links: