The most resounding crypto news of late are the El Salvador Bitcoin law entry-into-force and the death of John McAfee. But that is not at all exhaustive, find other significant events in our weekly cryptocurrency news digest!
Key Takeaways
Bitcoin reached a two-week low of $28,600 as Chinese banks restricted access to crypto services but is in slow recovery now;
The lack of news on altcoins led to the market largely following BTC and moving downside;
In other possible news, Israel might be considering Ethereum for their CBDC and Paraguay politicians will fight for a Bitcoin law in their country.
Latest Cryptocurrency News Digest
Bitcoin Digest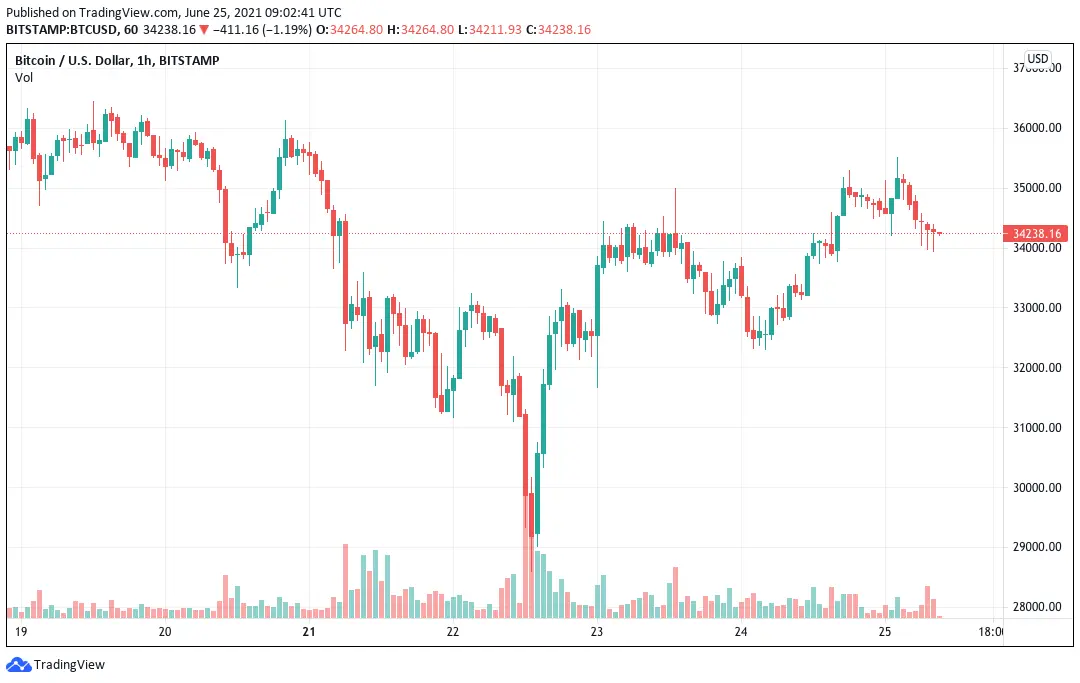 The first thing seen from the weekly chart is a huge dip on June 22. You can probably guess that China is to blame again: People's Bank of China reminded the largest banks and Alipay of trading restrictions. Bitcoin price reacted by sinking as deep as below $29,000.
What is the current situation of Bitcoin? The news could not keep the price from going further down, and buyers managed to get Bitcoin to $34k.
Bitcoin News
The largest mining equipment manufacturer, Canaan, set up shop in Kazakhstan after moving out of China. Following them, BIT Mining and other miner companies deliver their equipment to the country and will soon go back online.
Nasdaq Dubai exchange opened trading of the Bitcoin Fund, the first Bitcoin ETF in the region.
Altcoin News
An unconfirmed report, which claims Bank of Israel is testing a national digital currency and it uses the Ethereum blockchain, surfaced this week. If confirmed, this fact could become large Ethereum news in the nearest future.
Binance NFT Marketplace is live! It's powered by Binance Smart Chain, so bids are accepted in BNB and BUSD.
Business Cryptocurrency News
PayPal and Visa organised a $300 million fund under Blockchain Capital's guidance. The payment giants are seeking investment opportunities but being new to the space chose to collaborate with one of the oldest crypto venture capital firms.
Cryptocurrency News on Adoption
Auction house Sotheby's will accept payments in bitcoin and ether for an extremely rare diamond. Chairman of Sotheby's explained this decision was a gesture to connect one of the oldest and most modern forms of value.
More countries are looking to follow El Salvador: Paraguay politician Carlitos Rejala unveiled plans to introduce a bill to make Bitcoin legal tender. Rejala's party has only two seats in the parliament out of eighty, though, so the process of passing this law will not go as easily as in El Salvador.
Regulation & Politics Cryptocurrency News
Cape Town-based startup firm Africrypt founders have gone missing with $3.6 billion worth of crypto assets. The aggregate amount of 69 thousand coins would make this the largest scam exit to this day.
Coinbase has received a green light from Japanese authorities to operate in the region. The NASDAQ-listed cryptocurrency exchange can now trade BTC, ETH, LTC and XLM in this highly regulated market.
Cryptocurrency News Digest from Social Media
Video of the Week
Peter McCormack's interview with the President of El Salvador went up this week on the WhatBitcoinDid YouTube channel. In the first talk since the passing of Bitcoin law, Nayib Bukele shared reasons for making this step and forward-looking plans.
Cryptocurrency News Digest from Twitter
I once had the opportunity to spend the day with the legend @officialmcafee on his boat in the Bahamas.

He was kind, funny, and incredibly intelligent. Will always remember that day. RIP to one of the world's most unique individuals. pic.twitter.com/B5FnvDBRYK — Pomp 🌪 (@APompliano) June 23, 2021
In probably the most shocking news of this week, John McAfee was found dead in his prison cell in Barcelona, on June 23. The day before, Spanish court ruled to extradite him to the US. McAfee was a scandalous character in crypto space, with people having extremely divided opinions about him, but undeniably influential.
#China logistics firm in Guangzhou confirms to @CNBC it's airlifting 3,000kg (6,600lbs) #bitcoin mining machines to Maryland, USA. Fenghua International advertises products delivered to door, tax on both ends cleared. Price per kilo: as low as $9.37! #cryptocurrencies pic.twitter.com/8yUjZjhpkk

— Eunice Yoon (@onlyyoontv) June 21, 2021
To deal with a decisive crackdown, Chinese miners are moving operations to foreign jurisdictions. One of the destinations is the US, which is more than willing to reclaim the world leadership in hashrate production.
Bitcoin is below $34K, triggered by Elon Musk's energy FUD and China's mining crack down.

There is also a more fundamental reason that we see weakness in June, and possibly July. My worst case scenario for 2021 (price/on-chain based): Aug>47K, Sep>43K, Oct>63K, Nov>98K, Dec>135K pic.twitter.com/hDONOVgxH1 — PlanB (@100trillionUSD) June 20, 2021
Bitcoin price decline was so sharp this week, stock-to-flow model author PlanB called his own creation into question. A move lower would have invalidated the model that projected growth of Bitcoin to $100,000 in 2021 and $1,000,000 in five years. Can a Bitcoin crash, then? Ultimately, they remain optimistic: their latest update on Bitcoin prediction puts targets at $43k in September as a local low. His expected close target of Bitcoin is $125k.
Influencer of the Week
Could be one of the best buy opportunities in years. Or could not, buy what you can afford to lose, and HOLD. Speaking about investing here, not trading, big difference. #bitcoin pic.twitter.com/LnJRe9itVc

— George (@George1Trader) June 22, 2021
Our trader of the week deals mostly with Bitcoin, but instead of quantity they provide quality analysis. Despite favoring investments over speculation, George does know technical analysis enough for short-term ideas, too.
Top Coin Digest
At the moment of writing the digest, the general market stats are:
Total Market Cap: $1,339,801,805,625 (-13.61%);
BTC Dominance: 47%.
7d Change in Top Coins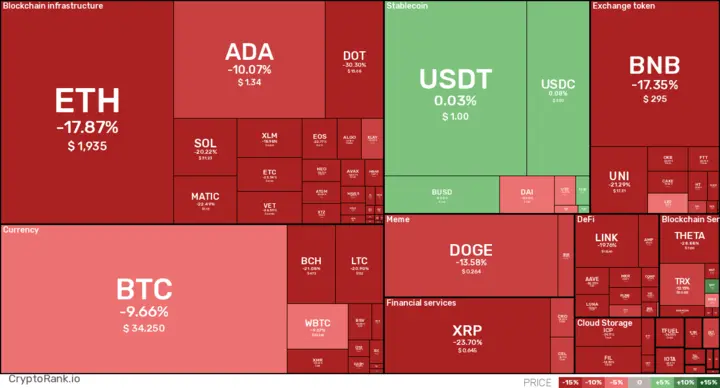 Reds this week sent weak hands panicking and asking "Why is crypto crashing?" Altcoins followed Bitcoin on the way down but have yet to catch up to the recovery. At the moment of writing, the weekly change of the top currencies is:
Conclusion
Markets may not seem optimistic but the prompt recovery of Bitcoin from below $30k gives a positive signal. The news from Israel and Paraguay give the entire community much to look forward to for more details. Keep an eye on our blog for weekly crypto news! Follow ChangHero on Twitter, Facebook, Reddit and Telegram for real-time cryptocurrency news.
---
Quick links: