The Bitcoin community is excited to see Bitcoin finally officially recognized as a currency. While this is truly a historic moment, there was other news worth following! Find the most relevant of them in our weekly cryptocurrency news digest.
Key Takeaways
Bitcoin has been having a tumultuous week: first, a crash to $31k on the news the US law enforcement confiscated the Colonial Pipeline ransom. Then, a rapid rebound to $38,400 from the news about becoming legal tender in El Salvador.
A bill, announced at the Miami Bitcoin 2021 conference by the president Nayib Bukele, was passed on June 9: Bitcoin is officially a currency of El Salvador. The country is building geothermally-powered industrial-scale mining rigs, and will use Lightning Network for quick payments in BTC.
In other news, China prepares to launch digital yuan by cracking down on cryptocurrency miners and exchanges. This week, they arrested more than a thousand people on the grounds of money laundering with crypto.
ChangeHero Updates
ChangeHero launched a Telegram bot for crypto swaps!
Before we get into the news and stories, let us plug a feature we're excited to share. We have launched a Telegram bot for users to make crypto swaps right in their messenger. The address of the bot is @ChangeHeroBot, and it's the only official bot from our team. If you would like to see step-by-step instructions on how to use it, read our guide!
Latest Cryptocurrency News Digest
Bitcoin Digest
11/06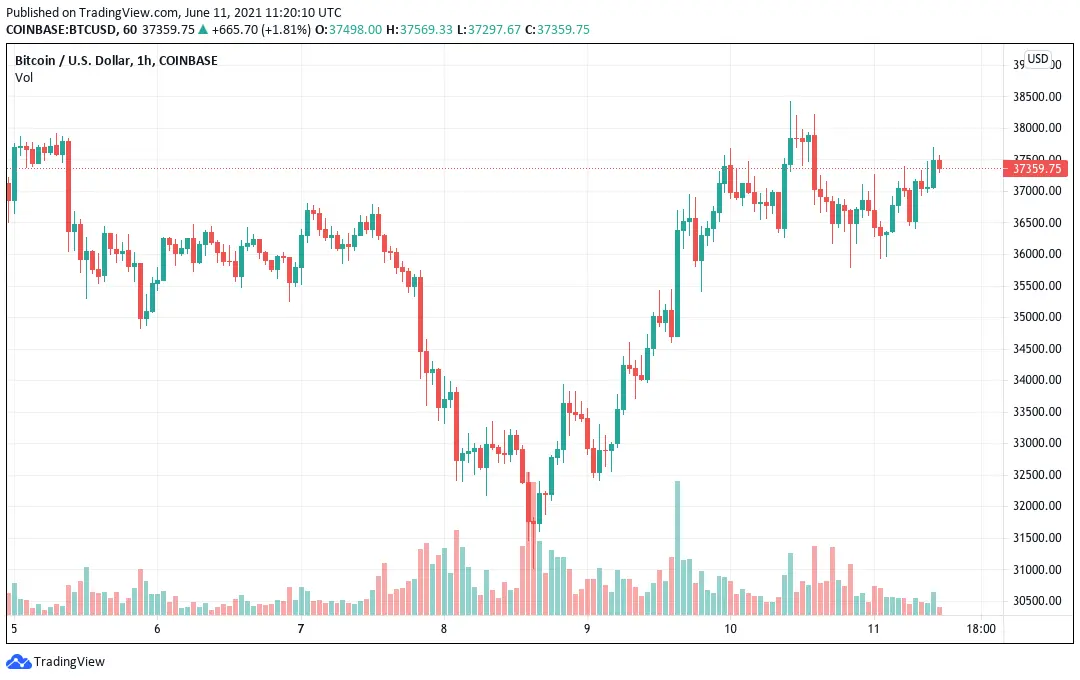 Last weekend BTC failed to fix above $37,800 and descended to consolidate in the $35,000–36,500 range. However, on Monday (June 7) it ran into a roadblock and sunk to $31,000.
Will Bitcoin crash again? Not anytime soon, it seems: on the news that BTC became legal tender in El Salvador, it ran back up to $38,400. The sentiment surrounding Bitcoin is bullish again, and currently it is trading at $37,330.
Bitcoin News
The massive dip this week was caused by the news that the FBI recovered the BTC which were paid as ransom in the Colonial Pipeline hack. The panic came from the false assumption that the funds were retrieved from the blockchain, but Bitcoin was not compromised.
Altcoin News
CoinShares reported that after the Bitcoin panic selling, digital asset funds flowed from BTC to Ethereum, Cardano and XRP. Ethereum continues to be the altcoin of choice, but XRP scored the largest inflow since April.
Which is the best Cryptocurrency to invest in now? Watch Ethereum news for that, Curve Finance has just shipped an update with low-slippage swaps and dynamic fees.
Business Cryptocurrency News
State Street Digital, a US bank with $40T in custody, set up a division to work with digital assets. They will partner with cryptocurrency service providers and researchers to catch up with other banks already offering exposure.
Amazon posted a job offer for blockchain specialists with experience in DeFi. Most likely, they will work on Amazon Managed Blockchain, although there is speculation that Amazon has plans for a digital token.
Cryptocurrency News on Adoption
Without doubt, the major news of the week: the nation of El Salvador officially recognized Bitcoin as legal tender starting June 9, 2021. The national framework will be built with the help of Lightning Network by collaborating with payments platform Strike.
Following El Salvador, India might look into recognizing Bitcoin officially as an asset class, Indiatech.org claims. The decision will be made during the Monsoon parliamentary session, July to August/September.
Regulation & Politics Cryptocurrency News
The KuCoin exchange came under fire as the Ontario Securities Commission charged it for failing to register and comply. At worst, it could result in Canadians being restricted from trading on the off-shore exchange.
Chinese authorities arrested more than a thousand suspects in money laundering schemes which used cryptocurrency exchanges. All the while national network providers censored mentions of cryptocurrency exchanges, the crackdown is real.
Mining, too, is out of favor, as Xinjiang operators were reportedly ordered to cease operations. As reported in the same thread, though, for the time being, no action was taken.
Social Media Cryptocurrency News Digest
Video of the Week
99Bitcoins host Nick coming in with the cryptocurrency news recap from the Miami Bitcoin 2021 conference.  Some of the news we have covered in our previous digest. But he also talked about Square planning to make a hardware BTC wallet and a collaboration between BitMEX and Astrobotic.
Cryptocurrency News Digest from Twitter
...this is so Florida. I wish everyone who caught COVID well and that you walk away with a mild case. We're still in a pandemic so take care of yourself.

— KD WILL...🤔 (@keithwills77) June 10, 2021
Instead of a price pump after the in-person Miami Bitcoin 2021 conference, the community got several COVID-19 cases. Not quite what was supposed to happen at the Bitcoin 2021, but hardly surprising considering more than lax safety procedures.
I sent a drone to film one of the new wells...

Nice rainbow 🙂 Bitcoin mining with the power of volcanos!#BTC🌋♻️🇸🇻 pic.twitter.com/cEIFcf23tS — Nayib Bukele 🇸🇻 (@nayibbukele) June 11, 2021
El Salvador's President Nayib Bukele is the new darling of Crypto Twitter, and for a good reason: after all, he made Bitcoin legal tender. Now he is sharing the progress of building national mining rigs powered by geothermal energy, or simply, volcanoes!
Only a matter of time

— jack (@jack) June 11, 2021
Lightning Network payments in Twitter? Jack Dorsey says it's coming eventually!
Influencer of the Week
These days/weeks are the ones that separates you from the ones that will come later saying "You were lucky buying at xxxxx$)" Hodl/Accumulate if possible, you will be rewarded🙂

— Nico (@CryptoNTez) June 8, 2021
Trader and influencer Nico focuses on market updates and technical analysis. From the retweets from fellow community members or political figures you can learn a lot about the current state of the market!
Top Coin Digest
At the moment of writing the digest, the general market stats are:
Total Market Cap: $1,580,355,986,053 (-4.31%);
BTC Dominance: 44%.
7d Change in Top Coins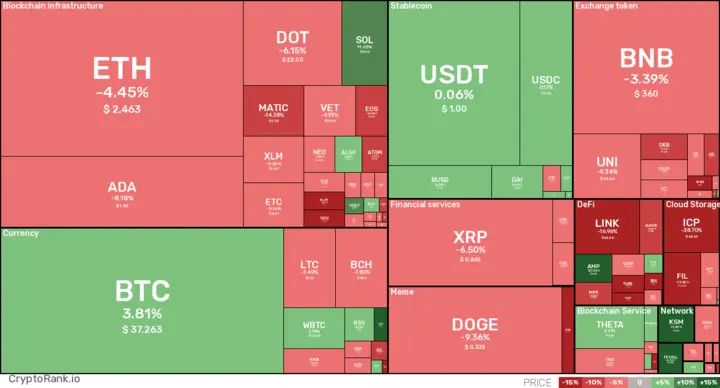 After recovering for a bit, the market is all over the place again. Bitcoin is in the black but will Ethereum go up? We'll have to wait until next week for that. At the moment of writing, the weekly change of the top currencies is:
Gainers of the Week
Which altcoin has the most potential? While most of the market is in the red, Solana (SOL) $59.15 (↑11.65%) is scoring some yields for its holders.
Conclusion
This week is nothing short of historical: Bitcoin was finally recognized as legal tender. It would indeed be intriguing to see where volcano mining and the national Lightning Network-powered financial system will take El Salvador. We hope you found this weekly crypto news digest insightful. Check our blog for more! Follow ChangHero on Twitter, Facebook, Reddit and Telegram for live updates.