With each passing year, crypto gets more convenient to use but even now, cryptocurrency trading can be a headache sometimes. This is why ChangeHero has launched a Telegram crypto exchange bot to make fast and easy swaps and crypto trading even more accessible!
Why Use a Telegram Bot?
Popular messenger client Telegram has 500 millions of monthly active users as of January 2021 for a reason. Aside from a plethora of useful features and encryption, the app has a platform for third-party integrations with bots. Telegram bots let you use applications of different levels of complexity right in your Telegram client. The best part? There are bots for just about anything, including crypto bots for instant exchange. Using a Telegram bot is sometimes more convenient, since you do not need to download a mobile app. Thanks to end-to-end encryption, data collection by middlemen is not abused.
About the ChangeHero Telegram Crypto Exchange Bot
The Telegram exchange bot by ChangeHero is a bot you can use any time in the Telegram app. Its address is @ChangeHeroBot, make sure you are using the right one! With it, you can trade digital assets as easily as you can do it on our website. We source liquidity from multiple crypto exchanges to free you from the hassle of registering or looking for the best rate on the crypto market. No trading skills needed! How long does it take to trade crypto with a Telegram crypto bot? About the same amount of time as on the website, 15 minutes on average. Is Telegram exchange bot by ChangeHero safe to use? Since it is powered by ChangeHero API, it is like the service itself non-custodial: we won't ask you for private keys or store them. If you need help with the crypto bot, you can contact our support team as you'd usually do, on our website or email [email protected]. Alternatively, to make the experience seamless, now you can write to our Telegram chat and a team member will assist you.
Advantages of the ChangeHero Telegram Crypto Exchange Bot
Can be used on the go or at your workstation. Feel free to use it with your desktop Telegram client or iOS and Android apps.
No registration required. Keep your private info and private keys safe.
Seamless experience. Swap cryptocurrencies and communicate with the support team 24/7 without leaving your messenger.
Low service fees. Swap any pair only for a 0.5% commission.
And as always, user-friendly interface and reliable and easy-to-use service in the form of a Telegram bot.
How to Exchange Cryptocurrency on ChangeHero Telegram Bot?
The ChangeHero bot will take you through the learning curve of the exchange process step-by-step. But just in case, here is a complete instruction on how to use it.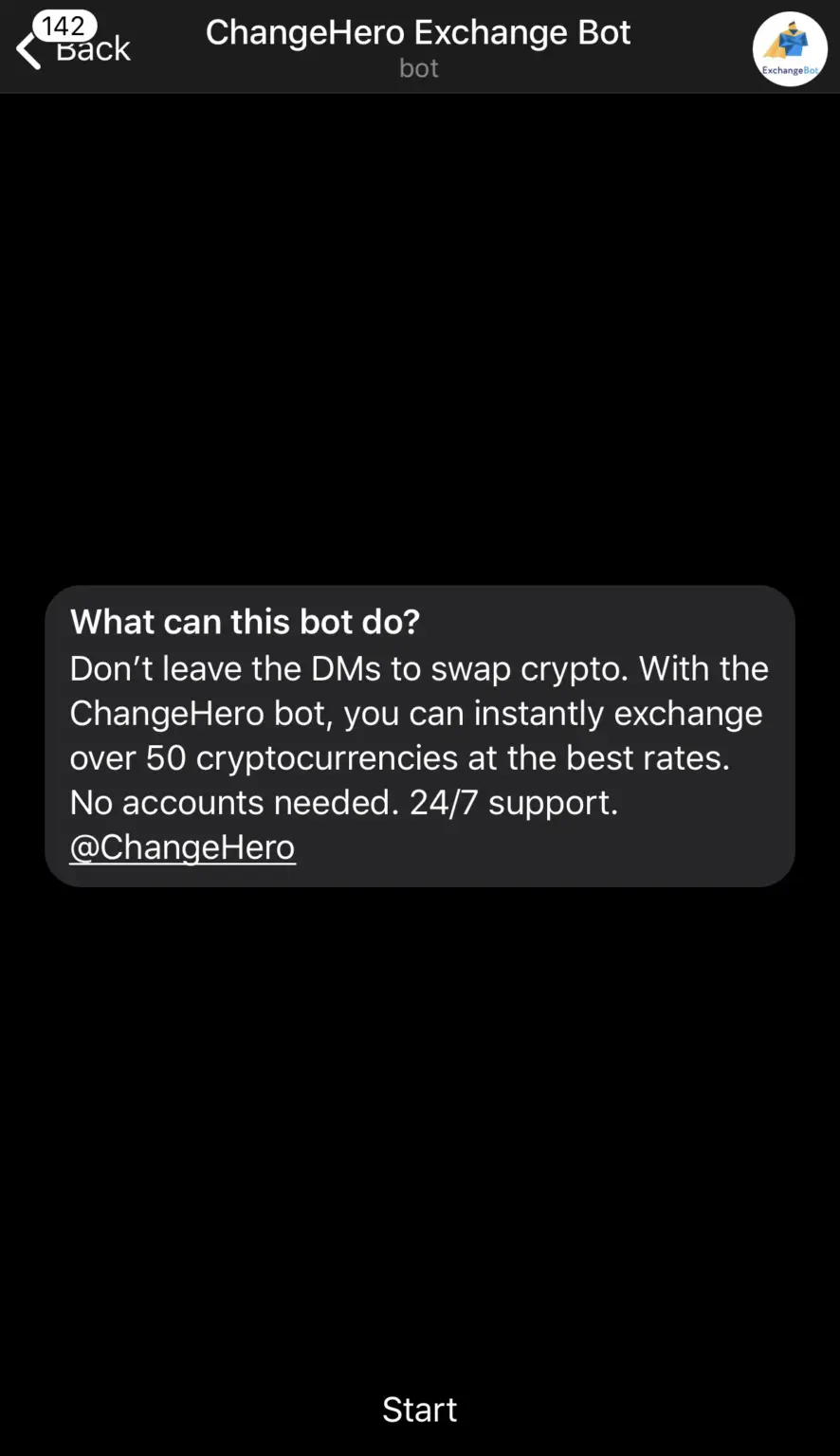 To get started, tap the "Start" button or enter the command "/start'.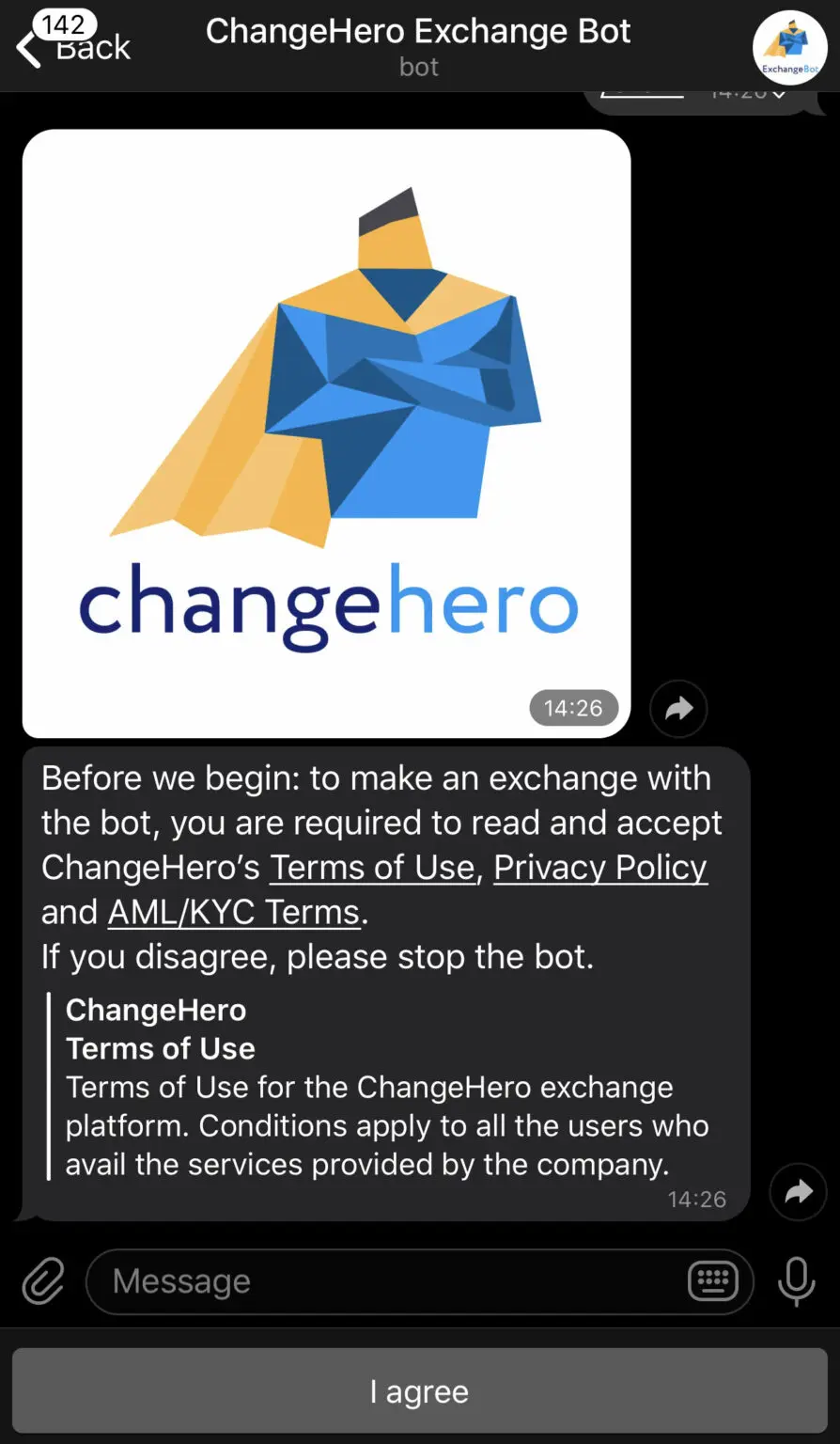 Before you can use it, you will prompted to read the Terms of Service and KYC/AML Policy. It is a one-time step but read them thoroughly before proceeding by tapping "I agree".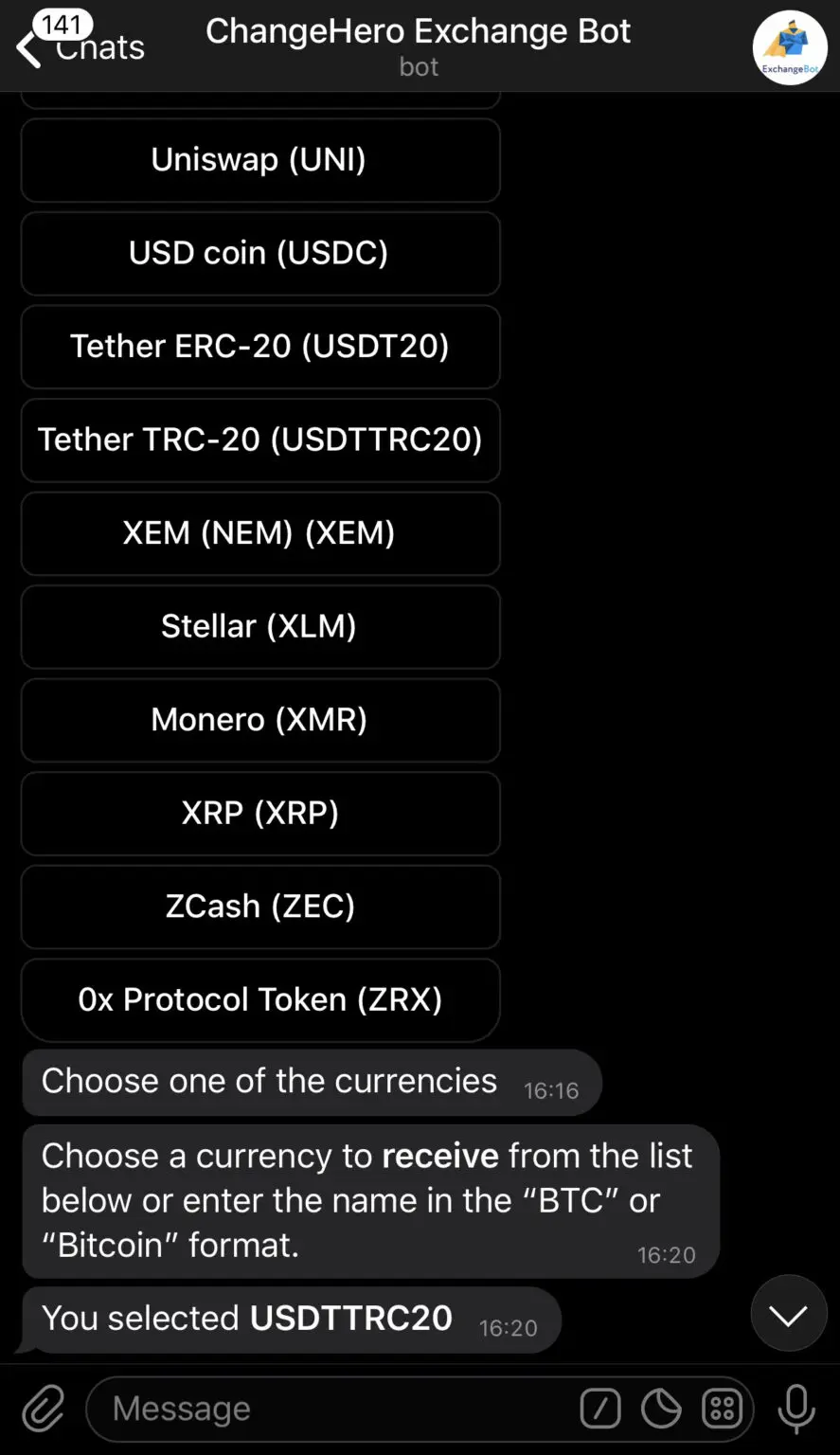 Now you can start the exchange.  Choose a currency to send from the list or request the full list by tapping the "Show me all currencies" button. Commands also work, just input the ticker or the full name of the currency. We picked USDT.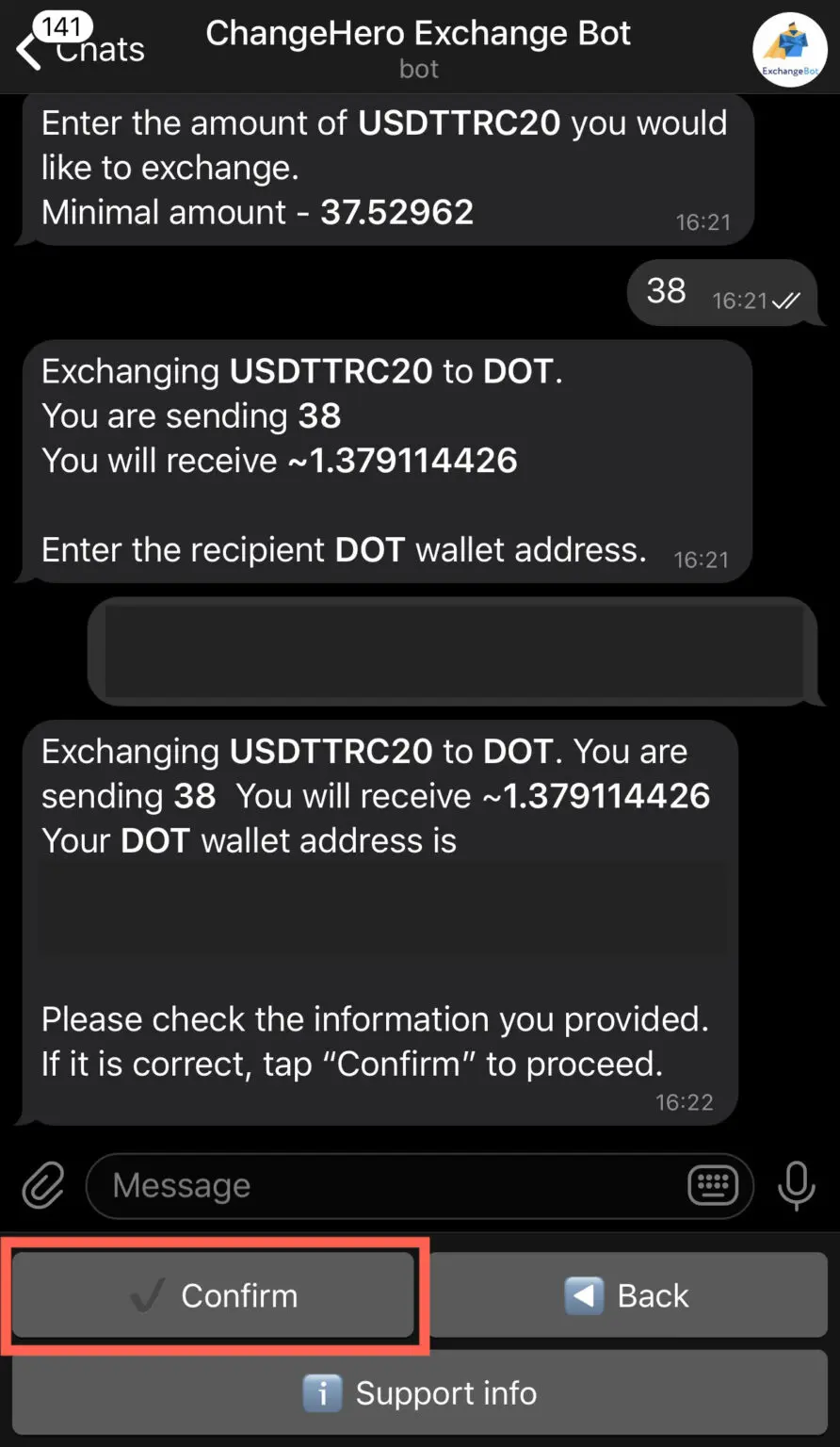 Now choose the currency you want to receive. Same rules apply. We picked DOT. Next, enter the amount that you will be sending for an exchange. You'll instantly receive a real-time estimation of exchange at the current market exchange rate. The final amount may change under the market fluctuations; Provide the blockchain address to which you would like to receive the coins after the exchange. Before proceeding to the exchange itself, you will get a chance to check the rate, amounts and receiving address once more. Tap "Confirm" when you're ready, and remember: transactions on the blockchain are irreversible!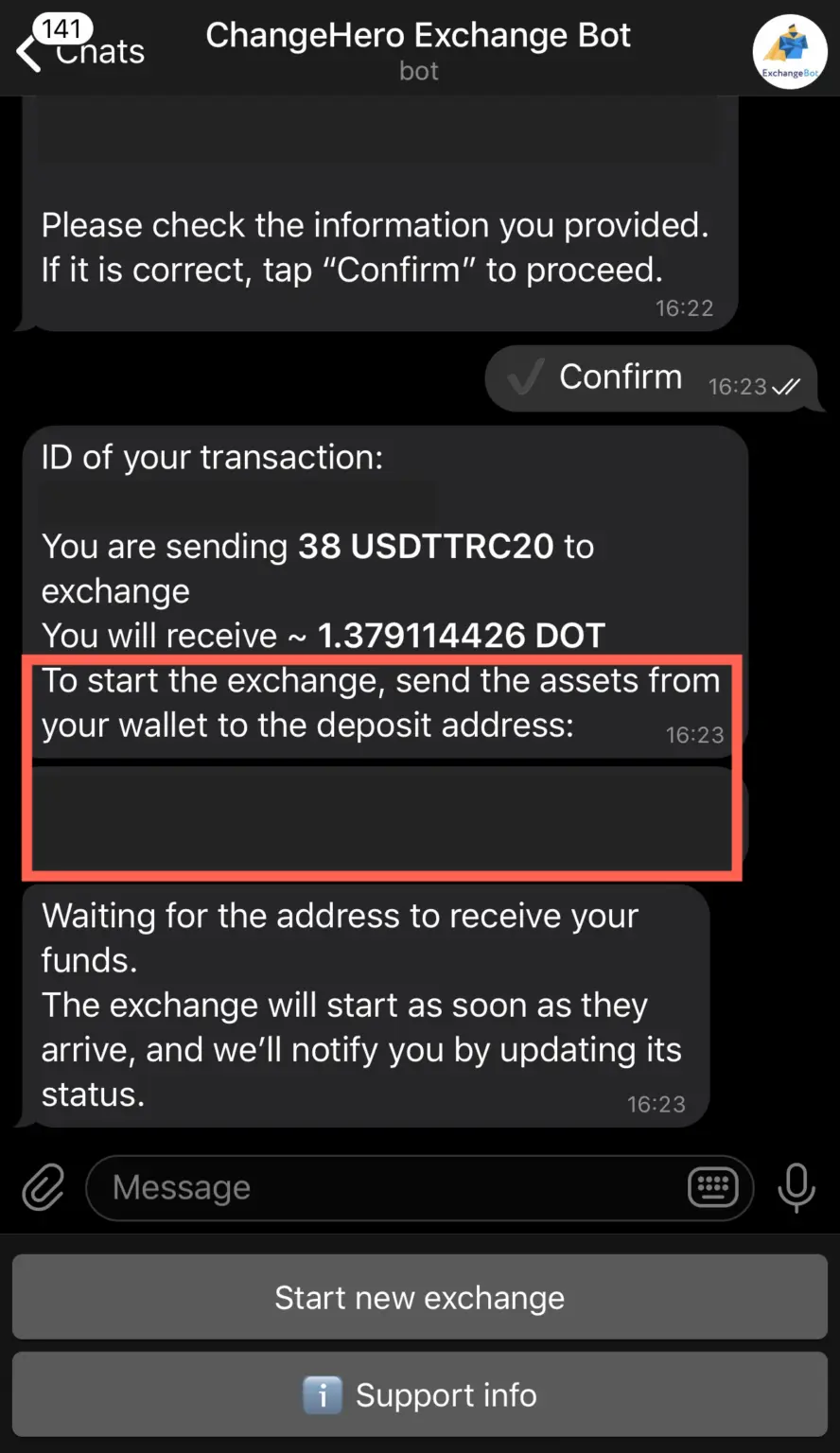 One last step: send the crypto assets for exchange to the address provided by the bot. It will notify you when they arrive and start the swap process.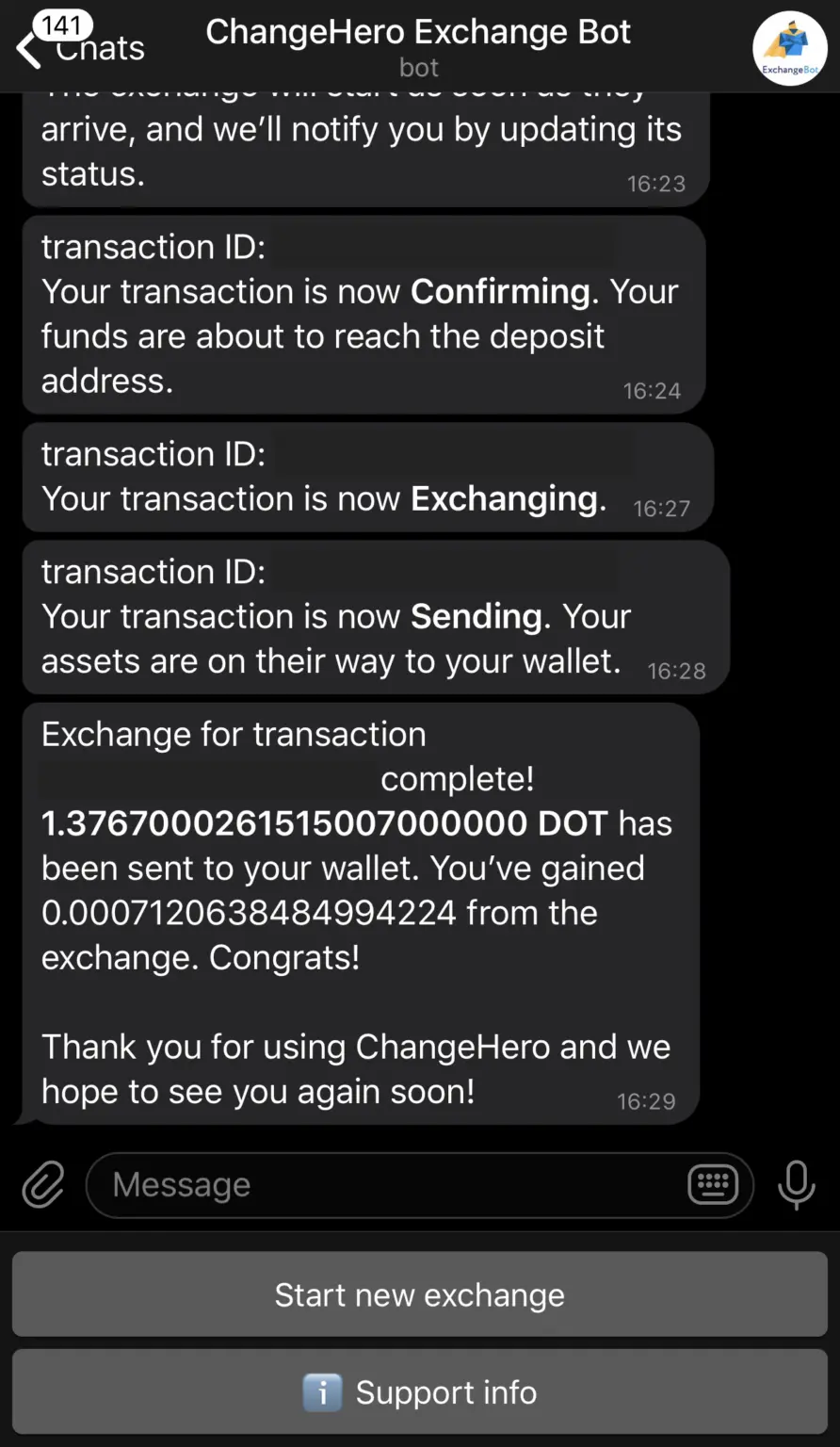 After that, you do not need to keep the bot open: sit back and relax. If you'd like, the status can be checked in the channel history. Congratulations, just like that it is done! Hope you enjoyed the swap process, why not make one more?😊
Conclusion
We are very thrilled to present you yet another convenient way to use ChangeHero! Hope you enjoy using our well-executed bot, and if you do, don't forget to spread the word! As always, other announcements and educational articles wait for you in our blog, to which you can contribute. In addition to the Telegram channel, don't forget to subscribe to us on other social media: Twitter andFacebook.