Instant crypto exchange platform ChangeHero is a place where you can swap between more than a hundred cryptocurrencies at the best rates the market has to offer. On top of it all, it's as easy as a pie, which makes it a perfect fit for users starting their crypto journey.
Sounds too good? Wait until you read all about how it works — it's a simple solution to a complicated problem.
Why is ChangeHero the Best Solution for Everyone?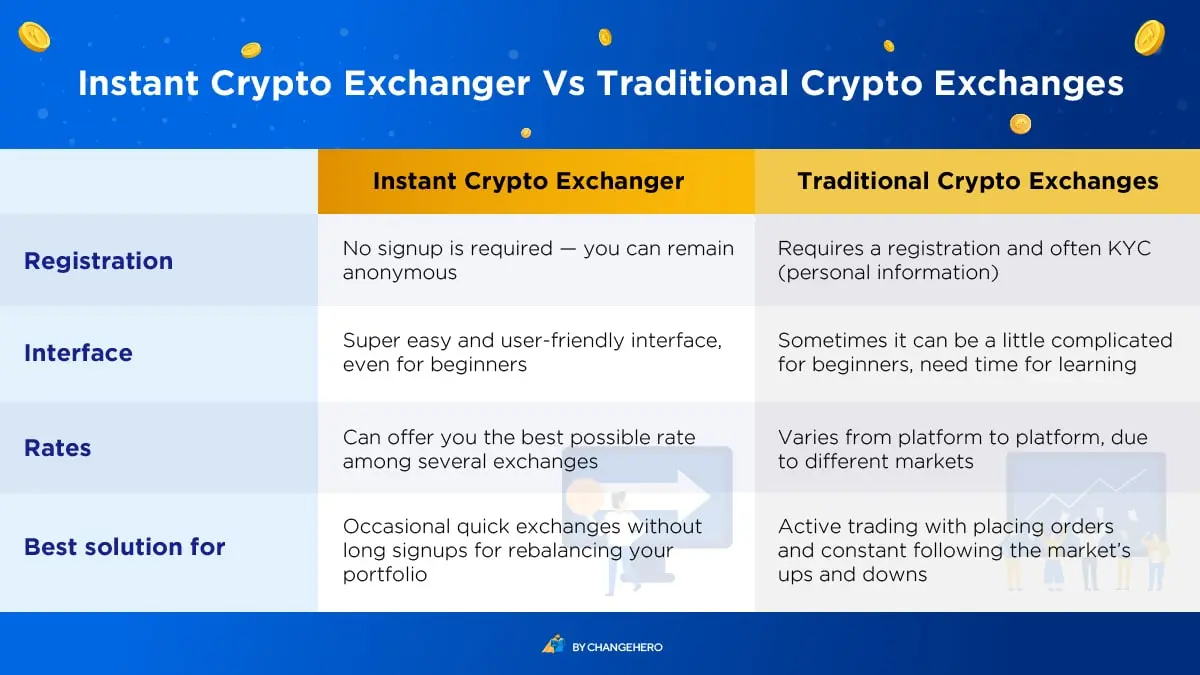 Being a crypto exchanger, ChangeHero comes with a host of benefits over traditional crypto exchanges. Here is the non-exhaustive list:
No Registration Required
Wasting valuable time on setting up a crypto exchange account is a hurdle that can stop you from trading crypto. There are know-your-customer procedures and region restrictions associated with accounts and personal information. Not to mention, cases of sensitive data leaking from exchanges happen.
But it does not have to be so cumbersome: start a crypto exchange as soon as you go to changehero.io in a convenient calculator widget. You can check and choose rates, as well as see currencies available in the drop-down list. By clicking "Exchange", you are immediately taken to the next step to continue.
It does not mean ChangeHero does not play by the industry's rules. An important distinction is that for anti-money laundering purposes, the special risk scoring system assesses coin inputs, not the client.
Safe and Non-Custodial
You may already be familiar with this term from crypto lingo. Sometimes it is understood as "not holding your assets" but originally it refers to something that does not store a private key to your address. A private key is a secret part of the digital signature that lets the blockchain know you are the owner of the assets.
Standard crypto exchanges track and account for user balances but in reality, all assets are at risk of mismanagement or even a bank run. The recent FTX insolvency and bankruptcy show that nothing you let an exchange keep on your behalf actually belongs to you.
How do we address this? Since ChangeHero has no user balances, you never share private keys with us nor do we get access to your holdings. When you want to make a swap, you authorize an outgoing transaction from your wallet without compromising any data.
If you would like to double-check whether using ChangeHero is safe for your assets or personal information, take a moment to read an article on our AML measures and safety procedures.
Simple and User-friendly Interface
Centralized exchanges require you to manage dozens of tabs, know how to read charts, and order books. Decentralized exchanges are even more complicated, with liquidity pools, routing, slippage, and whatnot. If you simply want to swap two cryptocurrencies, why should you need more than a couple of addresses?
ChangeHero makes a crypto swap extremely easy, guides you through this process, and clearly communicates at what stage your exchange is currently.
Optimal Exchange Rates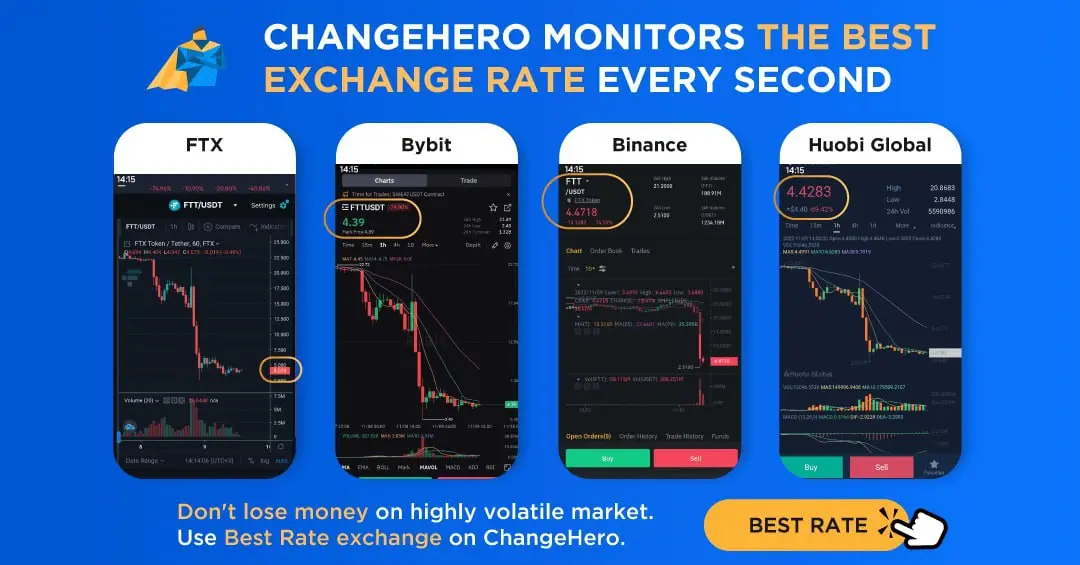 When we say we provide the best rates, we're not bluffing. Under the hood, there is an infrastructure that makes use of more than one crypto exchange, making real-time rate comparison and exchange routing possible. In other words, ChangeHero acts as a service that lets you make use of multiple exchanges and even DEXs all at once. Did we mention no registration or KYC is required?
The estimations you see in a widget on the main page are a result of rate scouring and routing, delivered to you in a second. Then you can pick between the two modes of exchange, but the principle of finding the best rate on the market persists. As a result, no time is wasted and no profit is lost.
Support Heroes
You can't have a customer-first service without a support team as qualified and experienced as ChangeHero's. The specialists are online 24 hours a day, 7 days a week to make sure no question is left unanswered and no issue is unresolved. If you are only starting to make sense of crypto, do not hesitate to reach out to them should you have any questions — they can guide you through any time.
Over 150 Crypto Assets and Counting
Trading on a crypto exchange is only possible on so many markets, and flipping one altcoin for another can quickly get unnecessarily complicated. Leave the matching to the exchanger — ChangeHero will find the needed markets in a jiffy for no extra fee at all. Did you know that with 181 coins and tokens available for exchange at the time of publishing, the total number of pairs supported by ChangeHero is 32,580?
Available on the Web, Telegram Bot, iOS Mobile App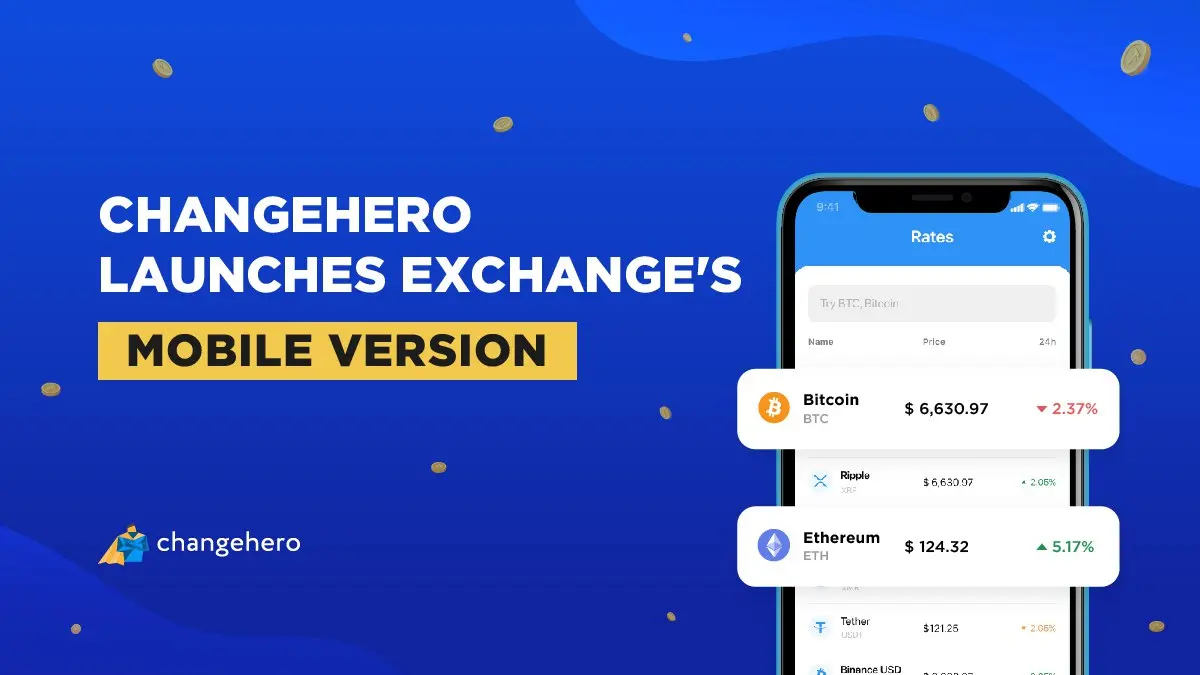 The best part about ChangeHero is that you can access it from any popular platform. There is, of course, the website, accessible on desktop and mobile. However, if you dislike using an Internet browser or can't access it for whatever reason, ChangeHero has a Telegram bot (@ChangeHeroBot) and soon, a mobile app (iOS only, Android coming soon) with extra features.
What are the Best and Fixed Rates? What is the Difference?
Speaking of, what are these two modes of exchange — Best Rate and Fixed Rate? And why are the estimated results different when you change those?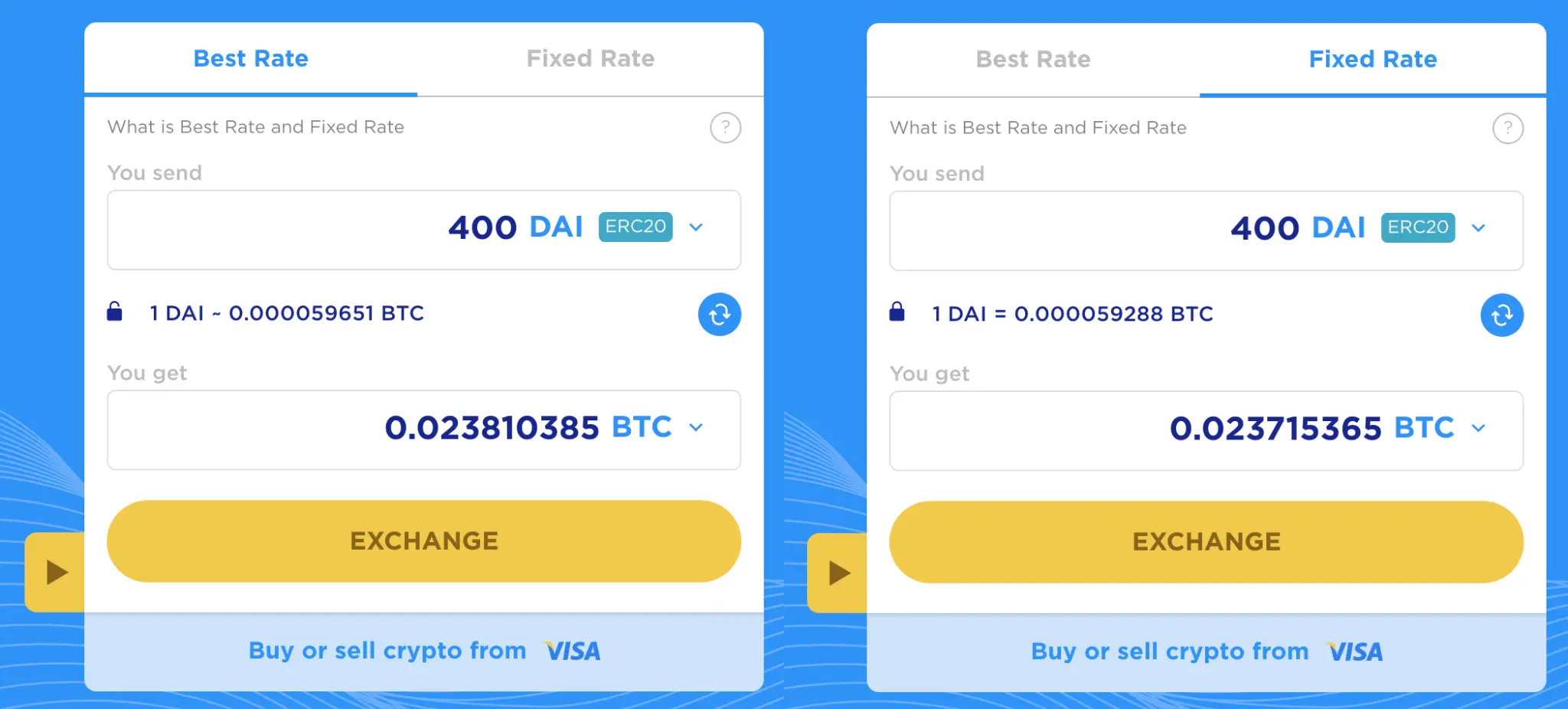 For the Best Rate, the estimation at the time of transaction is only approximate and can change in real-time due to the market conditions. To prevent the result from changing, using a Fixed Rate is advised because it freezes a reasonable exchange rate. The fee in a Fixed Rate exchange is slightly higher (0.7–1%) to cover potential price swings, but in the end, you are guaranteed to get as much crypto as in the estimate.
In short,
Best Rate exchanges are recommended in a less volatile market. Alternatively, you can use it to take advantage of market fluctuations;
Fixed Rate is better when the prices are rapidly changing if you would rather receive an exact sum.
How to Exchange Cryptocurrencies on ChangeHero?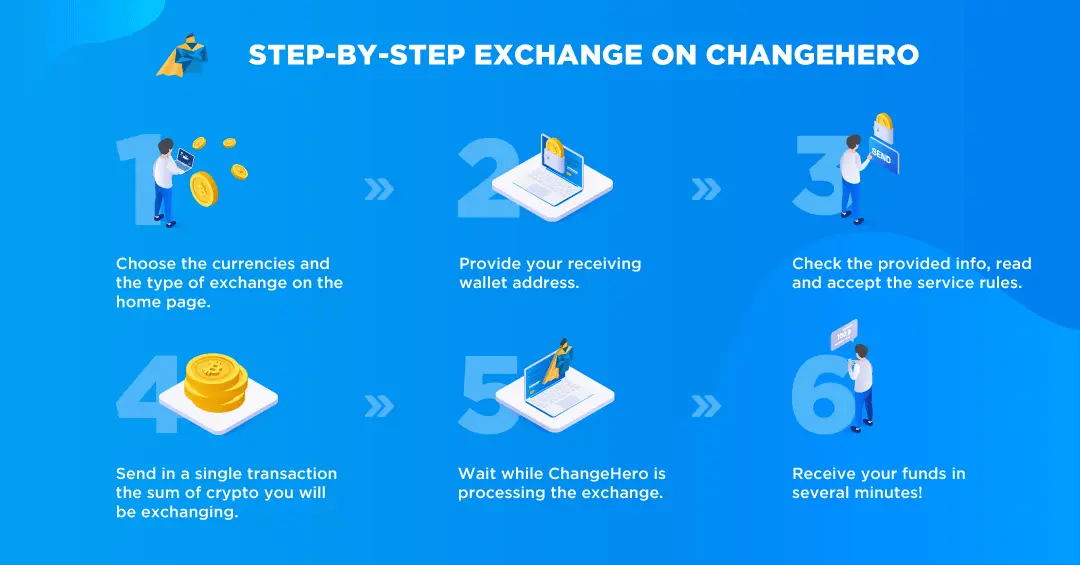 To exchange cryptocurrencies with ChangeHero, you only need to make a few steps:
Choose the currencies on the home page, amounts, and the type of exchange. Provide your wallet address in the next step and check the amounts;
Double-check the provided information, read and accept the Terms of Use and Privacy Policy;
Send in a single transaction the sum of the cryptocurrency you will be exchanging. Fixed Rate transactions have a 15-minute limit;
From here on, we take over: checking the incoming transaction and doing the exchange as soon as it arrives.
As soon as the exchange has been processed, your assets are on the way to your wallet.
Did something go awry? Don't panic, ChangeHero's customer support is available 24/7 in the chat on our website or through the email: [email protected].
Conclusion
Mass adoption of crypto is stifled by a high barrier to entry but with more user-friendly services like ChangeHero, more people get to enjoy the benefits of using cryptocurrencies. Even experienced traders will enjoy the simplicity of ChangeHero's flow and robust liquidity of multiple centralized and decentralized exchanges.
Did you know that in the ChangeHero blog you will find even more tips, guides, and news? And for live updates and even more content, give ChangeHero a follow on Twitter, Facebook, Reddit, and Telegram.
---
Learn more:
Quick links: