This week was less of a ride than the last, but the situation surrounding Bitcoin and the market seems more stable now, even despite the flash crash almost a week ago. In this digest we are taking a look at the latest crypto news, updating you on our own progress and checking the pulse of the Bitcoin price change and altcoins.
ChangeHero updates for this week
Coinify Partnership Announcement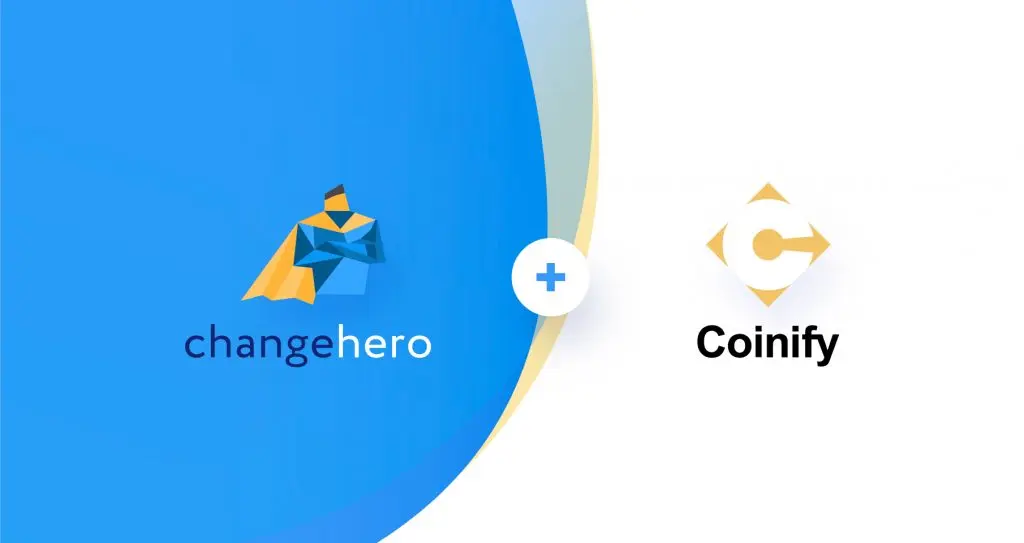 Once more, we are proud to announce the bilateral partnership of our service with fiat-to-crypto provider Coinify. ChangeHero is providing its crypto-to-crypto services to Coinify. More recently, we have integrated the Coinify trading widget on our website, which will let our users buy cryptocurrencies with 27 fiat currencies and sell Bitcoin for CHF, GBP and EUR.
Latest Crypto News Highlights
Crypto news on Bitcoin
Last weekend the Bitcoin price change saw a $12,000 breach, followed by a flash crash back to $11,400 on Saturday. Nevertheless, this turned out to be just a minor setback and did not hinder the growth over the last seven days.
The Bitcoin Core software was updated to a version 0.20.1 which mostly included bug fixes.
Crypto news on Regulation
Last week it became known that India is waiting on a new set of regulations on digital currencies. There are fears that in the new iteration of the regulatory framework, the ban on trading crypto might make a comeback.
Tech Crypto news
This week, Ethereum 2.0 is back on the crypto news. Many blockchain enthusiasts and investors alike watched the testnet called Medalla, as it was struggling with block finality at the beginning of the week but as more nodes joined, successfully stabilizing towards the end of the week.
Ethereum 2.0 has to work at a fast tempo, though, because at the same time Polkadot is testing its own sharding implementation. If it proves to be successful, they might as well challenge Ethereum.
Quote of the week
"The two cohorts [of investors] show divergence in their preference for 'alternative' currencies. The older cohorts prefer gold while the younger cohorts prefer bitcoin." — JPMorgan expert group (Nikolaos Panigirtzoglou et al.), as reported by Business Insider.
Crypto Twitter this week
Envy over Ethereum rally
Reciting tired old propaganda is becoming less and less effective every day. Ethereum is rising, proof of stake and sharding are rising, and rollups are here, all through a large distributed ecosystem working in parallel. The tides of history will not be favorable to maximalism. https://t.co/PZ11XR2Pre

— vitalik.eth (@VitalikButerin) August 6, 2020
Adam Back is unrelenting when it comes to his stance on Ethereum. As the project was all over crypto news with the continued growth and the testnet release, the Bitcoin maximalists did not yield their views. On a Crypto Twitter scale, the rebuttal of Vitalik Buterin went viral. Given the fact that almost 40% of the market's money is not in Bitcoin, Bitcoiners are hardly in the majority anymore.
Tensions in Bitcoin Cash?
Bitcoin Cash developer meeting blew up with multiple people walking out.

— Chris Pacia (@ChrisPacia) August 3, 2020
Spoiler: not really. In the commentary to Cointelegraph, contributing developer Chris Pacia explains that the tweet was made as a joke (since, probably, BCH developers do not have traditional in-person meetings at all) and the split is extremely unlikely.
I will be sticking with the Bitcoin Cash (BCH) chain this coming chain split.

— Hayden Otto (@Hayden_Otto) August 4, 2020
It is unclear, though, whether the Hayden Otto's (known Australian BCH proponent) tweet was meant to be taken seriously.
How the judge in charge of the proceeding didn't think to enable settings that would prevent people from taking over the screen is beyond me. My guess is he didn't know he could. This guy's reaction sums it up. pic.twitter.com/Zz9aVc5iIg

— briankrebs (@briankrebs) August 5, 2020
And now, to the non-crypto news. Last week we assumed the Twitter hack story was over, but it couldn't be farther from the truth. The main suspect pleaded not guilty, and the hearings were held online… on Zoom. Somebody, somewhere decided nothing will go wrong if they have hearings on a case of cyber crime in a software that is known to be prone to security exploits. The summary of what went wrong can be seen in the tweets above.
I explain bitcoin to people all the time who I'm certain have zero intentions of retaining anything I tell them. But when you catch someone who gives even 1% shit, it's exciting.

— Kyle Hill (@kaleazy) July 31, 2020
Finally, Creator Partnerships Lead of Patreon, Alexis Gay, won Crypto Twitter by just coming clean about willing to listen about blockchain (which reminds us about a certain writer about a month ago). And as Kyle Hill shows, Crypto Twitter really enjoys that!
Top Cryptocurrencies Price Change
For the second week in a row, the top cryptocurrencies are trading in the green zone and quite a few of them are still seeing double-digit gains. However, one might notice that the rate at which altcoin and Bitcoin prices change is slowing down in comparison to the last week. This is still a positive dynamic, as the market shifts from turbulent change to more sustainable growth.
At the moment of writing, the market's and top currencies' dynamics for the last week are the following:
Gainers of the week
Round-up
Crypto right now looks like a good place to be right now: it might not shoot up at the same crazy speeds as it was last week, but it is still growing pretty steadily. Most of the top currencies left the hodlers in black. To know if it will continue for a long time, we'll be watching the crypto news next week.
We publish interesting content on our blog. Follow us on Twitter, Facebook, Reddit, Telegram and be the first to get notified.
---
Learn more:
Quick links: