For today's spotlight, we are going to focus on one of the most sought-after assets in the crypto space. Despite its origins as an exchange token, Cronos (CRO) has grown past this status but some misconceptions still float around. Let us dispel them and properly introduce Cronos and CRO in this article.
Key Takeaways
Cronos Chain is a public blockchain network optimized for building decentralized applications and smart contracts. It uses the Ethermint Proof-of-Authority consensus mechanism and thanks to being built with Cosmos SDK can work with other blockchains in the Cosmos network;
The native and utility token of the Cronos ecosystem is CRO. Prior to the launch of Cronos, it used to be a utility token of the Crypto.com exchange but has expanded in use since;
The Cronos ecosystem may not be as sprawling as its closest competitors' but it is still a multi-million dollar platform with diverse decentralized applications and protocols.
What is Cronos Blockchain Network?

Cronos Chain is a decentralized open-source, energy-efficient public blockchain. It aims to support the creator economy with DeFi and GameFi Web3 applications, as well as become the foundational infrastructure for an open metaverse built with blockchain technology. To serve "the next billion Web3 users" and give them the full self-custody of their digital assets, Cronos was designed to have low transaction fees and work at a high speed.
The unique architecture of Cronos combines the strengths of Ethereum and Cosmos blockchains. It is built with the Cosmos SDK, which supports the Inter-Blockchain Communication (IBC) protocol, uses the Ethermint consensus algorithm, and is Ethereum Virtual Machine (EVM) compatible. This makes Cronos Chain suitable for both building apps and smart contracts from the ground up and porting them from Ethereum and Cosmos chains.
Features of Cronos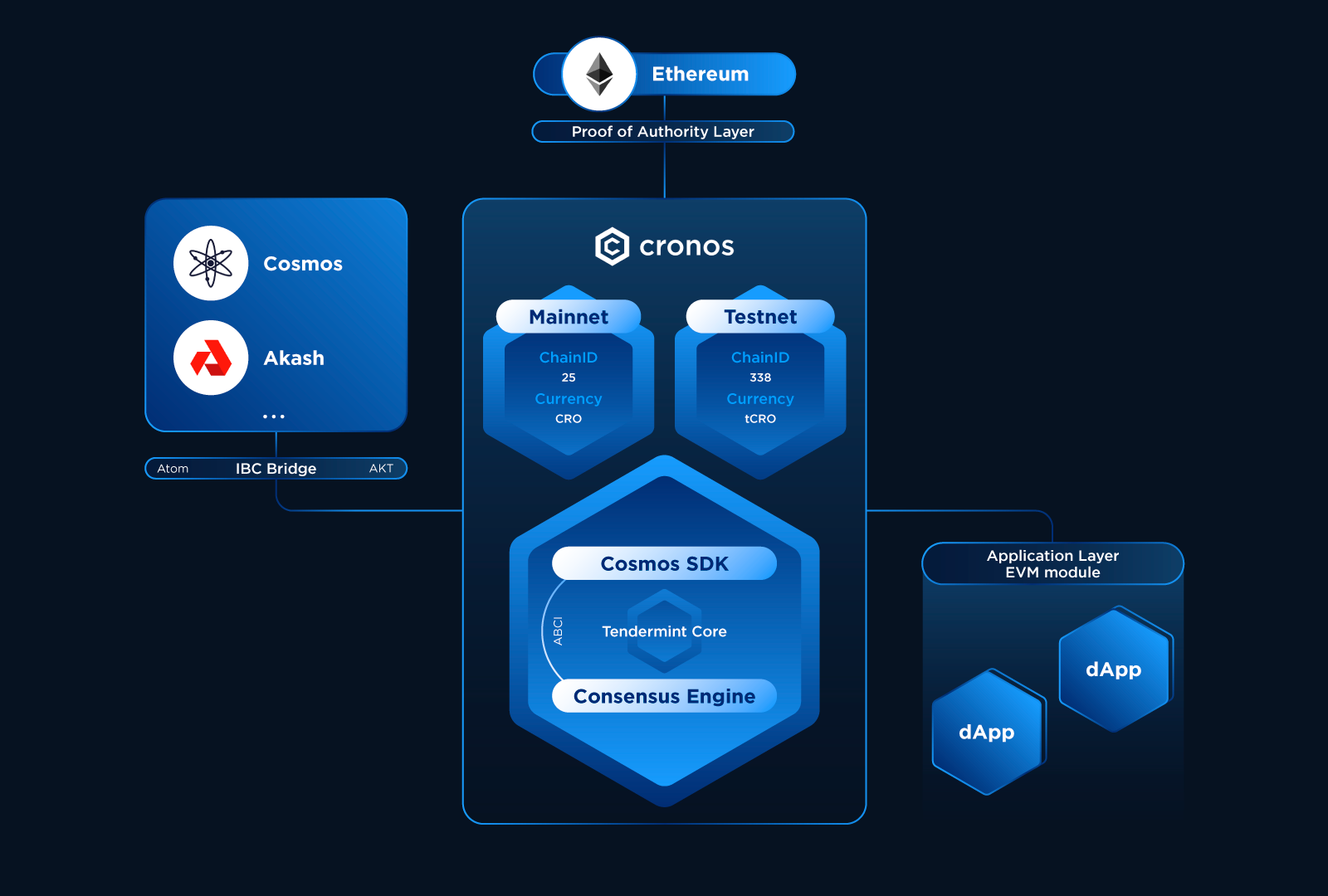 Cronos uses a Proof-of-Authority (PoA) variation of the Tendermint BFT consensus engine. In PoA consensus, the validator set is permissioned: other validators have to vet and share the stake with the new validators, should they wish to join the network.
Another important point of the PoA consensus is that the staking token, which doubles as a governance token, is not listed on exchanges and has no monetary value. The validator nodes still collect network fees paid in the CRO token.
The IBC is another noteworthy feature of the network: thanks to this protocol enabled by the Cosmos SDK, Cronos can connect to other blockchains in the Cosmos ecosystem. This includes atomic token swaps, token transfers, multi-chain smart contracts, and data and code sharding.
Last but not least, Cronos employs a unique dynamic fee structure: the base fee for the next block is calculated and adjusted based on the network usage. Despite having a module added to accommodate EIP-1559, Cronos does not burn any fees.
History and Team Behind Cronos & Crypto.com
Cronos Chain is a creation of the team behind the crypto platform Crypto.com. This cryptocurrency platform was founded in 2016 by Kris Marszalek, Rafael Melo, Gary Or, and Bobby Bao.
Cronos (CRO) traces back to the first full-fledged product of Crypto.com, the MCO Visa Card. The Visa card lets users top up with and spend their cryptocurrencies at any point of purchase that accepts Visa, with perks to the MCO token holders.
In 2019, Crypto.com conducted a token swap from the MCO token to the Crypto.com Coin (CRO) token. This step also expanded the utility of the CRO token to the rest of the Crypto.com suite of applications: on-platform staking, trading fee discounts, and pre-sale access.
Initially, CRO was launched on Ethereum as an ERC-20 token. In 2020, Crypto.com launched a proprietary blockchain Crypto.org Chain and migrated the native token CRO, changing its name to Crypto.org Coin. The new name would only last three months: in February 2021, Crypto. org Chain rebranded to Cronos, to emphasize the growth of the ecosystem beyond the initial platform.
What is CRO?
As the previous sections suggest, CRO is the native token of the Cronos blockchain. It is represented as a coin on its native chain but is also a token on Ethereum.
Cronos (CRO) has a total maximum supply of 30 billion tokens. However, it's worth noting that the initial token distribution involved a token swap from the previous MCO token, which had a different supply. Today, out of the 30B, around 26.3B is estimated to be in the circulation. Previously, 70% of the supply was locked in different proportions for long-term incentives, capital reserves, and launch incentives. The part of the supply not in circulation is likely set aside for community development and ecosystem grants.
The ERC-20 CRO had a total supply of 100 billion but with the transition to the Crypto.org Chain brand in 2021, the parent company burned 70 billion CRO.
How to use the CRO Cryptocurrency?
The value of Cronos (CRO) comes from its utility. There are many various use cases for CRO:
CRO is necessary to pay transaction fees to use Cronos Chain. Validators who get to add the verified block will collect them as a reward;
Even though CRO is not the token representing the voting power of validators, it is still used in the governance process;
Deposit and earn passive income from Crypto.com Earn and staking on the cryptocurrency Exchange;
Hold CRO in the Crypto.com Visa Card balance for a higher status with additional perks;
Receive cashback on the Crypto.com Pay app purchases with CRO.
Cronos and similar projects
CRO's closest competition are other exchange tokens that expanded to an ecosystem of their own: BNB and OKT Chain.
BNB was previously called Binance Coin and as the name suggests, was a utility token of the Binance exchange. Like CRO, it can still be used on the original platform for a trading fee discount or staked through Binance's products. However, its own blockchain grew in use to become a full-fledged ecosystem of its own. Cronos with its $370M total value locked (TVL) wishes it were as successful as BNB Chain, which at the time of writing has $3B, according to DefiLlama.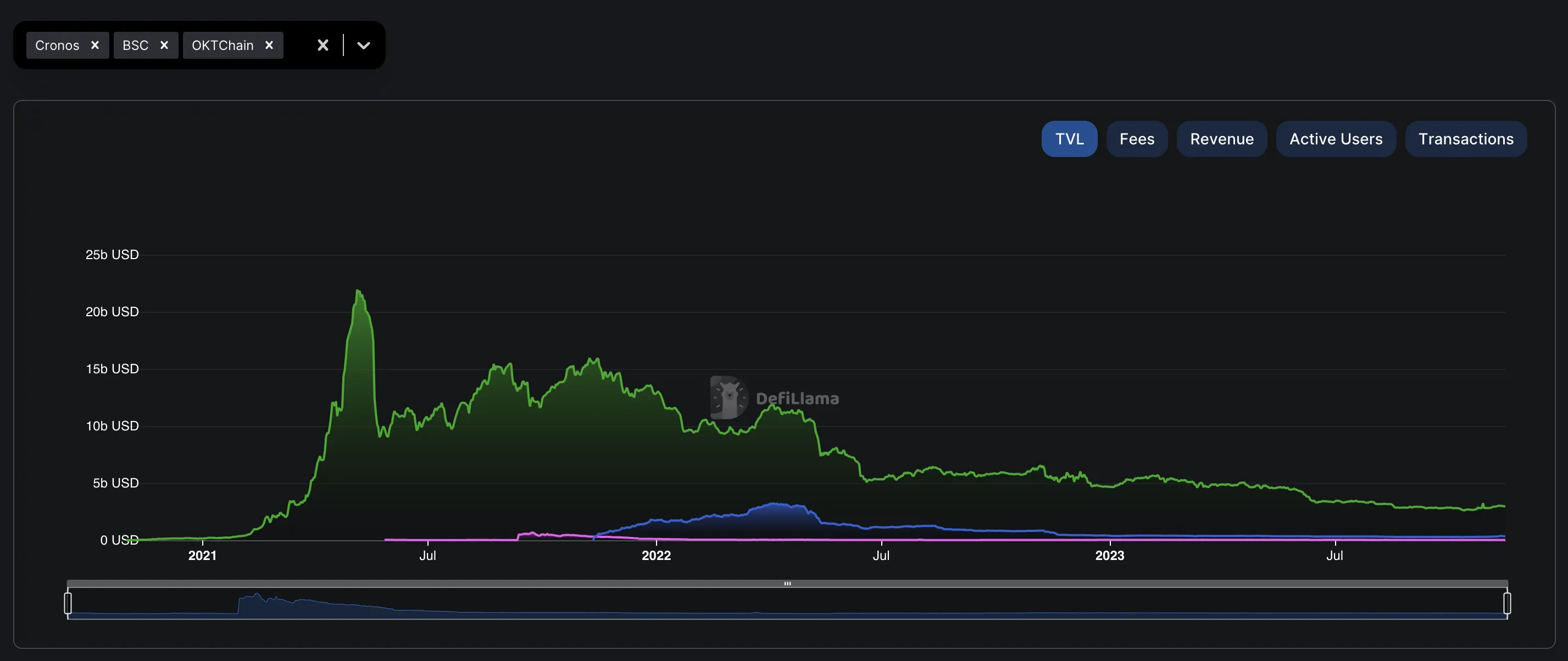 Another similar project spearheaded by a centralized exchange is OKT Chain (OKTC). It is an entirely separate blockchain and token from the utility token OKB of the OKX exchange, although made by the same team. There is even more common between OKTC and Cronos: both are built with the Cosmos SDK and are EVM-compatible.
What Is Cronos Criticized For?
Cronos is considered a well-developed, solid project: its audits report no significant issues or vulnerabilities. Potential issues arise from whale concentration: IntoTheBlock estimates it to be 91.38% and per Certik's data, they are moderately active. Users who own addresses that hold ≥1% of the total supply can cause significant price movements.
A lot of flak CRO catches can be traced back to Crypto.com, not Cronos. In the 2021 Superbowl, Crypto.com was one of the crypto businesses that bought astronomically expensive advertisement slots. In hindsight, these campaigns would be viewed as not the most successful, as they were aired at the top of the bull run and right before the 2022 bubble burst. The problem with that situation was that the ads attracted retail investors only for them to buy the top and be left holding the bags afterward.
Cronos Ecosystem, Partners, and Future
In the previous sections, we have seen that even though Cronos is not the most popular DeFi network, it still has millions of dollars in value. But who uses Cronos and what is in store for the platform?
The official Cronos ecosystem directory lists 132 projects on the blockchain. They include decentralized finance (DeFi) applications, NFT collections and marketplaces, and even Web3 games. The top five Cronos apps at the time of writing are:
VVS Finance — a simple DeFi protocol for lending, borrowing, and staking;
Ebisus Bay — gamified NFT marketplace and DAO;
Corgi AI — social crypto project;
Liquid staking protocol Veno;
Cronos and Ethereum NFT marketplace Minted.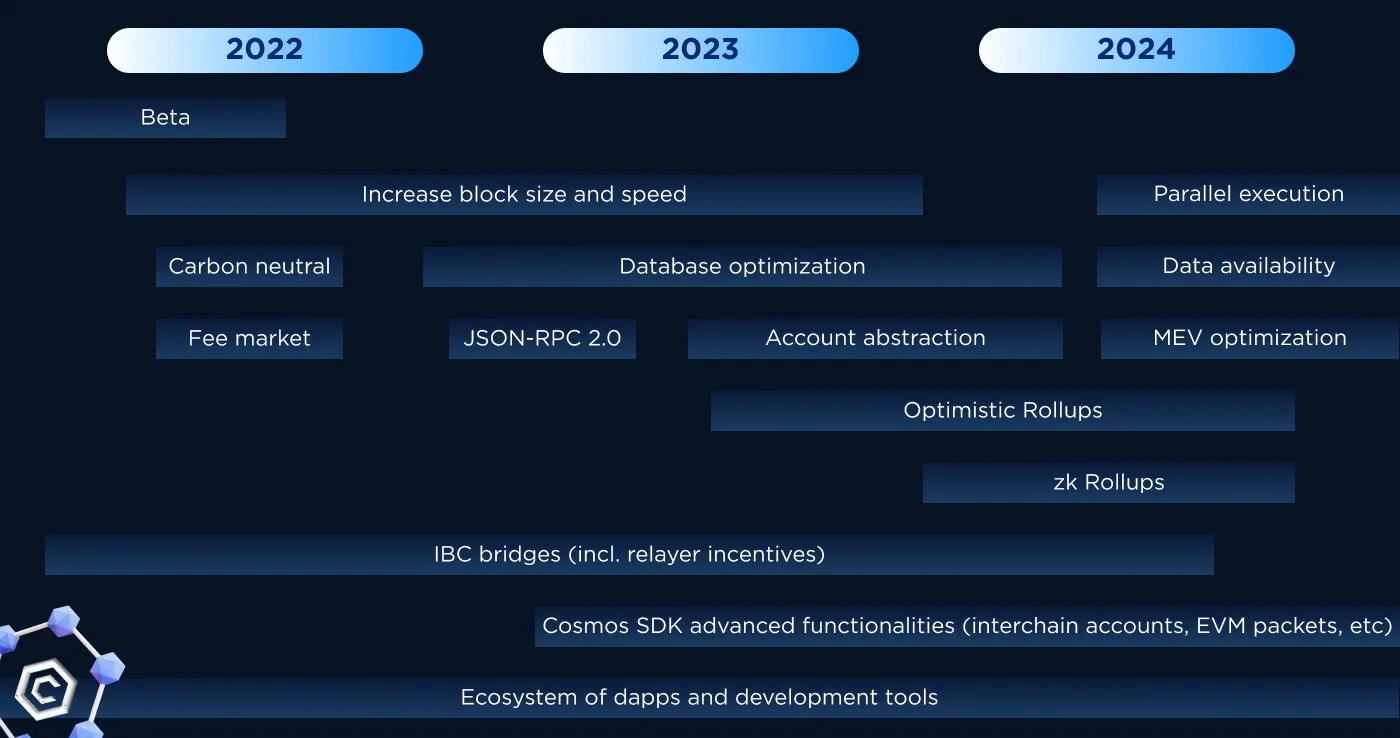 The Cronos team has a lot of plans for the next year but quite realistic ones at that. They intend to focus on improving the protocol and enhancing Cronos' interoperability with both Ethereum and the Cosmos ecosystem.
On the business side, the future looks bright as well. Its parent company Crypto.com received a license to operate in Dubai and the Netherlands, promising an indirect boost to the Cronos Chain as well. This is not to mention the slew of high-profile marketing campaigns and collaborations with Aston Martin F1 and UFC.
Which crypto wallet to use for CRO?
All in all, CRO is a solid asset under $1 that you can consider for your crypto portfolio. There is only some practical advice left for us to give in this guide. For example, where to get and store your assets.
The go-to option for full support of Cronos-based assets, including CRO, would be the Crypto.com DeFi Wallet. If you would like a more secure storage option, you can store and manage CRO offline in BC Vault hardware wallets.
CRO tokens on Ethereum can be stored in Ethereum-compatible wallets, such as MetaMask, MyEtherWallet, Arctic Wallet, or CoolWallet devices. These wallets provide users with control over their private keys and enable them to securely manage and transact with their CRO tokens. Always pay attention to the network in which you are sending the tokens — Ethereum and Cronos are two different chains, and making a transaction to the wrong address will result in a loss of funds.
Where to buy Cronos (CRO)?
Want to trade crypto for CRO or the other way around? Do it easily on ChangeHero! We will find the live best rate across ten liquidity providers, and you can start right away with no need to sign up.
Choose the currencies on the home page, amounts, and the type of exchange. Provide your CRO wallet address in the next step and check the details;
Double-check the provided information, read and accept the Terms of Use and Privacy Policy;
Send the cryptocurrency for the swap in a single transaction. In a Fixed Rate transaction, you have 15 minutes before it expires;
Sit back and relax. Now we are doing all the work: checking the incoming transaction and making the exchange as soon as it arrives;
As soon as the exchange has been processed, your CRO is on its way to your wallet. And so, the transaction is finished!
The flow is as easy as it gets but if you struggle with something, don't worry. Our support team is available 24/7 to help you in the chat or through the email: [email protected].
Conclusion
Fundamentally strong and inspiring confidence in investors, Cronos rightfully deserves its place among crypto assets with a multi-billion dollar market cap. Its ties with Crypto.com are still strong but they are more of a benefit than a liability to CRO.
Browse the ChangeHero blog to learn more about the latest crypto news, projects, and platforms. And for quick updates, follow us on social media: Twitter, Facebook, Reddit, and Telegram.
---
Frequently Asked Questions
What is the function of Cronos?
The CRO token serves multiple functions within the Crypto.com ecosystem. It can be used for staking, granting users access to various benefits and rewards such as higher interest rates, cashback, and discounts on trading fees. Additionally, CRO can be used for payment within the Crypto.com app and card ecosystem, allowing users to spend their tokens directly at merchants that accept cryptocurrency payments.
Is Cronos owned by Crypto.com?
No, Cronos is not owned by Crypto.com. CRO started out as the native cryptocurrency of the Crypto.com platform and a utility token within the ecosystem. Crypto.com used to hold a significant amount of CRO tokens and use them for various purposes, including rewards, staking, and providing benefits to its users. However, they have since burned most of their share and the Cronos team, Cronos Labs has no overlap with the Crypto.com team.
What is the Cronos Chain?
Cronos Chain is a blockchain developed by Crypto.com. It is designed to enable fast and secure transactions, as well as support the development of decentralized applications (DApps) and smart contracts. The chain utilizes a proof-of-stake consensus mechanism and aims to provide a scalable and efficient infrastructure for crypto payments and DeFi applications.
Is Chronos a blockchain?
Cronos Chain is a blockchain designed specifically for crypto payments and DeFi applications. It started as Crypto.org Chain which also offers other blockchain-related products and services, such as a digital wallet and a cryptocurrency exchange.
What network is Cronos on? Which blockchain is Cronos? Does CRO have its own blockchain?
CRO operates on its own blockchain called the Cronos Chain. This blockchain is built on Tendermint, a Byzantine Fault Tolerant (BFT) consensus algorithm, and utilizes the Proof of Stake (PoS) mechanism for block validation and transaction processing. Additionally, CRO is also available on other networks as an ERC-20 token on the Ethereum network.
What does Cronos stand for?
The name "Cronos" was chosen to reflect the independence of the emerging ecosystem from the Crypto.com platform. It also allowed the Cronos developers to keep its original ticker CRO.
Is MetaMask on the Cronos network?
No, MetaMask is not specifically designed for the Cronos network. MetaMask is a popular browser extension wallet primarily used for interacting with decentralized applications (dApps) on the Ethereum network. However, users can still access the Cronos blockchain and interact with CRO tokens using other compatible wallets or platforms.
What is Cronos for? What is Cronos good for?
CRO is the native cryptocurrency of the Cronos Chain. It serves as a utility token within the Cronos and Crypto.com ecosystems, enabling users to access various features and services, including staking, governance, and transaction fees. Cronos Chain is a blockchain platform designed for the creation and execution of decentralized applications (dApps), providing a secure and scalable infrastructure for developers to build and deploy their projects.
Is Cronos built on Ethereum?
No, the Cronos Chain is not built on Ethereum. It is an independent blockchain platform that has its own native infrastructure and consensus mechanism. While it may have similarities to Ethereum in terms of being a blockchain platform for dApps and being EVM-compatible, they are separate and distinct networks.
What is the CRO token ecosystem?
The CRO token has utility in the Cronos ecosystem. It includes dozens of dApps for decentralized finance (DeFi), non-fungible tokens (NFT), and Web3 gaming.
What is the best project on Cronos?
In terms of total value locked (TVL) and weekly unique active users, as of November 2023, VVS Finance is the leading protocol in the Cronos ecosystem.