Ravencoin sought to make asset creation and management to the blockchain more secure and efficient than in Bitcoin and Ethereum. Let's see what analysts and traders think Ravencoin price prediction 2021 and beyond will be like.
Ravencoin Price Prediction 2021–2025
Bullish Ravencoin prediction 2021 is confident the $1 mark can be reached as soon as before the end of the year;
More moderate forecasts predict growth but within 10–40% range;
The coin is not old enough to provide a substantiated Ravencoin price prediction 2030.
What is Ravencoin and RVN?

Ravencoin is a protocol built on the foundation of Bitcoin code but with significant changes (a project/soft fork). It is designed specifically to use the secure model of Bitcoin for digital asset transfer and creation. RVN is the native currency of the protocol. It is burned to create new assets, and can be used to pay rewards to the holders of Ravencoin-based assets. Its mining algorithm, KAWPOW is ASIC-resistant, making CPU and GPU mining viable, which lets more users do it and keeps the process decentralized. If you are interested in more information about Ravencoin and RVN, check out our Beginner's Guide to Ravencoin.
Ravencoin (RVN) Price History
Raven (RVN) in 2018–2019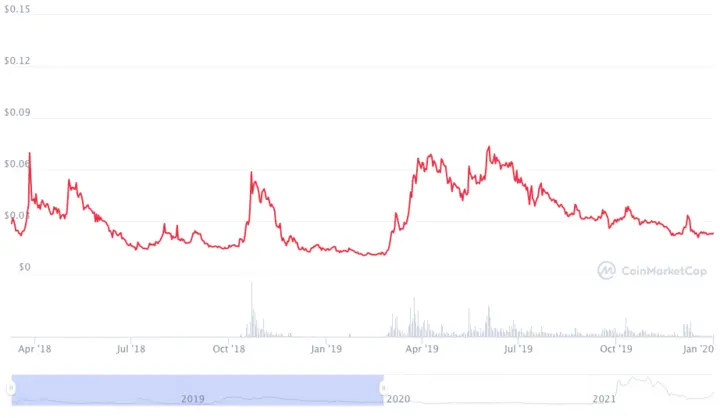 Ravencoin entered the market during the crypto bear market. The team decided to make the launch fair, without a premine or any founder's rewards.  The price was volatile at first, but a few months later established a $0.017–0.01 range. The exception was October 2018, when RVN price briefly spiked to $0.0561 in the light of new listing announcements. In 2019, tZERO announced Ravencoin support in their crypto wallet and trading app. This piece of Ravencoin news started a rally of the coin, during which it reached $0.080258 on June 3, 2019. However, for the rest of the year, RVN price was in a downtrend, and the closing price of 2019 was $0.0227.
Raven (RVN) in 2020–2021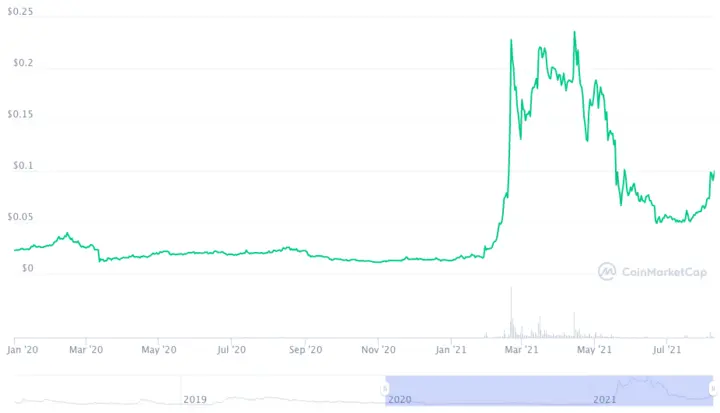 2020 started with the sentiment of crypto winter being finally over and a bullish market. During it, Ravencoin went up as high as $0.0402 but In March, the market crash took the price down to $0.0119. Until August, the price was in an uptrend and returned to the early 2020 levels. The recovery was slowed down by the news of a protocol breach when attackers minted excess RVN. Since August, the price slumped to the $0.011–0.015 range, but 2020 closed at $0.02273.  In 2021, when the crypto market went on a bull run, Ravencoin figuratively flew. Sudden growth is said to be tied to the WallStreetBets movement and rumors of the Coinbase listing. Even though this pump took RVN to its ATH of $0.2854, it entered an overbought area and correction followed. At the moment of writing, RVN price is $0.1054 (rank #85 on CoinMarketCap).
What influences the price?
Partnerships
As seen with tZERO, collaborations can help attract attention to the project. Listing on exchanges also helps: for example, in early 2020 Ravencoin was listed on a regulated Japan-based exchange Coincheck. Because of this, RVN is present in more markets than before.
Protocol Updates
In 2020, the Ravencoin community upgraded the network to change the mining algorithm. The new algorithm, KAWPOW favors GPU miners, which makes the network maintenance more affordable and keeps it decentralized.
Community Activity
Medici Ventures, an investment fund that has been supporting the work of Ravencoin developers, has stepped back. Instead, the community established a non-profit organization, Ravencoin Foundation, to take this role. Foundations focus on supporting decentralized projects, as well as educating about and promoting them to more potential users.
Twitter posts
$RVN is the most profitable crypto to mine.$RVN trading volume surpassed $800 million.

The first halving of $RVN is coming. #Ravencoiners are working hard for the $RVN tokenization in the countries : USA🇺🇸, EU🇪🇺,INDIA 🇮🇳 No one can't stop us. pic.twitter.com/qMnTQnE3pq — Blockchaintiger.rvn - Joshua (@blockchaintiger) August 10, 2021
Ravencoin enthusiast Blockchaintiger underlines the recent success of the currency: it's especially looking great for miners.
$RVN / #BTC - #RVN #Ravencoin

RVN exceeds expectations & rallies even higher Entering a cluster of resistance now so it's uncertain what sort of rejection could take place here Overall it would be positive for RVN to claim blue as support, should a dip take place#Crypto https://t.co/v47jCIFmLz pic.twitter.com/eKpCTLw99P — Rekt Capital (@rektcapital) August 10, 2021
Popular trader Rekt Capital is covering the ongoing rally of Ravencoin. If it holds 288 sats as a support, it can be prolonged.
With leading combined social + market activity, Ravencoin has hit the current #1 AltRank™ out of the top 2,826 coins by market cap.

24-hour Activity 35.9% price change 3,277 social mentions 3,751,452 social engagementshttps://t.co/1RyCCZs8pA $rvn #ravencoin @Ravencoin pic.twitter.com/OXx4DzolES — LunarCRUSH 🚀 Social Listening for Crypto (@LunarCRUSH) August 10, 2021
Ravencoin is consistently hitting the top for social activity. No wonder: it has one of the most vocal and faithful communities on Twitter.
Ravencoin Price Predictions 2021
Ravencoin Price Prediction 2021 by PrimeXBT: $1.40
Technical analyst of PrimeXBT has a bullish outlook for Ravencoin in the near future. According to them, RVN is touching the support level and can peak at $1.40 in this cycle.
Ravencoin Price Prediction 2021 by WalletInvestor: $0.0626–0.134
A less bullish outlook is painted by WalletInvestor: 2021 is expected to see RVN close somewhere between $0.0626 and $0.134.
TradingBeasts RVN Crypto Price Prediction 2021: $0.1185995
Experts of the TradingBeasts website are equally conservative about the forecast. In December 2021, they expect RVN to gain 27% and cost $0.1185995.
Raven Coin Predictions 2022–2024
CoinCheckup Ravencoin Price Prediction 2022–2024: $0.1441–0.2271
CoinCheckup has an interesting method of predicting development of crypto assets. They take the growth models of Bitcoin and tech stocks and apply it to altcoins. Let's suppose Ravencoin repeats 10% of Bitcoin's growth. In 2022 it might on average be worth $0.1441, $0.1809 in 2023 and $0.2271 in 2024.
DigitalCoin Ravencoin Price Prediction 2022–2024: $0.1888–0.2670
DigitalCoinPrice, using historical analysis, predicts that in 2022 the average price of Ravencoin will come up to $0.1888. In 2023, it will continue growing to $0.2319 and in 2024 — $0.2670.
TradingBeasts Ravencoin Price Prediction 2022–2024: $0.1138–$0.1955
According to their data, in 2022 and 2023 RVN will not yield large returns but in 2024 its performance will improve. Maximum price that it can reach in 2022 will be $0.1635874, in 2023 – $0.1422385 but 2024 can close as high as $0.1955191.
Ravencoin Price Forecast 2025
Cryptocoinsociety RVN Price Prediction: $0.114
Cryptocoinsociety analyst and writer Jesus Cedeño thinks Ravencoin won't repeat a 2021 pump. Even considering the use case of Ravencoin and active development, he estimates in five years it will be worth $0.11411.
Captain Altcoin RVN Prediction: $5+
Answering how much will Ravencoin be worth in 5 years, Rene Peters believes Ravencoin is likely to thrive. Its price should be about hundred times higher than currently, which makes it $5 or more.
DigitalCoin Ravencoin Price Prediction 2025: $0.4073
The average price of Ravencoin in 2025 is expected to be around $0.4072963791. Highest prices can be seen in February and November, when on average it will be trading for $0.4590.
Current Ravencoin Price Prediction 2030
There is not enough historical data for RVN to provide a more or less accurate prediction for almost ten years yet. The crypto market itself is volatile, and there is no knowing what events will impact it. Ravencoin focuses on tokenization of assets, and as we saw with the NFT boom, this is an extremely promising path. If the community can deliver on the tokenization use case, Ravencoin has all the chances to break into the top of the market.
How to Get RVN on ChangeHero?
Getting RVN on ChangeHero can be done in a few simple steps:
Choose the currencies, amounts and the type of exchange. Provide your RVN wallet address in the next step;
Double-check the information, read and accept the Terms of Use and Privacy Policy;
Send the cryptocurrency you will be exchanging in a single transaction. Fixed Rate transactions expire in 15 minutes;
Sit back: we are checking the incoming transaction and doing the exchange as soon as it arrives;
As soon as the exchange has been processed, your RVN is on the way to your wallet.
Our support specialists are available 24/7 in the chat on our website or through the email: [email protected].
Conclusion
Further success of Ravencoin depends largely on user adoption. The Ravencoin Foundation can help with promoting the protocol's use case, and they are already doing great on social media. You can find more content about Ravencoin and other cryptocurrencies in our blog. And to get updates about new articles, follow us on Twitter, Facebook, Reddit and Telegram.
---
Frequently Asked Questions
Is Ravencoin a good investment in 2021?
There are different opinions on this matter but most analysts evaluate RVN positively short-term.
How much will Ravencoin be worth in 2021?
Depending on the method, experts predict that Ravencoin will be trading for $0.0626–1.40 in 2021.
How much will Ravencoin be worth in 2022?
Different sources claim that Ravencoin will be trading for $0.1138–0.1888 in 2022.
How much will Ravencoin be worth in 2025?
According to various experts, Ravencoin will be trading for anywhere between $0.114 and $5 in 2025.
How much will Ravencoin be worth in 2030?
Since Ravencoin appeared in mid-2018, there is not enough data to give a substantiated prediction for 2030.
Learn more:
Quick links:
Disclaimer
This article does not constitute financial or investing advice. No price prediction or forecast is guaranteed to provide exact information on the future price. Past performance is not indicative of future results. When dealing with cryptocurrencies, remember that they are extremely volatile and thus, a high-risk investment. Always make sure to stay informed and be aware of those risks. Consider investitions in cryptocurrencies only after careful consideration and analysis and at your own risk.