2020, when NEAR Protocol was launched, was a big year for layer-one smart contract platforms, and since then this project grew into a solid but underrated platform. Could this layer one be up to something under everyone's radar? Find out in our NEAR Protocol price prediction for this year and the long-term future.
NEAR Protocol (NEAR) Price Predictions 2023–2033
| | | |
| --- | --- | --- |
| Year | Minimum price, USD | Maximum price, USD |
| 2023 | $1.228 | $11.836 |
| 2024 | $2.713 | $16.82 |
| 2025 | $3.627 | $5.48 |
| 2028 | $8.39 | $18.47 |
| 2030 | $16.42 | $31.69 |
| 2033 | $30.25 | $71.25 |
The experts' consensus surrounding NEAR Protocol (NEAR) is that organic growth is expected but scarcely anyone expects it to blow up;
Even the most optimistic NEAR price prediction sees the asset price crossing its ATH no sooner than 2030;
No forecasts grounded in historical or technical analysis see NEAR reaching $100 anytime soon. However, many sources believe that $10 per NEAR is feasible.
What is NEAR Protocol?

NEAR Protocol is a decentralized application platform designed to make it easier for developers to build and deploy dApps. NEAR Protocol uses a unique sharding architecture that enables high throughput and low latency, allowing developers to create complex applications with the same ease of use as traditional web applications.
NEAR Protocol also includes a number of unique features, such as the ability to program smart contracts in multiple languages, and a built-in governance system that allows token holders to vote on important decisions related to the network.
NEAR Protocol is built using Rust, a high-performance systems programming language, and is designed to be scalable, secure, and developer-friendly. The NEAR Protocol team includes a number of experienced developers and entrepreneurs, and the project has received funding and support from well-known investors and organizations: Dragonfly Capital, a16z, Circle, Pantera Capital, and Coinbase Ventures.
NEAR Token
The NEAR token is the native utility token of the NEAR Protocol. It plays a number of important roles within the NEAR ecosystem, including
Gas fees: NEAR tokens are used to pay for gas fees on the network, which are required to execute smart contracts and interact with decentralized applications on the platform.
Staking: NEAR tokens can be staked to participate in network governance and earn rewards for helping to secure the network.
Voting: NEAR tokens can be used to vote on important decisions related to the network, such as changes to the protocol or the allocation of community funds.
Incentives: NEAR tokens can be used to incentivize users to participate in decentralized applications and contribute to the growth of the ecosystem.
The NEAR token has a fixed supply of 1 billion tokens, with a portion of the tokens allocated to the team, early investors, and the NEAR Foundation, which is responsible for overseeing the development and growth of the ecosystem.
NEAR Price History
NEAR Price in 2020-2021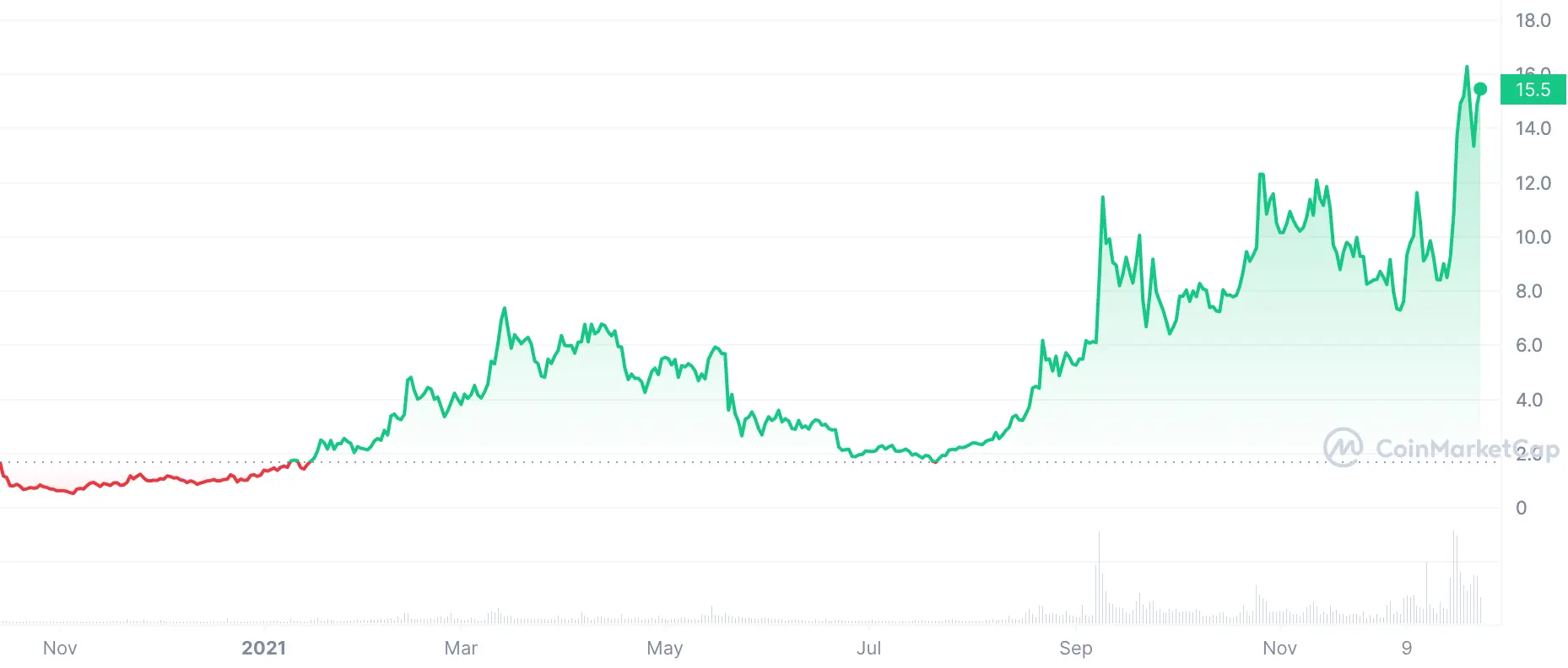 Before NEAR Protocol (NEAR) started trading publicly, it held a few rounds of Initial Coin Offering (ICO) in August 2020. The estimated value of a token was $0.29–0.40. There were a few private and venture rounds from 2020 to 2022 that raised over $500M in total. By now, all the tokens offered in these initial sales have entered circulation.
On the first public markets to see NEAR in October 2020, it was traded for $1.69. Almost immediately its price dumped to $0.8 and then $0.5 but by the end of 2020 recovered to $1.16.
2021 was a more bullish year for the project. In spring, it grew to $7.37 but a subsequent correction took it down to $1.9. In the next leg up of the Bitcoin rally, NEAR showed even more impressive gains, closing 2021 near $15.46.
NEAR Price in 2022-2023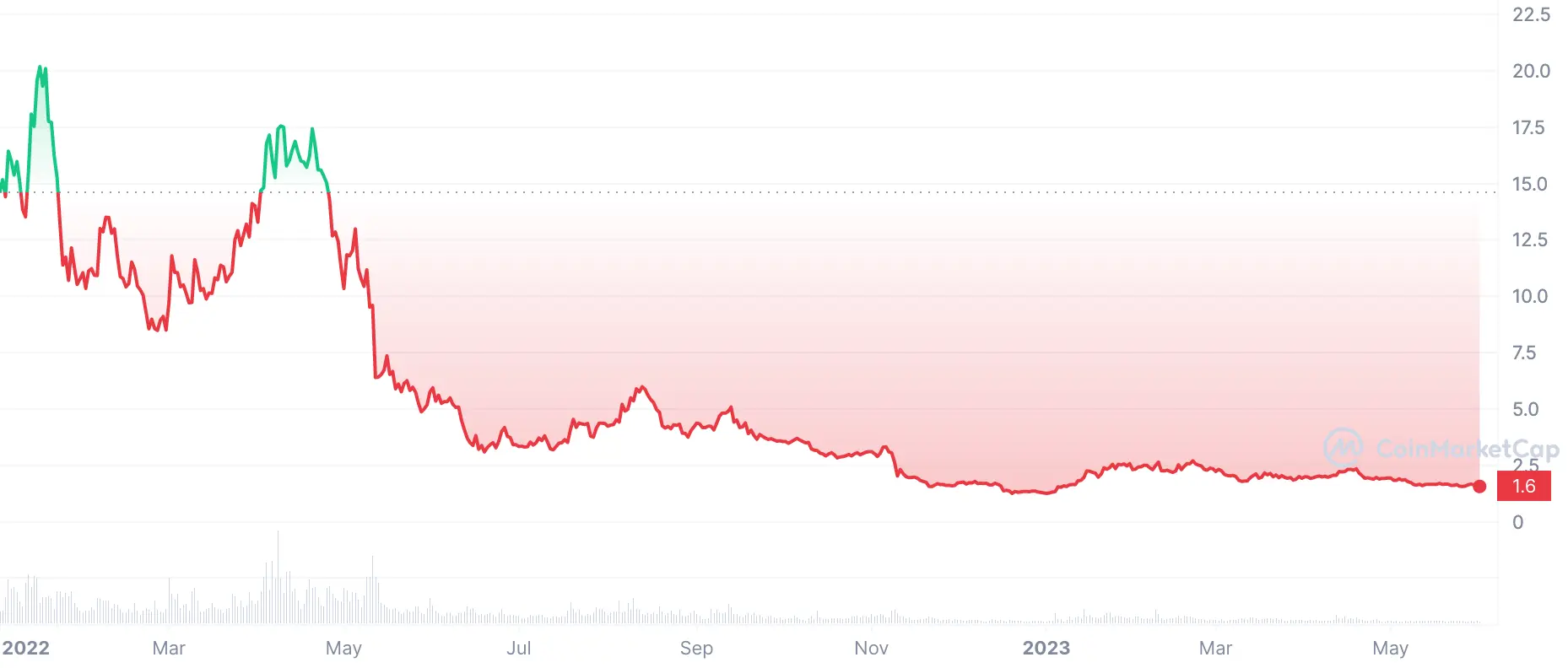 Despite Bitcoin's bull run taking NEAR, just like many other altcoins, to record prices, it decoupled from BTC and continued the rally into 2022. NEAR reached its current all-time high price of $20.42 on January 16, 2022. The reason for it was bullish news about a $150M fundraising event. In April 2022, coinciding with the bear market rally, NEAR managed to surge to $17 for one last time.
Even though the NEAR Protocol price did not follow Bitcoin immediately, it still crashed hard in 2022. On the finish line of 2022, dubbed 'crypto winter', NEAR arrived at the $1.29 mark. Even though in February 2023 it managed to climb to $2.50, so far, the NEAR price history looks like a journey back to square one. While Bitcoin and a few other cryptocurrencies ended up on levels above pre-bull-run ones, NEAR is worth roughly the same as around its launch.
The current price of NEAR at the time of writing is $1.55 and the token ranks 38th by market capitalization (according to CoinMarketCap).
What affects the price of the NEAR Protocol Token?
Partnerships and Integrations
The NEAR Protocol ecosystem is robust enough to develop on its own and improve the value of the whole network. Notable platforms include Orderly Network, which received $20 million in investments from Nomura, and Proximity Labs. The latter launched a $10 million joint developer fund with decentralized exchanges on NEAR.
NEAR Protocol caters to institutional clients and enterprises, so their partnerships with BitGo and Binance Custody were expected. The project team does not ignore other cohorts of their user base, catering to Web3 developers in collaboration with Google Cloud. And the partnership with Tether to issue USDT on the NEAR Protocol network benefits everyone.
Protocol Development
NEAR Protocol is actively working on bridging the gap between DeFi platforms. In 2022, it enabled Multichain, and more recently, announced plans to integrate a ZK-based Wormhole solution.
Another thing NEAR holders can look forward to is the adoption of a blockchain operating system. In the words of developers, to the end user, it will resemble the interfaces they're used to but under the hood, the components will be more Web3-aligned.
These additions help NEAR Protocol reach new milestones. In Q1 2023, it hit a new all-time high in active addresses. Development activity and revenue also grew.
Present and Future Applications
NEAR Protocol was designed as a platform for applications. However, what technologies are they applied to is not limited to DeFi or even Web3.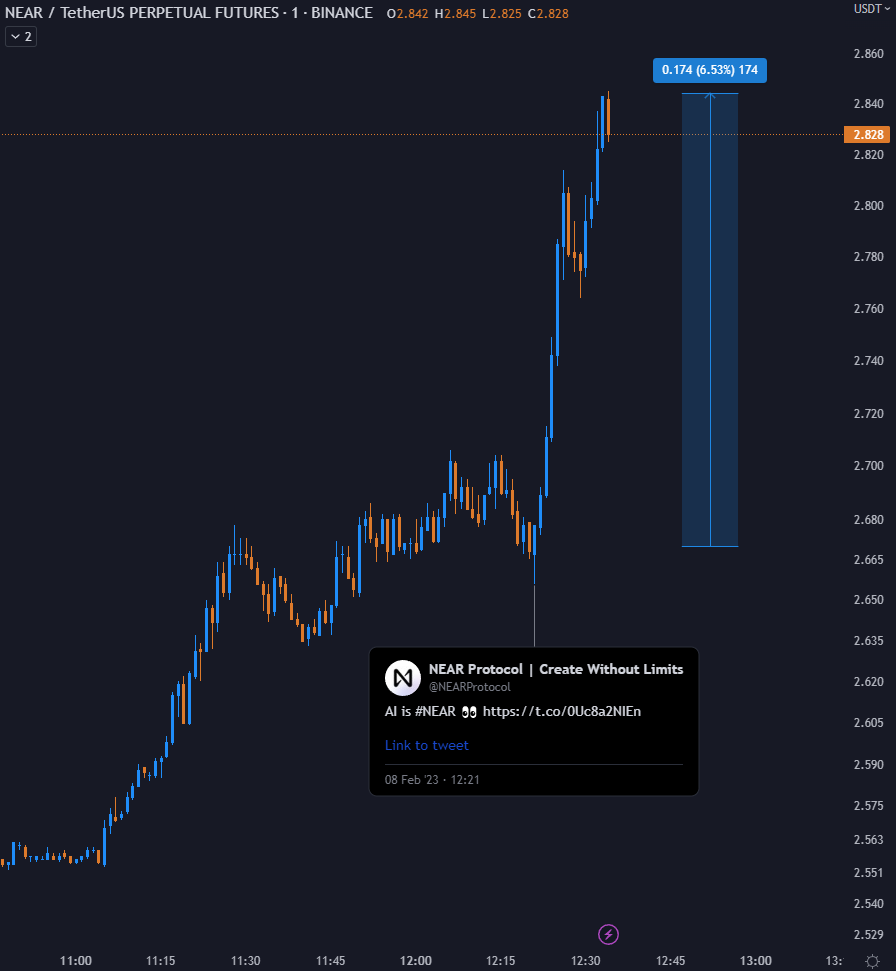 Even artificial intelligence is something that is not out of the question. And considering how hot this topic right now is, it is not a surprise that NEAR pumped in February 2023 only at a mention of it.
Our NEAR Price Analysis and Forecast
According to Coinbase, the typical hold time of NEAR Protocol (NEAR) is 18 days. It signals that the assets are traded not very frequently but long-term holding is also not that popular. With this in mind, we'll have a look at the daily chart.
The nearest local high to aim for is $3.39 in November 2022. The bottom is the 2022 closing level, from which the price is more or less recovering. Can NEAR reclaim at the very least this local high? Before that, it would need to reclaim multiple resistance levels: $1.743, $2.048, and then $2.294. The trading volumes are lower at the moment, even though the relative strength index favors bullish action. Unless something that will motivate NEAR buyers occurs, the rally is not likely anytime soon.
NEAR Protocol Price Prediction 2023
Technical analysis by The News Crypto can be summarized as bullish. They see the NEAR price locked in a descending channel with a good chance of a trend reversal. The lowest point NEAR can realistically reach in 2023 is around $1.228. If a breakout occurs, the price action can propel NEAR up to $11.836.
The analytical NEAR forecast by Traders Union is more moderate. They see the NEAR price range ascend by the end of 2023 to $2.46 – $3. The average trading price of NEAR is expected to increase from $2.14 in July to $2.73 in December 2023.
YouTuber Hazeeq gives a quick update for NEAR coin price in the short term. He does not expect it to go above the resistance level of $1.897. For the time being, he would favor accumulating while the NEAR price stays in the range above the support level of $1.542.
NEAR Price Prediction 2024, 2025
A year from now, according to the NEAR Protocol token price prediction by CoinCodex, NEAR will be worth $16.82. Holding NEAR for 6 months or more has better prospects than a short-term purchase.
As for 2025, opinions on the NEAR price forecast for 2025 more or less align. PricePrediction.net's one is very tempered; they only see NEAR going up to $3.65 and maybe $4.56 at the very best. CryptoNewsZ is more bullish, estimating the range for NEAR to be traded in 2025 to be between $3.80 and $5.48.
In Coinpedia's NEAR forecast, the estimates are similar: $3.627 at the very least, $5.106 at most. The growth may not be very impressive in the next few years but by 2030 it will take off.
Long-Term NEAR Crypto Price Prediction
Any long-term NEAR Protocol price prediction is as good as a guesstimate. At the same time, they can reflect an expert's opinion about a crypto asset's fair value. What points of view are out there?
AMB Crypto is very moderately bullish on NEAR far in advance. In 2028, five years from now, it can be trading anywhere between $12.31 and $18.47. NEAR won't be able to surpass the ATH until 2030. However, while the minimal forecast price of NEAR is $21.13, the feasible maximum price is $31.69. Ten years in advance, the potential price range for the NEAR price will rise to $47.50–71.25.
According to the Digital Coin Price NEAR Protocol price prediction, the coin will experience steady organic growth through the years. In 2028, its average price will reach $8.39. By 2030, this figure will increase to $16.42. 2032 is as far as this prediction service works, but by then, the projections predict that the average NEAR price will further rise to $30.25.
How to Buy NEAR?
You can get NEAR on the ChangeHero website in a few steps without obligatory KYC or registration. Just swap any crypto for NEAR on ChangeHero!
Choose the currencies on the home page, amounts, and the type of exchange. Provide your wallet address in the next step and check the amounts;
Double-check the provided information, read and accept the Terms of Use and Privacy Policy;
Send in a single transaction the cryptocurrency you will be exchanging. Fixed Rate transactions have a 15-minute limit;
Done? Now we are doing all the work: checking the incoming transaction and doing the exchange as soon as it arrives. The Best Rate transactions will use the rate current to the time when your funds arrive. The Fixed Rate will use the rate at the time of step 1;
As soon as the exchange has been processed, your NEAR is on its way to your wallet.
Customer support is available 24/7 in the chat on the website or through the email: [email protected].
Haven't bought any crypto yet? Our partner has got you covered: buy NEAR with a bank card, ApplePay, or GPay from our partner on the ChangeHero website.
Conclusion
Overall, NEAR Protocol is an exciting platform that is well-positioned to help usher in the next generation of decentralized applications. The experts' opinions recognize the value this network brings to the crypto industry.
What do you think about these predictions? Let us know on Twitter, Reddit, Facebook, and Telegram, and subscribe while you are at it! For more content to help you navigate the crypto world, try exploring our blog.
---
Frequently Asked Questions
How much will NEAR be worth in 2030?
NEAR's projected price in 2030 varies among different sources, with targets ranging from $16.427 to $31.69.
What will the NEAR token price be in 2023?
The projected price range for NEAR in 2023 varies depending on the source, with NEAR's price targets ranging from $1.228 to $11.836.
What is the NEAR Protocol price prediction for 2025?
There are various predictions for NEAR's 2025 price target, with estimates spanning from $3.627 to $5.48 across multiple sources.
Disclaimer
This article is not a piece of financial or investment advice. No price prediction is guaranteed to provide exact information on the future price.
When dealing with cryptocurrencies, remember that they are extremely volatile and thus, a high-risk investment. Always make sure to stay informed and be aware of those risks. Consider investing in cryptocurrencies only after careful consideration and analysis of your own research and at your own risk.
Learn more:
Quick Links: