Once a prominent altcoin in the top 20, ICON (ICX) today is valued for much less than in its heyday. However, analysts claim it is not justified to write it off as a relic of an ICO era. In this article, find a case for getting in on ICX and see the ICON price prediction made by our experts and independent analysts.
All ICON Price Predictions: 2023-2033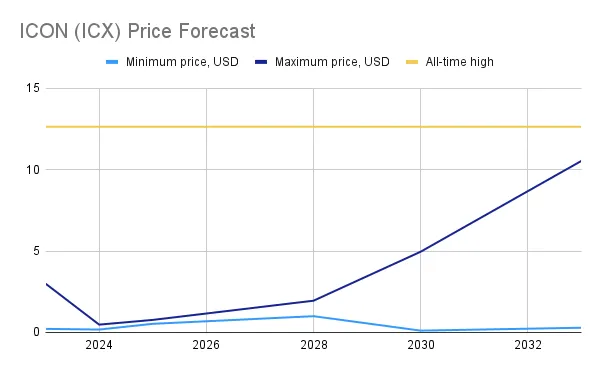 The degree of confidence that ICX can beat its ATH is extremely low. Even in ten years, it is not expected to reach its 2018 price record;
The forecasts on the bearish side do not predict a bright future for ICX. The probability of ICON making it to a dollar or higher is moderate but it still can dip even in the long term;
Bullish opinions on ICON are rather strong, regardless. By 2033, it should be able to approach its ATH, according to optimistic forecasts.
What is ICON Crypto?
ICON is a cryptocurrency that aims to connect various blockchain networks together, creating a decentralized network of networks. It was created by the ICON Foundation, a South Korean blockchain technology company.
ICON uses its native cryptocurrency called ICX. It is used to facilitate transactions and operations within the ICON network. ICX can be used for various purposes: participating in the network's governance, paying transaction fees, and accessing various services and applications built on the ICON platform.
ICON achieves one of its main goals to enable seamless communication and interoperability between different blockchain networks through its unique blockchain technology called Loopchain. It allows different blockchain networks to connect and interact with each other.
By creating a blockchain ecosystem that enables secure and efficient data exchange and collaboration, ICON aims to bring together various industries, such as finance, healthcare, and education. It also provides developers with tools and resources to build decentralized applications (dApps) on top of the ICON network.
ICON aims to revolutionize the way different blockchain networks communicate and collaborate, with the ultimate goal of creating a more connected and efficient blockchain ecosystem.
ICON Historical Price Performance
ICX Price in 2017–2020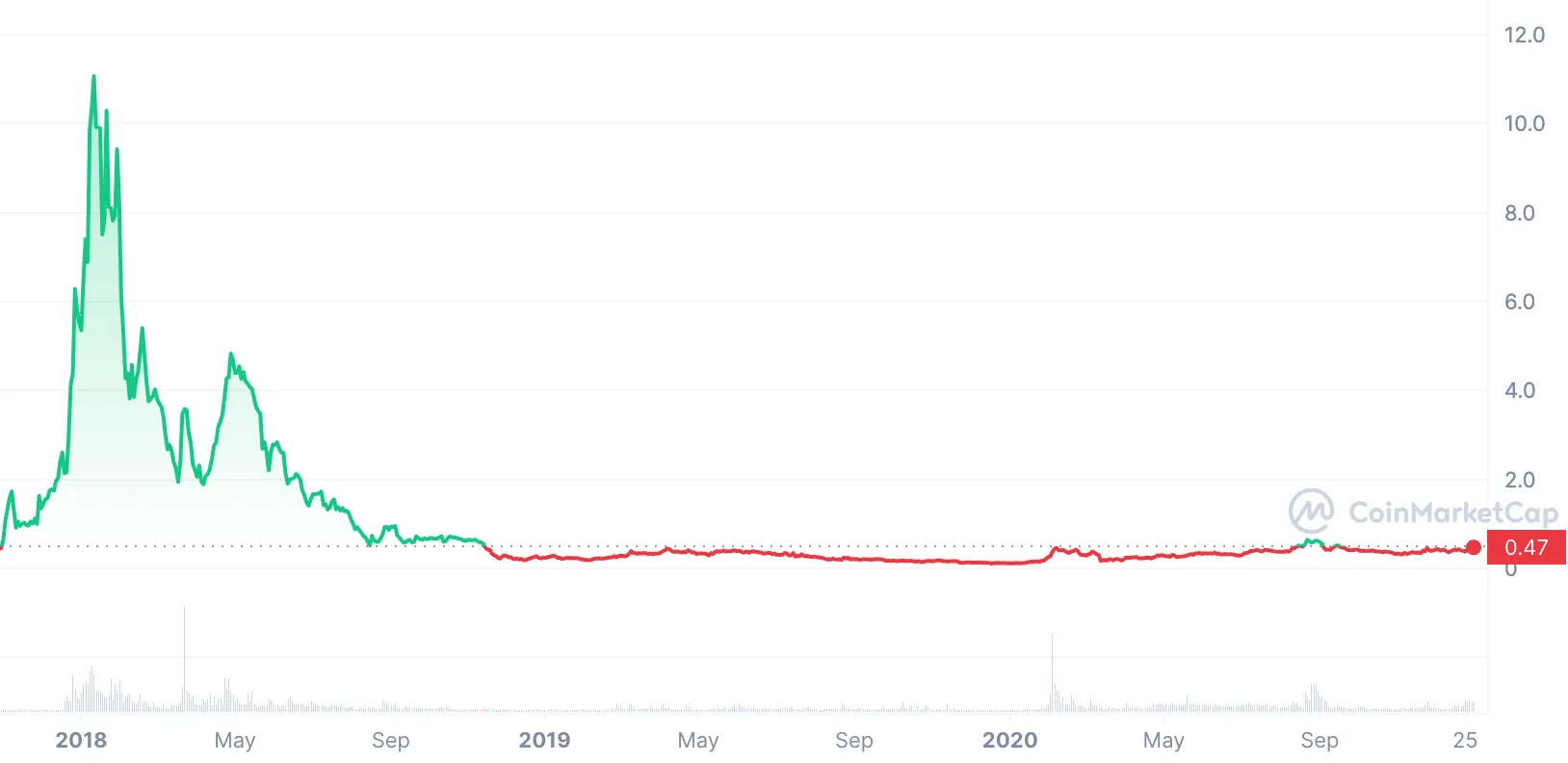 ICON's presale, which distributed half of the total supply, took place in September 2017, raising $42 million. In the Initial Coin Offering (ICO), ICX's price was approximately $0.114 (2,500 ICX = 1 ETH = ~$279.935 at the time). Upon being listed on exchanges in October: Binance, Upbit, Huobi, and OKEx, among others — the token started trading at $0.45. The price surged to $2.50 in a few weeks, driven by bullish sentiment on the crypto market.
ICX started 2018 at around $10 and peaked on January 9, 2018, at $12.64 (an all-time high). Due to the bearish market sentiment that came after a bull run, ICX declined throughout the year. It reached a low of $0.20 by December.
In 2019, ICX remained stable around $0.20 to $0.30. In May, ICON announced Blockchain Transmission Protocol (BTP), an interoperability protocol, leading to ICX increasing in value. It reached around $0.50 by June, but gradually declined to $0.10 by year-end.
ICX began 2020 around the same level and rapidly recovered but the Bloody Monday on March 13, 2020, when the COVID-19 pandemic officially started, stopped the rally in its tracks. Other news that caused ICX price to break out during that year was a collaboration with Band Protocol and the adoption of the digital ID app built on the ICON Network for KYC in Shinan Bank.
ICX Price in 2021–2023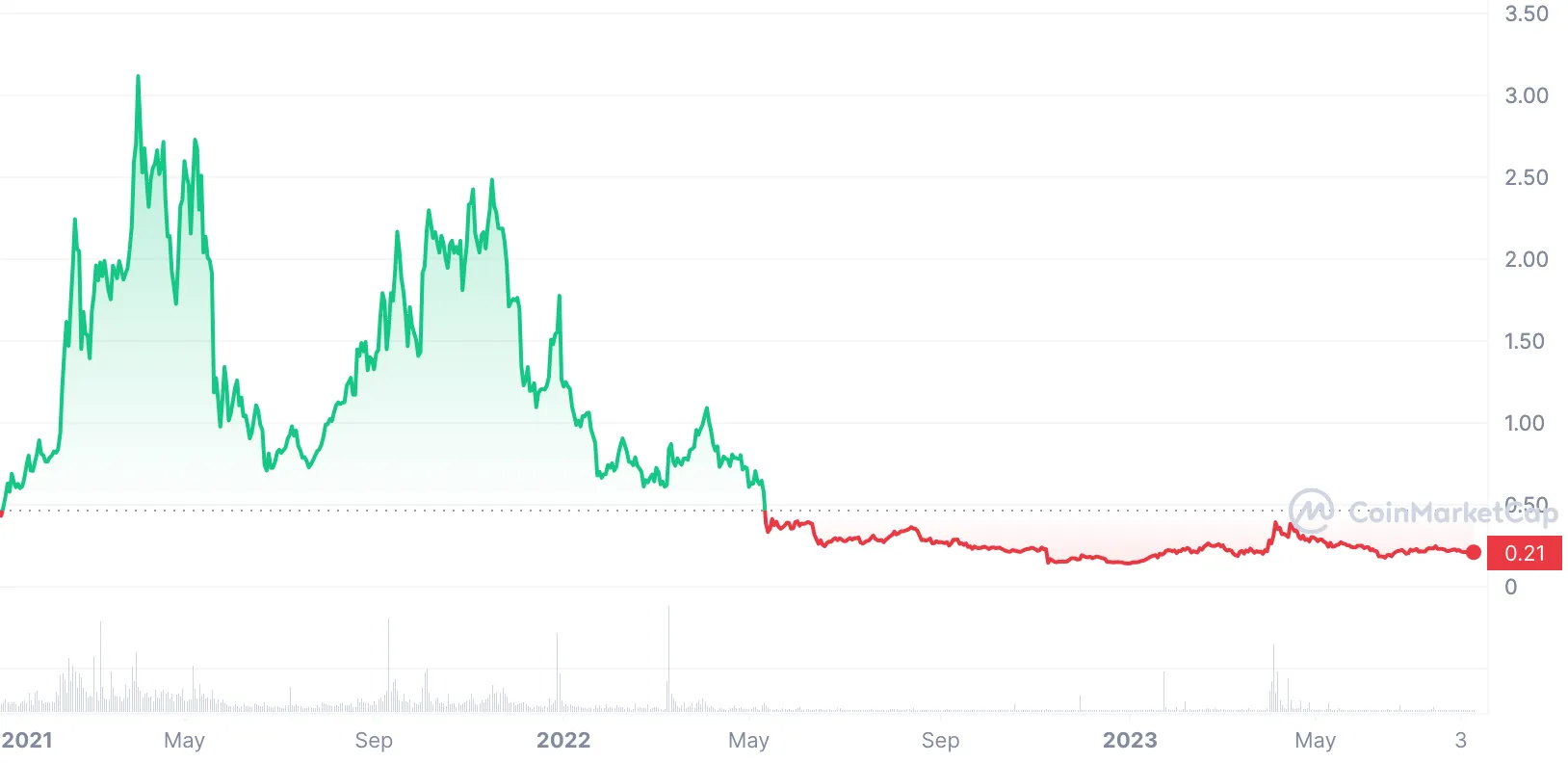 Late 2020 was the calm before the storm that was the 2021 bull run on the crypto market. ICON was also boosted by this market trend, albeit with a delay, and surged to $3.04 by April. It coincided with the mainnet release of ICON 2.0, which changed the inflationary schedule, tweaked the BTP, and even upgraded the blockchain engine. But still, this was not enough to break the 2018 price record. The second wave in fall 2021 also failed to become record-breaking but it did see ICX trading for $2.56. If you notice the similarities between the charts, you can probably guess what was next for ICON in 2022 and 2023 so far.
2022 has started relatively optimistic for ICON, culminating in the presidential victory of crypto-friendly candidate Yoon Suk-yeol. However, it would later suffer when another crypto project with South Korean roots collapsed: Terra (LUNA). Perhaps purely by association, but ICX lost 47% almost overnight in May 2022. From there, it went on to lose a good part of its value by the year's close, when ICON cost $0.14.
After a year of crypto winter, 2023 looked a lot more promising. South Korean exchange volumes boosted ICX up to $0.39 in April but the pullback followed suit, locking ICON in a downtrend. The current price of ICX at the time of writing is $0.2116 and the coin ranks 141th by market capitalization (according to CoinMarketCap).
What affects the ICON price?
Network Updates
From the previous section, we have already seen how ICON can be propped up by significant upgrades like ICON 2.0. The architecture of ICON Network is complex enough to encompass many elements, improvements of which will considerably boost the ICX's worth.
BTP, for instance, is still being worked on and improved. In its initial implementation, described in a 2017 whitepaper, it had two major drawbacks: suboptimal extendability and high gas fees. Since 2022, ICON developers designed a new framework: by using special separate BTP blocks, ICON won't need a hard fork to support them in light clients. It also will incur a fee only when a BTP-X block is updated on ICON, not for every block, cutting down on fees (but not yet optimizing it for other blockchains with higher gas costs, like Ethereum).
Improving the network's scalability, security and interoperability can attract more users, developers, and businesses to build and operate on the ICON network, ultimately increasing its value.
Ecosystem Updates
At the start of 2023, ICON accounted for 10 thousand transactions and 2 thousand active addresses daily. This is a far cry from the peak of network activity in 2019, when the numbers were 5 million and 20 thousand respectively. However, this indicates a fair degree of usage of ICON Network. How, exactly?
Some of the most used ICON-based apps are Balanced and OMM. Balanced offers an AMM and a native stablecoin bnUSD, and OMM is a borrowing and lending market. But the leading app is a digital ID solution MyID by ICONLOOP and the authentication service ZZEUNG that uses it. ICONLOOP also developed a certificate issuance system Broof that was used in 2020 to issue diplomas to POSTECH graduates.
There are other teams either building ICON sidechains with EVM compatibility or bringing it to blockchains like Polkadot and Kusama. This opens up opportunities for cross-chain collaborations and integrations, making the ICON Network more versatile and valuable.
News from South Korea
Interestingly enough, we have already mentioned a few examples that illustrate how closely ICON is associated with their native South Korea. Take the 2022 elections, the Terra crash, or the rush caused by Korean traders. After all, ICON never shied away from its place of origin.
The ICON Foundation was founded by Min Kim in 2016, who had worked in the Korean fintech giant DAYLI Financial Group but also in Deutsche Bank and American Tapas Media. Nevertheless, ICON developer ICONLOOP has closely worked with the Seoul Metropolitan Government on multiple initiatives, namely, the Seoul Blockchain Demonstration Project. Their MyID solution was also used by the government and banks like Shinan.
News about the integration or adoption of ICON by any significant market players, such as financial institutions or large-scale enterprises, can greatly impact the token price. If a prominent financial institution announced they are utilizing ICON's technology or adopting its token for their operations, it could generate significant interest and potentially drive up the price.
ICON Price Analysis and Forecast by ChangeHero
On a weekly chart, we can see that the ICX price has stayed in the range near $0.2 for almost a year. Can it break out to the 2021 highs anytime soon? The relative strength index (RSI) does not point to it being very likely. A bullish crossover between RSI and its simple moving average is about to happen but the setup is not different from the previous cases when the price did not move significantly.
The best chance for ICX to break out is if the whole crypto market experiences an explosive rally. Unless something triggers it in the meantime, one is expected sometime in 2025, after the Bitcoin halving. How high can ICON go in 2025? Given that in 2021 it gained less than in 2017, unless ICON attracts more investor attention, the rally can peak at one of the levels on the chart. However, if it manages to do better, going to $4.15 and beyond is possible as well.
On the daily chart, the short-term future of ICX is clearer. The growth in trading volumes in April also boosted the ICX price, and now it is in the consolidation stage after a pullback. The support/resistance level at $0.2266 is well-established by now, as well as $0.2595. Unfortunately, the volumes are nowhere near close to the April levels, and it will take much more than that to take ICX to $0.3987 and even $0.5379.
ICON (ICX) Price Prediction 2023
How much will ICON be worth in the near future? Let's hear what analysts think.
On the daily and weekly charts of ICON, YouTuber moon333 sees a possibility of a breakout from a downward channel. If it goes well, the best-case scenario for ICX is to pump and regain $2.80–3.
Jason Conor, writing for Bitcoin Wisdom, provides a more measured scenario for ICON (ICX) in the short term. He believes this year the price will fluctuate between the minimum value of $0.2524 and the maximum price of $0.3155.
Lastly, their fellow analyst David Cox at CryptoNewsZ gives a generous range for ICX to possibly trade within. Their predicted minimum price is $0.22 but a maximum price is $0.55.
ICX Price Prediction 2024
CoinArbitrageBot provides only an approximate average price of ICX in 2024. The service forecasts a 128.22% gain for ICON. This makes the average ICX price next year $0.48.
According to TechNewsLeader, 2024 looks mildly optimistic for ICX holders: on average, the coin will be trading for $0.37. The minimum price expected is $0.36 and the maximum value ICON will be able to reach is $0.42.
An algorithmic forecast by CoinCodex does not spell a bullish future for ICON. In a year, its expected price is $0.2272, and at the start of 2024, it may cost $0.2727. Other ICX predictions for 2024 include a minimum price of $0.1775 and a maximum price of $0.2896.
ICON Price Forecast 2025, 2028
Expert opinions and estimates are good for the near future. The further we try to look into the future, the more reliable it is to turn to algorithms that use historical analysis.
PricePrediction.net keeps expectations reasonable. According to their ICX price prediction, in 2025 its price range will grow to be between $0.53 and $0.61. In five years, ICX will be trading for $1.63–1.95.
Another algorithm employed by Bitnation is similarly moderate on ICON. They see the average price of ICX rise to $0.7372 in 2025 and further to $1.37 in 2028.
Digital Coin is not bearish on the ICON forecast either but is as moderate as the other two. According to their estimations, on average, ICX in 2025 will be worth $0.73, possibly rising to $0.77. Five years from now, it can cost anywhere from $1 to $1.15.
ICON Crypto Price Prediction 2030, 2033
For the ICON price forecast at the end of the decade and even ten years in advance, let's refer to historical and algorithmic analysis.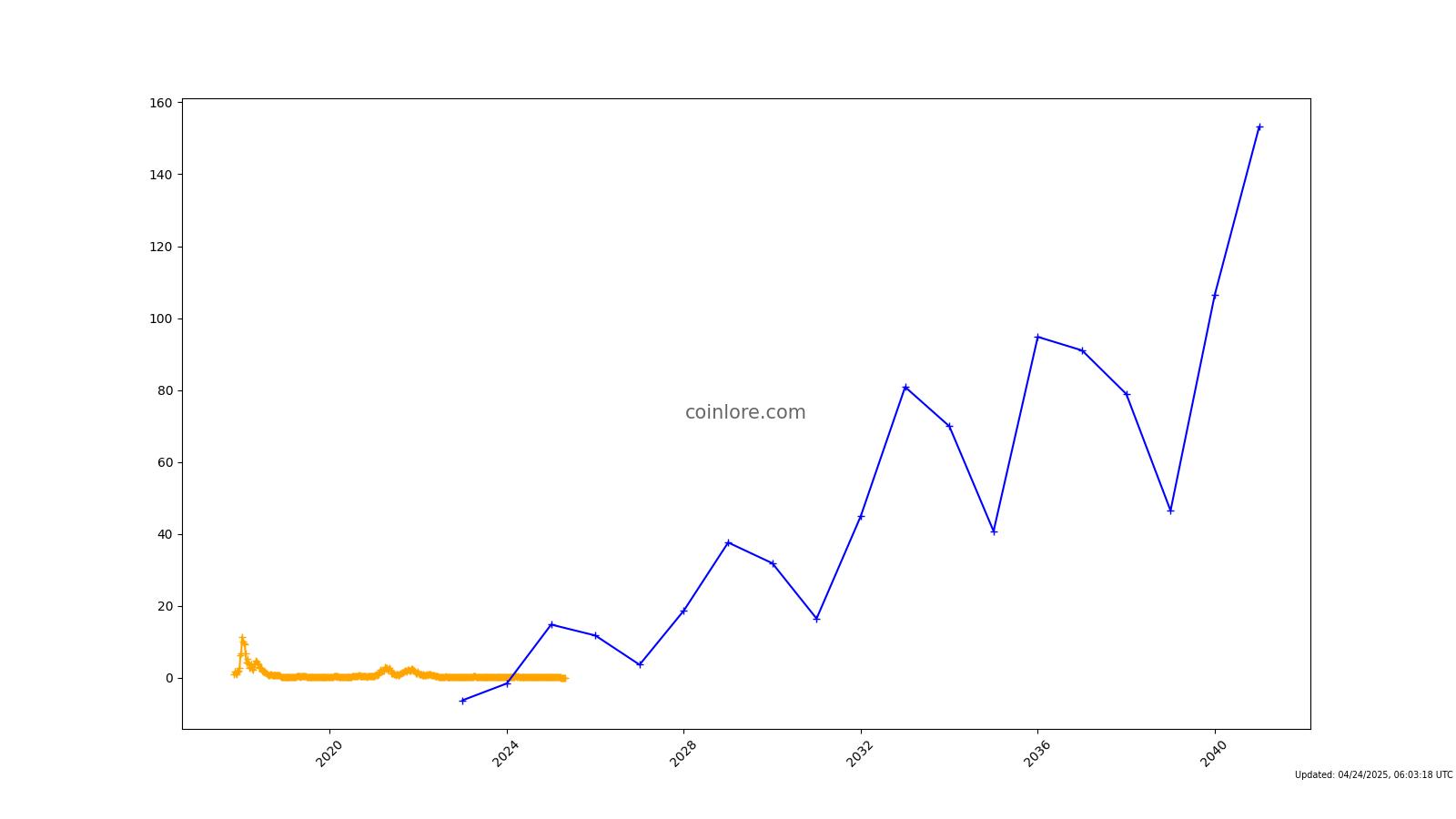 CoinLore's forecast goes the farthest in time, all the way up to 2050. It's balanced out by the relative imprecision of their price ranges. For instance, in 2030 they see ICX being worth up to $2.36 but dropping to $0.112 minimum. A similar picture is painted for 2033: the maximum value of ICX will reach $5.31 or at the very least, rise to $1.71.
AMBCrypto is not quite bullish on the price of ICX, predicting both gains and losses. In 2030, its price range will barely move up to $0.22–0.33. By 2033, a whole decade from now, they only see ICON trading above $0.29 and rising up to $0.43 max. For such a long-term prediction, these figures might seem underwhelming.
The most bullish long-term ICON price prediction out of all reviewed ones has to be by Cryptopolitan. They chart a parabolic growth pattern for ICX which promises modest gains in the short term but massive appreciation by many years in advance. In 2030, they predict ICX for $4.17–4.96, and by 2032, ICON will cost $9.15 on average.
How to Buy ICON (ICX)?
Swap any crypto for ICON (ICX) on ChangeHero: Get ICX at the best rates, in a few steps without obligatory KYC or registration.
Choose the currencies on the home page, amounts, and the type of exchange. Provide your wallet address in the next step and check the amounts;
Double-check the provided information, read and accept the Terms of Use and Privacy Policy;
Send in a single transaction the cryptocurrency you will be exchanging. Fixed Rate transactions have a 15-minute limit;
Done? Now we are doing all the work: checking the incoming transaction and doing the exchange as soon as it arrives. The Best Rate transactions will use the rate current to the time when your funds arrive. The Fixed Rate will use the rate at the time of step 1;
As soon as the exchange has been processed, your ICX is on its way to your wallet.
The support team is here to help you 24/7, and in any case, reach them in the chat on the website or through the email: [email protected].
Conclusion
ICON did not experience a revival of investor interest in 2021, despite all the optimistic updates that year. With a new cycle coming in a couple of years, ICX will have to defy all expectations to approach even a 2021 high, not to mention beat the ATH.
Share what you think about these predictions on our Telegram, X (Twitter), Reddit, and Facebook, and subscribe so as not to miss out on any news! For more content to explore the crypto world, take a tour around our blog.
---
Frequently Asked Questions
Is ICX a good investment?
At the moment, ICON (ICX) has a bearish outlook according to most sources. The project is not abandoned and the team consistently posts and ships updates. At the same time, ICX went from 19th to 139th in market capitalization rankings, so the demand for it in 2023 is low. With that in mind, ICON seems like a safe option but not one that will make considerable returns.
What is the price prediction for ICX in 2025?
Depending on the source, ICON (ICX) is expected to be changing hands for somewhere between $0.53 and $0.77 in 2025.
Can ICX reach $100?
None of the reviewed ICON price predictions see it rising above the $100 mark. Most bullish estimations predict $10 for ICX will happen at best, in 2030.
Disclaimer
This article is not a piece of financial or investment advice. No price prediction is guaranteed to provide exact information on the future price.
When dealing with cryptocurrencies, remember that they are extremely volatile and thus, a high-risk investment. Always make sure to stay informed and be aware of those risks. Consider investing in cryptocurrencies only after careful consideration and analysis of your own research and at your own risk.
Learn more:
Quick links: