The world of crypto tokens is even more unpredictable than that of coins, because new tokens appear all the time. Meet our top list of five tokens with the most potential for 2022.
Key Takeaways
The next cryptocurrency to explode in 2022 could be PancakeSwap, Bone ShibaSwap, MicroPets, Raydium or Loopring;
The best tokens with the most potential for 2022 are trending in late 2021 thanks to growing communities and plans for 2022;
The chains these tokens run on are Ethereum, BSC and Solana, which are already established blockchains.
Which Altcoins have the most potential for 2022?
PancakeSwap (CAKE)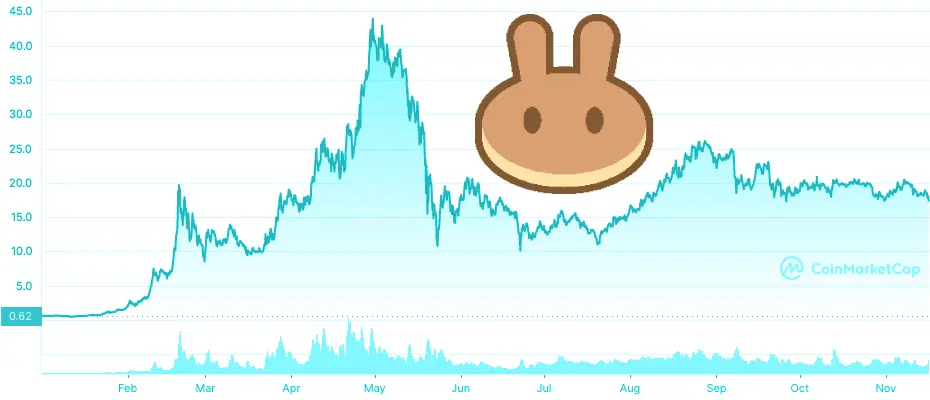 PancakeSwap spearheaded the growth of Binance Smart Chain (BSC), rapidly becoming the largest DEX in the ecosystem. Liquidity providers receive rewards in CAKE for locking tokens in PancakeSwap's liquidity pools. At the time of writing CAKE is being traded for $17.26, which is 2,666% up in comparison to the opening price in 2021. While not being very new, CAKE is definitely in the top tokens with the most potential for 2022. Their plans for late 2021 and 2022 include completing the NFT marketplace, improvements to liquidity pools (earning CAKE) and trading competitions (burning CAKE).
ShibaSwap Bone (BONE)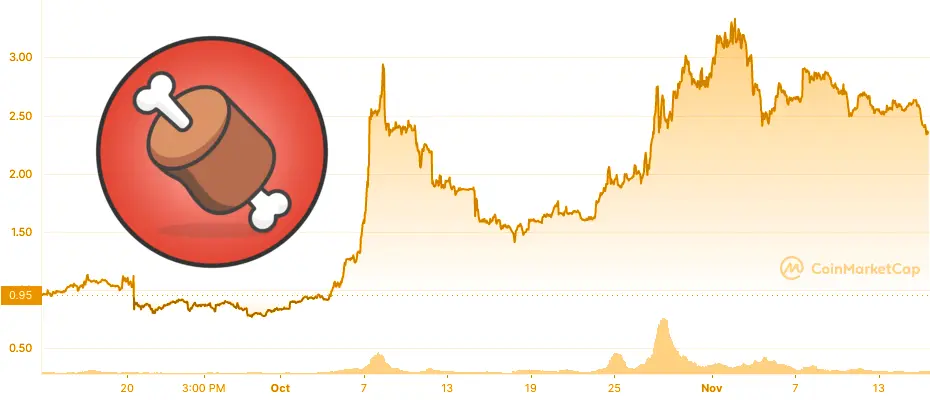 It may be getting tiring, seeing us mention Shiba Inu in each of those lists but there is no denying that the project and community are growing at a breakneck speed. Rival to Dogecoin with a DeFi ecosystem of their own, Shiba Inu has been trending all late 2021. In this list of top tokens with the most potential for 2022, however, we would like to highlight ShibaSwap's governance token, BONE. It has a lower total supply than SHIB (250 million vs. 1 billion) and with the expansion of ShibaSwap functions in 2022, its role will definitely become bigger. Bone appeared only in September 2021, and since then has grown to $2.36 by 145.6%.
MicroPets (PETS)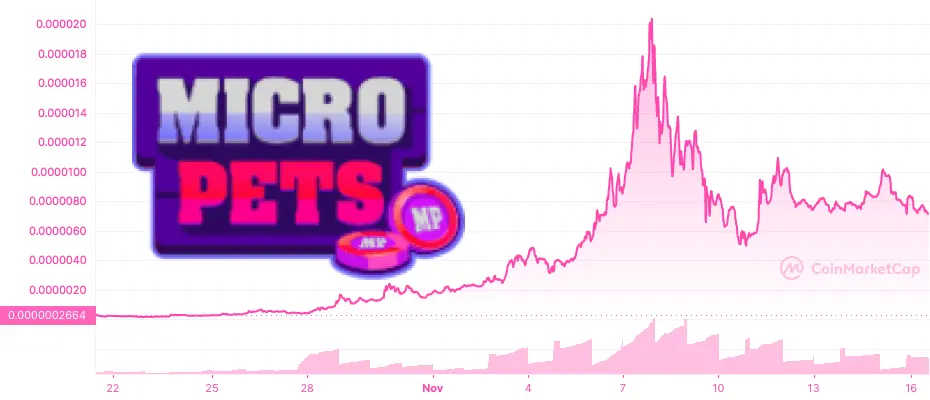 Coming up third, MicroPets can be easily described as CryptoKitties on steroids: it uses NFTs that can be staked, traded, collected — all on Binance Smart Chain. So far, it looks like it will become one of the top tokens with the most potential for 2022. Since October 2021 so far, PETS exploded in price to $0.000007156, which is 2,800% plus to the earliest registered price of the token. Out of all reviewed tokens, this is the biggest growth crypto 2021. As an emerging project, MicroPets has a lot in store for 2022 and beyond. Upcoming milestones include farming (empowering the users' Pets) and MicroPets Runner, a side-scrolling runner game developed by Cubix.
Raydium (RAY)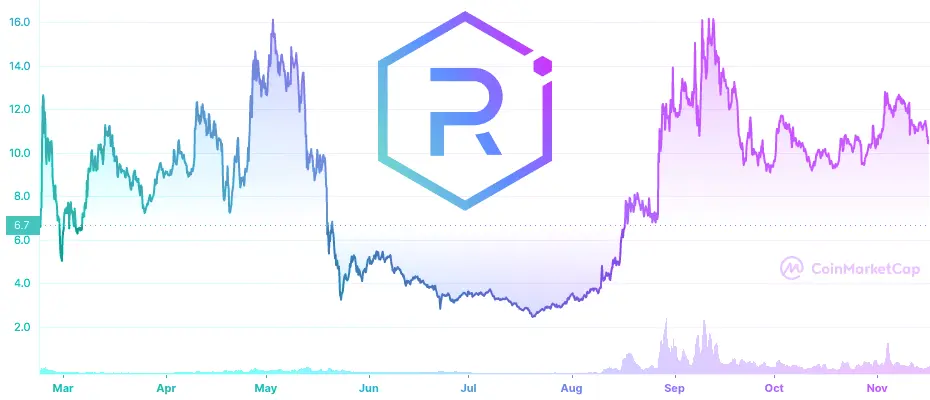 Meme tokens and games tend to blow up and fade away, but tokens with actual use cases occupy a spot in the top tokens with the most potential for 2022 more securely. Raydium to Solana is what PancakeSwap is to BSC: the token of Serum DEX. Raydium hit the markets in February 2021 and since then has grown by 59%. At the time of writing, RAY is worth $10.51. In 2022, a larger portion of RAY tokens will enter circulation after unlocking. More traders will be able to participate in liquidity provision for incentives.
Loopring (LRC)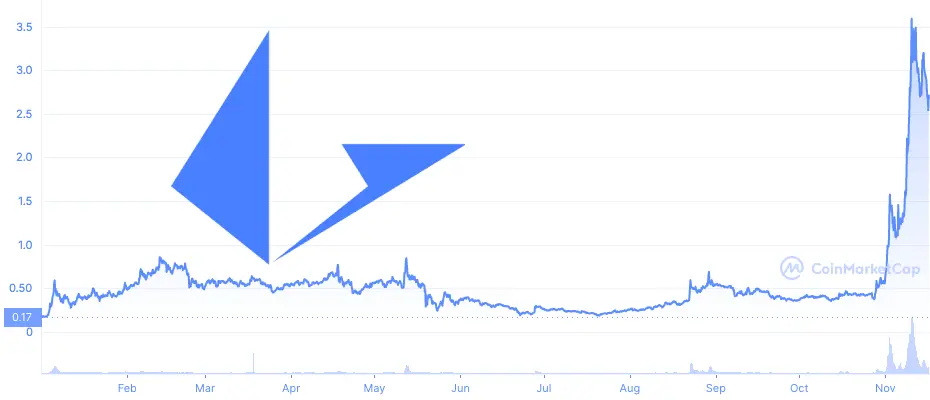 The last but not least in the best tokens with the most potential for 2022, is Ethereum-based Loopring. Loopring is a protocol for the creation of decentralized exchanges which brings the convenience of centralized exchanges with on-chain settlement of DEXs. The demand for this kind of service was reflected in the price movement of LRC in 2021. In comparison to the opening price of 2021, LRC appreciated by 1,472%. The Loopring team has ambitious plans for the future. Particularly, they will be working on an on-chain insurance fund and a decentralized autonomous organization.
How to Buy Them on ChangeHero?
Trending currencies get added to ChangeHero all the time! You can already swap CAKE if you have crypto:
Choose the currencies on the home page, amounts and the type of exchange. Provide your wallet address in the next step and check the amounts;
Double-check the provided information, read and accept the Terms of Use and Privacy Policy;
Send in a single transaction the sum of cryptocurrency you will be exchanging. Fixed Rate transactions have a 15-minute limit;
All done? Now we are doing all the work: checking the incoming transaction and doing the exchange as soon as it arrives. 

The Best Rate transactions will use the rate current to the time when your funds arrive. The Fixed Rate will use the rate at the time of step 1;

As soon as the exchange has been processed, your tokens are on the way to your wallet. 
ChangeHero's customer support is available 24/7 in the chat on our website or through the email: [email protected].
Conclusion
What crypto will boom in 2022? Of course, no one knows for sure, but these five tokens could be the best tokens with the most potential for 2022. Even more crypto projects are covered in detail in our blog. Feel free to follow our pages on social media: Twitter, Facebook, Reddit and in Telegram.
---
Disclaimer
This article does not constitute financial or investing advice. No price prediction or forecast is guaranteed to provide exact information on the future price. Past performance is not indicative of future results. When dealing with cryptocurrencies, remember that they are extremely volatile and thus, a high-risk investment. Always make sure to stay informed and be aware of those risks. Consider investitions in cryptocurrencies only after careful consideration and analysis and at your own risk.
Learn more:
Quick links: