In this weekly cryptocurrency news recap, we have plenty of stories to cover and posts to share. Bitcoin acceleration to ATH and halt after bad news from Turkey, Ethereum's Berlin update all happened this week. And there is way more news to share, so sit back and enjoy the latest crypto news round-up by ChangeHero.
Key Takeaways
Bitcoin managed to renew the all-time high: $64,829, breaking out of weeks-long consolidation. Altcoins like Ethereum and Dogecoin followed suit;
The main catalyst event for BTC to move up was COIN going live on NASDAQ. On the opening day, the valuation of Coinbase exceeded all other exchanges;
However, the market was cooled down by the news that Turkey has banned all crypto payments.
Latest Cryptocurrency News
Bitcoin Digest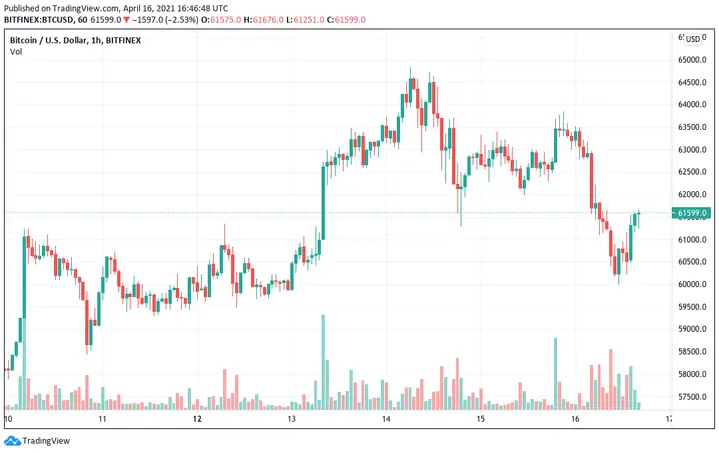 After weeks of consolidation, Bitcoin broke through. The run started last weekend, when BTC rose up from $58,000 to $61,000. Close to the previous ATH, but no cigar.
Buyers quickly intercepted the dip to $58,450 and saved Bitcoin price from correcting. Next breakthrough happened on Thursday, with a long green $1,200+ candle, and BTC rode the momentum to the new ATH: $64,829.
A short pullback was to be expected, and BTC was back at $62,5–63k. The news from Turkey cooled the market down, but not for long: dip to $60k was bought out.
Bitcoin News
The Kraken exchange has published a March report on Bitcoin and top altcoins. In it, they claim that if Bitcoin repeats its median historic performance in Q2, by July its price would be around $82k. Bear market support levels suggest that a dip below $44 thousand is very unlikely.
Altcoin News
Ethereum news also reported it has renewed its ATH: $2,547.56. Is now a good time to buy Ethereum? The same Kraken report suggests it will outperform Bitcoin and land at $3,281 in July. 
Incidentally, Rothschild Investment Corp has disclosed a $4.746 million dollar investment in Grayscale Ethereum Trust. This position is almost double that one of a Grayscale BTC fund.
Some good XRP news, too! The digital currency has shown the best performance since December 2017. Even the uncertainty about the SEC v. Garlinghouse case could not curb the growth.
Tech Cryptocurrency News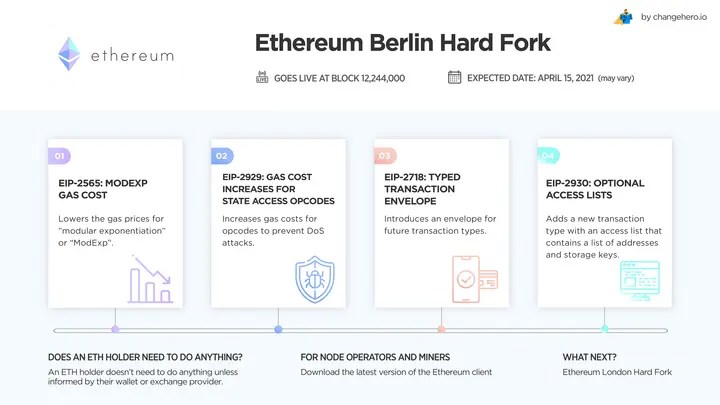 Ethereum soared, as the Berlin update went live on block 12,244,000. As could have been anticipated, things did not go smoothly: the Open Ethereum client ran into a critical bug. About 12% of all nodes in the Ethereum network were halted for a few hours and forced to be upgraded.
Bitcoin Core developers have finally agreed on a method of implementing Taproot to the source code. The method is called "Speedy Trial" and gives a three-month window for miners to accept the update. If the majority agrees, Taproot, which brings Schnorr signatures to the blockchain, will be merged to the mainnet.
Chainlink, seeking to improve the front-running and scalability issues, is pondering a second-layer solution which would make it less chain-dependent. The team is building Chainlink 2.0 which would focus on decentralized oracle networks (DONs).
Business Cryptocurrency News
Coinbase (COIN) finally went live on NASDAQ. Starting at $360 per share, it quickly became the most valued exchange on the market, leaving even traditional counterparts behind.
Coinbase's crypto counterpart, Binance, now also offers tokenized COIN shares on their platform. The only other stock token is TSLA, but depending on the success of the feature, the list may grow.
Cryptocurrency News on Adoption
Another week, another use case for NFTs: this time, CaseMail announced that they will be providing services to the USPS. Tokens will represent package labels and be used for the verification of each piece of correspondence.
Swiss insurance company AXA added Bitcoin as a means of payment for their services. Insurer explains that the move was made to meet the growing customer demand.
Cryptocurrency News on Regulation & Politics
As we already briefly mentioned in the Bitcoin digest, BTC dipped because Turkey banned crypto payments. In other words, officials restated that no cryptocurrency is legal tender in Turkey, hence it cannot be a legitimate means of payment. This policy was met with criticism and explained by the ongoing national currency crisis.
Canadian securities regulators have greenlit the first direct Ethereum ETF in the world. The assets and fund will be managed by Purpose Investments and backed by ETH in cold storage in their custody. Purpose CEO explained the product by calling Ethereum one of the most exciting and groundbreaking technologies in the market.
Cryptocurrency News on Social Media
Video of the Week
This week, we would like to highlight the interview with the Microstrategy CEO, Michael Saylor, uploaded to the Lily Knight YouTube channel. In this video, the three-year old host of the Lily's Show asked Saylor about his path in the crypto industry. In four minutes, he explains what got him started, why Bitcoin and what are his future plans.
Top Crypto Twitter Posts
Thrilled @Grayscale is partnering w/ @TIME on a new video series coming this summer explaining the #crypto space.

Equally as important, @KeithGrossman & @TIME has agreed to be paid in #Bitcoin - and will hold the $BTC on their balance sheet. A first for our media partnerships! — Michael Sonnenshein (@Sonnenshein) April 12, 2021
Grayscale CEO broke the news that they will be working with "Time" to create a series of videos on crypto. Another noteworthy thing here is that the president of the media outlet agreed on getting paid in BTC without conversion.
On 03/Jan/2009, Satoshi coded a message into the Bitcoin Genesis Block. As a nod to Satoshi on our listing day, we asked @f2pool_official to embed a message in the Bitcoin blockchain: https://t.co/lwHNlTUskt

— Coinbase (@coinbase) April 14, 2021
To celebrate the NASDAQ listing, Coinbase collaborated with f2pool to put a message with a reference to the genesis block. The headline they picked was from an article reporting the approval of a $1.9 trillion stimulus bill.
Today kicking off #DogeWeek then #DogeDay420 w/ #DogeSlimJim... Got me like pic.twitter.com/vNNLZ8Km5y

— Slim Jim 🚀 (@SlimJim) April 13, 2021
Dogecoin is back in business, and this time, it is not only Elon Musk at work. Jerky snack brand Slim Jim, the marketing strategy of which involves building a community around memes, shills Dogecoin extra hard! Seems like the brand has hit a gold mine, as the coin simultaneously renewed its record highs.
Influencer of the Week
$BTC dominance keeps on dropping. We could be gearing up for some alts really moving here soon (BTC pairs). pic.twitter.com/gpV83YscmI

— IncomeSharks (@IncomeSharks) April 12, 2021
Income Sharks is a Twitter account dedicated to trading, as well as a community with different free trading channels. Their approach does not include anything superfluous, and they highlight Bitcoin and small cap gems on equal terms.
Top Crypto Digest
Crypto market seems to have finally decoupled from what we saw in the Bitcoin digest. 
At the moment of writing, the general market stats are:
Total Market Cap: $2,231,472,524,005 (+12.31%);  
BTC Dominance: 51.6%.
7d Change in Top Coins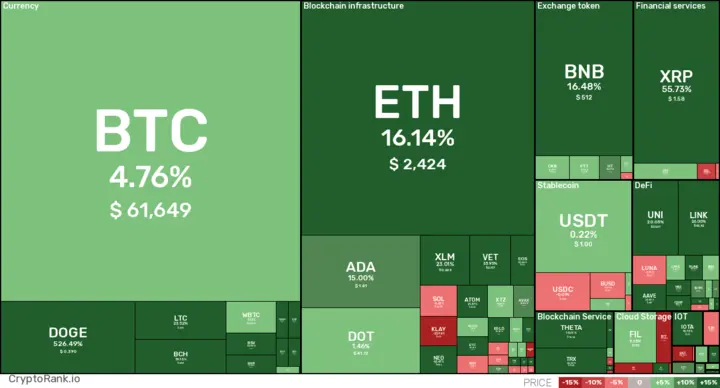 At the moment of writing, the weekly change of the top currencies is:
Gainers of the Week
Many coins saw a 50%+ rise this week, but Dogecoin rules them all. The altcoins on the rise at the time of writing are:
Dogecoin (DOGE) $0.373 (↑508.95%);
XRP $1.59 (↑55.73%);
Maker (MKR) $3,346.93 (↑50.30%);
Which crypto to buy today? Might be a little too risky to get into Dogecoin now. The rest of altcoins are set to grow more as the capital continues to drip into them.
Conclusion
From Coinbase beating all traditional exchanges to Turkey suddenly banning Bitcoin, this week's cryptocurrency news were all kinds of rollercoasters!
If you enjoyed the recap, catch the next weekly digest in our blog and follow us on Twitter, Facebook, Reddit and Telegram for live updates.
---
Learn more:
Quick links: