What was happening this week in crypto? The Bitcoin rally seems to have taken a back seat for now. Investors are as active as ever, especially MicroStrategy, which plans to buy even more BTC. French authorities are planning to ban privacy coins. These are only several news topics covered by the ChangeHero team in this weekly crypto digest. Dive in for the check on the market and more stories coverage!
ChangeHero Updates
Let us start this crypto digest with a quick update from us at ChangeHero!
Trezor Campaign: Zero Fee Exchanges & Giveaway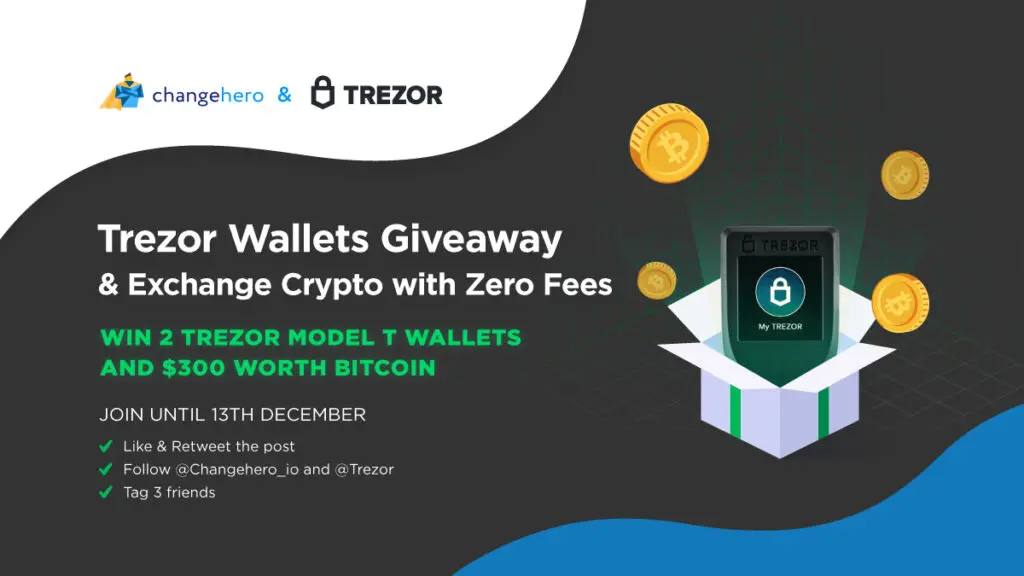 This week, we started a promotional campaign with our long-time partner, Trezor! For Trezor users, ChangeHero waived all service fees for a week when using the in-app exchange option. Even those who don't have a Trezor wallet yet can join the fun. Trezor is giving away two Model T wallets with $300 in Bitcoin to go with it from ChangeHero! The campaign lasts until December, 13, so you might still be able to join on Twitter.
Latest Crypto News
This week was a bit slower than the last one, but there were still plenty of events to cover in our crypto digest. Here are the most important ones:
Bitcoin News
BTC price update: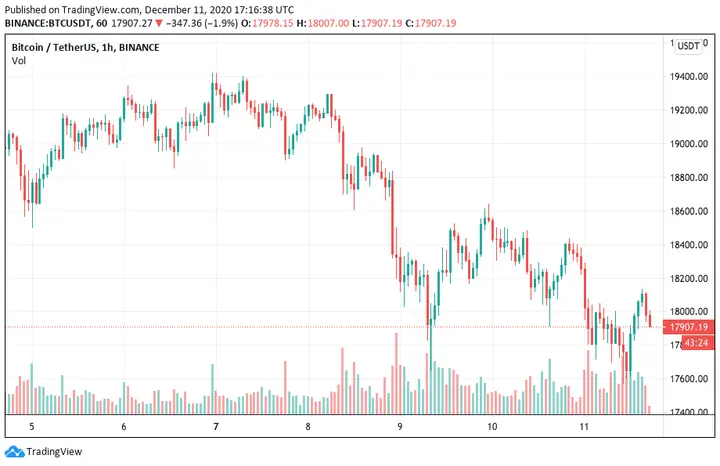 During the weekend, Bitcoin seemed to have started recovering, and even breached $19,300. On Monday, though, it got rejected and even dipped below $19,000. On Wednesday, it sank below $18,000 in the moment but quickly bounced up. The momentum was not enough, and today it is moving at sub-18k;
According to CryptoQuant analytics, the BTC sold by miners index hit a new maximum after 2017. The opinions on evaluating this metric are divided. Some say that this creates selling pressure and stops the price from increasing. Others point out that this metric tends to mirror the price, so it is natural miners would sell on highs more.
Tech Crypto News
Bittrex Global will become the second crypto exchange to offer tokenized stock trading. The users will be able to trade some of the largest capitalization assets (TSLA, AMZN, AAPL) with lower fees, 24/7 and against USD/USDT/BTC.
Business & Crypto News
MicroStrategy continues to make headlines of cryptocurrency-related news. This time, the company announced a private offering of $400 million. The intent of releasing a share offer at this time is to buy even more Bitcoin! Essentially, it means that the company is not buying BTC with its own capital, but offers potential shareholders to capitalize on the planned purchase.
The Swiss Stock Exchange became an investor for a joint venture between Swisscom and Sygnum Bank. Together they plan to build and launch an Institutional Cryptocurrency Gateway. As stated in the press release, "The Institutional Digital Asset Gateway will enable banks to develop new financial services and yet to be imagined products around cryptocurrencies and digital assets for their customers."
Regulation & Politics Crypto News
France is planning to crack down on financing terrorism. This is why the government is planning to keep a closer watch on user verifications and start regulating crypto-to-crypto exchanges. The most confusing point in the proposed plan is to outlaw the use of privacy coins in the country.
Twitter Crypto Digest
Today I learned the dollar has lost 99.93% of its value since 2013 (relative to Bitcoin). https://t.co/txthu3YMIk

— Edward Snowden (@Snowden) December 7, 2020
Edward Snowden here to remind you that "number go up" is not always indicative of the true value of an asset. Especially considering that USD is depreciating at the moment. It seems that the day when Bitcoin will be seen as a more reliable store of value is not that far away.
3/3 Our goal with sponsoring crypto research reports is to bring a diverse variety of viewpoints and insights to the public free of charge (even if they do not fully reflect our own views) but only so far as they are not disrespectful toward any part of the community.

— Bitstamp (@Bitstamp) December 9, 2020
There was not much XRP news this week, aside from one story. It centers around the newly released 2021 Crypto Theses by Ryan Selkis, notorious for his straightforwardness. Bitstamp acted as a sponsor of the paper, which caused backlash from XRP and XLM communities. The paper described these currencies as "toxic waste" and "snake oil". Bitstamp decided to come forward with a public apology.
Bitcoin, Ethereum, and Tether got a mention in this evening's season premiere of Shameless! pic.twitter.com/L0H3kHBH6v

— beta.mycrypto.com (@MyCrypto) December 7, 2020
Imagine using Bitcoin to leverage Tether. Nevertheless, even this nonsensical bit of dialogue from the "Shameless" final season premiere got some members in the community excited.
Influencer of the Week
December 9, 2020
Cred's Twitter bio simply says "Trader". This is a bit under-descriptive, as Cred actually focuses on quality educational content. He has compiled resources to popularize technical analysis. He is also one of the hosts on the Technical Roundup YouTube channel.
Top Coin Digest: Price Change
At the moment of writing the crypto digest, the market's dynamics for the last 7 days are the following:
Total Market Cap: $533,810,284,957(-5.62%);
BTC Dominance: 62.89%.
7d Top Coin Digest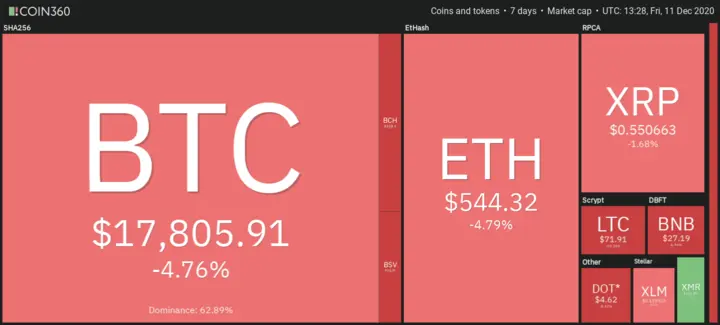 At the moment of writing the crypto digest, the 7-day change of the top currencies is the following:
Should I buy Ethereum or Bitcoin? As of today, both currencies have slightly dipped. This could be a buying chance for either before they rise in price.
Gainers of the Week on ChangeHero
Which cryptocurrency will rise in 2020, at least what's left of it? At the time of writing this crypto digest, the winner altcoins are:
The top coin digest list includes the currencies that can be traded and exchanged on ChangeHero. You can buy and sell some of them (BTC, ETH, BCH, BSV, TRX) with your credit card on our website, too. Either way, it will not take more than 15 minutes, and we will find the best rate on the market for your purchase.
Key Takeaways
This week, Bitcoin was battling with the correction, but declined below $18,000. The reduction is not too strong, which gives hopes for further continuation of the rally;
Businesses and institutional investors, such as MicroStrategy continue to invest in Bitcoin. It helps to introduce the crypto market into the financial world;
At the same time, Bitstamp is bringing stocks into crypto, providing an alternative to traditional finance;
As for the coin digest, most of them seem to follow Bitcoin's trend and also dipped by 5–8% on average. There are some exceptions, like Monero or Nexo.
Summary
That is it for this weekly crypto digest. Will Bitcoin continue its rally or is it the start of a larger correction? Tune in in a week to our blog to find out! Don't miss an update by subscribing to our Twitter, Facebook, Reddit and Telegram.
---
Learn more:
Quick links: