This week, cryptocurrency markets were testing the investors with weak hands. In this crypto digest, ChangeHero will recap the most interesting crypto news from this week and update you on our progress.
Updates from ChangeHero
Ethereum Giveaway with SwapSpace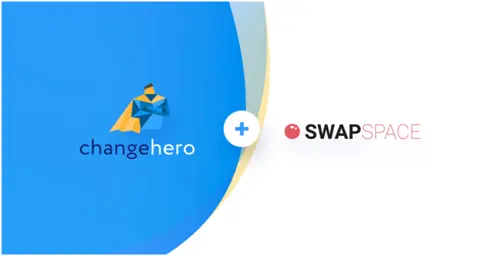 To celebrate our new partnership with SwapSpace, as promised, we are about to wrap up the activity for ChangeHero and SwapSpace users on Twitter. The winners receive $50 in ETH, but don't fret if you missed out - we have more of those coming, so subscribing is highly advised!
And now, from our news and updates to the crypto digest part of this weekly recap.
Latest Crypto News Highlights
This week's crypto digest is mostly about the news and tweets on Bitcoin. While we cover the former in this section, make sure to check out the latter, too!
Bitcoin News
Bitcoin markets saw moderately curious action this week, but still, no news recap can do without the market's first coin digest.
62 thousand BTC options (equivalent to about ~7 billion) will expire this week. Options and futures expiration has historically been connected with an increase in volatility for BTC. As such, it can cause a sudden change in Bitcoin prices. Technical analysis shows that a downward movement is more probable.
This Wednesday, Cointelegraph reported that Inner Mongolia, China, has stopped subsidizing electricity put into mining. This measure was taken to reassure taxation from this sector. As a possible result, the mining expenses for a large slew of miners will increase, which in turn might cause either a dip in hashrate or an increase in selling pressure on the BTC market.
Blockchain News
The latest update to Parity-Ethereum and OpenEthereum node clients made them unable to synchronize with the latest block, rendering them inoperable. The issue is a result of an unknown (at the time of writing the crypto digest) critical bug, which will be fixed in mid-September, OpenEthereum project manager says. These clients were used by 13% of nodes, and while this slowed the network down a bit, negative experience is also an experience: the Ethereum community is now more aware of client centralization, and it is in their best interest to start working on diversifying it.
Cryptocurrency Adoption News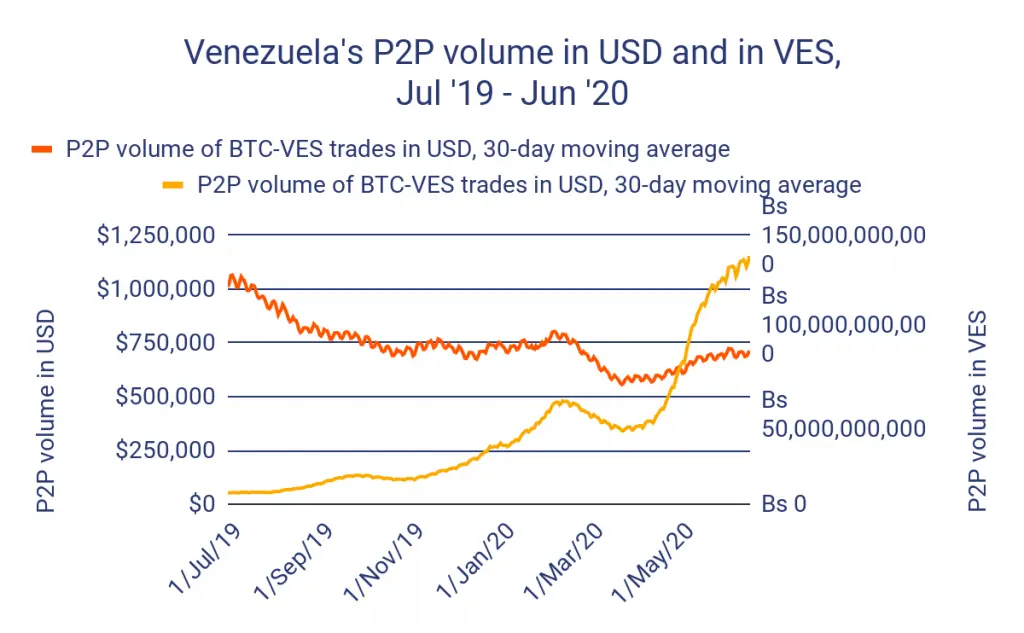 A new Chainalysis report suggests Venezuelans trust Bitcoin more than their government and the central bank. The country ranks third by the Crypto Usage Index, or second when adjusted to the purchasing power of local currency. On the graph above, the yellow line indicates the raw BTC-VES volume, and the orange line indicates the same volume in USD equivalent. While it might seem the two trends are contradictory, Chainalysis suggests that the growth of VES (Sovereign bolivar) entering the trades outpaces the hyperinflation rate, so the involvement in P2P trading is increasing.
In other crypto news, LINE, a messenger app most popular in Japan, succeeded where others failed: they announced the launch of the cryptocurrency wallet BITMAX and LINE Blockchain Developers platform. Tokens issued by services made with the platform can be linked to and managed with BITMAX Wallet, opening up the option of creating services that fully or partially leverage LINE's user base.
DeFi News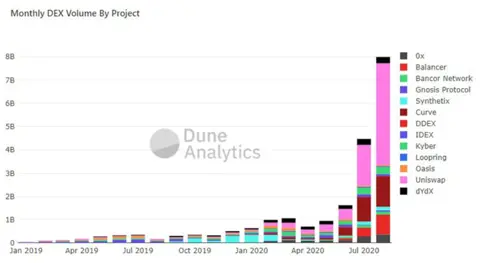 A record-breaking $8 billion volume is now concentrated in the DEX sector, which is running on the forefront of booming DeFi. According to the Dune Analytics data, the leading DEXs are Uniswap, Curve and Balancer.
Binance announced a twofold hackathon and accelerator program with focus on DeFi. This initiative will be a part of Binance's business development efforts in India.
Many news in crypto start as tweets. Moving on to the next section of this weekly crypto digest, we picked the tweets that got people talking the most!
Crypto Digest on Twitter
Apple has been very restrictive and hostile to cryptocurrency over the years. They're still blocking some functionality right now, including the ability to earn money with cryptocurrency by completing tasks, and unrestricted dapp browsers.

— Brian Armstrong (@brian_armstrong) August 22, 2020
In the last couple of weeks, Apple is coming under more and more scrutiny for their policies. Their position as a borderline monopolist on the mobile app market has been made apparent in the conflicts with Epic Games and Facebook. Crypto is not stranger to this and has suffered from their policies, too. Coinbase CEO Brian Armstrong criticized Apple for their hostility towards the crypto space and functionality of crypto-related apps.
The Fed, under the leadership of Jerome Powell, continues to be #Bitcoin's biggest booster. On Thursday, he will deliver a speech about how the Fed will begin targeting higher inflation. 🧙‍♂️🙏🚀https://t.co/MUXB2MRTp3

— Tyler Winklevoss (@tylerwinklevoss) August 25, 2020
Just like the Gemini CEO Tyler Winklevoss said, after the Jerome Powell speech about the USD inflation policies, the favorable sentiment towards Bitcoin as the hedge against inflation seems to grow. The Federal Reserve chairman's address was covered in many crypto news outlets. The high penetration of USD in global economies makes the US monetary policy affect the whole world. The good news is, Bitcoin is also worldwide!
Since so many of you Bitcoin guys are ribbing me because my son @SchiffSpencer bought #Bitcoin, why not really rub it in by gifting him some as a belated birthday present. He turned 18 yesterday. He won't lose his. Here's his wallet address: 3AeFWb22AG1qXLEyz1hNLYiT1PF8nrNrnK

— Peter Schiff (@PeterSchiff) August 27, 2020
Peter Schiff, in case you need a reminder, is a strict and well-known Bitcoin critic. However, he is also very clear about it being his personal choice. In this tweet he acknowledges that he is fine with his teenage son owning Bitcoin, and invited the Crypto Twitter to congratulate him on a belated birthday. The "He won't lose his" alludes to the case in January of this year when Schiff lost his private keys.
Looks like Bitcoin got people talking on Crypto Twitter the most again. What was happening to the other currencies, though? Read on to the top coin digest.
Top Cryptocurrencies Price Change
It has been a while since a week when most of the currencies were trading in red. The good thing is that the dips were more than tolerable and gave a chance for more investors to hop on.
At the moment of writing this crypto digest, the market's dynamics for the last week are the following:
Total Market Cap: $357,872,850,011 (-3.74%); 
BTC Dominance: 59.1% (was 58.8%).
ChangeHero Top-10 7d Change
Here is a brief top coin digest for the currencies that can be traded on ChangeHero. You can buy and sell some of them with your credit card, too. At the moment of writing this crypto digest, the 7-day change of the top currencies is the following:
ChangeHero Gainers of the Week
And of course, here is our weekly coin digest for the projects which scored the most gains. At the time of writing this crypto digest, the top three are:
Nimiq (NIM) $0.005311 (↑14.86%);
Ardor (ARDR) $0.078481 (↑10.53%);
Compound (COMP) $181.50 (↑0.43%).
Round-up
Hope you enjoyed our crypto digest. As always, quite a lot happened! For similar updates each week, as well as educational content and latest crypto news, subscribe to our blog and give us a follow on Twitter, Facebook, Reddit or Telegram.
---
Learn more:
Quick links: