On May 3, 2023, the Sui mainnet finally saw the light of day to considerable hype in the crypto community. What is the deal? Let us introduce you to the Sui blockchain project and its coin SUI and explain why it is worth your attention.
Key Takeaways
Sui is a decentralized smart contract platform that enables near-instantaneous execution even of high-complexity transactions;
It has been in development since 2021, received over $336M in funding, and was released on May 3, 2023. The founding team held no airdrops for the native token of Sui;
The SUI coin fills the role of a gas token and is required for staking. Staking also allows validators to vote on matters concerning the future of Sui.
What is the Sui network?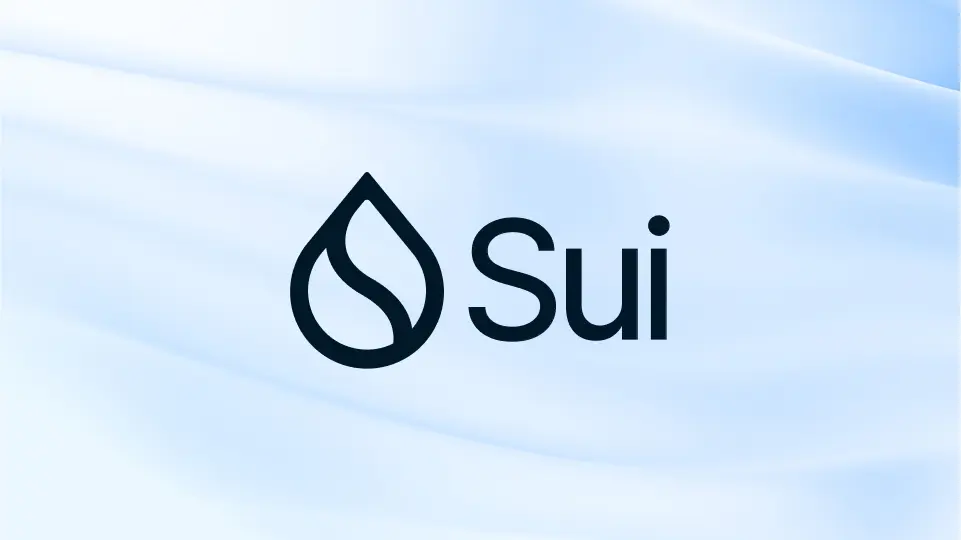 In its documentation, Sui is defined as a smart contract platform maintained by a permissionless set of validators. In other words, it is a distributed and decentralized network with the capability to execute pre-programmed events when specified conditions are met. The developers also call it a "'blockchain" but Sui's architecture and use case are different from Bitcoin's or other earlier cryptocurrencies.
Sui differentiates between simple and complex transactions, using different approaches to them. A simple transaction changes only single-owner, single-address objects and may bypass the consensus. More complex transactions that change the state across more objects involve a separate direct-acyclic graph mempool (pre-processing queue) and are accounted for in the consensus.
Developers claim Sui scales horizontally with no upper bound. By processing transactions in parallel and omitting consensus about every single one in favor of the consensus on the state, the blockchain can process as many transactions simultaneously as needed.
For smart contracts, it uses Sui Move, a dialect of Move — a smart contract programming language originally developed by Diem engineers. It is described as safe and approachable for developers of any background. Move itself is an embedded language that lacks blockchain-specific concepts, so Sui Move is a more complete version of it, designed to work with Sui.
Sui's Main Features
Scalable to thousands of transactions per second, with instant finality;
Predictable fee pricing;
Safe and accessible smart contract language;
Rich and composable on-chain assets;
Considerate developer experience and optimal user experience.
Sui Blockchain's Team, History, and Investors
Core contributors to the Sui platform are Mysten Labs, a research and development company founded and led by ex-Meta engineers. Mysten Labs was founded by CEO Evan Chang, CTO Sam Blackshear, COO Adeniyi Abiodun, and chief scientist George Danezis in September 2021.
In late 2021, when the company received $36 million series A funding from a16z with Coinbase Ventures and Samsung NEXT, Sui did not exist yet. By the series B round, which took place in September 2022 and raised $300 million, Sui was already a flagship project of Mysten Labs. In that round, Coinbase Ventures and a16z were joined by Jump Crypto, Binance Labs, and Circle Ventures. Sui also caught the attention of China-based giants Tencent and Alibaba.
The team has started working on Sui since late 2021, and by March 2022 an announcement was made. The Sui testnet was launched in August 2022. During that time, more than 60 projects were already being built or completed. However, the date of the mainnet release was not known until recently. The Sui mainnet release date is May 3, 2023.
Does Sui have a token?
The Sui blockchain comes with a native token SUI, capitalized to distinguish it from the network's name. There will be a total supply of 10 billion SUI but on launch, a share of it will not be liquid: these tokens will be vested over time.
Since Sui relies on Proof-of-Stake, it uses SUI staking to incentivize (or punish) validators. SUI is also a gas token within the Sui ecosystem, meaning network fees for transactions are paid with them. Last but not least, staked SUI will be needed to vote on matters that affect the course of development of the Sui platform.
Sui Recognition Sale and Retrospective Awards
The Sui Foundation made a decision to hold no airdrops of the native token. However, they provide ample opportunities to receive it in return for helping shape the future of the Sui network. According to the official blog post, the first to receive the SUI token will be the investors and early contributors. It includes not only coders and builders but also community managers and testers.
In addition to a retrospective award that will be distributed to chosen early contributors, Discord members that joined before February 2023 will get a chance to participate in the recognition sale. It is a unique case because this sort of sale is something of a middle ground between private and public. Reportedly, the coin price was ranging from $0.03 to $0.1 a piece for different categories of buyers.
Unfortunately for those learning of Sui now, this ship has already sailed long ago. Luckily, now it will be publicly traded on several crypto exchanges, such as KuCoin and OKX.
What is the SUI token allocation?
Now we know that on launch, the SUI token will get distributed to community members, investors, and reserved by Sui Foundation for further use. The basic breakdown is straightforward: 50% to the public, 50% in the reserve. These halves will be further divided as on the chart below: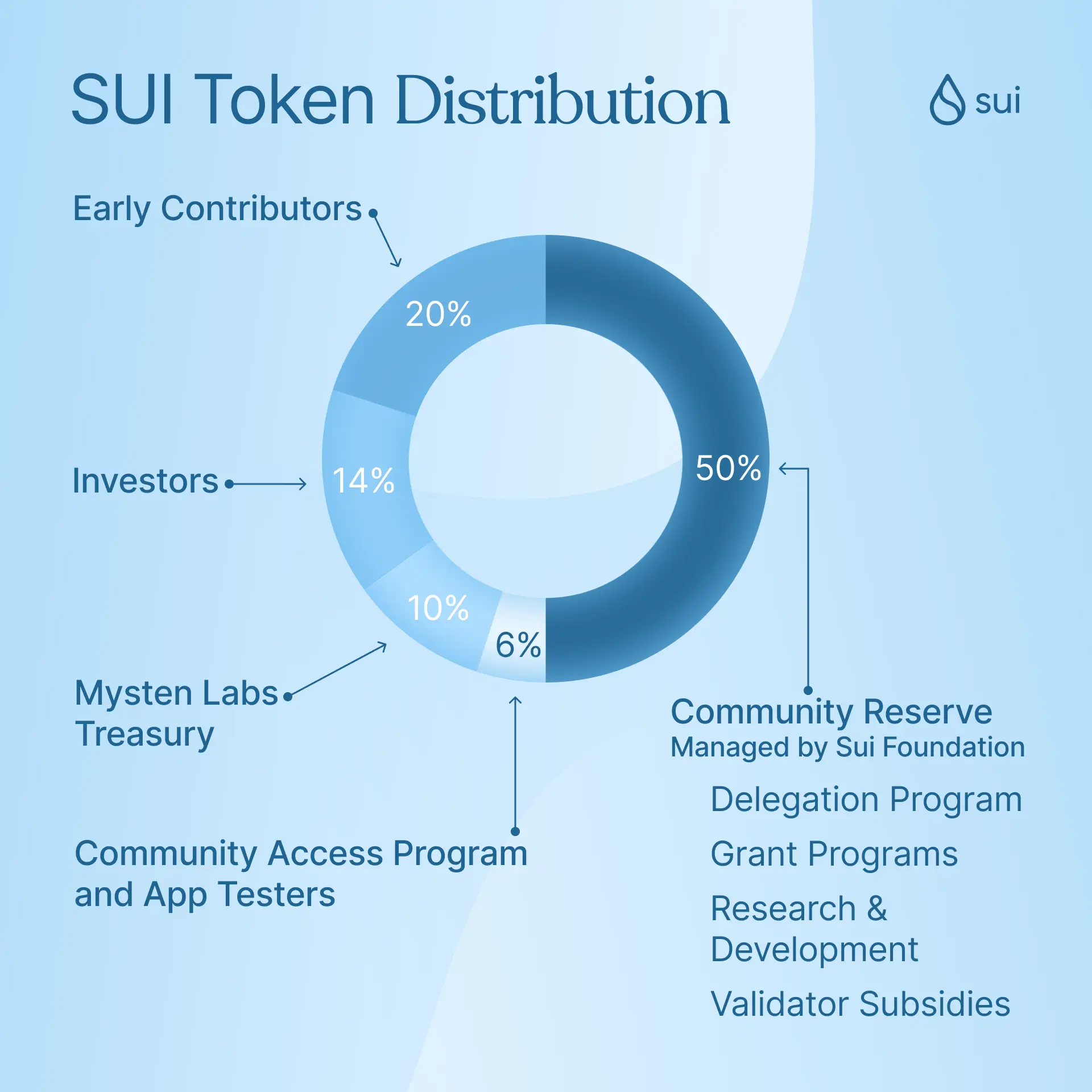 20% to early contributors: developers, testers, community managers, etc.;
14% to investors;
10% to Mysten Labs treasury;
6% to the Community Access Program (the recognition sale and retrospective awards);
50% will be distributed from the Reserve managed by Sui Foundation toward decentralization efforts, grants, and research.
Sui And Similar Projects
Sui vs. Aptos
Sui and Aptos have a few things in common: both were built with the expertise of Meta and Diem, both use Move, both aim to provide a user experience befitting of Web3. When the two are different, though, they really stand apart.
While both networks are secured by Proof-of-Stake, Aptos uses the HotStuff protocol specification for parallel execution. The architecture of Sui can be described as multi-layered, and Aptos's is modular. Aptos also opted for an airdrop to its users, causing a "retrodrop" hunting trend to reemerge. This airdrop was quite chaotic, and some users even found an exploit, gaining four-digit rewards from a fault in consensus.
Sui vs. Solana
In terms of transaction speeds, scalability, and ease of use Sui and Solana are aiming for the same things. They both use the programming language Rust. Their target audience and use cases are slightly different, but not without an overlap: Solana is more fitted for decentralized finance (DeFi), and Sui is geared towards Web3.
One of the downsides to the impressive transaction processing speeds of Solana is rare downtime and outages. How well will the Sui mainnet work remains to be seen but the testnet seems to have yielded success. One of the directions to work on that they mention seems to be resilience to validator underperformance. When the mainnet becomes public and independent validators join in, this could or could not become an issue.
Which Sui Wallet to Use?
SUI is a relatively new token but as we mentioned, it had enough time to build up an ecosystem even before the mainnet launch. So, as a result, there are already a handful of apps and crypto wallets for SUI.
The safest bet is to go for the official Sui Wallet. It will enable you to interact with the apps in the Sui network and manage NFTs and fungible tokens. There is a wide choice of non-custodial wallets from third-party developers: Ethos, Morphis, Splash Wallet, and others.
However, these crypto wallets were created for Sui specifically but what if you want to access SUI with the rest of your assets? In that case, check out Arctic Wallet, where you will be able to swap crypto instantly with a ChangeHero integration.
Can You Buy Sui Crypto?
Before the fully-fledged launch, getting Sui was not easy. But now it is publicly available on a large number of crypto exchanges, and ChangeHero is not an exception!
If you want to buy or sell SUI with crypto and need a refresher on how it works, we're here to help:
Choose the currencies on the home page, amounts, and the type of exchange. Provide your SUI wallet address in the next step and check the details;
Double-check the provided information, read and accept the Terms of Use and Privacy Policy;
Send the cryptocurrency for the swap in a single transaction. In Fixed Rate transaction you have 15 minutes before it expires;
Sit back and relax. At this step we are doing all the work: checking the incoming transaction and doing the exchange as soon as it arrives;
As soon as the exchange has been processed, your SUI is on its way to your wallet. And so, the transaction is finished!
If you ever run into any issues during your swap, our support team is available 24/7 to help you in the chat or through the email: [email protected].
Haven't got any crypto yet? We got you covered: buy any crypto with a bank card, ApplePay, or GPay from our partner and swap it afterward for SUI on ChangeHero.
Conclusion
All in all, Sui is a project backed by immense talent and expertise, aiming to become nothing less than a foundation for the mainstream Web3. Plenty of crypto projects with equally strong backgrounds and funding have already tried that. Will it be different this time? Sui finally gets a real chance to prove itself.
If you enjoyed our guide, check out the ChangeHero blog for more! Follow us on Twitter, Facebook, Reddit, and Telegram for daily updates and even more content.
---
Learn more:
Quick links: