What has happened this week in crypto news? In addition to retail and institutional investors, public agencies and figures show their support for Bitcoin. Altcoins seem to be following suit in the growth of the first cryptocurrency. In our crypto and Bitcoin digest, find the most impactful crypto events of this week.
ChangeHero Updates
Newsletter Launch and Giveaway
The ChangeHero team is launching a newsletter, and we need your help! Instead of just asking you, we decided to give six lucky early subscribers a chance to win $50 in Bitcoin. If you would like to join the contest, make sure to follow the rules: interact with the Twitter post and fill out the form. The giveaway runs through February 22nd when we will announce the winners and reach them through the email.
Latest Crypto News
Bitcoin Digest
BTC Price Update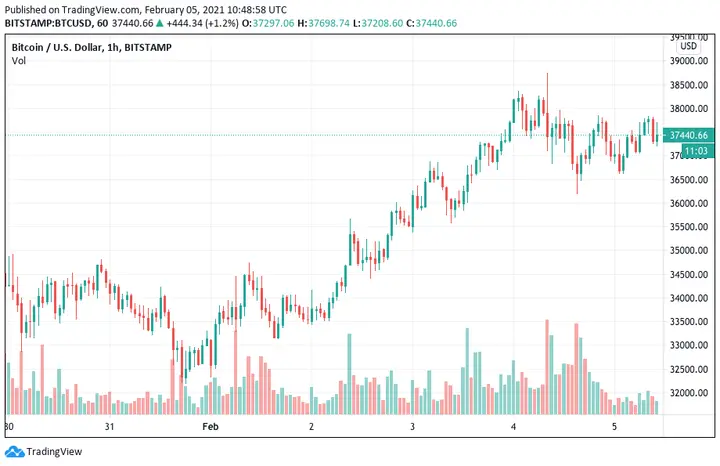 This week Bitcoin has shown us (again) that it can climb to $38k without shilling just fine. Monday to Thursday it has moved in a neat uptrend. Now BTC is trading sideways between $38,200 and $36,600.
Is Bitcoin going to crash again? It is unlikely that we will see the price suddenly dropping now. The growth was happening over several days, which is more reliable than what happened last week.
Bitcoin News
Glassnode research shows a growing accumulation of Bitcoin outside of exchange addresses. In comparison with November, the total supply outside of exchanges changed from less than 14% to 15.32% in February. This figure also accounts for the newly minted BTC. The decrease of liquid supply in circulation can drive the prices further up.
In a call between MicroStrategy and NYDIG, Stone Ridge crypto subsidiary, the latter confirmed aggressive interest from institutional clients. In the words of the CEO, the asset management firm has enough orders lined up to purchase $25 billion in Bitcoin.
And now, to other crypto news!
Altcoin News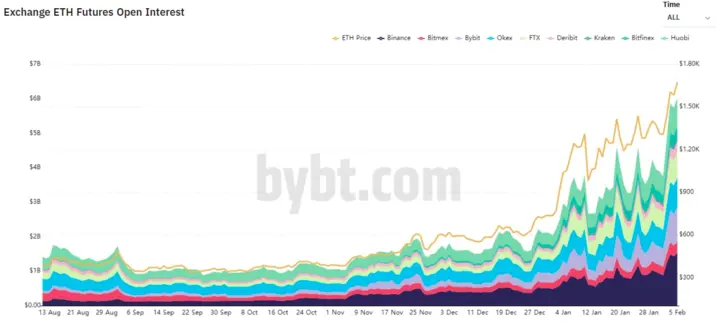 In Ethereum news, for the first time open interest in Ethereum futures exceeded $6 billion. This Monday, Ethereum futures will start trading on the Chicago Mercantile Exchange.
This could also be tied to the fact that Ethereum has renewed its ATH this week: $1,689.19 on Thursday. At the moment of writing, it is virtually in discovery mode.
As for other altcoins, not every coin is doing that well. XRP news this week can be summarized as an unlikely pump and an expected but still heartbreaking dump. The culprit behind the sudden rally could be posts on r/Satoshistreetbets. XRP momentarily rose by 86% on Monday, but dropped by 50% in a couple of hours.
Another darling of the crypto branch of WallStreetBets is Dogecoin. After an unlikely rally, surprisingly it did not correct sharply. Instead, it is now being traded in a $0.04–0.05 range.
Business Crypto News
In the Q4 Investor update, PayPal disclosed the growth of transaction revenue by 11.8% since introducing crypto to the platform. The payment giant is now resolved to continue developments in the crypto sphere;
Jeff Bezos will be stepping down as Amazon CEO. His position will be taken by Andy Jassy, who previously worked on Amazon Managed Blockchain. Immediately prior to taking over, he is an executive of Amazon Web Service.
Crypto News on Adoption
Miami's mayor gave a pretty insightful interview to Forbes contributor Roger Huang. Mayor Franciz Souarez expressed his dedication to make the city a technological hub focused on crypto technologies. To make this a reality he proposed several steps that can already be done today. Firstly, city employees should have an option to receive a share of their salaries in Bitcoin. Secondly, cryptocurrencies could be adopted for local fees and taxes. Thirdly, an investment share of the city's treasury could be parked in BTC.
Regulation & Politics Crypto News
Crypto companies are the new hedge assets. Well, that's only a half-joke. California Public Employees Retirement System reported a significant increase in their investment in Riot Blockchain. Riot Blockchain is an American cryptocurrency mining company. In hindsight, it was a smart move on their part, as the stocks of mining companies appreciated after the Bitcoin rally. What is more interesting here is the fact that a public agency chose to hedge in a blockchain company stock.
Crypto News on Twitter
Running #bitcoin pic.twitter.com/W51ga3yrKb

— jack (@jack) February 5, 2021
Jack Dorsey, who has been frequently featured in our digests for his pro-Bitcoin tweets, announced he is running a full node. You'd think that such an outspoken supporter would be doing it by default. The text of the tweet refers to the same post made more than eleven years ago by Hal Finney.
ur welcome pic.twitter.com/e2KF57KLxb

— Elon Musk (@elonmusk) February 4, 2021
Dogecoin news and price action this week were fueled by now clearly pro-Dogecoin tweets from Elon Musk. The eccentric entrepreneur took a break from Twitter but it did not last for longer than a couple days. One of the theories suggests he was hunting down fresh memes like this one in the wild.
Almost 5k is the price to accept a bid on @rariblecom now!! 😂 Is it because of ETH high gas fees⛽️ or some type of bug 🐜 ? 🤔 Thoughts ? pic.twitter.com/tYoV1ilB85

— Olive Allen (@IamOliveAllen) February 3, 2021
Parabolic price action is all fun until it takes the fees with it. The other side of Ethereum breaking records is, unfortunately, skyrocketing gas fees. The price is moving up so fast that users on Twitter are genuinely puzzled. Is almost $5k in gas a bug or a feature?
Influencer of the Week
Back in 2017 there were pullbacks that lasted weeks for Bitcoin

This pullback from $40ks could range or drop then bounce for several more weeks Be patient, look for areas for potential buying opportunities This could get more boring before more upside — Josh Rager 📈 (@Rager) February 1, 2021
Josh Rager is a trader and technical analyst, mostly focused on altcoins. Now that they are blowing up, it is high time to follow him! Nothing superficial, just the necessary info and ideas.
Top Crypto Digest
BTC dominance keeps declining as alts rally. At the moment of writing the crypto digest, the general market stats are:
Total Market Cap: $1,151,818,456,354;
BTC Dominance: 60.98%.
7d Top Coin Digest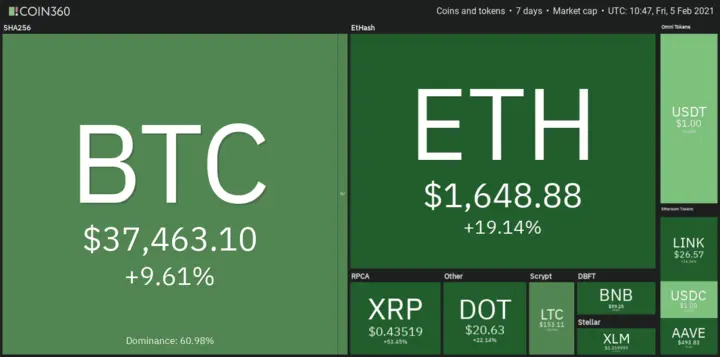 At the moment of writing the crypto digest, the 7-day change of the top currencies is as follows:
ChangeHero Gainers of the Week
Which cryptocurrency will rise today? There's a good chance that some DeFi tokens will continue to grow. Here are the top-three that are blowing up at the time of writing the crypto digest:
Key Takeaways
Bitcoin continues to be on the rise, returning to near-$38k range;
Ethereum has reached a new ATH: $1,689.19 on February 4;
Bitcoin digest of news is connected with a growing demand of institutional investors (NYDIG, MicroStrategy) and public and government bodies;
In particular, Miami mayor is decidedly pro-Bitcoin and wants to incorporate it into the workings of the city. He considers crypto taxes and salaries, but also he insisted that the Bitcoin whitepaper be hosted on the city's website;
The consequences of the WallStreetBets movement are still echoing throughout the crypto market, as seen with XRP (+86% followed by -50%) and Dogecoin (+76% on Thursday, February 4).
Conclusion
While this week was not quite as thrilling as the last one, as a result crypto is flourishing anyway. Both altcoins and Bitcoin digest proves that the whole market is on the rise. We can't wait to see what crypto news the next week brings!
Tune in to the next entry in our blog. And make sure to subscribe to ChangeHero's updates on Twitter, Facebook, Reddit and Telegram!
---
Learn more:
Quick links: