Airdrops used to be popular a few years ago, but in 2020 Uniswap brought them back. Now the community is abuzz with another token airdrop, 1INCH, which happened on Christmas Eve. In this Beginner's Guide, ChangeHero team will explain everything you need to know about 1inch Exchange and what is 1INCH token.
What is 1inch Exchange?

1inch Exchange is a decentralized exchange (DEX) aggregator. It works by outsourcing liquidity to integrated DEXs and lets users find and compare rates on multiple liquidity sources.
The main competitive edge of 1inch is order splitting. When performing large exchanges through a DEX, the expenses and slippage may increase. A user had to either split their orders manually or exchange tokens at less than perfect conditions. 1inch protocols solve this problem and route the exchange through multiple liquidity sources to optimize fees and slippage.
How did 1inch start?
The ideas and the main protocols of 1inch Exchange were designed back in 2019. Particularly, the DEX aggregator solution was developed at a hackathon in New York City in May, 2019. The solution was developed by a team of two, Sergej Kunz and Anton Bukov.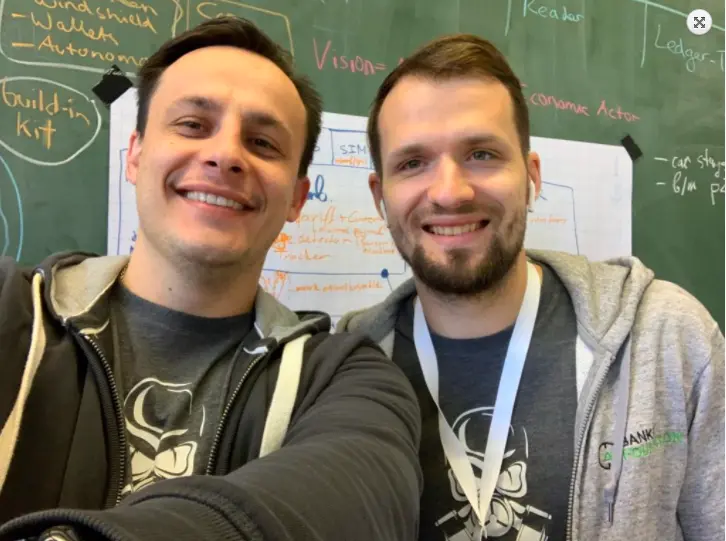 The name of the project was inspired by Bruce Lee's "1-inch punch". The idea behind it is to symbolize efficiency, like the 1-inch punch is the epitome of efficiency in martial arts. In a similar way, the logo, manic unicorn, comes from their roots in CryptoManiacs, but also to contrast Uniswap's cute unicorn.
How Does 1inch Exchange Work?
Like we previously mentioned in the article, 1inch Exchange lets users choose the best rate from the pool of integrated liquidity pools. The current version of 1inch Exchange is V2, and it introduced what is now a main feature of the aggregator: Pathfinder.
What is Pathfinder?

Pathfinder is a protocol that calculates and suggests one or several exchange routes. It can also break an exchange up into parts to optimize fees, slippage and gas. Thanks to it, users can choose between the most efficient way to exchange price-wise or with less gas, for example.
Integrated Protocols
1inch Exchange makes use of dozens of DeFi services. The liquidity is outsourced to Uniswap v1 & v2, WETH, Balancer, Curve, yearn, Bancor and Sushiswap, as well as others. Pathfinder can also pack tokens into collateral in Aave and Compound and unpack them to make use of these two lending protocols.
Governance Protocol
The launch of 1inch token was planned at the same time as the shift of governance of the protocol to a DAO (Decentralized Autonomous Organization). 1inch holders can use it to vote for major protocol improvements, as well as on day-to-day functions like spread surplus settings.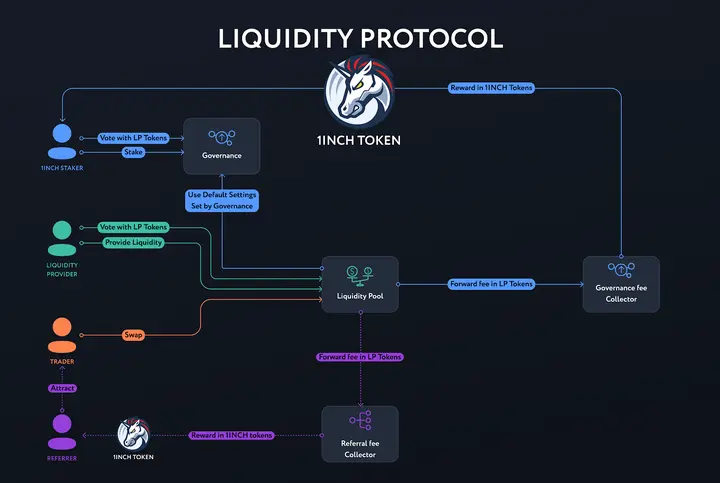 As seen in this illustration from the official 1inch token guide, it has plenty of uses in liquidity protocol, too. Stakers and referrers are rewarded in it in exchange for Liquidity Provider tokens. But what is 1inch token, exactly? This is what the 1inch token guide is going to be about next!
What is 1inch Token?
On December 24, eligible 1inch Exchange users received the new governance token.There were several conditions, and user addresses had to meet at least one:
Trade before September 15;
At least four trades;
Trades of total ≥$20.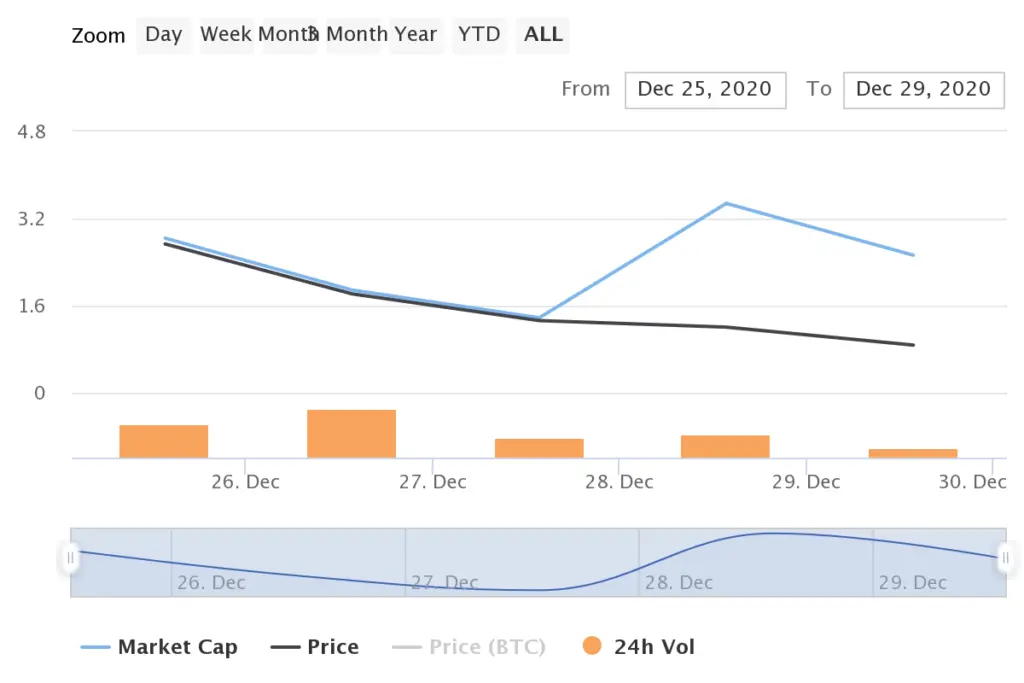 The highest price of 1inch coincided with its entrance to the market. It started at the $2.92 mark, which is its current ATH. 1inch token price has been on decline since the airdrop. It makes sense: the initial sell-off is not over, and not enough users have started to use it as intended.
How much is a 1inch token worth now? At the time of writing this 1inch token guide, it is $0.943278 according to CoinMarketCap.
What is the use of 1inch token?
The 1inch token was not intended to be a means of payment or value transfer. It was also not supposed to represent the value of the 1inch exchange, which would make it a security token. In Kunz's own words, the main purpose of it is to be used in operating the 1inch network. Right now, it is used for staking in the governance protocol to represent voting power.
Wallets for 1INCH Token
1INCH is a token of ERC-20 standard. The most popular wallets for ERC-20 tokens are MyEtherWallet and the MetaMask extension. These options work well with 1INCH in particular! MEW has integrated the swaps with 1Inch. The platform itself allows you to link the MetaMask wallet in a few clicks.
How to exchange 1INCH with ChangeHero?
The distribution has concluded, but what if you missed the airdrop? How to get 1inch tokens now? You can either take a deep dive into liquidity mining and start earning the tokens on the platform. But if you want to maximize the profit, it's better to start with some 1INCH in your pockets. 
To make the 1INCH token guide complete, here is a step-by-step instruction how to get it with ChangeHero:
Choose the currencies on the home page, amounts and the type of exchange. Provide your 1INCH wallet address in the next step and check the amounts;
Double-check the provided information, read and accept the Terms of Use and Privacy Policy;
Send in a single transaction the sum of cryptocurrency you will be exchanging. For  Fixed Rate transactions you have 15 minutes before it expires;
From here on, you won't need to do anything. We are doing the rest of the work: checking the incoming transaction and making the exchange as soon as it arrives;
As soon as the exchange has been processed, your 1INCH is on the way to your wallet. If you enjoyed the service, we'd like you to consider leaving a review for us ;)
In any case, our support operators are available round the clock in the chat on our website or through the email: [email protected].
Key Takeaways
1Inch Exchange is a DEX aggregator that lets users make swaps of tokens on Ethereum through other liquidity providers;
1inch Exchange protocols can automatically split orders and offer various paths to reduce gas fees or maximise profit;
Just a few days ago, the team has introduced DAO governance of the platform and a 1INCH token that enables it;
The 1INCH token is used in liquidity management and governance but the upcoming roadmap may outline more use cases for the token.
Conclusion
The 1inch network is still in its early days. Only time can tell if the project carves a niche for itself or even steals the spotlight from other more popular platforms. One thing is certain: the amount of work the team put to take 1inch off the ground certainly has to pay off.
Want to stay tuned to the 1inch news and other crypto-related content? Subscribe to our Twitter, Facebook, Reddit and Telegram and check out ChangeHero blog.
---
Learn more:
Quick links: