December is here, so it's finally time to start rounding up the year. For a start, we decided to see how the face of the cryptocurrency market changed in a year. Turns out, there was a lot to unpack and note! And so, we are going to share our findings with you, with a side of the author's predictions for the crypto assets.
The Top 10 Cryptocurrencies By Market Cap — 2021 and 2022
How did the top cryptocurrencies by market capitalization look a year ago (December 5, 2021, per CoinMarketCap) and now? Let's compare and see what changed and why.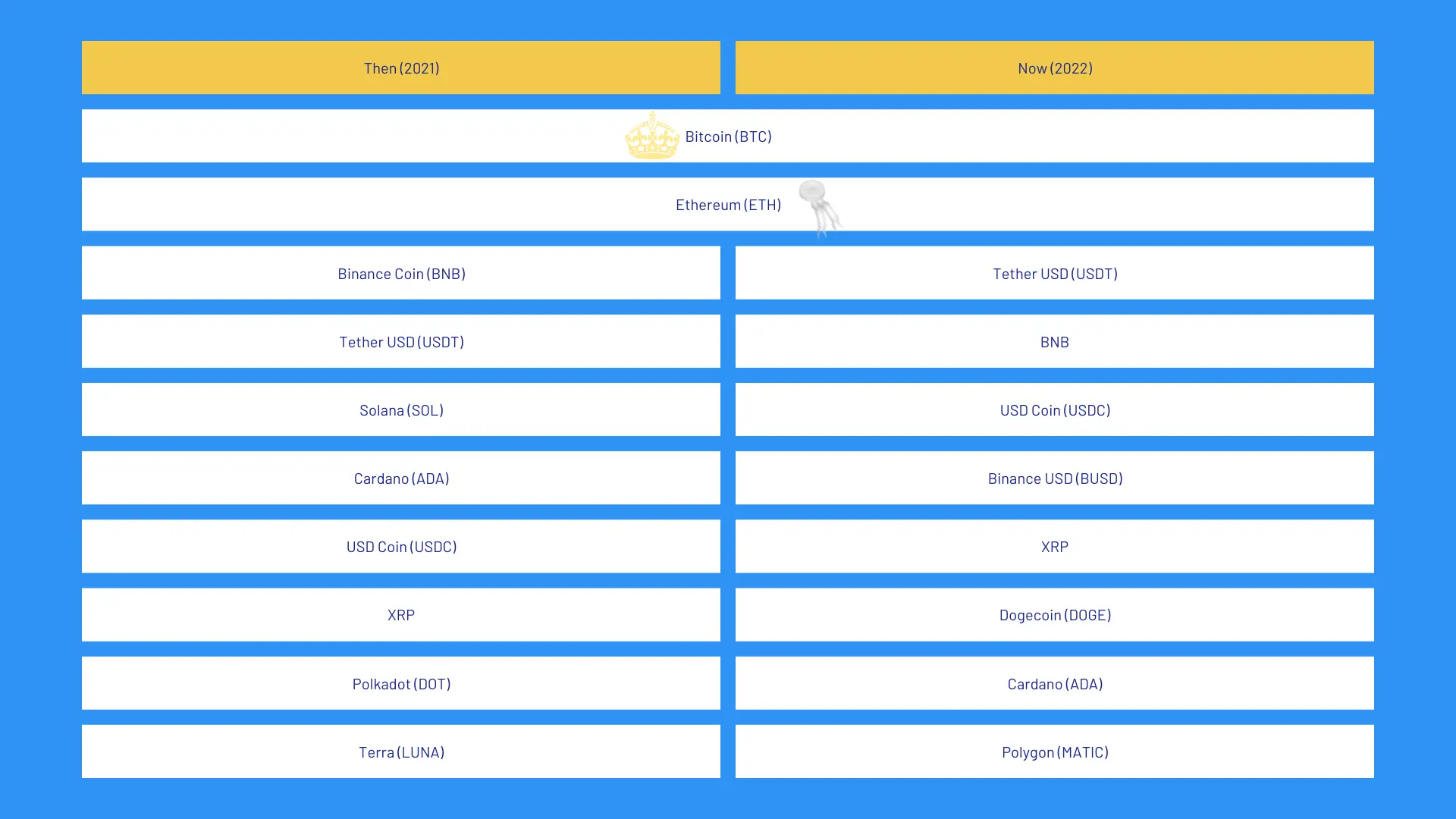 | | |
| --- | --- |
| 2021 | 2022 |
| Bitcoin (BTC) | Bitcoin (BTC) |
| Ethereum (ETH) | Ethereum (ETH) |
| Binance Coin (BNB) | Tether USD (USDT) |
| Tether USD (USDT) | BNB |
| Solana (SOL) | Binance USD (BUSD) |
| Cardano (ADA) | USD Coin (USDC) |
| USD Coin (USDC) | XRP |
| XRP | Dogecoin (DOGE) |
| Polkadot (DOT) | Cardano (ADA) |
| Terra (LUNA) | Polygon (MATIC) |
Bitcoin and Ethereum
BTC and ETH kept the first and second places by market cap respectively. Both had their fair share of events and significant blockchain updates.
Bitcoin Core finalized and implemented the Taproot upgrade. This is the second-largest update to the Bitcoin blockchain since SegWit in 2018. It did not cause a fork this time around but improved the privacy and cryptographic properties of BTC.
Ethereum went through a more significant and even unprecedented update: the Ethereum merge, another step toward ETH 2.0. It saw the consensus layer of the Ethereum blockchain merge with the Beacon Chain and transition to Proof-of-Stake. Anyone familiar with how blockchain works knows that consensus is one of the core properties of a cryptocurrency protocol, and changing it without causing a second of downtime is an incredible achievement. Another facet of the update's significance is its impact across the entire industry — you will see this event mentioned further in this article.
Stablecoins
The resurgence of stablecoins is natural on the bear market. Fewer crypto investors chase gains and choose to hedge against volatility instead.
Tether USD moved up by one position to third place, and USD Coin stepped up by two places. However, the most significant change is about Binance USD: from 16th rank it jumped up to 6th place. There is an apparent reason why. On September 29, Binance introduced Auto-Conversion for balances in "regulated" stablecoins (USDC, USDP, and TUSD) for BUSD. Needless to say, this feature alone has helped the stablecoin to gain $2B of market cap since the announcement.
What can be expected in 2023? This year, Terra's UST demonstrated that dollar-pegged stablecoins always being worth $1 is not set in stone. The largest by market cap tokens are not algorithmic like UST was but their reserves and legitimacy may be scrutinized more strictly after the Terra and FTX crashes. It's also worth keeping in mind that the US has had plans to regulate stablecoins for years, and 2023 looks like a fitting opportunity to bring it back on the table.
Polygon (15⬀10)
In 2022, Polygon scored partnerships with global brands such as Nike, Starbucks, Instagram, and Reddit. The household names picked the L2 for their proprietary NFT marketplaces. Earlier this year, it introduced support to USDT and USDC stablecoins, too.
It was not a perfect year by any means: Polygon faced some outages and criticism, too. Its bustling NFT ecosystem diminished, and Footprint Analytics speculate it happened due to a narrative shift. After the Ethereum blockchain merge, scaling layer-two solutions, among which Polygon had the first mover advantage, became less popular than so-called "Ethereum killers".
Nevertheless, MATIC managed to jump 5 ranks and enter the top 10 by market cap. Does it mean it is a buy for 2023? Right now and perhaps in early 2023, it is and will continue to be in a decent position, but the crypto market moves very fast, and there is a chance it will go out of favor as quickly. The major partnerships, however, have definitely made the side-chain's future more secure.
Dogecoin (11⬀8)
Elon Musk's favorite cryptocurrency has had an eventful year, too. More newcomers bought into the world's friendliest crypto due to its association with the billionaire. Search trends data shows that interest in DOGE grew when Musk completed the acquisition of Twitter in October.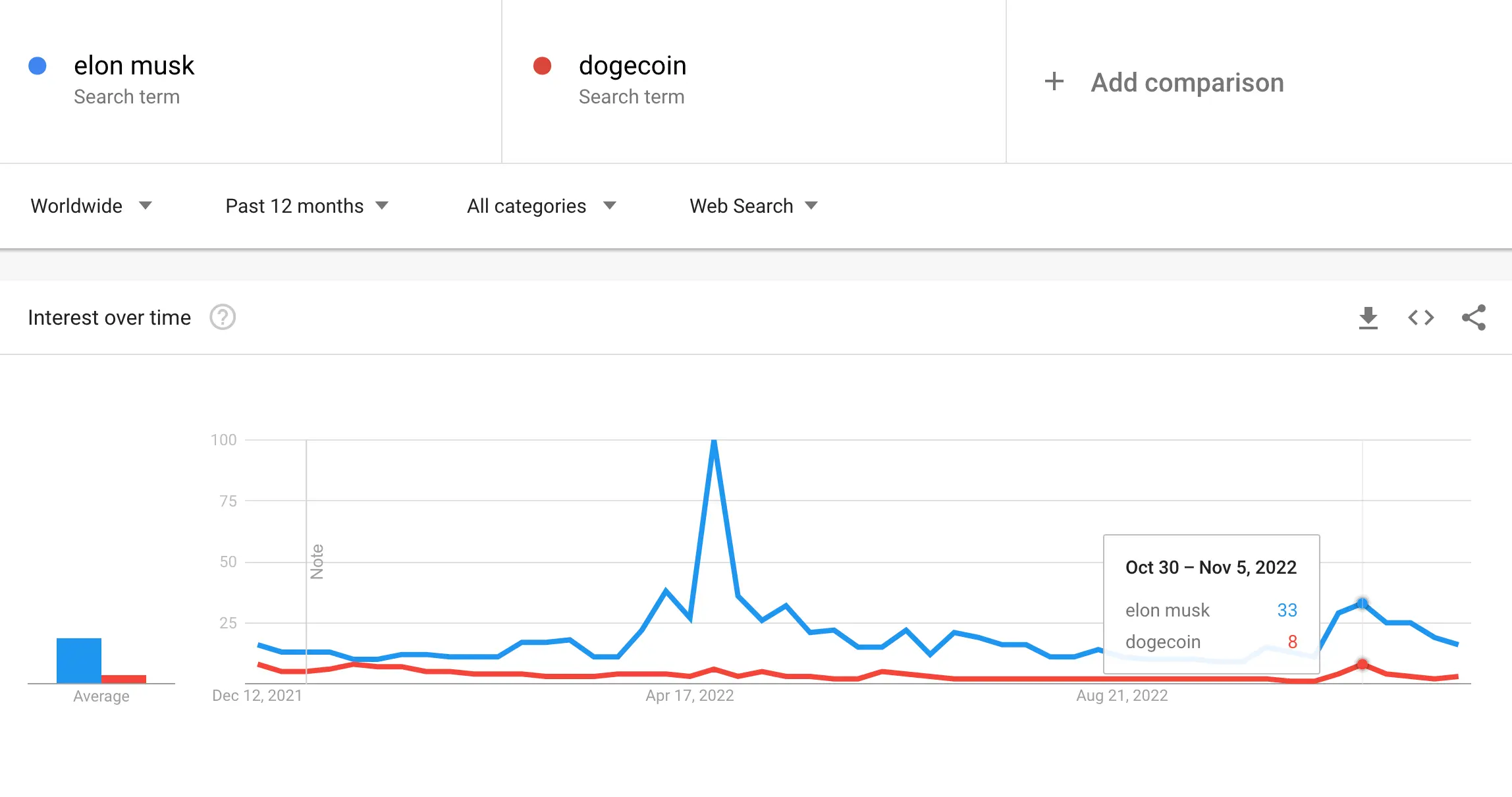 Another reason, which is less obvious, is the Ethereum merge. After the update, Dogecoin became the second largest proof-of-work cryptocurrency, attracting more miners.
Will Dogecoin reach new heights in 2023? The two arguments above are at odds with each other: improving blockchain technology will certainly help DOGE build up. At the same time, Elon Musk can't pump it forever, and the DOGE cryptocurrency prices will depend to some extent on how well he fares the next year.
XRP (8⬀7)
For XRP holders, 2022 was not as fruitful as they might have hoped. The Ripple vs. SEC case is still ongoing with varying success, although the crypto company has been posting cautiously optimistic updates.
The move a rank up looks to have happened because of the competition (Solana and Cardano) losing their market share. Going forward to 2023, XRP holders may expect to finally see the end of the legal battle and more clarity regarding the asset.
BNB (3⬂4)
Since February 2022, Binance Coin is no longer officially called this, ditching the label associated with the largest crypto exchange in favor of its ticker symbol. Funnily enough, BNB received a new disabbreviation — bet you wouldn't guess it stands for "Build 'N' Build". The Internet, however, remembers everything, and BNB is still colloquially called by its former full name.
The asset had an eventful year, too: an SEC probe, its own The DAO moment, and cooperation with the Kazakh government. Despite it all, although it registered losses under the influence of the general market trend, BNB suffered significantly less than BTC and ETH. And going into 2023, it doesn't seem that the situation will drastically change — BNB still has the backing of Binance, regardless of the new name.
Cardano (6⬂9)
Like Bitcoin and Ethereum, Cardano made several important updates to the blockchain and a few more steps along its ambitious roadmap. It helped launch its first decentralized applications and NFTs just in time for the craze. Why did it slide down in the ranking, then?
Cardano appears to be more underrated than undercooked. The startup 3air brought attention to the lack of developers knowing Haskell, a programming language of this blockchain platform. Mark Cuban told Altcoin Daily that Cardano still lacks in usage in comparison to its competitors. These cases show that despite having healthy development and major shocks, low demand drives the cryptocurrency prices and market cap down.
Will 2023 look better for ADA? Perhaps yes, because the latest data suggests that NFTs on Cardano are picking up momentum.
Polkadot (9⬂11)
By the end of 2021, Polkadot looked a lot like today: a respected crypto project that predictably shipped updates and did its job. It has not been a hype-generating machine for a while now.
The crypto community at large remembered Polkadot on a few occasions: when Gavin Wood donated $5.8 million in DOT to Ukraine, and when he stepped down as a Parity CEO. Parachain auctions, which were launched in late 2021, brought forth expected results, both positive and negative. Acala Network suffered a mint exploit and aUSD depeg, while other builders on parachains raised noteworthy investments.
What does 2023 hold in store for DOT? Our guess is the same thing as Cardano: business-as-usual unless Polkadot delivers a killer app.
Solana (5⬂15)
Solana has been doing exceptionally well in 2021 and in the good part of 2022. It enjoyed the expansion of the ecosystem, as well as attention from institutional investors. What went wrong and caused it to fall out from the top?
The outlook stopped being so bright as soon as the crypto market turned to the downside. NFT volumes and demand plunged, and outages started to happen more and more frequently. At one point, an exploit of a SOL wallet had been reported as a blockchain-wide vulnerability due to affecting 5,000 wallet addresses.
However, the FTX collapse not just added insult to injury: since Alameda Research had a considerable position in SOL, traders dumped the token as soon as the fallout between CZ and SBF started. As the situation unraveled, SOL's price went down from $37 to $12.62, together with its market capitalization.
Can Solana go back up in 2023? There is a decent chance of it. NFTs on Solana are as hot as ever, and now that Ethereum and SOL are both PoS, the competition between them became even tighter.
Terra (10⬂39)
Finally, an asset that is most likely on the crypto community's naughty list. Not surprisingly: the Terra crash was one of the most impactful events of 2022 in crypto.
Even after it, a part of the LUNA holders refused to let go and kept the bags. The founder of Terraform Labs Do Kwon, who is on an international wanted list, forked the blockchain. The former are now Terra Classic (LUNC), which is on rank 39 in the top of cryptocurrencies by market cap. The latter, LUNA 2.0, is 122th as of the time of writing, which goes to show how irreparably Kwon's reputation is damaged.
Conclusion
2022 has been a challenging year for the cryptocurrency market: plenty of total value lost over time, as well as in several shocks. Nevertheless, legitimate cryptocurrency projects are still standing, ready to head into the next year. Who knows how the face of the crypto world will change in a year? It would be exciting to see.
If you don't want to miss it, come visit our blog once in a while! Feel free to follow our pages on social media: Twitter, Facebook, Reddit, and Telegram for daily updates and bite-sized content.
Learn more:
Quick links: