In general, DeFi tokens on the monthly charts do well, and Synthetix is flashing the most attractive green of them all. Recently, the protocol for trading synthetic derivatives on-chain has been in the crypto news for bullish reasons only. Let's get down to the causes of this market sentiment and check out what kinds of Synthetix (SNX) price prediction experts give.
Synthetix Price Predictions 2022–2030
| Year | Price, USD |
| --- | --- |
| 2022 | $1.471–7.226 |
| 2023 | $5.06–8.69 |
| 2024 | $6.68–7.88 |
| 2025 | $8.02–18.12 |
| 2030 | $41.138–123.37 |
In the SNX price prediction 2022, the price maximum will not exceed this year's maximum price of $7.7. According to the Synthetix price prediction for 2030, SNX's price can reach new record highs.
What is Synthetix?
Synthetix Network is a DeFi (decentralized finance) protocol for trading so-called Synths — tokenized derivatives of other assets, such as cryptocurrencies and real-world stocks and commodities. The network includes a decentralized exchange to trade the synthetic assets, as well as contracts for minting them. Therefore, you do not need to own the underlying asset to trade it with synthetic derivatives, and on Synthetix there are no intermediaries except for the smart contracts.
To back the value of the derivatives and make them liquid, minting requires to lock in a collateral in the network's native token SNX. Essentially, SNX represents the debt that is backing all synthetic assets on the platform. This token also enables staking to secure the protocol. You can learn more in depth about Synthetix Network and SNX in our Beginner's Guide.
Synthetix (SNX) Price History
SNX Price in 2018–2019
The protocol's native token started being traded on the crypto market in 2018 and was worth 40 to 60 pennies, reaching $0.69 during the bear market rally in May 2018. The exit out of the crypto winter of 2018–2019, when the average price of SNX sank below $0.1, was spectacular for the SNX price as it soared to $1 and above. SNX token closed 2019 at $1.22.
SNX Price in 2020–2022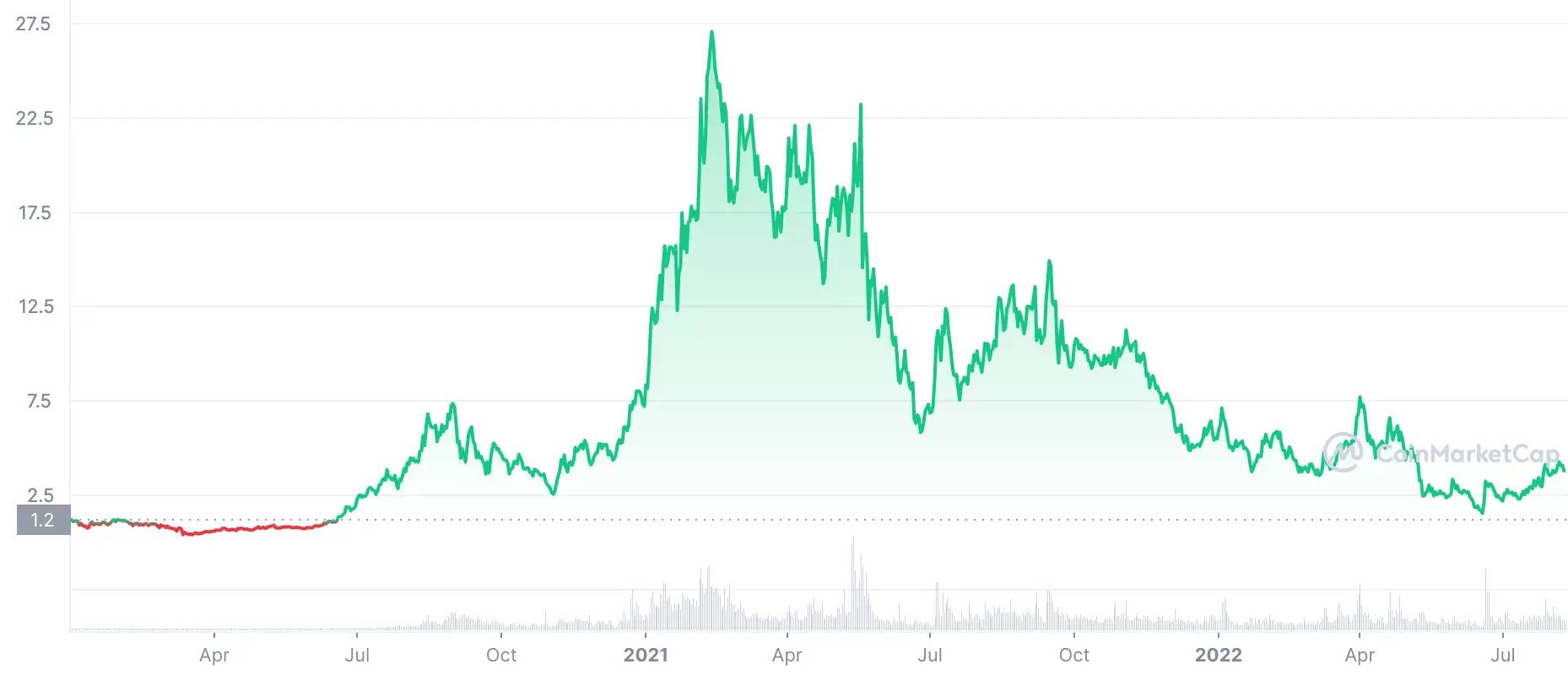 2020 was off to a healthy start but the start of the COVID-19 pandemic brought it back down together with the crypto market to $45 in March. Fortunately, by June it started going upward, first reaching $7.32 in August and then syncing with the Bitcoin bull run. For SNX price it culminated at the current ATH of $28.77 on February 14, 2021.
Since then, a long-term correction has started but occasionally SNX price would go against the overarching trend. In April 2022, SNX scored this year's high at $7.7. At the moment of writing, the current price of SNX is $3.81 and by its market capitalization it ranks 88th on CoinMarketCap.
What Influences the Price of SNX?
Protocol Updates
As of now, Synthetix exists in two versions: on the Ethereum blockchain and the Optimism side chain. Optimism (OP) is a layer-two scaling solution for Ethereum which uses Optimistic rollups to bundle transaction info and secure it on the Ethereum main chain, achieving better throughput.
OP Synthetix integrates with other protocols that also use this L2: spot and derivatives DEX Kwenta, Uniswap and Aave. Meanwhile, L1 Synthetix got integrated with the 1inch DEX aggregator. Despite the two networks developing in parallel, the team is considering their merger in a more distant future.
Further Development
A newer roadmap for Synthetix also boosted user confidence and the SNX price action. According to it, Synthetix v3 is slated for release later this year and will include Liquidity-as-a-Service and permissionless tokenization. Another significant update set to ship is sUSD Synth Bridge, which will essentially make it a stablecoin issued on the Synthetix platform.
SNX Tokenomics and sUSD
The way SNX works is staking incentivizes locking down the SNX tokens, decreasing the liquid circulating supply. In addition to distributed inflation, stakers receive a share of fees collected by the protocol. Increasing rewards thanks to 1inch and Kwenta trading put buying pressure on the SNX token price.
Synthetix on Twitter
$SNX blew up in the last few weeks, what's going on there and why @synthetix_io is a revenue machine:
🧵👇 pic.twitter.com/E2Je9iHpVz

— CryptoPepe🦇🔊 (@PepeOnDrugs) August 2, 2022
User Crypto Pepe made a thread on the Synthetix network and its integrations which highlights the many ways to use the protocol.
$SNX

Pulled back to the $3.4 level.

I think if it does another HTF leg (which is what I think is likely), we could see it go to the $5.5 mark.

Longed some down here and might add on the reclaim of local high (red). https://t.co/5I4jpDhpKB pic.twitter.com/D8uXP6BtcK

— Livercoin (@Livercoin) August 1, 2022
Trader Livercoin comes in with an update to a short-term bullish SNX price prediction.
Snagged a bag of $snx, here's why.
- Solid #defi #crypto coin
- Top traded and held coin by top whales
- Jump VC hopped on board
- Huge staking rewards
- Thanks to optimism it is gaining real traction finally
- Integrating atomic swaps for synths in Curve Finance

— Lark Davis (@TheCryptoLark) August 8, 2022
Influencer Lark Davis posted some words of appreciation for Synthetix. It's got whale and VC backing, traction and cross-protocol utility — in his opinion, all solid arguments in favor of owning SNX.
SNX Price Prediction 2022
CryptoNewsZ confidently assumes that by the end of 2022, Synthetic price can still land in the range of $4.18–5.70. Using technical analysis of multiple indicators, TheNewsCrypto provides their own Synthetix price prediction. Considering that the RSI value points at SNX being overbought, traders need to watch the support levels at $2.207 and $1.471 more closely than resistances at $4.862 and $7.226.
SNX Price prediction for 2023, 2024
CoinCodex uses an unconventional tool to forecast: they project performance history of other assets and provide a hypothetical scenario in which Synthetix follows the same growth patterns. Therefore, if SNX price follows the same growth trends as the Internet, by 2023 it will reach $5.06. If we change the pattern for Facebook, it is expected to arrive at $8.69 in the same period. TechNewsLeader combines several methodologies, and in the resulting Synthetix price prediction for 2024 the average price of Synthetix network token is $6.68 with the maximum price for the time being $7.88. 
SNX Price Prediction for 2025 
2025 is sooner than we might expect — at least, the moderate forecast from Captain Altcoin seems to imply that. They don't see Synthetix price exceeding $8.02 even by then. In the Synthetix price prediction by CryptoNewsZ we mentioned above, their expectations from SNX in 2025 are only slightly higher: $9.09. Probably the most bullish long-term forecast comes from PricePrediction.net — $10.30 is the absolute minimum of their expectations, and the maximum is $18.12.
SNX Price prediction for 2030
And for completeness' sake, let's try to peek into as far as the end of the decade. For instance, AMBCrypto expects a future bullish trend and mentions a range between $41.138 and $58.611 — finally, a new ATH! PricePrediction.net goes further and claims by 2030 Synthetix price can be anywhere from $70.74 to $123.37.
How to Get SNX With ChangeHero?
Did we pique your interest with this article? If you want to buy Synthetix (SNX) with other cryptocurrencies, it's very easy to do on ChangeHero — follow these simple steps!
Provide

Choose the currencies on the home page, amounts and the type of exchange. Provide your wallet address in the next step and check the amounts

Check

Double-check the provided information, read and accept the Terms of Use and Privacy Policy

Send

Send in a single transaction the sum of cryptocurrency you will be exchanging. Fixed Rate transactions have a 15-minute limit

Relax and receive

All done? Now we are doing all the work: checking the incoming transaction and doing the exchange as soon as it arrives. 
The Best Rate transactions will use the rate current to the time when your funds arrive. The Fixed Rate will use the rate at the time of step 1
As soon as the exchange has been processed, your SNX are on the way to your wallet. The customer support is available 24/7 in the chat on the website or through the email: [email protected]. 
Conclusion: Synthetix Price Prediction by ChangeHero
Rounding up the Synthetix (SNX) price predictions from all sources, the odds of Synthetix price overtaking its 2021 bull market peak in the nearest future are slim. However, it wouldn't be the crypto market if it didn't defy all expectations, and with ongoing developments at team Synthetix, the future looks more than bright.
You can find more articles about Synthetix in our blog or useful posts in our Twitter, subreddit, Facebook and Telegram. Check them out and subscribe!
---
Frequently asked questions
Does SNX have a future?
Synthetix has solid plans formulated in the roadmap, a bustling community and decent prospects. For now, the future of SNX looks secure
Is Synthetix (SNX) a good investment?
Most reviewed opinions consider SNX to be a safe investment but not one that will yield huge returns. Any cryptocurrency should be considered a high risk investment.
What is SNX worth in 2022?*
At the moment of writing, the current price of SNX is $3.81. Different sources name targets between $1.5 and $7.226.
---
Disclaimer
This article is not a piece of financial or investment advice. No price prediction is guaranteed to provide exact information on the future price. When dealing with cryptocurrencies, remember that they are extremely volatile and thus, a high-risk investment. Consider investing in cryptocurrencies only after careful consideration and your own research and analysis.
---
Learn more: