Ethereum congestion is easing up, but NFTs are about to sweep it up again. Bitcoin secured a range and now is in the black again. What other crypto news happened this week? Like every Friday, we are ready to round them up for you in the weekly crypto digest.
ChangeHero Updates
Zero-fee exchanges of OMG Network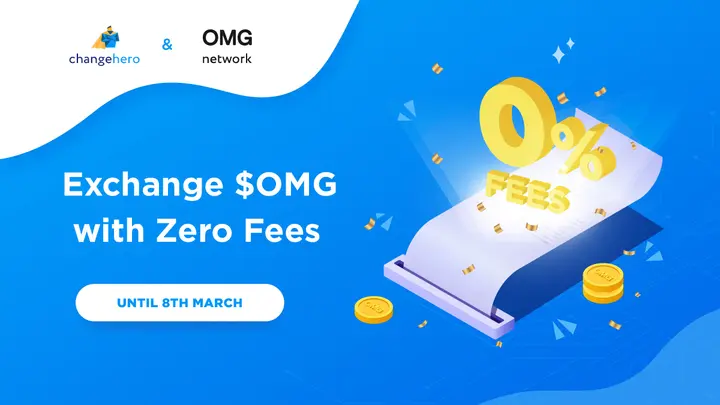 This week, we offer a special discount with OMG Network. Exchanging OMG with Best rate is free! The offer lasts until March 8, so you can still enjoy the discount during the weekend.
Latest Crypto News
Bitcoin Digest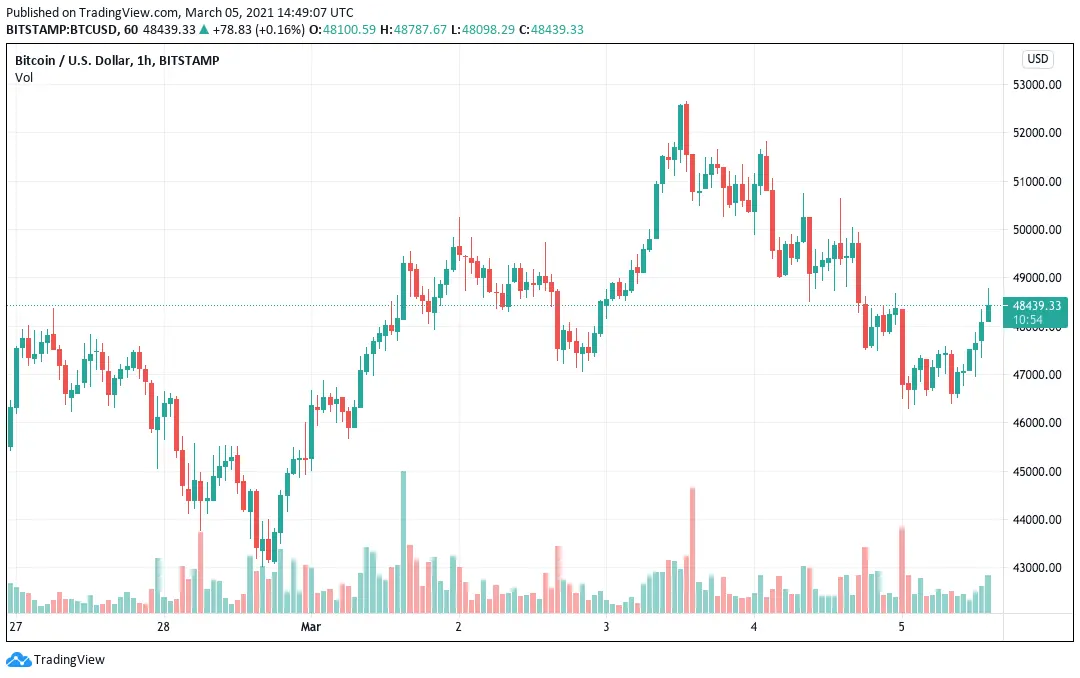 After a bearish week, these past seven days were more balanced. The bearish pressure persisted through the weekend, when the local low of $43,000 was reached. The week started with the comeback of buyers, and they managed to push BTC up to $52,597 on Wednesday. There it was rejected, and it is back to the range near $48,000.
Is Bitcoin a good buy right now? The newest Bloomberg report suggests so. Their March target is $100,000 because of selling that took place in late February.
Altcoin News
In Ripple news, Ripple Labs has prepared a reply to the amended complaint from SEC. In it, they offset the claims and accuse the SEC of damaging the holders of XRP. Meanwhile, the company announced piloting a private version of XRPL for central banks.
Finally, some good Ethereum news about gas! The pullback caused Ether and Bitcoin fees to lighten up and get cheaper. Surprisingly, this has nothing to do with Ethereum price, as it is actually rising.
Business Crypto News
Speculation about new Grayscale trusts was up in the air for a while. On Tuesday, they registered four new trusts: Flow, The Graph, Reserve Rights and Numeraire. Just a day later, Huobi obtained a fund license to establish similar trusts for Asian investors.
PayPal revealed plans to expand the crypto-related options for the service users beyond "buy, sell, hold". The payment processor will develop a "super app" for payments, shopping, financial services and digital ID.
Crypto News on Adoption
NFTs are truly breaking into the mainstream. Canadian performer Grimes held an auction for their artwork and exclusive singles. Winning bidders paid from $11,000 to $80,000 for the tokenized artwork.
Reno, Nevada mayor Hillary Schieve joined the ranks of crypto-friendly mayors. The city hopes blockchain and DAO will help solve major travel-related pain points caused by the festival Burning Man. Their blockchain of choice is Tezos, which is scalable, fit for tokenizing and DAOs and sustainable in the long term.
Crypto News on Regulation & Politics
Turkish finance ministry and local regulators are studying the cryptocurrency sector in an attempt to provide clear regulation. Turkey has one of the highest degrees of crypto adoption in the region. The first direction lawmakers are expected to move in is consumer protection.
Blockchain Association has planned a meeting with the US administration to vouch for more friendly crypto legislation. Some officials like Treasury Secretary Janet Yellen still take a hostile stance toward Bitcoin. The group hopes to convince the new administration of the value of crypto networks.
Crypto Twitter Digest
pls delete

— Hayden Adams 🦄 (@haydenzadams) March 4, 2021
Uniswap v3 confirmed? Of course, the exchange between Cronje and Adams can be just a joke, but UNI buyers became more active.
Us old-timers have learned that whenever @GoldmanSachs enters a market niche it is time to guard your money. $BTC pic.twitter.com/tHfRkS4igb

— Peter Brandt (@PeterLBrandt) March 1, 2021
Legendary trader Peter Brandt reflected on the crypto news about Goldman Sachs entering the scene from last week. Trading for more than forty years, he observed that the fact isn't as positive as initially perceived.
March 3, 2021
A newly created Twitter account Burnt Banksy came to be as a result of a unique art performance. The group bought out the print of contemporary artist Banksy's "Morons", tokenized it as NFT and burnt it.
Influencer of the Week
My favorite response:

"We very, very much need such a system, but the way I understand your proposal, it does not seem to scale to the required size." -- James A Donald ⚡️⚡️⚡️ — elizabeth stark (@starkness) March 2, 2021
Elizabeth Stark is the co-founder and CEO of Lightning Labs. She is not too active on Twitter but you can often hear her in interviews, podcasts and recently, in Clubhouse. Stark will always passionately talk about all things Bitcoin and Lightning Network with a level of understanding not many have.
Top Crypto Digest
At the moment of writing the crypto digest, the general market stats are:
Total Market Cap: $1,444,108,501,021 (+3,22%);
BTC Dominance: 60.32%.
7d Top Coins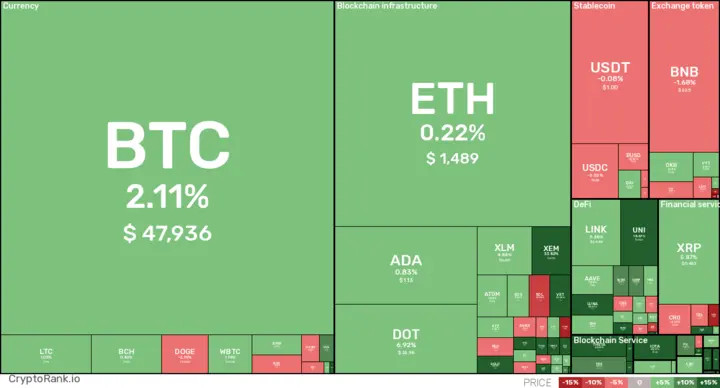 At the moment of writing this crypto digest, the 7-day change of the top currencies is as follows:
Gainers of the Week
Which cryptocurrency will explode in 2021? Here are the top-three blowing up at the time of writing the crypto digest:
Key Takeaways
In Bitcoin news, the positive outlook and bullish targets are being discussed again. The positive sentiment is back and the price is in profit. Current range is $47,000–49,000;
In a few days, American crypto lobbyists from the Blockchain Association will meet with the administration. Their goal is to convince the officials of the value provided by crypto networks;
The pullback caused the volumes on DEXes and DeFi protocols to go down, and so did the ETH gas fees. However, the influx of NFT minters and buyers can cause the gas to climb back up again. The other day, singer Grimes sold ten artworks to bids from $11,000 to $80,000;
Top currencies on the market followed Bitcoin and are trading in the green. Some notable exceptions are UNI, CELR and OGN, which are all DeFi protocols. These currencies decoupled from Bitcoin because of unrelated crypto news.
Conclusion
This week had less resounding stories but some of the news set the market up for dramatic moves.
Check out our blog next week for the next weekly crypto news digest. Can't wait a whole week? Follow the news on our Twitter, Facebook, Reddit and Telegram.
---
Quick links: