We are back with a fresh set of cryptocurrency news. Lots of things happened this week from Bitcoin correction to the Turkish exchange alleged scam, we covered everything. Wait no more and dive in.
Key Takeaways
Bitcoin fell below $50,000 for the first since March and dominance dropped to 50.82% lowest since April 2019;
Ethereum registered a new all-time high of $2,645.14 on April 22, 2021;
Venmo supports buying and selling of Bitcoin, Ethereum, Bitcoin Cash and Ethereum. But, crypto cannot be sent to another account on Venmo.
Latest Cryptocurrency News
Bitcoin Digest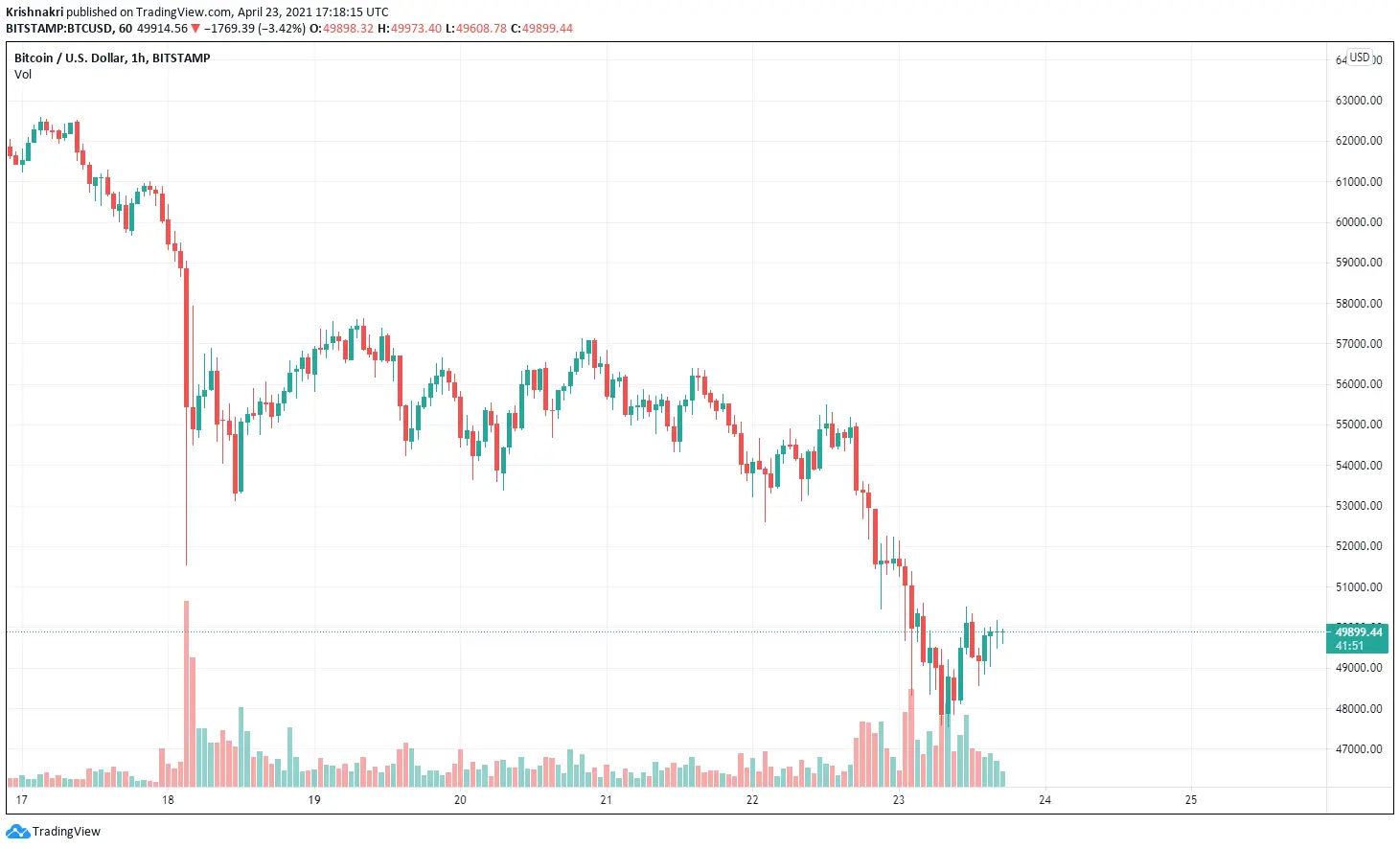 For the first time since March, Bitcoin fell beneath $50,000 and slipped below the 50-day moving average (MA). Wondering why is crypto dropping? The reason might be the capital gains tax proposal by U.S President Joe Biden. The current lower support is at $42,000.
Is Bitcoin going to crash? Fundamentals show that it's a technical correction and BTC will go up again.
Bitcoin News
This week, all the Bitcoin news is about the drop. But there's one more important thing to notice. Bitcoin dominance has dropped to 50.82%, the lowest since April 2019. This indicates that Altcoins are gaining traction in the community.
Let's check some of the most interesting cryptocurrency news about Altcoins in the next section.
Altcoin News
First things first, Ethereum reached a new all-time high (ATH) of $2,645.14 on April 22, 2021. The top-altcoin corrected immediately following the Bitcoin price crash but experts suggest the long-term trend is bullish for ETH. If you are thinking about which coin to buy today, ETH will be a good addition to your portfolio.
Next, Tether's USDT is listed on Coinbase Pro on Thursday. Currently, only ERC-20 USDT which is running on the Ethereum blockchain will be supported by the exchange.
In other cryptocurrency news,  Chainlink published a new version of the white paper titled, 'Chainlink 2.0 and the Future of Decentralized Oracle Networks'.
Tech Cryptocurrency News
More of Bitcoin news but related to tech. Cryptocurrency exchange, OKEx now supports Bitcoin's Lightning Network. OKEx users will be able to use Lightning Network for both BTC deposits and withdrawals.
Nvidia is about to launch its new graphics card RTX 3080 Ti soon. Leaked screenshots of the GPU mining Ether show a hash rate of 118.9 Mh/s which is very impressive. Upon the release, mining enthusiasts may consider picking the GPU.
Ripple co-founder Chris Larsen argued in a blog post that Bitcoin contributors should consider moving away from Proof-of-Work (PoW) consensus mechanism. He cites the carbon emissions from Bitcoin transactions and says that the topic is "worth a serious discussion". Chris Larsen also mentioned Ethereum shifting to Proof-of-Stake (PoS) algorithm.
Business Cryptocurrency News
Turkish cryptocurrency exchange Thodex abruptly stopped trading on April 20, the website was inaccessible and the CEO's Twitter account was shut down. The alleged $2 billion exit scam is affecting over 391,000 users. Turkish police detained 62 people and announced a probe into the matter.
The United States Marshals Service (USMS) published a contract that it chose BitGo to manage Bitcoin which was seized from criminal activities. The contract is worth over $4.5 million and the length of the contract was not disclosed.
Cryptocurrency News on Adoption
On Tuesday, Venmo announced that it supports cryptocurrencies. The wallet application users can buy and sell Bitcoin, Ethereum, Bitcoin Cash, and Litecoin. However, users will not be able to send cryptocurrency to other Venmo accounts.
Cryptocurrency trading platform Gemini released The State of U.S. Crypto Report that gives insights about the market. Amongst the 3,000 respondents, 63% identified themselves to be interested in crypto. Also, the study found that more women are interested in investing in crypto than men.
Cryptocurrency News on Regulation & Politics
Seoul government seized over $22 million in cryptocurrencies from individuals who failed to pay taxes. The officials confiscated the crypto from 676 people who were holding their assets in three exchanges.
Once again, China is in the cryptocurrency news for its new Regulations on Preventing and Handling Illegal Fundraising. The new set of guidelines added illegal fundraising in the name of blockchain and cryptocurrencies as a punishable offence.
While some institutions are adding crypto to their balance sheet, UK's NatWest bank is going against adopting crypto. NatWest bank announced it refuses to serve any customers associated with cryptocurrencies. The decision also affects the corporate clients of the bank like WeWork and Tesla.
That's all in news for this week. Let's find out what Crypto Twitter is talking about.
Cryptocurrency News on Social Media
Video of the Week
Can someone take down Bitcoin with $7 billion? In this video, Andreas Antonopoulos answered this question. Check it out and find out the answer by yourself.
Top Crypto Twitter Posts
True

— Elon Musk (@elonmusk) April 22, 2021
Square crypto released a white paper proposing a green grid in which solar/wind energy sources and bitcoin mining co-exist. While Twitter's CEO Jack Dorsey shared the tweet saying, "#bitcoin incentivizes renewable energy", Elon Musk agreed to it.
Today #Chainlink celebrates it's 500th integration! 🔥

The recent announcement of @GAUGECASH upgrading its existing oracle solution to Chainlink, pushes us firmly over the line. There's only one oracle solution. 500 projects chose Chainlink. Will you?#4IR #PoweredByChainlink https://t.co/r29k2zcPWl pic.twitter.com/EpB480mBaT — TheLinkMarine 2.0 🦆 (@TheLinkMarine1) April 21, 2021
Apart from the release of the new whitepaper, chainlink has another great news for their community.  Twitter user @TheLinkMarine1 shared that Chainlink completed its 500th integration on April 21, 2021.
Guess what day it is? #DogeDay. Tomorrow? #DogeDay420 😎 (not an actual Snickers pack, just a cool #doge gif) pic.twitter.com/9GAeFsRJU9

— SNICKERS (@SNICKERS) April 19, 2021
Dogecoin community celebrate April 20th (420) as DogeDay. The chocolate bar brand Snickers quickly got on the trend and tweeted about it. Another brand Milky Way wished Dogecoin rise to the milky way and not just the moon.
Influencer of the Week
Ok can you guys stop selling?#Bitcoin pic.twitter.com/2howjeqRIi

— Inmortal technique (@inmortalcrypto) April 22, 2021
Inmortal technique shares easy to digest cryptocurrency trading signals. Though you will see mostly about Bitcoin, Ethereum and Litecoin, they do share insights about other cryptos as well. Give them a follow!
Top Crypto Digest
Tough week for the market, everything is in red.
At the moment of writing, the general market stats are:
Total Market Cap: $1,839,099,721,019 (-11.19%);
BTC Dominance: 50.55%.
7d Change in Top Coins
At the moment of writing, the top cryptocurrencies are as follows:
Gainers of the Week
Despite the market going through a correction, some altcoins managed to have gained. At the time of writing, the following altcoins saw the largest gains:
Which crypto to buy today? It seems like Solana and Maker would be a good choice, but always DYOR.
Conclusion
This week, we saw some of the most noticeable drops in the market after a few months. We believe that it's a correction and Bitcoin will go up with full force soon. What do you think? Let us know in the comments.
Also, subscribe to our blog, we publish content every week and follow us on Twitter, Facebook, Reddit and Telegram to be the first to get notified.
---
Quick links: