Our weekly crypto digest is here! ChangeHero team is going to give you a brief update on our progress before looking at the hottest crypto news and stories from Twitter, as well as price change of top cryptocurrencies.
ChangeHero Updates: New Tokens
This week we enabled three new currencies on ChangeHero:
Basic Attention Token (BAT). While it was available for purchase and selling with fiat currencies, it is now available for trading against all the assets supported on ChangeHero;
Populous Protocol Token (PPT). It powers a platform that connects invoice sellers with enterprise clients;
Augur (REPv2). This Ethereum token powers the Augur prediction market, and recently has been upgraded to v2.
They are now available to all users and can be traded against any other currency supported by ChangeHero.
Next, we will cover the most interesting news from the world of crypto in a short crypto digest.
Latest Crypto News Highlights
Bitcoin News
On Wednesday, Bitcoin was trading at $11,000 mark for the first time in two weeks;
This is at the same time the Bitcoin futures volume on an institutional exchange Bakkt hit a new record. This indicates the growth of interest from institutional investors and large enterprises.
Blockchain & Tech News
A pull request to start migration to Ethereum 2.0 has been submitted to the official repository. This means that as soon as the rest of the core developer group approves this pull request, Phase 0 of Ethereum 2.0 which introduces the Proof-of-Stake will be ready to hit mainnet.
News on Crypto Adoption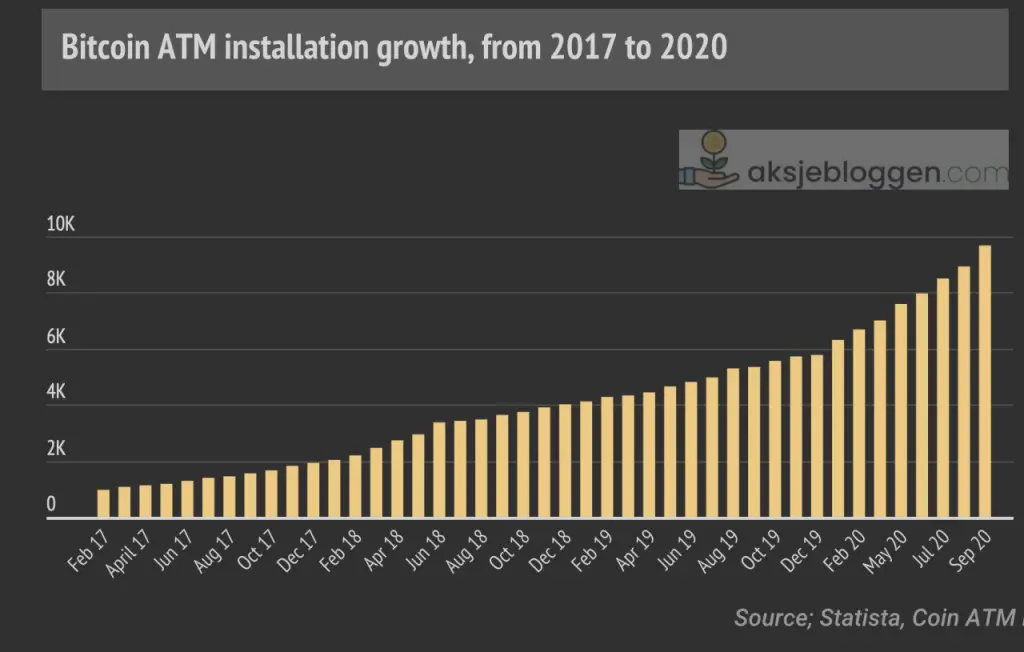 Bitcoin and crypto ATMs worldwide exceeded 10,000 units; 
Kraken received a banking license in the state of Wyoming, US. This will help them to set a precedent and pve the way for other enterprises to provide the same services legally;
The Bahamas are ready to launch their CBDC as soon as in October. The "Sand Dollars" will be pegged to the Bahamas dollar 1:1, like most popular stablecoins. This will become the first nationwide official launch of a CBDC in the entire world.
DeFi News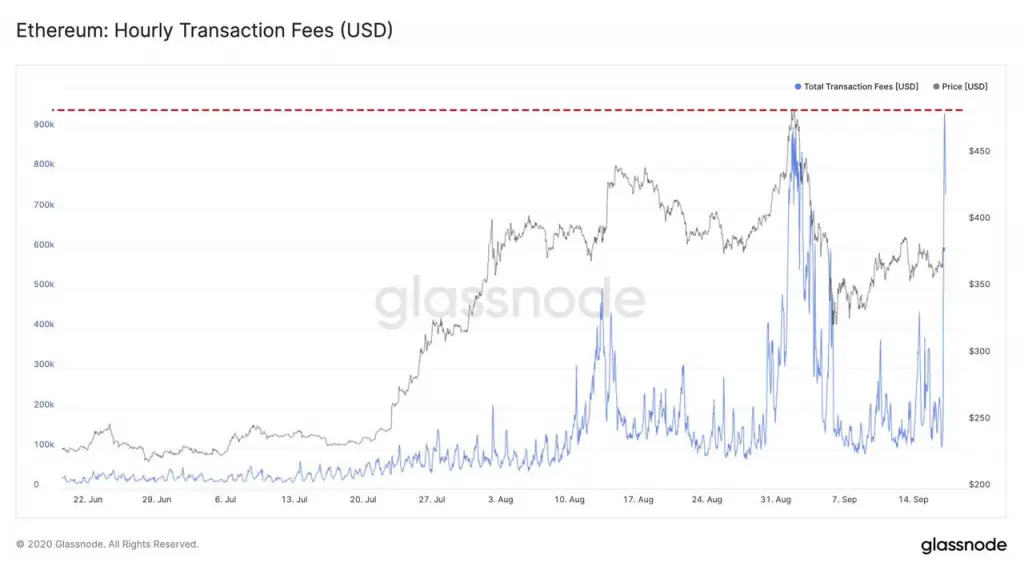 Uniswap launched the UNI governance token. Within hours, it drove the transaction fees on Ethereum to a new record (700 Gwei, chart above). Now it is already one of the Top-30 assets in the CoinMarketCap rating.
Lots of stories and news start on Twitter. What was Crypto Twitter talking about this week? See in the following section of our crypto digest.
Crypto News from Twitter
I have returned all the $14M worth of ETH back to the treasury. And I will let the community decide how much I deserve as the original creator of SushiSwap. In any currency (ETH/SUSHI/etc). With any lockup schedule you wish.https://t.co/QwFj5SeeuQ

— Chef Nomi #SushiSwap (@NomiChef) September 11, 2020
Chef Nomi, developer of Sushiswap, returned the assets they sold upon ceding the overseeing position in the project. Previously we reported on the outcry that their act caused, which could have even resulted in legal action. However, Chef Nomi proved to be the person who knows how to be accountable.
I will. I am. https://t.co/GQJMpDUYCH

— Gene Simmons (@genesimmons) September 15, 2020
Gene Simmons of the legendary rock band Kiss just tweeted this this Tuesday. Needless to say, Crypto Twitter got hyped?
Nice! How do you determine individual identities to prevent individuals from splitting their funds into many accounts to avoid being square-rooted?

— vitalik.eth (@VitalikButerin) September 13, 2020
Oh, by the way, if you needed more proof that Crypto Twitter can be crazy sometimes: after Vitalik Buterin tweeted this on Saturday, Pickle.finance actually pumped 1800% from $4.41 to $85.24 by Monday. This is not the first time a similar thing happened: in 2017 social network users spotted an OmiseGO sticker on Vitalik's laptop and the consequences were pretty much the same.
Use #DeFi projects at your own risk but if you do, at least make sure to user @Tether_to $USDt.

1M $USDt recovered and returned to the legitimate owner(s).https://t.co/dbbbaO3veb https://t.co/j3rkZtx12V — Paolo Ardoino (@paoloardoino) September 11, 2020
Another development in a story from the previous week: a user sent approximately $1 million USD to a contract address of Swerve protocol. Three days later, Tether managed to reimburse the user. Love it or hate it, Tether did something that wouldn't have been possible in other blockchains for various reasons.
Recap on 7d Market Change
At the moment of writing, the market's dynamics for the last 7 days are the following:
Total Market Cap: $338,611,291,090 (-0.32%); 
BTC Dominance: 59.96% (was 56.8%).
ChangeHero Top-10 7d Change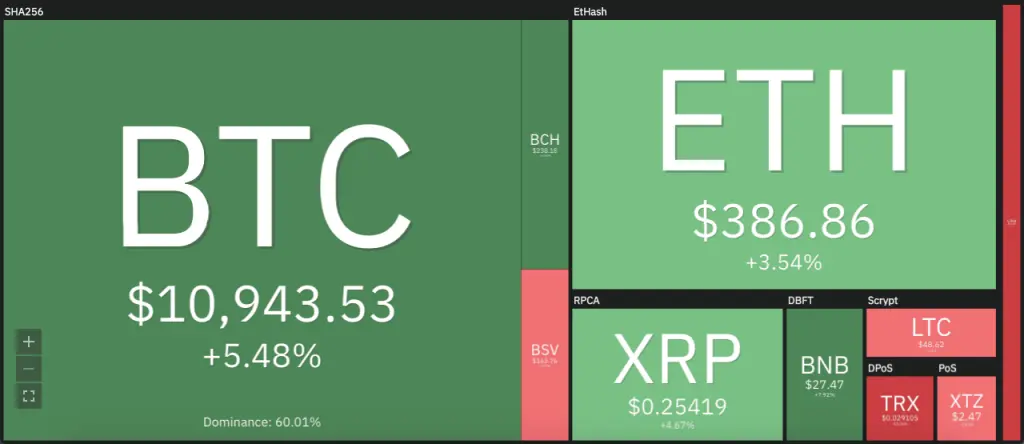 This week, the gainers and losers in the top-10 were split halfway: the top-5 is trading in the green, the other half — in red. In our top-10 we included cryptocurrencies that can be exchanged on ChangeHero. You can buy and sell some of them with your credit card, too. At the moment of writing, the 7-day change of the top currencies is the following:
ChangeHero Gainers of the Week
At the time of writing this crypto digest, the top three are:
Round-up
Those were the most important and interesting crypto news for the past 7 days. As always, we will keep watching the news and provide our insights on our blog, and you can see them on our social media pages too: Twitter, Facebook, Reddit or Telegram.
---
Learn more:
Quick links: