In just a few days, Crypto.com has become a household name even in the mainstream. The big news that propelled CRO into price discovery was the purchase of rights to name Staples Centre in Los Angeles. What CRO price prediction 2021, 2022 and further is given in the light of the news? Read our article to find out!
CRO Price Prediction 2021–2030
[table id=41 /]
The latest CRO price prediction 2021 in the light of the news forecasts that the rally can either take CRO above $1 or lead to a correction;
The CRO price prediction 2022 is also giving a wide range between the support just below the current price at $0.714 and $2.93;
By 2025, the CRO price can reach double digits. All predictions for 2030 are unequivocally agreeing with this.
What is CRO?
CRO is a native token for use in the Crypto.com Chain, a proprietary blockchain of the payments company Crypto.com. In the ecosystem of Crypto.com products, CRO can be used for discounted fees and payments with increased cashback. For example, by staking CRO with the Crypto.com app, users can receive passive income for helping secure the network. When using Crypto.com Pay app, you can opt in to receive up to 20% cashback for paying in CRO.
CRO Price History
CRO Price in 2018–2019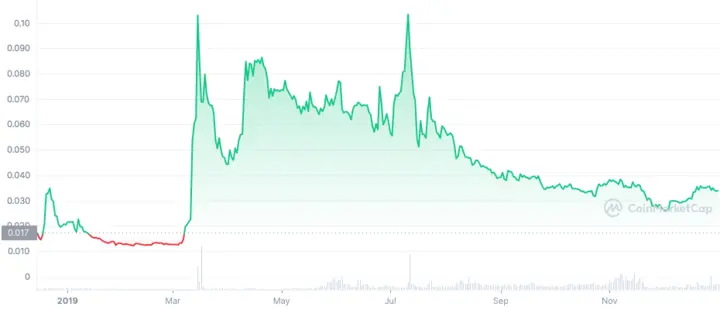 Monaco Technologies unveiled an ICO of an ERC-20 token Monaco (MCO) in June 2017. It was to be used in their new card and payments system, and the presale collected $25 million at the time. After acquiring the "Crypto.com" domain in 2018, the Monaco company rebranded to Crypto.com. In November 2018, ERC-20 token Monaco was discontinued, giving way to the native Crypto.com Chain coin (CRO) (the "Chain" was later dropped out of the title). CRO was distributed in an airdrop that required users to lock up their MCO from December 2018 to December 2019. Moreover, CRO would be distributed in sequential payments throughout the next five years. In Q2 2019, Crypto.com started the process of rolling out their crypto cards, to which the price immediately reacted. In less than a week, CRO shot up from the local bottom of $0.013 to a high of $0.10. While this helped decouple from the "crypto winter" trend of 2019, CRO was still in a downtrend and closed 2019 at $0.033.
CRO Price in 2020–2021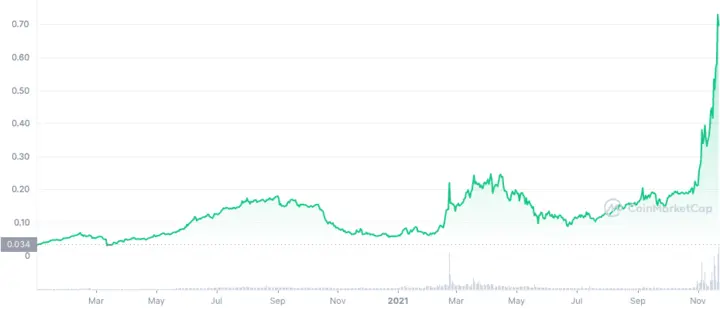 In 2020 forward, CRO was more in use due to the expanding lineup of Crypto.com products. By then, it stabilized and more or less followed the market-wide trends. For example, in early 2020, it started gaining traction but lost it in the March 2020 crash. By mid-2020, it gained more than previous highs and climbed to $0.17. These gains were lost, too, and 2020 closed at $0.059. By spring 2021 the Bitcoin's bull run helped CRO reach $0.2468. That growth paled in comparison to the second phase of the bull run when CRO reached the current ATH of $0.9436 on November, 24. The news that caused this parabolic growth is that Crypto.com reached an agreement with Anschutz Entertainment Group to rename the Staples Center. At the time of writing, the CRO price is $0.9041, and it climbed up to rank #12 by the market capitalization.
What influences the price of CRO?
Updates and Releases
As seen with the rollout of Crypto.com cards in 2019, releases and updates can launch the price of the native coin vertically up. More recently, smart contract platform Cronos onboarded Crypto.com Chain to its mainnet. Crypto.com will help wrap assets like BTC, ETH, CRO and stablecoins for use in the Cronos DeFi ecosystem.
Awareness Campaigns
Crypto.com are known for their outrageous deals for the sake of brand awareness: starting with their domain, which had been taken since 1993 and was not for sale. The renaming of Staples Center helped further raise brand recognition well beyond crypto circles. The deal is said to have been worth $70 million dollars. Crypto.com is also featured in other advertisement campaigns starring celebrities. One of the more recent campaigns, for example, features Hollywood actor Matt Damon.
New Markets
That is not to say that CRO is subject to only unique influences: like with other assets, new markets increase exposure and arbitrage opportunities. In early November 2021, CRO was listed on Coinbase. In addition to becoming available for additional millions of users, this can serve as a seal of approval for CRO.
Latest Twitter posts on CRO
What does $CRO do?

You : 👀 — David Gokhshtein (@davidgokhshtein) November 22, 2021
Crypto analyst David Gokhshtein could not pass by the buzz CRO made in the social media. In his opinion, the rate at which users bought in is out of proportion, though.
$CRO / #BTC - #CRO #Cryptocom

CRO has rallied +450% since breaking out from its multi-month re-accumulation range Over +450% up since first discussed in the Rekt Capital Altcoin newsletter CRO has reached a major Monthly resistance area (red)#cryptocurrency https://t.co/CDPVuhH1ba pic.twitter.com/jWo2retC89 — Rekt Capital (@rektcapital) November 24, 2021
Trader Rekt Capital updated short-term analysis of CRO–USD pair. According to it, it is running up against major monthly resistance.
Two and a half months ago I bought $40,000 worth of #cro, as of today it's value has risen to $193,000. Only in crypto can you legally multiply your investment like that. It's insane.

— Aleksandra Huk (@HukAleksandra) November 22, 2021
Crypto influencer Aleksandra Huk shared her story of crypto success that CRO brought her.
CRO Price Prediction 2021
Mind Math Money Crypto.com Coin Price Prediction: $0.45–1.17
YouTuber Mind Math Money provided technical analysis for the short term of CRO which is set to occur until the end of the year. Using Fibonacci extensions, he projected the highest possible resistance at $1.17. Attention should be paid to previous ATHs and a psychological level of $1 on the way there. The rally of CRO was parabolic and quick, so expecting a correction to follow is reasonable. The support levels are estimated to be at $0.61-0.65 or even as low as $0.45.
Crypto.com Coin price prediction by ICO Creed: $0.77–0.87
Prediction service ICO Creed projects further growth for CRO from the current price. In December 2021, the average price is estimated to hover around $0.85 in a range between $0.77 and $0.87.
Coinquora's Crypto.com Coin price prediction: $1+
Coinquora is bullish on CRO, seeing the degree of adoption it finds with investors. Given that it has already overcome the resistances they gave in technical analysis, CRO seems to be on track to reaching $1 as they expect.
CRO Price Prediction 2022–2024
Gov.capital CRO Price Prediction 2022: $0.714–1.040
Prediction service Gov.capital projects that the threshold of $1 will not be surpassed in 2021. However, in a year from now, in November 2022 it will consistently be trading above $1. Having opened at $0.714, throughout 2022 CRO will keep climbing to $1.040 EOY 2022.
PricePrediction.net CRO Price Prediction 2023: $1.27–2
Another service also predicts continued movement to the upside for CRO. Opening at $1.27 on average, CRO is expected to grow to anywhere between $1.64 and $2 throughout 2022.
Coin Data Flow CRO Price Prediction 2024: $0.83–2.93
Coin Data Flow uses several models to extrapolate the growth of crypto assets. If we assume that CRO repeats at least 1% of Bitcoin's growth rate, by 2024 it will be worth $0.87962. However, if it grows at the same rate, in 2024 it will reach $37.97.
CRO Price prediction 2025
Digital Coin Price CRO Prediction: $2.55
Prediction service Digital Coin predicts insignificant volatility for CRO five years in the future. In 2025, CRO's monthly averages will range from $2.233 to $2.893.
Market Realist CRO Forecast: $2.30
Market Realist columnist Ruchi Gupta thinks that Crypto.com's advertising strategy will pay off in the long term. By 2025, CRO can accumulate $70 billion market capitalization, which would make a single CRO cost $2.30.
CoinQuora Crypto.com Coin CRO Price Prediction: $25
The most bullish prediction is given by CoinQuora. Not taking into account volatility, ultimately CRO can arrive at the target of $25 by 2025.
CRO Price Prediction 2030
In such a long term, at the rates the crypto market is moving right now, by 2030 most assets will be worth significantly more than today. CRO is not an exception: CryptocurrencyPricePrediction aims for the target of $19.76 in December 2030. PricePrediction.net is not too far off with $23.54.
ChangeHero's CRO Price Prediction
Crypto.com Coin shot up by 70% in a very short time. It's tempting to assume that by the end of 2021 the price will stay uptrending but the correction will most likely follow. While in the short term bearish targets seem more realistic, in the long-term all targets cited in the article are more than achievable.
How to get CRO on ChangeHero?
There is no need to register and verify with Crypto.com to get CRO. If you already have crypto, you can use it to buy it on ChangeHero, it's very easy:
Choose the currencies on the home page, amounts and the type of exchange. Provide your CRO wallet address in the next step and check the amounts;
Double-check the provided information, read and accept the Terms of Use and Privacy Policy;
Send in a single transaction the sum of cryptocurrency you will be exchanging. Fixed Rate transactions have a 15-minute limit;
All done? Now we are doing all the work: checking the incoming transaction and doing the exchange as soon as it arrives. 

The Best Rate transactions will use the rate current to the time when your funds arrive. The Fixed Rate will use the rate at the time of step 1;

As soon as the exchange has been processed, your CRO are on the way to your wallet. 
ChangeHero's customer support is available 24/7 in the chat on our website or through the email: [email protected].
Conclusion
All the news made Crypto.com coin the most trending cryptocurrency of late. It's so hot that maybe it is even better to wait out while greed and overbought trends pass to buy it. Even more crypto projects are covered in detail in our blog. Feel free to follow our pages on social media: Twitter, Facebook, Reddit and in Telegram.
Frequently Asked Questions
Is CRO a good investment in 2021?
The majority of analysts consider CRO to be a good investment in 2021 but suggest to expect a bearish scenario, too.
How much will the CRO coin be worth in 2022?
In a year, in November 2022, CRO can be worth anywhere between $0.714 and $2.93.
How much will the CRO coin be worth in 2025?
Estimates given for CRO in 2025 aim for $2.30 to $25.
How much will the CRO coin be worth in 2030?
Estimates given for CRO in 2030 aim for the range of $19.76 to $23.54.
Is CRO a good long-term investment?
Most predictions and analyses state that Crypto.com has considerable potential in the long-term.
---
Disclaimer
This article does not constitute financial or investing advice. No price prediction or forecast is guaranteed to provide exact information on the future price. Past performance is not indicative of future results. When dealing with cryptocurrencies, remember that they are extremely volatile and thus, a high-risk investment. Always make sure to stay informed and be aware of those risks. Consider investitions in cryptocurrencies only after careful consideration and analysis and at your own risk.
Learn more:
Quick links: