The first halving in the Zcash network is tomorrow, November 18, 2020. Though in the short term it will reduce the miner's rewards by half, it is considered a bullish event in the long term. In this article by ChangeHero read why, as well as find latest Zcash news and the top Zcash price predictions. We will even try to give a ZEC price prediction of our own!
What is Zcash and ZEC?
Zcash is a privacy-oriented cryptocurrency that is traded under the ticker ZEC on cryptocurrency exchanges. Its signature feature is masking the transaction amounts and addresses, which is achieved by the technology called zk-SNARKs (zero-knowledge proofs). If users want to, they can anonymously send Zcash to other users, and no one except the transaction participants will be able to see the details.
Learn more about Zcash and the tech it pioneered, read our ZEC Guide for Beginners!
Zcash Halving
The privacy-oriented crypto is modeled after Bitcoin, so its issuance model is the same. It has a limited supply of 21 million coins and roughly every four years the rate at which new coins are minted is reduced in half. Now the reward for every block is 6.25 ZEC, but after the halving it will be 3.125 ZEC.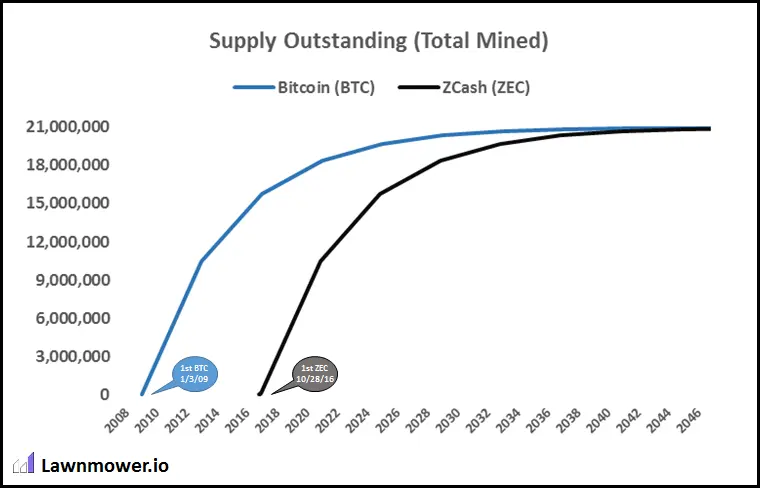 In Zcash, at the time of the halving, Founder's Reward will also be replaced with funding streams. The key difference between the two is the destination of the collected funds: from the halving onwards, the founders reward will be replaced with developer's fund. Developer's fund will be used for grants and bootstrap projects.
Before we look into any ZEC price prediction and try to forecast the future, it is important to try to understand what can drive the changes in price.
ZEC Price History
Zcash Price in 2016–2018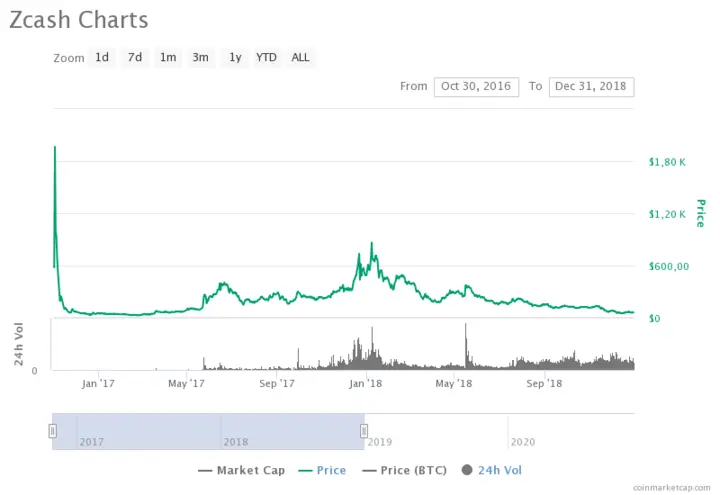 What is Zcash all-time high? Surprisingly, ZEC reached its ATH in 2016 on launch. It even surpassed Bitcoin on that day: on October 29, 2016 ZEC was worth $5,941.80. It is surprising because for most other currencies the record prices were seen at the peak of the 2017 Bitcoin rally. In this case, however, the Zcash price was driven up by the anticipation of the currency's launch. 
In 2017 Zcash price, too, was taken up by the rally of Bitcoin. The second highest price of ZEC was $858.38 on January 7, 2018.
After that, the market was correcting from the surge for about a year. The long bear market became known as the "crypto winter". By the end of 2018, Zcash cost $58.05.
Zcash Price in 2019–2020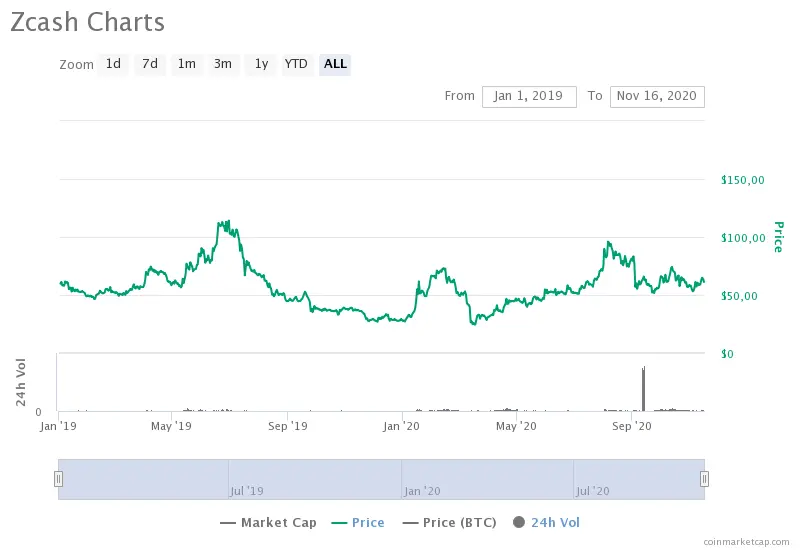 Zcash, like most altcoins, follows the same trends as Bitcoin. In mid-2019 it rallied briefly, and Zcash gained almost 100%, rising from $58 to $108. The second half of the year, ZEC was on the decline and the closing price for 2019 was as low as $28.24.
2020 had a good start for all currencies, but the COVID-19 pandemic caused the markets to plunge. The aftermath of the crash was the yearly low for ZEC, $22. But from there on, it has been on the rise.
At the moment of writing, ZEC costs $64.07 and is ranked #32 on CoinMarketCap.
What can influence the Zcash price?
Halving
Despite the fact that the upcoming halving will be the first for Zcash, long-time investors and bulls are already looking forward to it. The idea behind reducing the minting rate is that the supply of Zcash will be growing shorter. If the demand stays the same or increases, the decrease in supply will drive the price of ZEC higher. On the other hand, halving can make mining momentarily twice less profitable, and can cause miners to leave. Miners secure the network by performing computations, so if they leave, the network might become less secure and susceptible to a possible attack.
Regulatory Challenges
Due to the anonymous nature of the currency, Zcash warrants more attention from the law enforcement that is now entering the blockchain space. Centralized exchanges, to avoid having regulatory issues, prefer not to list privacy-centered currencies.
Privacy in Zcash is optional. Most users do not opt in to use the Z-addresses (or shielded addresses that anonymous transactions can be made with) because they are slower and require more computational resources. Despite that, Zcash is strongly associated with privacy currencies and still has difficulties with listings on most centralized exchanges.
Surveillance and Privacy Laws
Bitcoin started as a pseudonymous means of payment that was supposed to give the people control over finance back. However, as time went by, blockchain analysis developed and the regulators became more savvy in tracking the funds. As mass surveillance is getting more widespread, some believe that in search for privacy, more people will turn to privacy coins.
Zcash news can also have a short-term impact on the price. Let's have a look at the latest Zcash price predictions and news on Twitter to see where it is headed.
Zcash on Twitter
Break this resistance and win a ticket to space station 🚀🌎🌕 $ZEC pic.twitter.com/it6ORD1o8N

— The Crypto Live (@realcryptolive) November 16, 2020
In a most recent technical analysis, trader Crypto Live is following the price movements of ZEC before halving. The graph may be on the low, but according to them, it only means that the price is about to bounce!
11/13/20 UPDATE: Net Assets Under Management, Holdings per Share, and Market Price per Share for our Investment Products.

Total AUM: $9.8 billion$BTC $BCH $ETH $ETC $ZEN $LTC $XLM $XRP $ZEC pic.twitter.com/yiS4Nmv105 — Grayscale (@Grayscale) November 13, 2020
Grayscale Investments is the leading investment company in digital asset space. Among other assets they own Zcash and in the daily updates they disclose the retail prices for their products and the returns from them.
In the age of surveillance capitalism, the privacy of your money online is crucial to the protection of human rights and the empowerment of the individual. Shielded Zcash $ZEC withdrawals are now available on @Gemini.https://t.co/ulEY5pz0Kq

— Cameron Winklevoss (@cameron) September 29, 2020
While other centralized exchanges avoid privacy coins, Gemini supports Zcash. They also shared the news that the exchange has enabled withdrawals to shielded addresses. The Winklevoss twins motivate this as a necessity in the age when privacy in digital space matters a lot.
ZEC Price Predictions for 2020
BraveNewCoin ZEC Price Analysis: bearish
Despite the upcoming upgrade and halving, Josh Olszewicz's short-term forecast for ZEC is bearish. By analyzing several technical signals over different time frames and pairs, he arrives at the conclusion that Zcash is experiencing a long-term downtrend. For ZEC–USD, the support level is sitting at $50. In ZEC–BTC, the multi-year bearish pitchfork will invalidate around 0.01 BTC. All in all, the analyst thinks that traders that have long positions in these markets might be forced to short.
CoinCodex ZEC Price Analysis: Neutral
Analysts at CoinCoidex evaluate the current price of Zcash to be in the neutral range. There is no dominant bearish or bullish trend. To go bullish, the price would need to top $65.86 and hold above the October high of $76 for a while. Zcash cannot go bearish yet, too. For that to happen, the price will have to sink below $51.
FXStreet ZEC Price Analysis: $75 target
FXStreet author Lorenzo Stroe came to the conclusion that it is very possible that the halving in Zcash will reduce its inflation rate and play out like it does in Bitcoin. In other words, his Zcash halving price prediction is that in the short term the price may not react at all, but it can start a rally which can take up to a year.
Stroe's short-term ZEC price prediction is as follows: the sentiment around halving can also help ZEC breach the $60 resistance. If it is rejected, though, the price can test the support at $51 and if bears win, dip down to $44.
ZEC Price Predictions for 2021–2024
Is Zcash a good investment in 2020? Maybe not if you seek to get rich until the end of the year, but as a long-term investment, it might turn you a nice profit, some of these predictions claim.
CoinArbitrageBot ZEC Price Prediction for 2021: $413.949–$506.050
Using historical and algorithmically derived data, the CoinArbitrageBot service gives a forecast that in a year from now, on November 17, 2021 ZEC will be worth $506.050. At the same time, they predict that the year 2021 will close with ZEC at $413.949.
PrevisioniBitcoin Zcash Price Prediction 2022: $262.72–$588.67
Another forecast with a similar approach claims that in the year after that, the ZEC price will be four to ten times more than it is now. In this ZEC price prediction, the service forecasts Zcash to slightly depreciate over 2022 from $588.67 and close at $326.85.
WalletInvestor Zcash Price Predictions for 2023–2024: $5–$200
According to the WalletInvestor forecasts for Zcash in 2023 and 2024, the price of it is going to be extremely unstable. The asset's evaluation might drastically change in a matter of days: for example, they predict that October, 2023 will see ZEC open at $8.783 and close at $187.390. Same goes for November 2024: in the first days the ZEC price will be around $170 but two weeks later it will drop to $5. It might seem like a mistake, but considering that right now ZEC is traded for fractions of its ATH, not too far-fetched.
Zcash Price Predictions for 2025
Coinliker ZEC Forecast: $1,482.87
Coinliker is so bullish on crypto, they are sure that the growth curve of ZEC will look parabolic in 5 years. With an exponential growth like they expect, ZEC will be trading for $1,482.87 in five years from now.
CryptoGround Zcash Price Prediction: $1,230.5105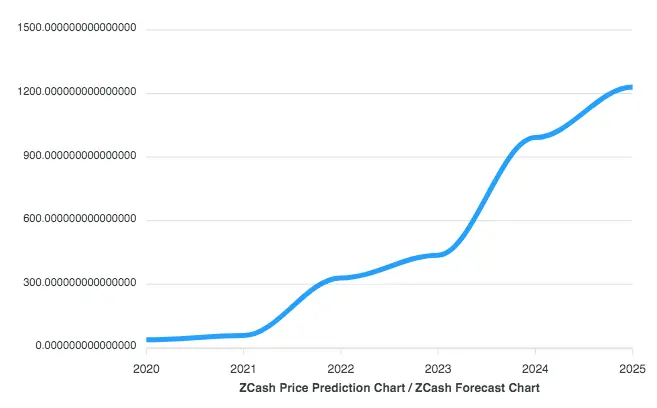 This website's analytics recommend Zcash as a long-term investment over short term. According to CryptoGround, in five years from now ZEC will be trading for $1,230.5105.
DigitalCoinPrice ZEC Price Prediction: $120.69 on average
The projections from the DigitalCoinPrice's data show that in 2025, it is likely that ZEC will be trading within the range between $91.93 and $155.80.
Zcash Price Prediction 2030
Despite the fact that the whole crypto market has been around for at least ten years already, it is almost impossible to know for sure how it may change ten years into the future. Any ZEC price prediction for such a long term is as good as a guess.
YourCryptoWizard has bright hopes for Zcash, but they try to be moderate about the expectations. They took Kay Van-Petersen's prediction about Bitcoin, projected it onto Zcash and got $60,000. However, they expect this to happen sometime between 2025 and 2030.
The price prediction generated by the Coin Price Forecast website gives an estimate of $485.83 for 1 ZEC at the end of 2030.
ZEC Price Predictions for 2020–2030
Summing up all the price predictions we collected, we get the following picture:
[table id=14 /]
ChangeHero ZEC Forecast
In the big picture, Zcash can be the currency to be adopted for privacy purposes. The new developer's fund will favor research and coding over early investors, so the technological advancement of the protocol can improve its fundamentals.
In the nearest couple of years, we can expect to see a rally like in Bitcoin after the halving. Another possibility, however, is that nothing significant will happen. Bitcoin forks with larger market caps like Litecoin or Bitcoin Cash did not experience any significant change after their own halvings. In that case, Zcash growth will be driven by other factors.
How to get ZEC on ChangeHero
Getting your hands on privacy coins is getting increasingly difficult on centralized exchanges. Do not worry, as you can safely exchange your crypto to Zcash with no hassle on ChangeHero!
Choose the currencies on the home page, amounts and the type of exchange. Provide your ZEC wallet address in the next step and check the amounts;
Double-check the provided information, read and accept the Terms of Use and Privacy Policy;
Send in a single transaction the sum of cryptocurrency you will be exchanging. For  Fixed Rate transactions you have 15 minutes before it expires;
From here on, you won't need to do anything. At this step we are doing all the work: checking the incoming transaction and doing the exchange as soon as it arrives;
As soon as the exchange has been processed, your ZEC is on the way to your wallet. And so, the transaction is finished!
Remember that you can reach our support in the chat on our website or through the email: [email protected] — they are available round the clock!
Conclusion
Halving is expected to drop tomorrow but this is only the start! Subscribe to ChangeHero Blog and follow us on Twitter, Facebook, Reddit and in Telegram to not miss further Zcash news, important updates and developments.
---
Learn more:
Quick links:
Disclaimer
_This article is not a piece of financial advice. No price prediction is guaranteed to provide exact information on the future price. _
When dealing with cryptocurrencies, remember that they are extremely volatile and thus, a high-risk investment. Always make sure to stay informed and be aware of those risks. Consider investitions in cryptocurrencies only after careful consideration and analysis and at your own risk.