During the previous bull cycle in the crypto market, Stellar stood out as one of the best-performing assets. What were the reasons? Will it explode again in the next bull run? In this article, we analyze the present and past performance of the token and look at experts' Stellar Lumens predictions for 2022 and eight years ahead.
Stellar Lumens Price Prediction 2022–2030
| | |
| --- | --- |
| Year | Price |
| 2022 | $0.10–0.75 |
| 2023 | $0.15–1.91 |
| 2024 | $0.20 |
| 2025 | $0.18–0.53 |
| 2030 | $1.5-10 |
XLM coin price forecast given by different analysts suggests that its average price will be ranging between 10 and 14 cents;
Stellar lumens price prediction for 2023-2024 ranges from bearish $0.15 to bullish $1.91;
Various Stellar lumens price predictions are unanimous in considering that in 2025 XLM price will not exceed $0.60;
By 2030, the highest lumens could reach is $10, some experts claim.
What are Stellar Network and Lumens (XLM)?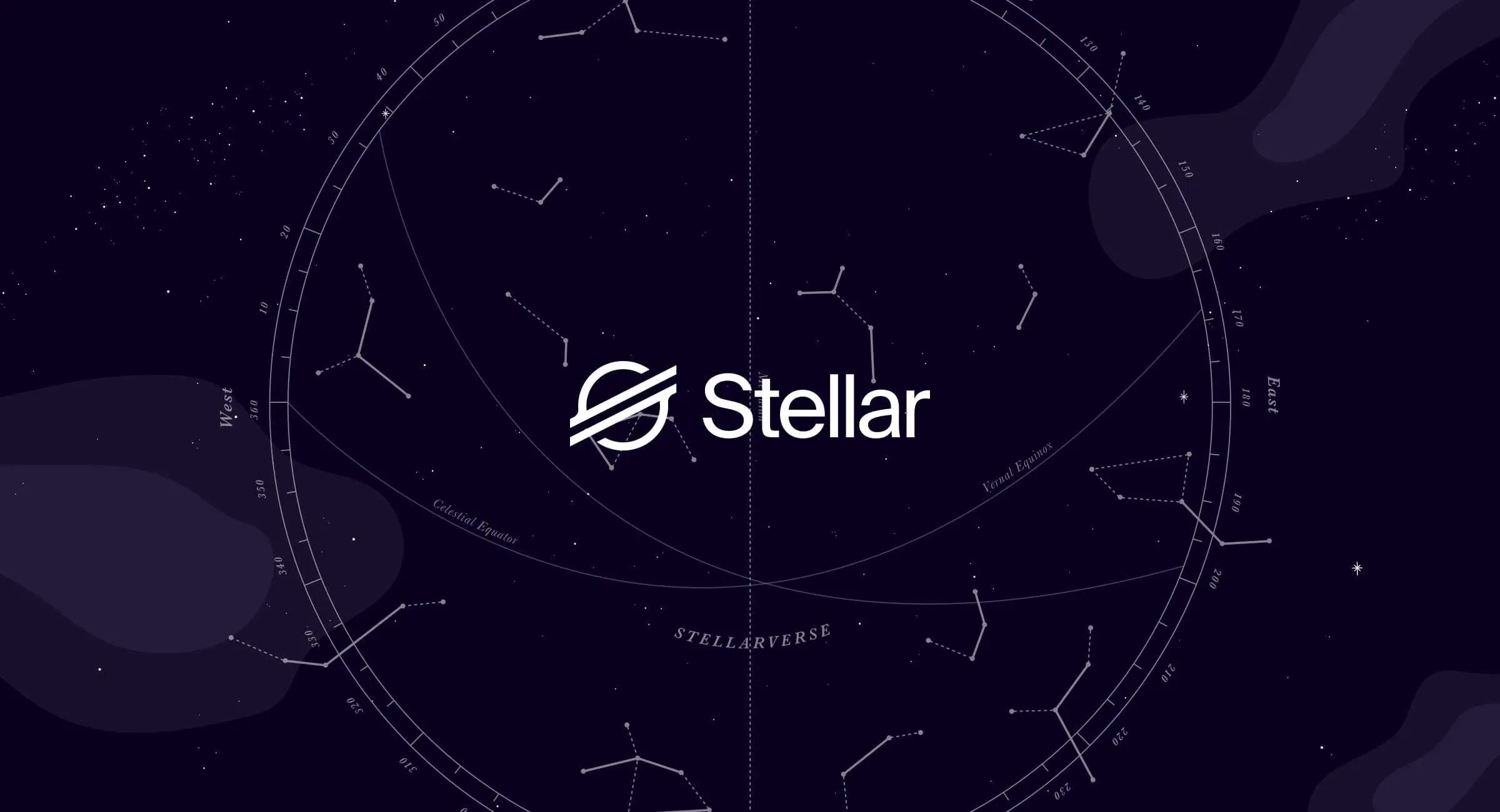 Before launching under the name Stellar, the developers called it "The Secret Bitcoin Project". From the start, the project creators found a fancy way of showing that Stellar would aim to offer a payment-oriented cryptocurrency similar to Bitcoin, yet, better.
The project name was eventually revealed in 2014 when Stellar was introduced as a "decentralized protocol for sending and receiving money in any pair of currencies". As the official article introducing the new blockchain states, with Stellar, "users can send a transaction from their Yen balance and have it arrive in Euros, Yen, or even bitcoin. We're expecting to support the usual categories of transactions: payments to a merchant, remittances back home, or rent splits with a roommate".
To this day, the goal of the Stellar system remains to facilitate cross-border payments at the lowest transaction costs. Stellar lumens (XLM) is a native token of the platform. XLM is used to pay transaction fees and acts as an intermediary for illiquid assets on the network's DEX. Find out a more detailed description of Stellar and XLM in our Beginner's Guide!
Price History of Stellar lumens (XLM)
XLM Price in 2014–2016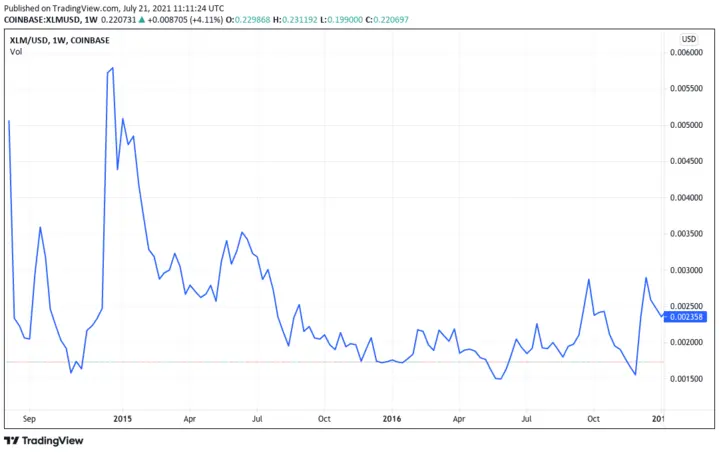 In 2014, in the very early stages, Stellar was supported by prominent investors (including founders of PayPal, WordPress, and AngelList). Prior to the Initial Coin Offering (ICO), 105 billion lumens were created and entered circulation. In November 2015, Stellar got a new codebase with a unique consensus algorithm (Stellar Consensus Protocol, SCP), yet, it didn't influence the price much.
2016 was the year when Stellar Development Foundation struck a deal with Deloitte and hosted several airdrops. As a result, in December 2016, XLM reached the highest price of this period — 1900 satoshis (about $0.006), which was a 488% gain from its minimum price.
XLM Price in 2017–2019
In 2017, retail investors started to care about cryptocurrencies. That culminated in a massive rally that influenced all assets. At its peak (January 4, 2018), XLM was worth $0.9381 — its current all-time high. During 2018, the overall market was bearish. Stellar Foundation decided to burn half of the total supply in 2019 and stop XLM token issuance. Upon the news, the price increased by 25%. In 2019, XLM was traded between $0.04–0.14.
XLM Price in 2020–2022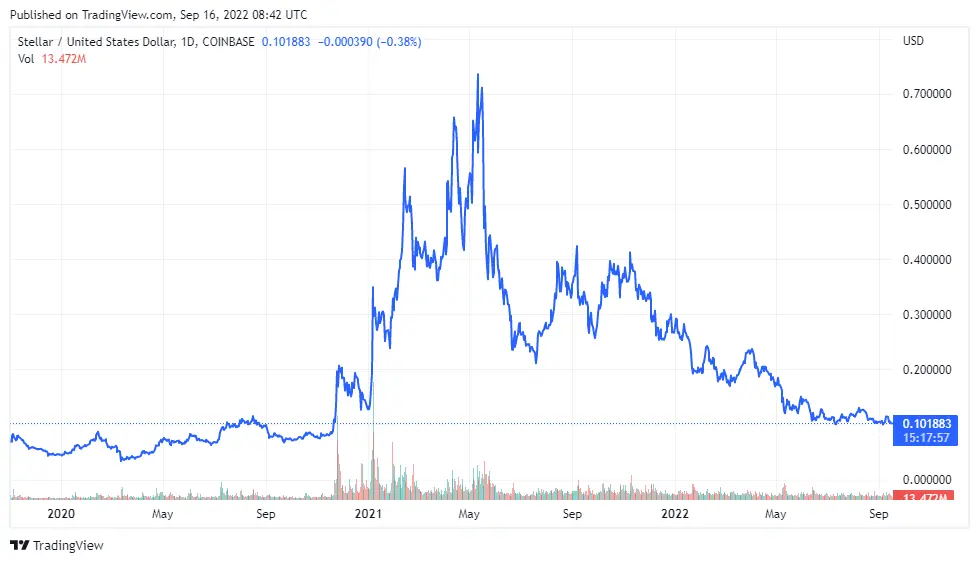 In early 2020, XLM was hit by the "crypto winter" but managed to survive. By November, Stellar Lumens had seen the price spike from $0.045 to $0.077. 2020 saw XLM close at $0.1284. In 2021, XLM spiked again, and the yearly high came to $0.7965. This coincided with the news of the Ukrainian government and Stellar Foundation's strategic partnership to develop virtual currencies and assets, including central bank-issued digital currencies (CBDCs).
In spring 2022, the price fluctuated between $0.17 and $0.24 until it dropped dramatically to hit $0.13 in May 2022. At the moment of writing, XLM is worth $0.1022 and ranks 28th, according to CoinMarketCap. The current market capitalization is $2.5 million.
What Influences Stellar Lumens Price?
Utility
One of the things the Stellar blockchain network has been working on from the very beginning is Banking the Unbanked. The Stellar blockchain is helping third-world countries set up their digital currency, developing the infrastructure for them. The recent partnership with Circle and USDC facilitates direct purchases of many currencies on the Stellar platform with a credit card. That eliminates barriers to buying Stellar's Lumens. When you think of that, the immense utility of the Stellar coin and its extensive userbase will ensure the stability and growth of XML price.
Development
The Stellar is working non-stop behind the scenes getting ready to make a big move. The team is now developing more scalable financial transactions and network upgrades to unlock decentralized finances for more people around the globe. To achieve this, the Foundation has upgraded its network to Protocol 19 to make payment channels creation easier and faster. Stellar already launched Starlight — a demo payment protocol able to cover over 1 million transactions per second. Past performance analysis reflects that updates to the system can be a positive factor in reaching a maximum value.
Partnerships
As proven in the previous section, partnership announcements can raise positive sentiment among investors. Aside from assisting major countries and countries in crisis to develop their central bank digital currencies, Stellar keeps teaming up with big players in the crypto market, such as Elliptic, Circle, Coinme, and more to decentralize the whole payment industry. Stellar is also bridging traditional and decentralized banking through collaborations with financial institutions and the world's financial systems as Flutterwave, MoneyGram, and Nium, to bring crypto to as many countries as possible.
Latest Twitter Posts
$XLM (Update)

Descending Broadening Wedge Formation in 1d Timeframe....

Expecting Upside Breakout✈️✈️✈️#XLMUSDT #XLM #USDTether pic.twitter.com/Zd1rRA8oTY

— Clifton Fx (@clifton_ideas) September 12, 2022
Technical analyst @clifton_ideas has a reason to expect XML value to hit $0.21 anytime soon.
1/ Yesterday, I tried to send $200 to Turkey from the USA using Western Union.

The lady told me they would need to charge $22 to make a regular payment or $12 if I gave the receiver's bank information.

Of course, I left the store and didn't waste my money on those fees.

— Emir (@YavuzAyral) September 7, 2022
The whole thread is telling a touching story of Stellar making cross-border payments easy and fee-free 😢
4,475,820 transactions were made today on the Stellar Network, and ALL of the fees COMBINED equal about $277!
🤯🤯🤯🤯
That's less than 1000th of a cent fee per transaction!
🥳🥳🥳🥳#XLMUSDT #Stellar #cryptocurrency https://t.co/LlUFwviH7X

— StellarSKULL (@STELLARSKULL) August 25, 2022
Speaking of fees, a Stellar enthusiast calculated the transaction cost per transfer. Now, that's impressive!
Stellar Cryptocurrency Price Prediction 2022
According to a price prediction by Coin Price Forecast, XLM will fluctuate between 10 and 13 cents in Q4 2022 and will close the year at $0.14. Notably, earlier predictions suggested that the Stellar price can reach $0.17. Notwithstanding, the analysts are bearish on the coin value and do not consider it will retrace back to $0.2 any time soon.
The Economy Forecast Agency takes a stand that the price will mainly remain stable by the end of the year, with a slight chance to reach $0.12 at most. The report reflects that the price will remain unchanged and will be sitting at $0.10 in September and December.
WalletInvestor experts' technical analysis reflects that Stellar lumens will slowly but surely grow to close the year 2022 at 20 cents, which is so far the most bullish scenario for the end of this year. So, if the bull run comes, XLM will have a good support line and may continue to grow.
XLM Price Prediction for 2023–2024
Coinpedia authors expect that in 2023, Stellar XLM may reach $0.29, supposing the coin will continue global expansion and further development. However, Stellar not implementing what's been promised to its community, and bearish sentiments may dump the price by $0.15.
As per CryptoPredictions data, in January XLM will be worth $0.12–$0.18. The average trading price estimation remains moderate and equals 15 cents. No decline is predicted throughout the year. Thus, by December 2023, XLM will be worth anything between $0.129 and $0.191.
Based on the extensive fundamental analysis made by SoftwareTesting Help, XLM will break the bearish pattern in less than a year and exceed 20 cents to then reach $0.23 and $0.34. The Stellar coin may hit $1.91 by the end of 2023, but according to the portal's analysts, this scenario is less likely to happen, yet, still possible.
Considering the XLM historical data, market cap, and trading volume, by 2024 Software Testing Help researchers are expecting a price correction and decline when it dips back to 20 cents per coin.
Stellar Price Prediction 2025
Acknowledging the project's steady development, CoinPedia analysts believe that the lumen will be trading at around $0.50 in 2025, with dips to $0.39 and highs of $0.53.
Cryptopolitan technical analysis supports the previous opinion and expects the coin to be worth $0.42-0.51 throughout 2025, which is a 510% gain from today's price.

WalletInvestor debunks the optimistic approach and predicts that in three years, the average price of one lumen coin will range between $0.20–0.29, with a little decline to $0.18 in the summer of 2025. Such a price seems effective only considering the bear market will never end.
Stellar Lumens Price Forecast 2030
In ten years, the cryptocurrency market and price prediction system will definitely be unrecognizable. If we assume it develops at the same pace, we can make an educated guess.
Software Testing Help reports that the $2 price is easily reachable for the lumen coin. DigitalCoinPrice agrees: XLM may hit 2 dollars by 2030. Altcoin Captain considers $100+ per XLM unreachable even by 2030. Still, $10 seems to be possible. $1.5 is the minimum we can get by 2030.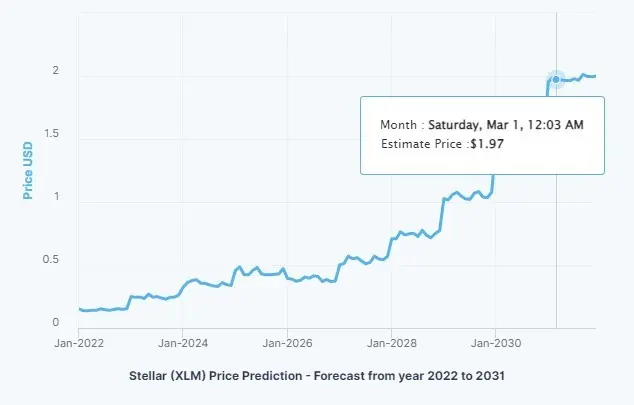 ChangeHero Stellar Price Forecast
XLM price predictions have to consider the current sentiments around Stellar's main competition, Ripple. In the worst case for the latter, XLM can climb up to top-5 and take its place. This can happen if the rally continues, and then we might still see XLM for $1 and higher in 2023–2030.
How to buy XLM on ChangeHero?
Did you know you can get XLM coins in exchange for other cryptocurrencies on ChangeHero without creating an account? You can do it in five simple steps:
Choose the currencies on the home page, amounts, and the type of exchange. Provide your XLM wallet address and memo in the next step and check the amount;
Double-check the provided information, read and accept the Terms of Use and Privacy Policy;
Send the sum of the cryptocurrency you will be exchanging for XML coin in a single transaction. Fixed Rate transactions have a 15-minute limit;
And now, relax! We are doing all the work: checking the incoming transaction and doing the exchange as soon as it arrives;
As soon as the exchange has been processed, your XLM is on its way to your wallet. We'll be happy to hear your feedback if you enjoyed using ChangeHero.
Our support Heroes are available 24/7 in the chat on our website or through the email: [email protected]. If you want to buy Stellar lumens with a bank card, you can also do it on our website with the help of our partner. Here is a handy guide with all the details!
Conclusion
Stellar had a great start in 2022 and is sitting above the resistance line despite the correction. The work done by Stellar network and the real-world utility behind Stellar's coin promises a bright future for XLM and its supporters. Find more Stellar news in our blog and the updates on Twitter, Facebook, Reddit, and Telegram.
---
Frequently Asked Questions
Can Stellar lumens reach $5?
Some Stellar price predictions claim XLM can eventually reach the $5–10 mark, but in the term as long as by 2030.
How high can Stellar lumens realistically go?
The most realistic XLM coin price prediction suggests that Stellar's lowest price will stay between $0.10–0.20, with a chance to hit $1–3 and even $10 by 2030.
What will Stellar lumens be worth in 2025?
Experts predict that XLM will be trading in a $0.57–1.95 range in 2025.
Can Stellar lumens reach $100 in 2022?
Most XLM price predictions agree that XLM can't reach $100 in 2022 or any time soon.
What will Stellar lumens be worth in 2022?
Stellar lumens price prediction for 2022 is that XLM will be trading at $0.10–0.50.
What will Stellar lumens be worth in 2030?
Experts predict that XLM will be trading in a $0.20–2 range in 2030.
Do Stellar lumens have a future?
Stellar blockchain may be a good investment seeing Stellar's network growth and development. A token with a utility like Stellar's will definitely have a bright future.
Is Stellar Lumens worth buying?
Cryptocurrency is an extremely risky investment. The current bear market offers a perfect opportunity to stock up on crypto, though. Consider investing minimum balance and diversifying to avoid losing money rapidly.
Disclaimer
This article does not constitute financial or investment advice. No price prediction or forecast is guaranteed to provide exact information on the future price and whether a coin is a good investment. When dealing with cryptocurrencies, remember that they are extremely volatile and, thus, a high-risk investment. Always make sure to stay informed and be aware of those risks. Consider investing in cryptocurrencies only after careful consideration, your own research, and at your own risk.
---
Learn more:
Quick links: