Ethereum scaling solutions are still compelling to users, and Optimism is one of the leaders. Its mainnet has just been updated but the recent price action remains muted. Together with Edge's Head of quality assurance, we review the prospects of Optimism (OP) and give an Optimism price prediction for the short and long term.
All Optimism (OP) Price Predictions 2023–2033
| | | |
| --- | --- | --- |
| Year | Minimum price, USD | Maximum price, USD |
| 2023 | $1 | $1.80 |
| 2024 | $2.63 | $8.25 |
| 2025 | $3.25 | $5.83 |
| 2028 | $0.963 | $11.78 |
| 2030 | $0.986 | $17.68 |
| 2033 | $1.28 | $39.61 |
In the near future, analysts don't see OP cost going above $1.80. Among the reasons are a recent token unlock and a muted reaction to the Bedrock upgrade;
For the next few years, the forecast for Optimism (OP) is more bullish. After the 2024 Bitcoin halving, a new market cycle is expected, and experts believe OP will also break its ATH;
Long-term Optimism predictions are less precise, as seen in the table. It is expected to grow considerably or drop in value.
What are Optimism and OP?
Optimism is a so-called "layer-two" (L2) solution on Ethereum. It means that it is an extension of the Ethereum blockchain, and in this case, it helps it to scale. On Optimism, transactions are processed much faster and batched together, so they are also cheaper in fees. For security and arbitration, Optimism's layer still refers to layer one, combining the best from both blockchains.
Its name comes from the technology it is using: optimistic rollups. In brief, rollups are a technology that can keep track of large batches of transactions with the help of Merkle trees, a cryptographic technique. If the rollup solution is "optimistic", it means that it performs checks and fault challenges only on withdrawal. It keeps the latency low but makes withdrawal take up to seven days.
Optimism is the creation of a company of the same name that used to be Plasma Group in the Ethereum Foundation. Most of the work to develop and maintain Optimism was done by Optimism PBC until the Optimism Collective was established. This decentralized organization has a two-chamber structure, with one being comprised of OP token holders. Therefore, the OP token is a governance token.
If you want to catch up on the topic in more depth and learn more about the history or tokenomics of OP, read our Guide to Optimism before seeing our Optimism price prediction.
OP Price History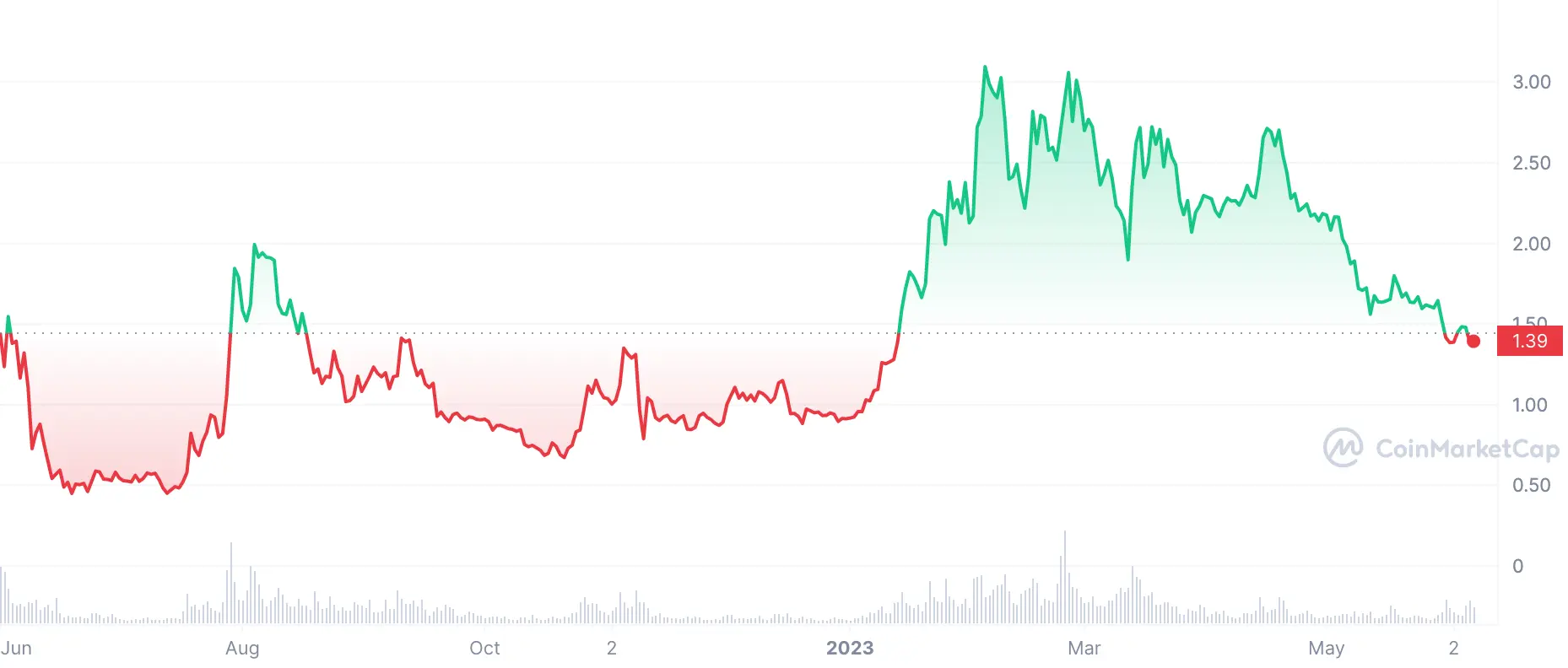 Optimism is a project that traces back to 2018. However, it did not have a native token until 2022. The Optimism Foundation (an organization that was established after Optimism PBC was reformed) held a sophisticated airdrop to distribute the first wave of OP tokens. They were claimed by users of Optimism and select users of Ethereum and other L1s. The OP holders would form one of the two chambers of the Optimism Collective.
The two airdrops so far happened in March 2022 and February 2023. Out of the total supply of OP, 19% is reserved for these and future airdrops. Another 20% is reserved for retroactive public goods funding, a funding scheme unique for the Optimism ecosystem.
As often is the case with airdropped tokens, the OP price dropped under the selling pressure on launch. It started changing hands for $1.4422 and quickly dipped to $0.4496. In August 2022, in a bear market rally, it managed to break out and rise to $1.9937. Nevertheless, a bear market is not the best climate for this rally to be sustained, so the price rolled back to $0.6719.
2023 so far is a far more bullish time for Optimism and crypto at large. By February, in the wake of the second airdrop, OP reached its all-time high: $3.22 on February 24, 2023. Generally, immediately after an airdrop, tokens would be sold to an extent, so the gains did not last.
The current price of OP at the time of writing is $1.3703 and the token ranks 50th by market capitalization (according to CoinMarketCap).
What affects the price of the Optimism Token? Expert's Comment
To better understand the factors that can sway OP's price, we asked Edge's Head of quality assurance, RJ Ricasata. RJ has over a decade of professional experience in Bitcoin and crypto, not to mention a burning passion for the subject.
ChangeHero (CH): Is OP popular with the Edge Wallet community?
RJ Ricasata (RJ): OP, also known as Optimism, is gaining popularity within both the Edge Wallet and broader crypto communities. Optimism is an L2 (Layer 2) solution built on top of Ethereum, similar to other platforms like Polygon or Arbitrum. It offers support for popular decentralized applications (dApps) such as Uniswap and Aave, as well as unique dApps designed specifically for Optimism, like Velodrome. The Edge community showed high interest in participating in the OP token airdrop and integrating it into Edge Wallet even prior to the airdrop.
CH: Why do you think Optimism can be attractive for crypto investors?
RJ: While Edge Wallet does not provide financial advice or make price predictions, there are several reasons why Optimism is seen as an appealing chain to use. First and foremost, it aims to address the scalability challenge by providing higher transactions per second (TPS) and lower transaction fees compared to the Ethereum main chain. Moreover, Optimism boasts a growing ecosystem of established dApps and unique offerings that are exclusively available on its platform.
Transaction Fees:
RJ: Optimism stands out with significantly lower transaction fees compared to the Ethereum main chain. On average, OP transactions cost around $0.10 to $0.40, while Ethereum fees can easily exceed $2 or even reach much higher levels, depending on network congestion and transaction complexity. In the past, Ethereum transactions involving complex swaps or executions have resulted in gas fees of well over $100.
Total Value Locked (TVL):
RJ: Although Optimism is relatively new compared to platforms like Polygon or Ethereum, it has experienced substantial growth since its launch in 2022. The TVL on the Optimism chain has surpassed $800 million, indicating a growing user base and an increasing number of dApps that offer value and attract users seeking DeFi solutions.
dApps:
RJ: Optimism already supports several popular and well-known dApps from Ethereum, including Aave and Uniswap. Uniswap is renowned as a decentralized exchange enabling asset swapping, while Aave provides lending and borrowing services with crypto collateral. Additionally, Velodrome, a dApp specific to Optimism, has surpassed Uniswap in TVL on the platform. Velodrome offers a unique feature absent from Uniswap by incentivizing trading fees and rewarding users with VELO tokens for providing liquidity. Optimism has the potential to introduce additional dApps that could challenge established offerings on other chains.
Bedrock Upgrade:
RJ: Furthermore, just recently on June 6th, 2023 Optimism underwent a hard fork with a network upgrade that reduces gas fees by up to 40%. This enhancement further enhances the appeal of Optimism, considering its already lower fees compared to Ethereum.
Observing the growth in TVL, integration of popular dApps, the introduction of unique offerings, and the reduced transaction fees through the recent upgrade, the future appears optimistic for the Optimism chain.
Our Optimism Price Analysis and Forecast
To come up with an OP forecast for 2023, it is reasonable to take a look at the area between the local high and the low. In our case, the February ATH and the opening price.
Currently, OP's price in relation to USD is in consolidation. It is evident from the relative strength index (RSI) indicator, which is approaching but not quite crossing its simple moving average. A crossover would signal a trend change but no apparent trend is seen here.
The Bedrock upgrade seemed to have more impact on the trading volume and not the price of OP. Nevertheless, RSI is in the undervalued area, signaling that if any price action takes hold of OP, it is more likely to be from the buyers' side.
In that case, the closest resistance levels are $1.727 and $1.992. Both have been validated by the previous price movements. It would take a lot of buying pressure to push to the ATH levels but should this ever happen, the next test would expect OP at $4.5.
OP Price Prediction 2023
What will OP be worth in the near future? Let's hear what analysts think.
In the Optimism price prediction for 2023 by Cryptopolitan, they provide a maximum price target of $1.519 and a minimum price target of $1.316. That makes the average price $1.4175.
Crispus Nyaga, writing for Bankless Times, provides a bearish scenario for Optimism in the short term. He believes that the price will go down, and the sellers will target a psychological level at $1. His colleagues at FXStreet are of the opposite opinion. Noticing the whale accumulation, they predict a bullish breakout up to $1.80.
Optimism Price Prediction 2024, 2025
AJ of the BitBoy Crypto YouTube channel team is responsible for the price forecasts and future price speculation. He does a thorough review of the tokenomics and supply dynamics of OP. At the same time, he reviews the latest partnerships and additions to the ecosystem. With both of these in mind, he suggests that in the next cycle, OP's estimated worth will be $3.75 to $5.83.
An algorithmic forecast by CoinCodex is more bullish on OP in the longer term than short-term. In six months, by February 2024, the price of Optimism will recover from the short-term drop up to $3.10. By the end of 2024 and at the start of 2025, it will further grow to $3.25 on average. In September 2024, the projected price of Optimism can spike up to $8.25.
Another algorithm, by PricePrediction.net, keeps expectations relatively high. According to their Optimism price prediction, in 2024 its price range will grow to be between $2.63 and $3.20. The following year, OP will be trading for $3.95–4.66.
Long-Term OP Crypto Price Prediction
For the Optimism price forecast five and even ten years in advance, let's refer to historical and algorithmic analysis.
AMBCrypto is borderline bearish on the price of OP, predicting very conservative gains. In 2028, it is expected to be in the range between $1.24 and $1.86. In 2030, this range will move up to $1.28–1.92, and by 2033, after a whole decade, they don't see OP trading above $2.01. While it may seem too pessimistic for so long in advance, it is worth remembering that OP is an inflationary token, so these figures are in line with the supply dilution.
Bitnation's algorithm came up with a global trend for the entire crypto market to follow until 2031. It predicts steady growth in the average price of all crypto assets. Applying this scenario to OP, they get $9.02 in 2028 and $11.38 in 2030.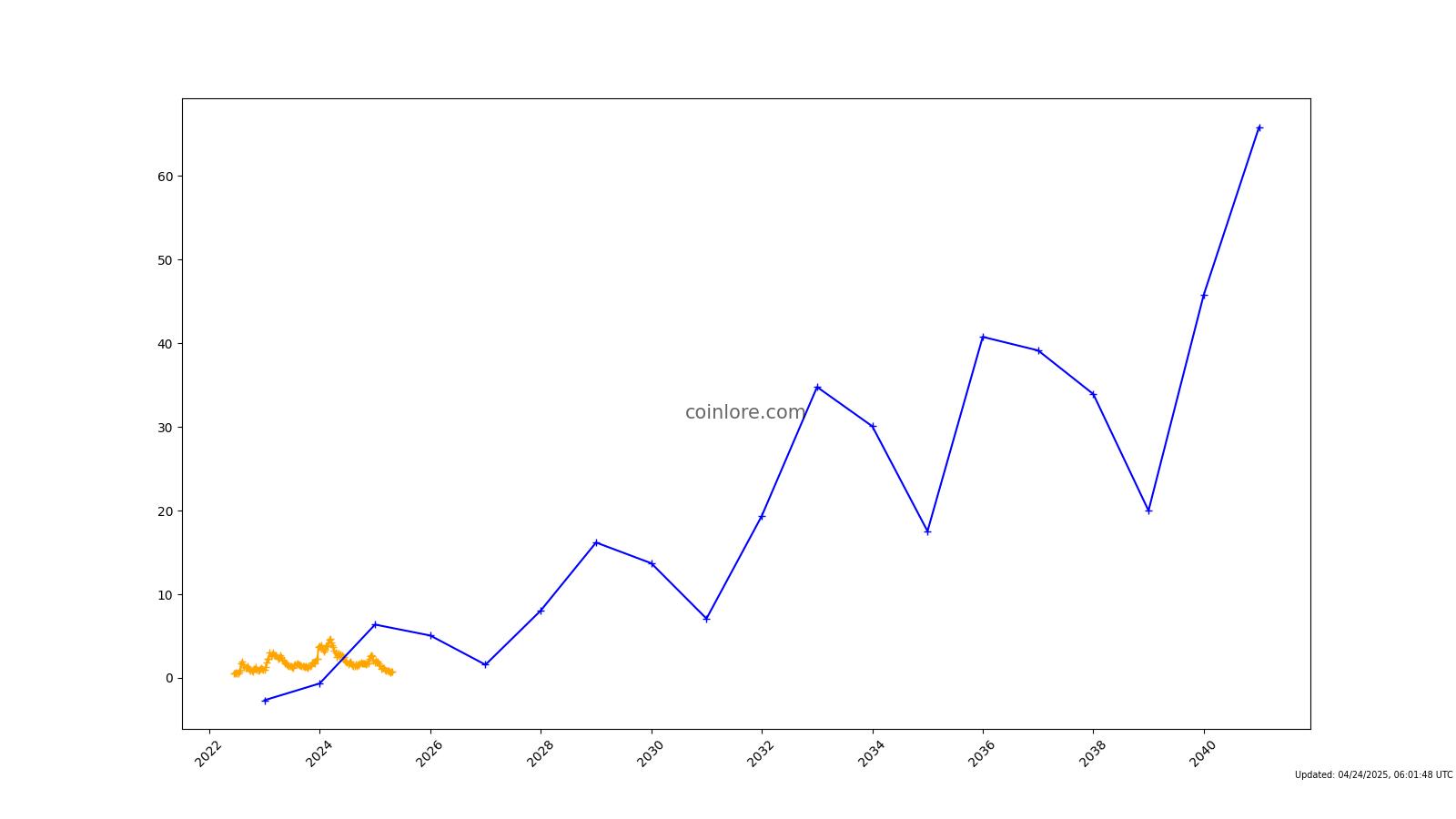 CoinLore's forecast goes the farthest in time, all the way up to 2050. It's balanced out by the relative imprecision of their price ranges. For instance, in 2028 they see OP being worth $11.78 but dipping to $0.9634742 at the minimum. A similar picture is painted for 2030 and 2033: OP will cost $17.68 and $39.61 respectively. The price floors are unexpectedly different: $0.9856274 in 2030 and $12.88 in 2033.
How to Buy Optimism (OP)?
You can't buy optimism but you can swap any crypto for Optimism (OP) on ChangeHero! Get OP at the best rates, in a few steps without obligatory KYC or registration.
Choose the currencies on the home page, amounts, and the type of exchange. Provide your wallet address in the next step and check the amounts;
Double-check the provided information, read and accept the Terms of Use and Privacy Policy;
Send in a single transaction the cryptocurrency you will be exchanging. Fixed Rate transactions have a 15-minute limit;
Done? Now we are doing all the work: checking the incoming transaction and doing the exchange as soon as it arrives. The Best Rate transactions will use the rate current to the time when your funds arrive. The Fixed Rate will use the rate at the time of step 1;
As soon as the exchange has been processed, your OP is on its way to your wallet.
The support team is ready to help you 24/7, and in any case, reach them in the chat on the website or through the email: [email protected].
Conclusion
The Optimism network is a feat in scaling Ethereum, proven by being in demand with users. Their approach to governance is not something to sleep on, either: it builds on features commonly seen in DAOs but makes it more substantial. The OP token is a key component of it but some holders view it as a way to invest in Optimism's endeavors.
Share what you think about these predictions on our Twitter, Reddit, Facebook, and Telegram, and subscribe not to miss out on any news! For more content to explore the crypto world, take a tour of our blog.
---
Frequently Asked Questions
What will Optimism crypto be worth in 2025?
OP's projected price in 2025 varies between sources, with targets ranging from $3.25 to $5.83.
What is the price prediction for OP coin in 2030?
The projected price range for OP in 2030 varies depending on the source, with targets ranging from $0.9856274 to $17.68.
Is OP coin a good investment?
Most of the reviewed short-term Optimism (OP) forecasts are neutral. In the long term, the outlook on OP is also balanced: Optimism has decent prospects but the token supply is inflationary. In any case, OP is a high-risk investment and you should weigh your options accordingly.
Disclaimer
This article is not a piece of financial or investment advice. No price prediction is guaranteed to provide exact information on the future price.
When dealing with cryptocurrencies, remember that they are extremely volatile and thus, a high-risk investment. Always make sure to stay informed and be aware of those risks. Consider investing in cryptocurrencies only after careful consideration and analysis of your own research and at your own risk.
---
Learn more:
Quick Links: