The Terra collapse not only sent shockwaves through the crypto market but also highlighted vulnerabilities with algorithmic stablecoins. With USDT out of the picture, Maker DAO's DAI is yet again the most established algorithmic stablecoin on the market, and the MKR token is the only profiting asset. In this article, our team will give a Maker price prediction for 2022 and the future, based on its history, news, and fundamentals.
Maker Price Prediction 2022–2030
| | |
| --- | --- |
| Year | Price, USD |
| 2022 | $448.531–6,495 |
| 2023 | $1,122.0068–3,963.763 |
| 2024 | $2.071.46–3,221.95 |
| 2025 | $2,778.90–6,055.72 |
| 2030 | $30,854–38,567 |
Despite Maker standing as the only altcoin in the green, not all predictions are confident that the rally will continue. Depending on the source, the Maker price prediction for 2022 is varying from $448 to a new ATH;
The forecasts for the following years are even less bullish. According to them, the Maker token will only go above its ATH of $6,339 after 2025;
However, by 2030 MKR is predicted to reach five-digit prices above $30 thousand.
What are Maker DAO and MKR?
The Maker Protocol is developed and maintained by the MakerDAO (decentralized autonomous organization). Both protocol and the DAO manage the algorithmic stablecoin DAI, backed by the crypto collateral rather than fiat reserves.
Maker (MKR) is the name of the governance token of this platform. MKR holders can participate in voting on protocol changes or even initiate emergency measures to keep the collateral balanced.
MKR can be sold to replenish the collateral, so the holders are incentivized to make changes responsibly. If you need more information on how it works, take some time to read our Beginner's Guide to Maker!
MKR Price History
Maker Price in 2017–2019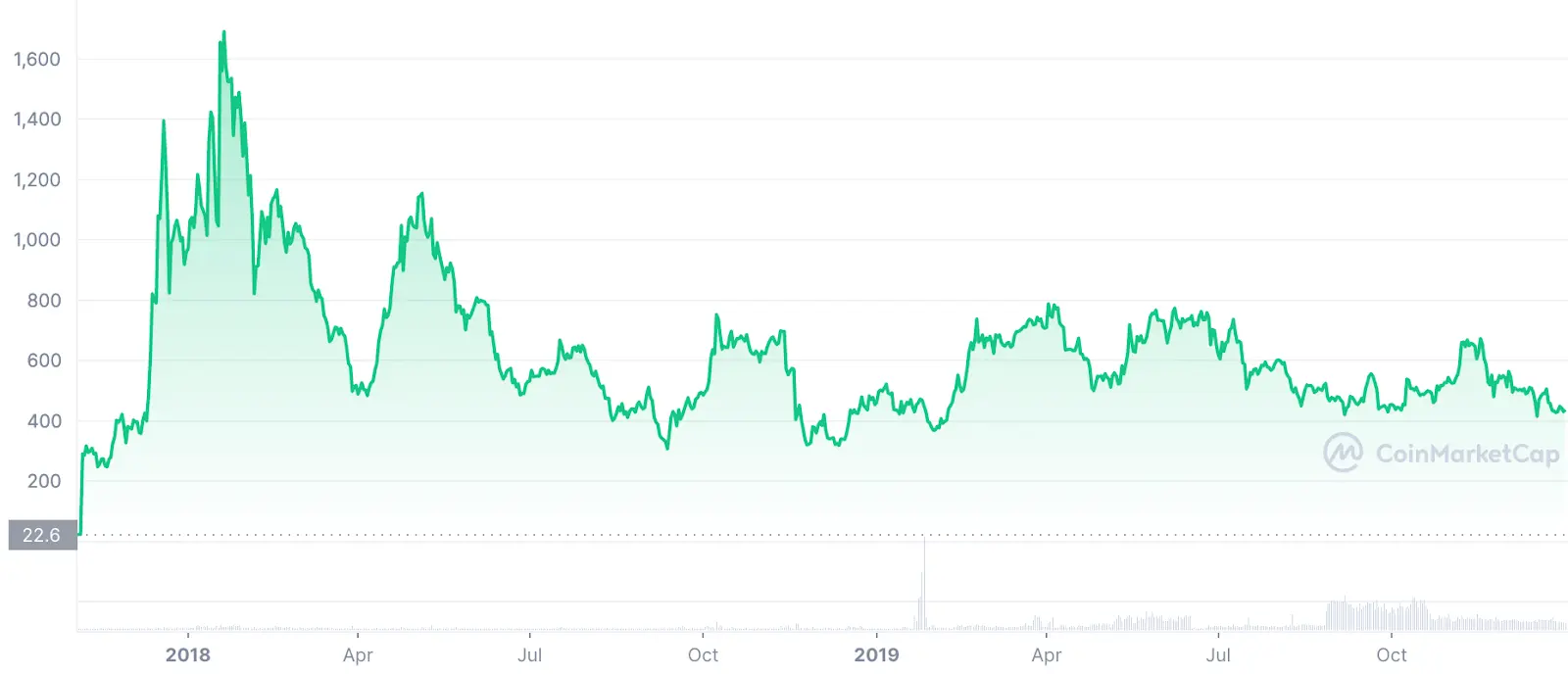 The MKR token was launched in December 2017. Due to having a working protocol in place, investors evaluated it to be worth as high as $1,690.19 on January 20, 2018. However, after that, the crypto market entered a deep correction.
Throughout 2018 MKR was trading sideways between $500 and $1,100 at local highs. In 2019, the opening price was $448 and it closed at $430, continuing the consolidation.
Maker Price in 2020–2022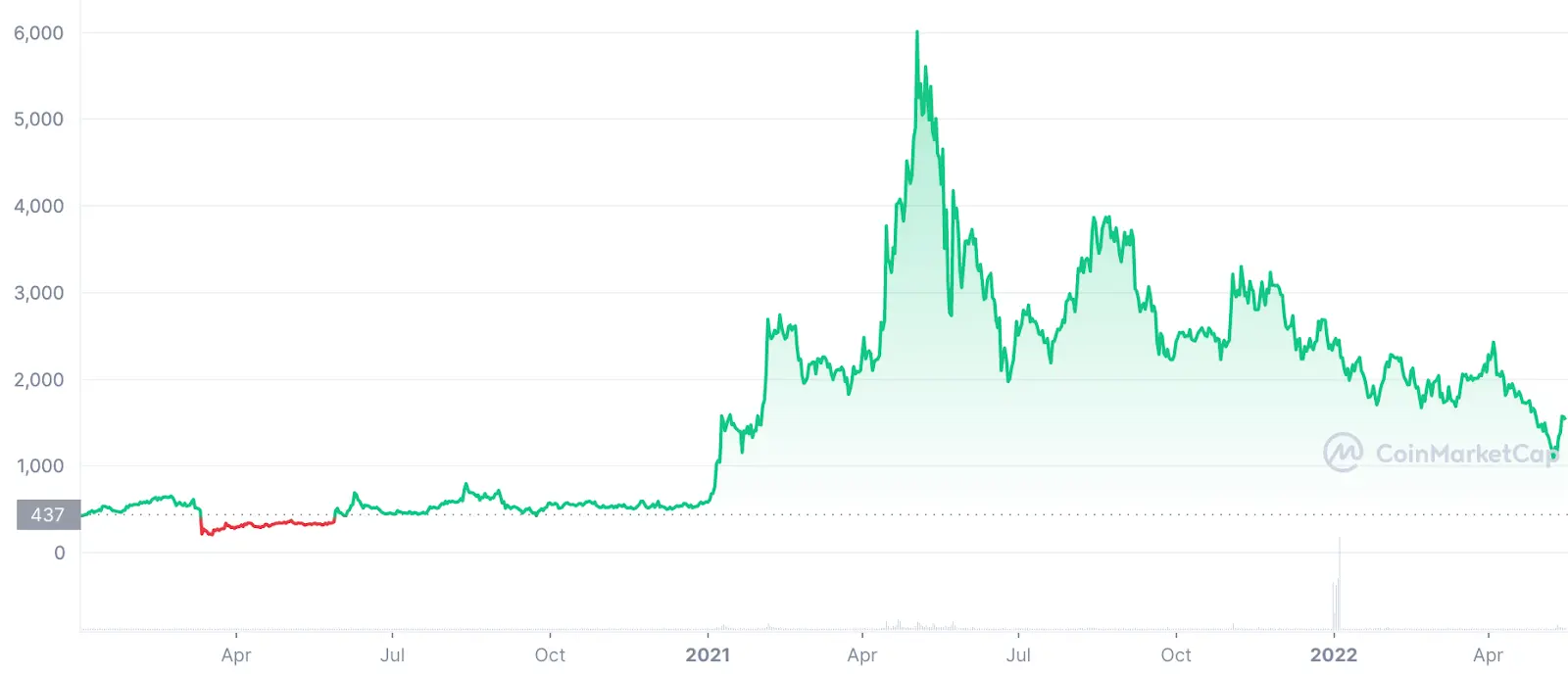 2020 started with an uptrend, having opened at $437 and climbing to $635 in Q1. The global COVID-19 pandemic caused all markets, including cryptocurrencies, to collapse, and MKR bottomed at $275.
From there on, it entered first a recovery and then a long-term uptrend. Early in 2021, which started with MKR at $586.96, it skyrocketed to the first local high at $1,858.
Next, in early February, it was already worth $2,859. After correcting to ~$2,100, it consolidated and shot up to the current ATH on May 3, 2021: $6,339.
In MKR particularly, the same pattern as was observed in a 2018 correction showed itself after reaching the ATH. For a dozen months, it was closed in a tightening downtrend but in May 2022, when the entire market tanked, MKR stood as the sole gainer.
At the time of publishing, MKR's price is $1,522.79 and the currency ranks 42nd on CoinMarketCap. Maker Protocol has $15.52B in total value locked according to DeFi Pulse, and it ranks first.
What Influences the Price of MKR?
Proposals and Updates
In March, the community proposed reworking governance incentives from the ground up. Instead of a 'buyback and burn' mechanism, they proposed staking and making voting power dependent on the stake.
According to this design, staked MKR would be turned into stkMKR, essentially removing the tokens from the liquid supply. The proposal has not been formalized and voted on yet, but the discussion is still ongoing.
Previous price surges have been connected to a proposal that would diversify the collateral pool and launch a high-profile NFT collection.
Competition
For several months in 2021 and 2022, the algorithmic stablecoin DAI was overshadowed by its rival, Terra USD (UST). Despite significant differences in these protocols (DAI is an overleveraged crypto-backed stablecoin while Terra's stablecoins maintained a peg through seigniorage), Terra successfully positioned itself as a decentralized alternative to major stablecoins.
That is, until May 9, 2022, when UST was de-pegged from $1 so severely, multi-million injections from Luna Foundation Guard's Bitcoin reserves were unable to keep it from collapsing. In contrast, the sentiment around DAI and MKR seemed to strengthen.
Is this MKR rally sustainable? Decreasing total value locked suggests that this surge is not backed by any fundamental improvements, so this surge is likely short-lived.
Ethereum's Development
While it does not influence the price of Maker token directly, the usability and throughput of the Ethereum network definitely affect it. The consensus layer merge which would signify the shift to Proof-of-Stake is said to arrive sometime later in 2022 (unless it is yet again delayed).
As it stands, the DeFi landscape is not posed to change significantly from an economic point of view. Existing protocols will definitely benefit from improved network latency and lower gas fees.
MKR News from Twitter
$MKR (DAO for Stable #DAI)

making a 80%+ over night

"One Man's Loss Is Another Man's Victory" i guess pic.twitter.com/uaHm4W8t0d

— Nico (@CryptoNTez) May 11, 2022
Trader Nico pinpointed the exact moment the MKR token started trending. He also believes this is due to UST failing.
Welcome home 👑 $MKR pic.twitter.com/81H1r0As95

— Uncle ⌐◧-◧ (@UncleRewards) May 11, 2022
There have been those who won after Terra imploded. User Uncle celebrates DAI's moment in the spotlight right next to the UST's abysmal data.
~84k addresses hold $MKR

how many unique hodlers do you think it equals to? pic.twitter.com/zllNpowjtH

— Token Terminal (@tokenterminal) May 16, 2022
The Token Terminal team recorded an uptick in MKR active addresses that correlates with the surge. The current figure is no less than 84 thousand!
Maker Price Prediction 2022
Coinpedia authors believe the Maker price will finally break out of the downtrend in 2022. The lowest bullish target for MKR to reach is $4,311 and the absolute maximum is even above the ATH, $6,495.
On the other hand, WalletInvestor is bearish on MKR in the short term. From a possible high of $1,930.45, it is predicted to shrink to only $448.531 by 2022's end.
YouTuber Cilinix Crypto gives a quick update about the movement of MKR and predicts that the bullish momentum can propel it up to $2 thousand, but no more than that. To reach this target, defeating the resistance of $1,700 is needed, and in case of rejection from this high, the price can plunge to $1,600.
Maker Price prediction 2023–2024
The prediction by Gov.capital doesn't operate on the premise that MKR price will only go up. In 2023, volatility aside, MKR price will add another couple thousand dollars and end up at $3,963.763.
Another algorithmic forecast, from DigitalCoinPrice, paints a similar picture: even with volatility, the price will move up. In 2024 in particular, highs at $3,221.95 and lows at $2.071.46 are expected.
Maker Price prediction 2025
The average price of Maker in 2025 will come up to $2,861.25, according to the forecast by Digital Coin. The lowest average monthly price is expected in August 2025, $2,778.90, and the highest — in July, $3,787.66.
In the best-case scenario that CryptoNewsZ describes, if Maker stays at the forefront of DeFi and becomes a top cryptocurrency, it could reach $4,549.20. A lot can change in five years, so we will have to wait and see.
The most bullish prediction for Maker in 2025 comes from PricePrediction.net. In the span of a year, it is expected to rally from $3,441.51–3,871.69 to $4,928.60–6,055.72.
Maker Price prediction 2030
It is nearly impossible to say where the cryptocurrency market will end up in a decade. What will the regulation be, which projects stay and which go? But if everything goes, as usual, CryptocurrencyPricePrediction projects that MKR can keep growing to $30,854 and even $38,567.
ChangeHero Maker MKR Price Prediction
Maker protocol is potentially one of the crypto instruments that could be of most interest to traditional financial institutions as a venture into the world of DeFi and stablecoins. At the same time, it is now as decentralized and community-governed as it has ever been.
The Maker token is instrumental in the development of the protocol now, so the demand for it will only grow. With that in mind, it is safe to assume that MKR is still undervalued and can make a $5,000 middle ground in five years easily.
As for 2022, we will have to see if the rebounds stick and propel the price to a new ATH.
How to get MKR on ChangeHero?
Now that you know more about all things Maker, you can still easily get in while it's early with ChangeHero!
Choose the currencies on the home page, amounts, and the type of exchange. Provide your wallet address in the next step and check the amounts;
Double-check the provided information, read and accept the Terms of Use and Privacy Policy;
Send in a single transaction the sum of the cryptocurrency you will be exchanging. Fixed Rate transactions have a 15-minute limit;
Done? Now we are doing all the work: checking the incoming transaction and doing the exchange as soon as it arrives;
As soon as the exchange has been processed, your MKR is on its way to your wallet.
Customer support is available any time, any day in the chat on the website or through the email: [email protected].
Conclusion
Maker Protocol is a prime example of how DeFi can be accessible and faithful to the ideals of crypto. Now that DAI has another chance to shine, MKR is the most important asset in that ecosystem.
We hope you enjoyed this article, make sure to check out more similar articles from our blog! If you want updates on a daily basis, why not sign up on our Twitter, subreddit, Facebook, and Telegram?
---
Frequently Asked Questions
What is MKR?
Maker is a decentralized finance lending protocol that issues crypto-backed stablecoin DAI. It is managed by a decentralized autonomous organization (DAO) and MKR is its governance token.
What will MKR be worth in 2022?
Experts name very varying figures for MKR price in 2022, from $448.531 to $6,495.
What will MKR be worth in 2030?
Bullish predictions state Maker token will be worth $30,854 to $38,567 in 2030.
What will MKR be worth in 2025?
According to forecasts, MKR tokens can be worth anywhere between $2,778.90 to $6,055.72.
Is Maker a good investment in 2022?
Experts are divided on whether Maker is a decent investment that will return a profit in both the short and long term. There are both bearish and bullish opinions on the future of Maker.
Learn more:
Quick links:
Disclaimer
This article is not a piece of financial advice. No price prediction is guaranteed to provide exact information on the future price. When dealing with cryptocurrencies, remember that they are extremely volatile and thus, a high-risk investment. Always make sure to stay informed and be aware of those risks. Consider investitions in cryptocurrencies only after careful consideration and analysis and at your own risk.