2021 was a crazy time in the crypto market, with legions of tokens inspired by Elon Musk and his tweets springing and blowing up every other day. What does the future hold for Dogelon Mars (ELON), a product of that time? Find the hot and fresh Dogelon Mars price prediction from the ChangeHero team and crypto experts.
All Dogelon Mars Price Predictions: 2023–2033
Aside from one extremely bullish Dogelon Mars price prediction, other bullish and bearish opinions alike do not see ELON overtaking its all-time high anytime soon;
The outlier Dogelon Mars forecast, however, hopes that in the upcoming bull run, ELON will reach $0.000036;
Even the bearish Dogelon Mars predictions still see its price slowly climbing up in the coming years.
What is Dogelon Mars (ELON)?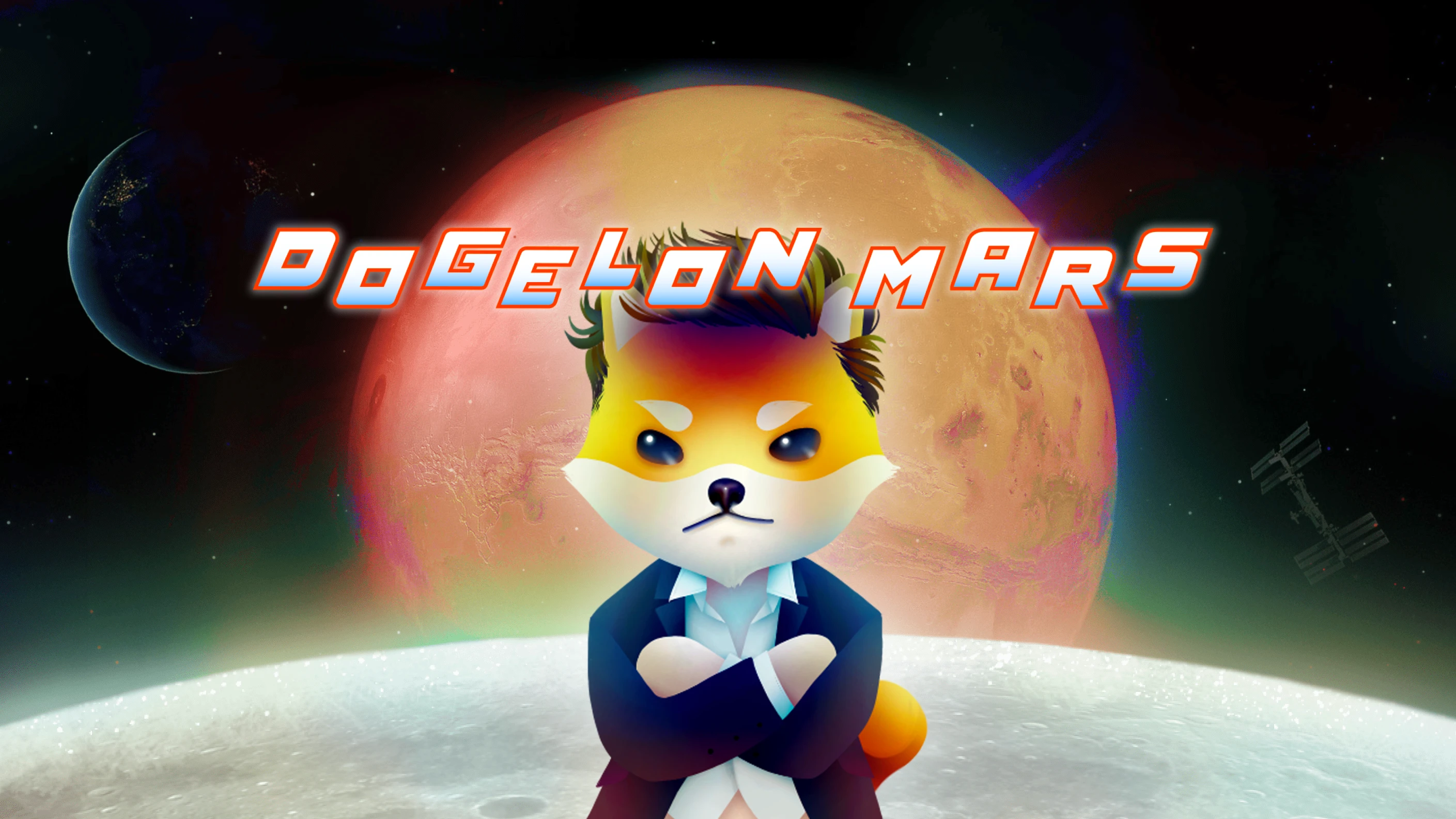 Dogelon Mars (ELON) is a cryptocurrency token that was created as a meme token on the Ethereum blockchain. It was inspired by the popular meme cryptocurrency Dogecoin (DOGE) and the space exploration vision of Elon Musk, the CEO of Tesla, SpaceX, and X Corp.
Dogelon Mars aims to build a community-driven decentralized ecosystem that encourages holders to participate actively in governance and decision-making processes. It also has a deflationary tokenomics model, with a portion of each transaction burned and redistributed to holders.
Dogelon Mars (ELON) Price Performance
ELON Price in 2021–2022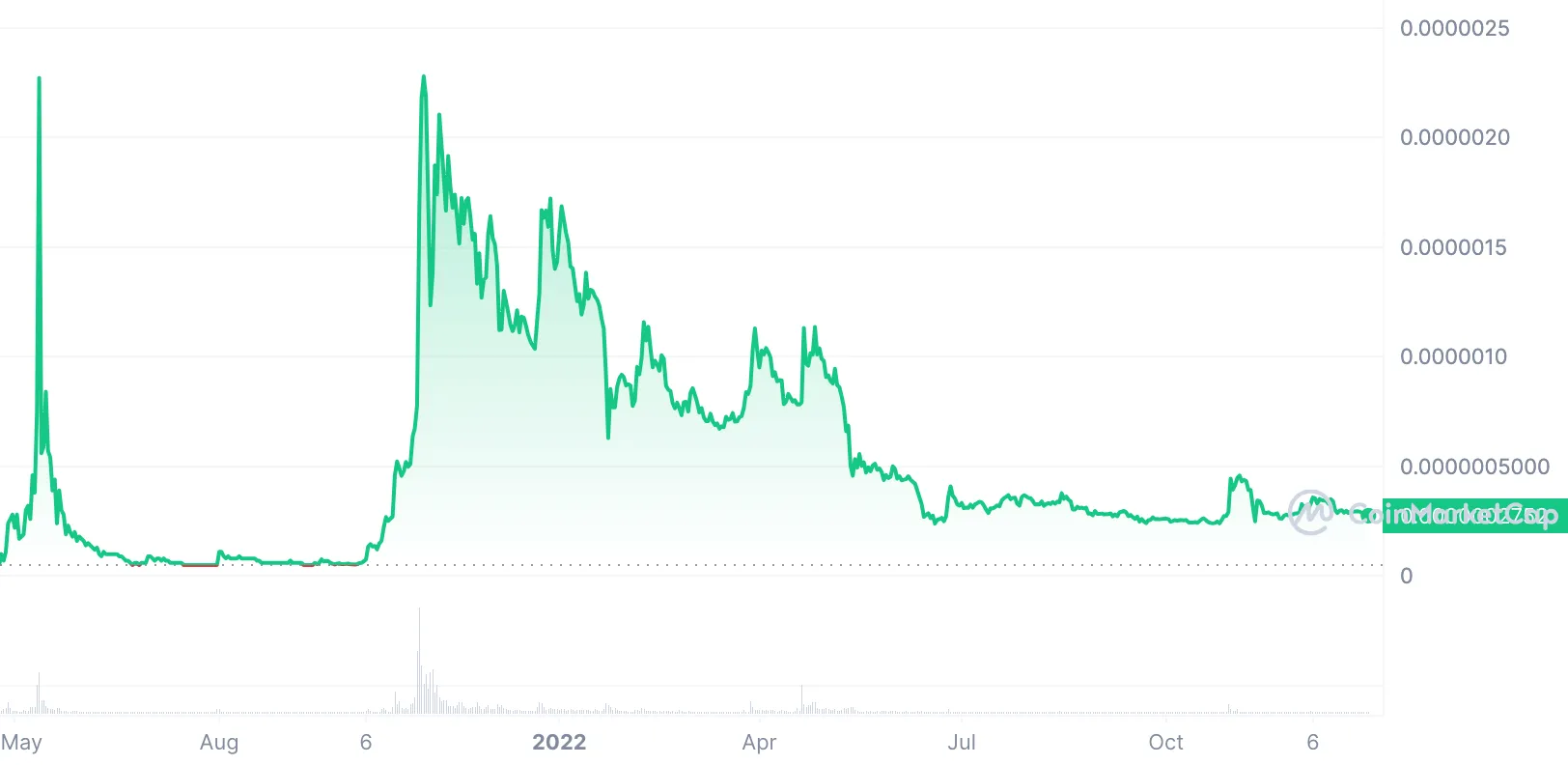 Dogelon Mars (ELON) was created in April 2021, and by May rallied by 4,440% to its ATH of $0.00003263 on July 31, 2021. The rally was fuelled by a retail-driven dog tokens craze, with Shiba Inu in the lead.
The insane growth was immediately followed by a crash to the previous levels, leaving the ELON bag holders with no illusions about the real utility of the token. However, the future would prove that there was indeed a chance for the miraculous pump to happen again.
In October 2021, after another retail-driven rally in DOGE-likes, ELON rose once again by 3,780%. That time, it fell a little short of its price record – $0.00000233.
2022 would turn out to be the onset of the bear market in crypto. Surprisingly, ELON did not crash as abruptly as last time, perhaps due to the dumpers leaving in 2021. By the end of the year, the token was worth $0.0000002752.
ELON Price in 2023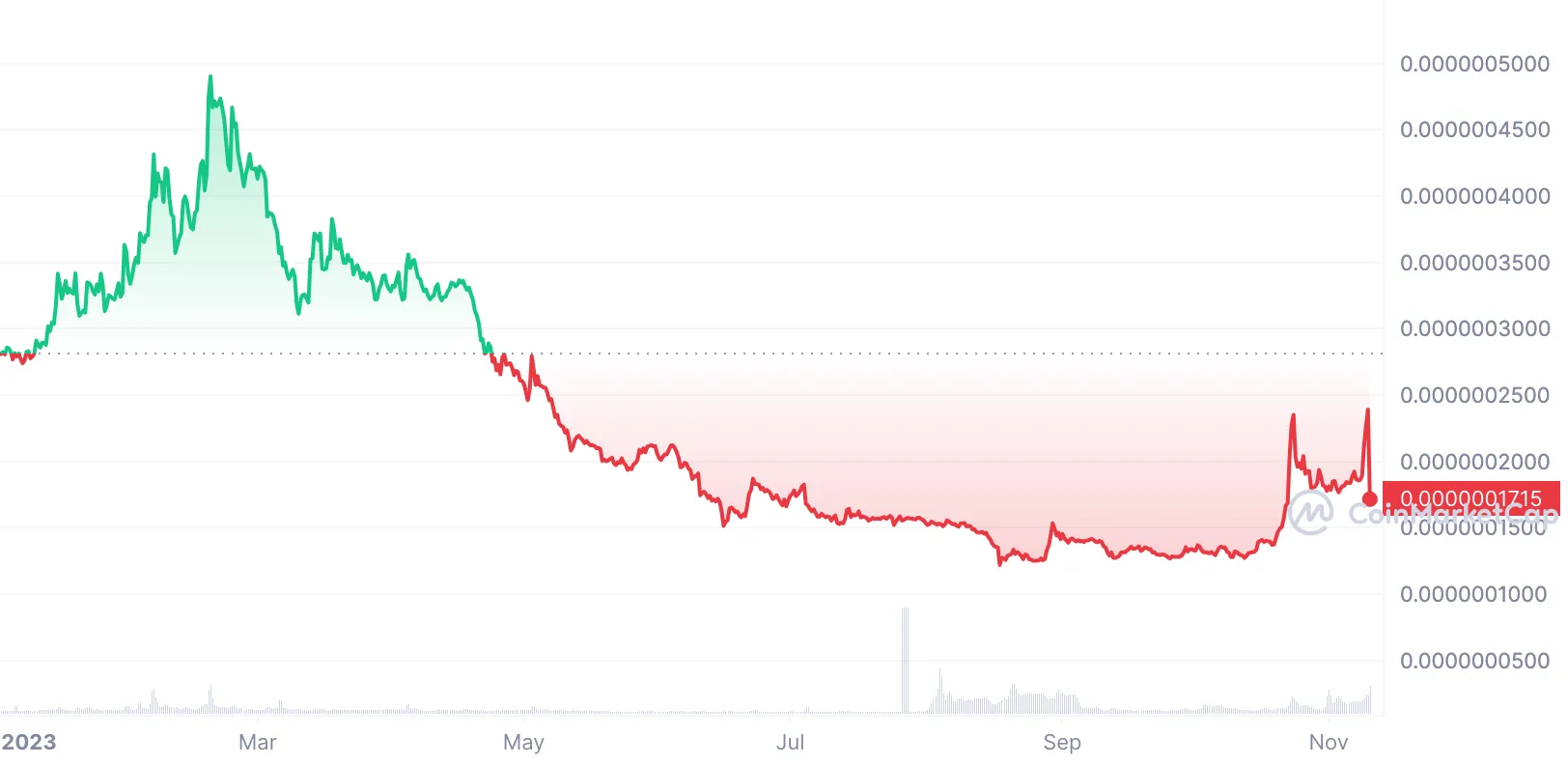 Going into 2023, the ELON token showed decent prospects and even managed to reach $0.0000004837. Nevertheless, after that, as the entire crypto market was consolidating and rising to Bitcoin's tune, ELON started to hemorrhage. By August, Dogelon Mars bottomed at $0.000000125. In October, it showed a surprising recovery, but on a longer time frame, it was not enough to bring it back to the track to Mars.
The price of ELON today at the time of writing is $0.0000001555 and the coin ranks 327th by market capitalization (according to CoinMarketCap).
What affects the Dogelon Mars (ELON) price?
Market Sentiment
Like any cryptocurrency, the price of the ELON token can be influenced by the general market sentiment. If there is a positive sentiment towards cryptocurrencies and investors are optimistic about the future of meme tokens, it could drive up demand and subsequently increase the price of the ELON token. Conversely, if market sentiment turns negative, it could lead to a decrease in demand and a decline in the token's price.
Elon Musk's Influence
Given the name and inspiration behind the token, the statements and actions of Elon Musk, the CEO of Tesla and SpaceX, can have a significant impact on the price of the ELON token.
Musk has been known to tweet about cryptocurrencies and his tweets have often caused significant price movements in the past. Positive or negative remarks from Musk regarding the ELON token could greatly influence investor sentiment and subsequently impact its price.
Community Engagement and Development
The success and adoption of the ELON token depend on the engagement and participation of its community. If the community actively supports and promotes the token, it could lead to increased demand and a rise in price.
Additionally, the progress of development and the introduction of new features or partnerships can also influence the price. Major updates, partnerships, listings, or improvements to the token's utility and functionality could attract more investors and positively impact its price.
The finalists for Dogelon Comicthon have been chosen 🚀✨

The winner will be announced in 72 hours. Make sure to cast your vote now 💫

Voting instructions below⚡️ (1/2) pic.twitter.com/DUE0oU733N

— Dogelon Mars (@DogelonMars) October 25, 2023
The project's social networks seem to be doing great in the community engagement department. The token utility and new partnerships, though — not so much.
Dogelon Mars Price Forecast and Analysis by ChangeHero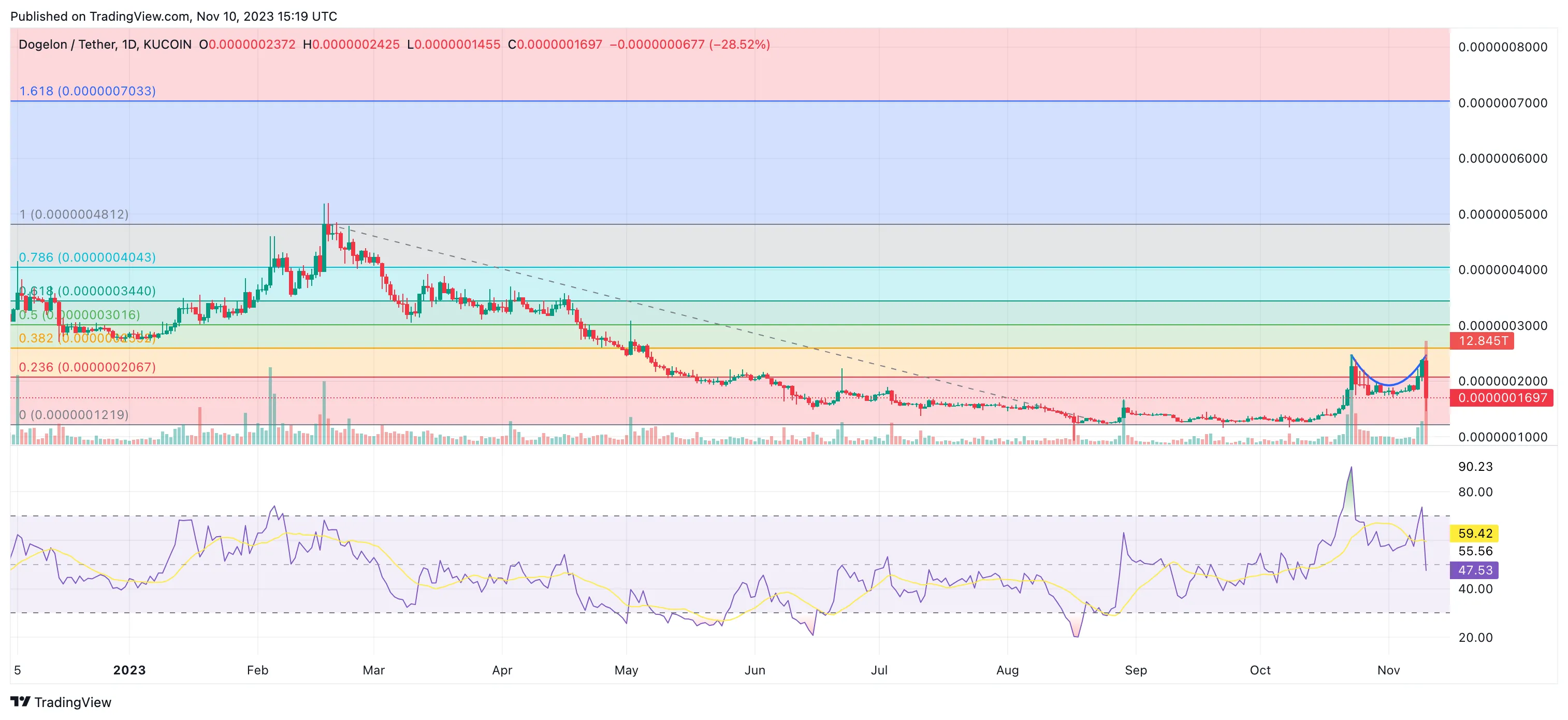 Does Dogelon Mars have a chance to go up again? We tried to gauge it with technical analysis, and the conclusion is not certain. ELON has just had a bullish breakout from a long-term consolidation near a strong support level.
Some community members suggested that ELON might be forming a cup and handle pattern. However, a drop below $0.0000001774 and a bearish crossover on the relative strength index have invalidated that move.
The closest resistance level at $0.00000002067 proved to be strong but not unbeatable. Only if enough demand returns to this market, ELON can overtake this and the following resistances.
Dogelon Mars (ELON) Price Prediction 2023
How much will Dogelon Mars be worth in the near future? Let's hear what analysts think.
Connor Brooke of Business 2 Community claims the possible maximum price of the ELON tokens in 2023 will not see a change for the better. The team forecasts that Dogelon Mars will be trading near $0.0000004 by the end of the year. It will ultimately come down to the ELON holders since there is no utility or roadmap for the token.
On the other hand, Kliment Dukovski of Technopedia believes that there is not a lot of potential in Dogelon Mars to provide returns on its own. With the Bitcoin ETF approval, though, ELON's price can break through walls. By the end of the year, the maximum price of ELON can reach $0.00000016 once again. If that does not come to pass, the minimum price for Dogelon Mars in 2023 can be $0.0000001178.
Lastly, David Cox at CryptoNewsZ gives a definitively more bullish Dogelon Mars price prediction for 2023. The projected gains of this token can reach 130%, carrying the ELON price up to $0.000000288 maximum. At the very least, the forecast minimum price of ELON in 2023 is $0.000000135.
Dogelon Mars Price Prediction 2024
YouTuber Lee the Captain gives a concise summary of the Dogelon Mars fundamentals with a bunch of not-safe-for-work jokes sprinkled in. If you can't watch, here's the gist: he believes that in the next bull run, ELON can reach a $20B market cap, which will make a single token worth $0.000036.
According to Gate.io's users, 2024 looks mildly optimistic for ELON holders. They expect Dogelon Mars price to trade between $0.0000001736 and $0.0000002103, with more voters leaning towards the upper bound of the range.
In contrast, the algorithmic forecast by CoinCodex creates some major expectations. According to their Dogelon Mars coin price prediction for the following year, in exactly a year, its expected price is $0.0000004982. At the start of 2024, ELON may cost $0.0000002183.
Dogelon Mars Price Prediction 2025, 2028
Expert opinions and estimates are a better fit for the near term. The further we try to look into the future, the more reliable it is to turn to algorithms that use historical analysis.
PricePrediction.net keeps expectations bullish but reasonable. According to their ELON price prediction, in 2025 its average trading price range will float around $0.00000038. In five years, ELON will be trading for $0.00000114–0.00000135.
Projections made by Bitnation are even more bullish on the Dogelon Mars market in the coming years. They see the average price of ELON rise to $0.000000594 in 2025 and further to $0.000001 in 2028.
Digital Coin is equally optimistic about Dogelon Mars's price forecast. According to their estimations, on average, ELON in 2025 will be worth $0.000000584, possibly rising to $0.00000062. Five years from now, it can cost anywhere from $0.00000081 to $0.000000934.
Dogelon Mars Price Prediction 2030, 2033
For the Dogelon Mars price forecast at the end of the decade and even ten years in advance, let's refer to historical and algorithmic analysis.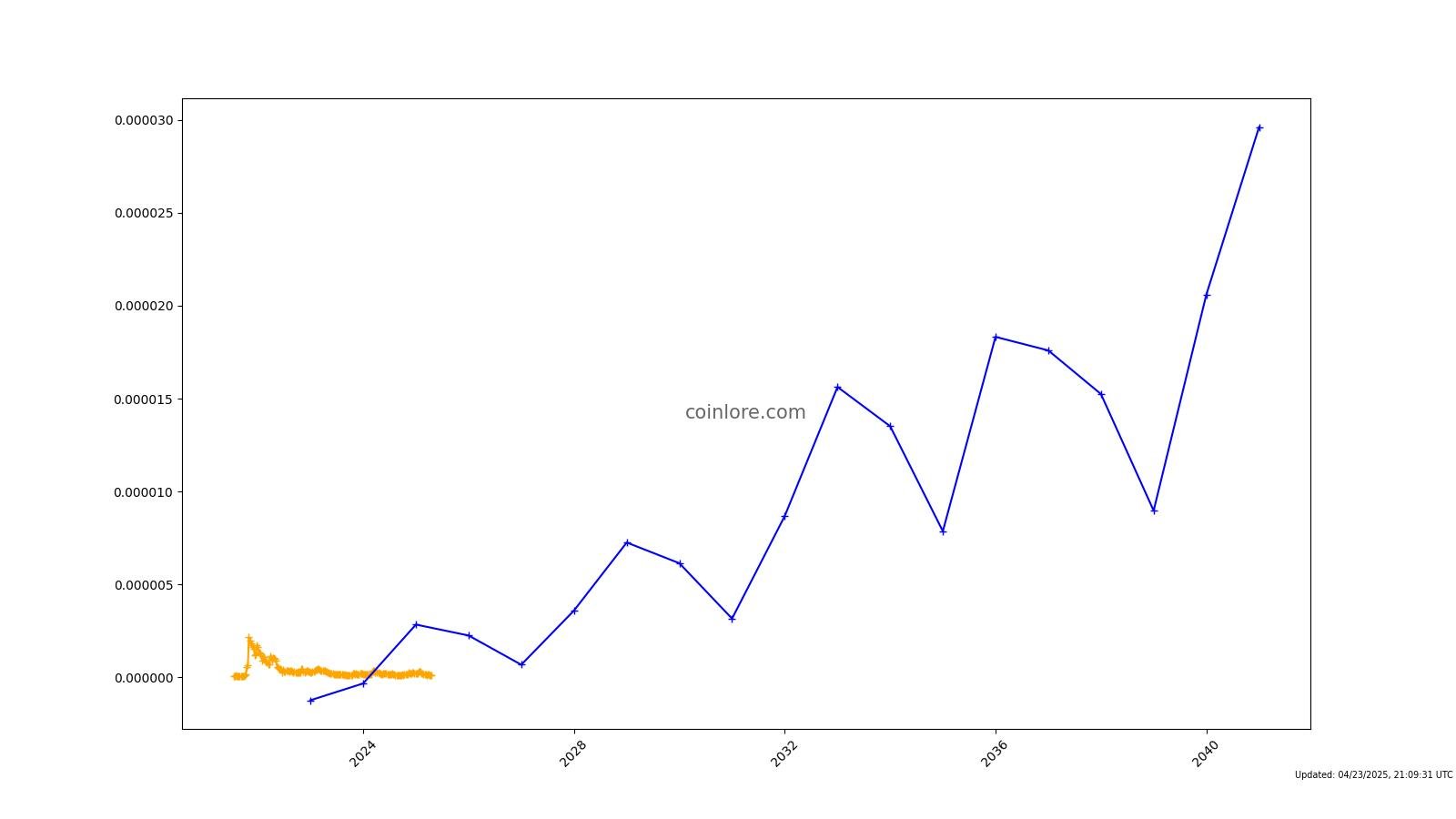 CoinLore's forecast goes the farthest in time, all the way up to 2050. It's balanced out by the noticeable imprecision of their price ranges.
For example, in 2030 they see ELON being worth up to $0.0000015 but dipping as low as $0.0000000397 minimum. A similar picture is painted for 2033: the maximum price of ELON will reach $0.0000033 or at the very least, rise to $0.0000011.
BeInCrypto is more definitively bullish on the price rise of ELON. In 2030, its price range will move up to $0.0000011–0.0000027. By 2033, a decade from now, they see the Dogelon Mars coin steadily trading above $0.0000023 and rising to $0.0000061 maximum.
One of the most bullish long-term Dogelon Mars Inu price predictions out of all reviewed ones has to be the one by Coin Data Flow. In 2030, they foresee ELON for $0.000001–0.00000031, but by 2033, the maximum ELON price will be able to reach as high as $0.0000037 (+2,097.75%).
How to Buy Dogelon Mars (ELON)?
Swap any crypto for Dogelon Mars coin (ELON) on ChangeHero! Get ELON at the best rates, in a few steps without obligatory KYC or registration.
Choose the currencies on the home page, amounts, and the type of exchange. Provide your ELON wallet address in the next step and check the details;
Double-check the provided information, read and accept the Terms of Use and Privacy Policy;
Send the cryptocurrency for the swap in a single transaction. In a Fixed Rate transaction, you have 15 minutes before it expires;
Sit back and relax. Now we are doing all the work: checking the incoming transaction and making the exchange as soon as it arrives;
As soon as the exchange has been processed, your ELON is on its way to your wallet. And so, the transaction is finished!
The support team is here to help you 24/7, and in any case, reach them in the chat on the website or through the email: [email protected].
Conclusion
It may seem surprising but even meme coins have some longevity to them. After all, Dogecoin (DOGE) is still doing well. Dogelon Mars (ELON) is a product of an entirely different time and is more recent but it doesn't seem to be running out of steam.
Share what you think about these predictions on our Telegram X (Twitter), Reddit, and Facebook, and subscribe to not miss out on any news! For more content to explore the crypto world, take a tour around our blog.
---
Frequently Asked Questions
What will Dogelon Mars be worth in 2030?
Depending on the source, experts forecast that ELON will be trading in the $0.0000000397–0.0000015 range.
How much is Dogelon worth in 2023?
At the time of writing, the current Dogelon Mars (ELON) price today is $0.0000001555. Analysts predict that later this year, its price can fluctuate between $0.0000001178. and $0.0000004.
How much will Dogelon Mars cost in 2024?
According to various methods, Dogelon Mars (ELON) is predicted to trade in the range between $0.0000001736 and $0.000036 a year from now.
Disclaimer
This article is not a piece of financial or investment advice. No price prediction is guaranteed to provide exact information on the future price.
When dealing with cryptocurrencies, remember that they are extremely volatile and thus, a high-risk investment. Always make sure to stay informed and be aware of those risks. Consider investing in cryptocurrencies only after careful consideration and analysis of your own research and at your own risk.