As usual, the ChangeHero team rounds up the most important news from the crypto world. Bears hold the market while DeFi projects attract more investments from venture capitalists than ever. Jump right in for a quick recap to learn what else happened this week!
Key Takeaways
Bitcoin was at the mercy of sellers this week, consolidating in a range between $34,500 and $31,000;
DeFi news this week are bullish: SushiSwap is developing their own NFT platform and Uniswap launches an alpha version of Uniswap v3 on Optimism, Ethereum scaling layer;
In Q2 2021, venture capital investments in crypto settled a new all-time high of $6.2 billion.
ChangeHero Updates
New coins are available for exchange on ChangeHero: Cosmos (ATOM), Elrond (EGLD) and PancakeSwap (CAKE) (purchase only). Now you can get them hassle-free on ChangeHero without having to create an account on an exchange or linking a wallet.
Latest Crypto News Digest
Bitcoin Digest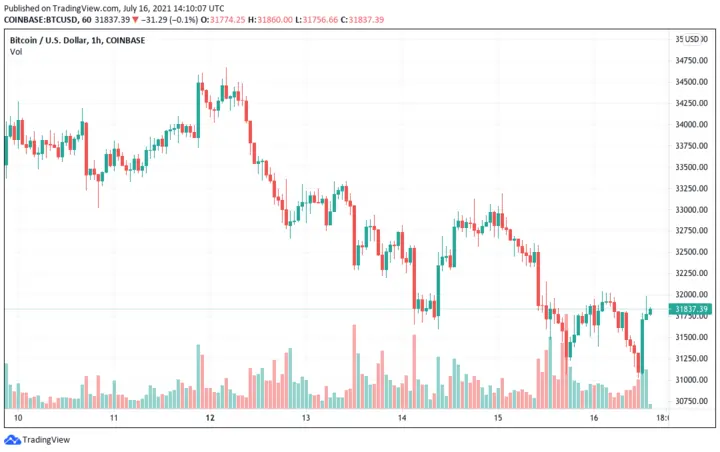 The range of Bitcoin keeps tightening: this week it was traded between $34,500 and $31,000. The major rejection from the upper bound happened on Monday.
Just today, the support level of $31k was tested twice. Is Bitcoin in danger of crashing again? The following news clears up the probability.
Latest Bitcoin News
Glassnode analytics explore Bitcoin metrics this week for insights into volatility and signals. What they find is the miners are accumulating as hash rate recovers, and exchange balances decline. Both these signals point at accumulation and future growth.
After announcing a hardware wallet, Jack Dorsey followed up with another announcement, now of a service for DeFi on Bitcoin. The details are to be announced but the development will be made completely in the open.
Altcoin News
SushiSwap is planning to launch an NFT marketplace of their own. The back-end code is ready, the front-end is in development and now it is up for the community to vote!
Meanwhile, their competitor Uniswap launched an alpha on Ethereum's Optimism. The platform is testing the L2 solution for faster swaps and less congestion.
Business Crypto News
The Block found that in Q2 2021 the VC funding of crypto projects reached a new maximum. The total sum grew to $6.2B which is a 90% increase on a quarter-to-quarter basis.
Crypto News on Adoption
Thai's oldest bank, Siam Commercial Bank's venture arm, is ready to branch into DeFi. They start by investing in DeFi and look forward to partnering with protocols and platforms to disrupt the current finance.
In Ethereum news this week, a feature-length documentary about the development of Ethereum and Vitalik Buterin is in the process of raising the budget. The directing duo of Chris Temple and Zach Ingrasci have previously worked on documentaries as well, and the film is due to release in 2023.
Regulation & Politics Crypto News
The UK police has seized a record amount of almost $250 million in cryptocurrency on suspicion of money laundering.
The digital euro project is officially in motion. The investigation phase is to last 24 months, though, so the digital currency will not be tested until 2023 at the earliest.
The digital yuan, now officially dubbed e-CNY, is confirmed to have smart contract programmability in a newly released research report. According to the tests in Chengdu, they can be used to limit the use of the currency and trace transactions.
Crypto News Digest from Social Media
Video of the Week
YouTuber Tyler S is here to give an overview of the crypto market this week. His short-term Bitcoin prediction is bearish but he still sticks to the double-peak rally scenario.
Cryptocurrency News Digest from Twitter
THE BIG DAY HAS FINALLY ARRIVED 🇵🇾 The future is now #Bitcoin🚀#btc

— Carlitos Rejala 🙏🇵🇾🙌 (@carlitosrejala) July 14, 2021
Paraguay congressman Carlos Rejala submitted the Bitcoin bill for review. Now it is up to his fellow congressmen to follow in the footsteps of El Salvador.
1/ THREAD ABT REGULATORY NEWS in #crypto, which I've been chronicling on twitter since April. Seems crackdown has begun. I dunno how it'll turn out but: * it won't impact #BTC #ETH etc directly. Base layers will keep addin' blocks * it'll impact intermediaries & US$ access points

— Caitlin Long 🔑 (@CaitlinLong_) July 13, 2021
Wall Street veteran Caitlin Long compiled a thread of the regulatory prospects of crypto in the US. Spoilers: it is not very bright, and she suspects that heavy crackdowns on crypto services could be coming.
I am often asked if I will "return to cryptocurrency" or begin regularly sharing my thoughts on the topic again. My answer is a wholehearted "no", but to avoid repeating myself I figure it might be worthwhile briefly explaining why here…

— Jackson Palmer (@ummjackson) July 14, 2021
Dogecoin creator Jackson Palmer is back with some heavy words to say about crypto. Unlike his co-creator Billy Markus, he stepped away from Dogecoin pretty early on, and now is completely disillusioned with it.
Influencer of the Week
$30k is the new $6k

— Squeeze (@cryptoSqueeze) July 2, 2021
Crypto trader and influencer known as Squeeze is a reliable place to get some crypto market news and insights into Bitcoin. They don't tweet much but make sure each post counts.
This Week on the Market
How is the market this week? At the moment of writing the digest, the general market stats are:
Total Market Cap: $1,295,435,994,242 (-4.80%);
BTC Dominance: 46.1%.
7d Change in Top Coins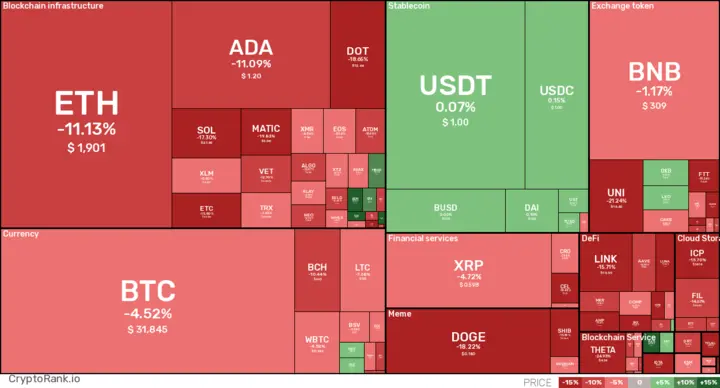 What is the cheapest cryptocurrency to buy right now? In the top-20, UNI suffered the most losses in the weekly time frame.  At the moment of writing, the weekly change of the top currencies is:
Gainers of the Week
What is the best cryptocurrency to invest in right now? DeFi could get really hot soon, given the news. Here are a couple other gainers you can get with ChangeHero:
Conclusion
There is no doubt that the bears were in profit this week but the sentiment is not negative. Bitcoin could recover soon, altcoins keep developing and venture capital is at an all time high in crypto. For weekly crypto news, keep an eye on our blog! Follow ChangHero on Twitter, Facebook, Reddit and Telegram for daily updates.
---
Quick links: