A leading Web3 blockchain project, Polkadot, is now going through the first bear phase of its lifetime. Without any doubt, it has seen better days price-wise, but from the building perspective, the team is not losing any steam just yet. DOT holders and investors are now asking the question: what will it take to take DOT off the price floor and when will it happen?
We try to answer this question by rounding up the price analysis, fundamentals, and expert opinions. Read our detailed Polkadot price prediction to find out what's in store for DOT!
All Polkadot Price Predictions 2022–2030
| | |
| --- | --- |
| Year | Price, USD |
| 2022 | $6.65–11.67 |
| 2023 | $2.56–127 |
| 2024 | $13.41–16.3 |
| 2025 | $0.135–46 |
| 2030 | $200.24–262.61 |
For Polkadot to overtake the $10 target once more by the end of 2022 remains a bullish dream. More realistic and down-to-earth predictions expect DOT closing price to be closer to the current Polkadot price;
The difference between minimal and maximum targets for Polkadot price predictions in 2023 and 2025 can be attributed to the variety of methods. Bears predict that DOT can go even lower and bulls forecast it can approach the ATH and even go far beyond it;
According to the 2030 DOT price prediction, Polkadot can not only reach $100 but also go to double the price.
What are Polkadot and DOT?

Blockchain enthusiasts believe that crypto is the answer to the woes of Web2: excessive centralization of Web platforms, user data abuse, and so on. Thus, the concept of Web3 was born — a vision of a fairer World Wide Web. On this Internet, users are in control of their data and many diverse platforms coexist.
To make this vision a reality, certain tools have to be there. After all, the crypto world as it is now cannot feasibly hold a candle to the scale of the Internet today. Blockchain interoperability is an issue, and scalability is also far from perfect.
Enter Polkadot — a Web3 protocol designed to enable blockchain interoperability. It ties independent blockchains into a system in which they can interact with each other.
Moreover, on Polkadot data of any type can travel between and on blockchains. Polkadot itself is a sharding blockchain that allows for the creation of parachains. By giving the applications their own parachains, the workload is distributed so that no single app can clog the whole network.
The native token of the network uses the ticker DOT and is used in governance and parachain auctions. In these auctions, various products compete to secure a parachain for a certain lease period. Therefore, only applications that have real user support and use case are granted a place in the Polkadot ecosystem.
For more information on Polkadot and DOT, read our Beginner's Guide to Polkadot!
DOT Price History in 2020–2022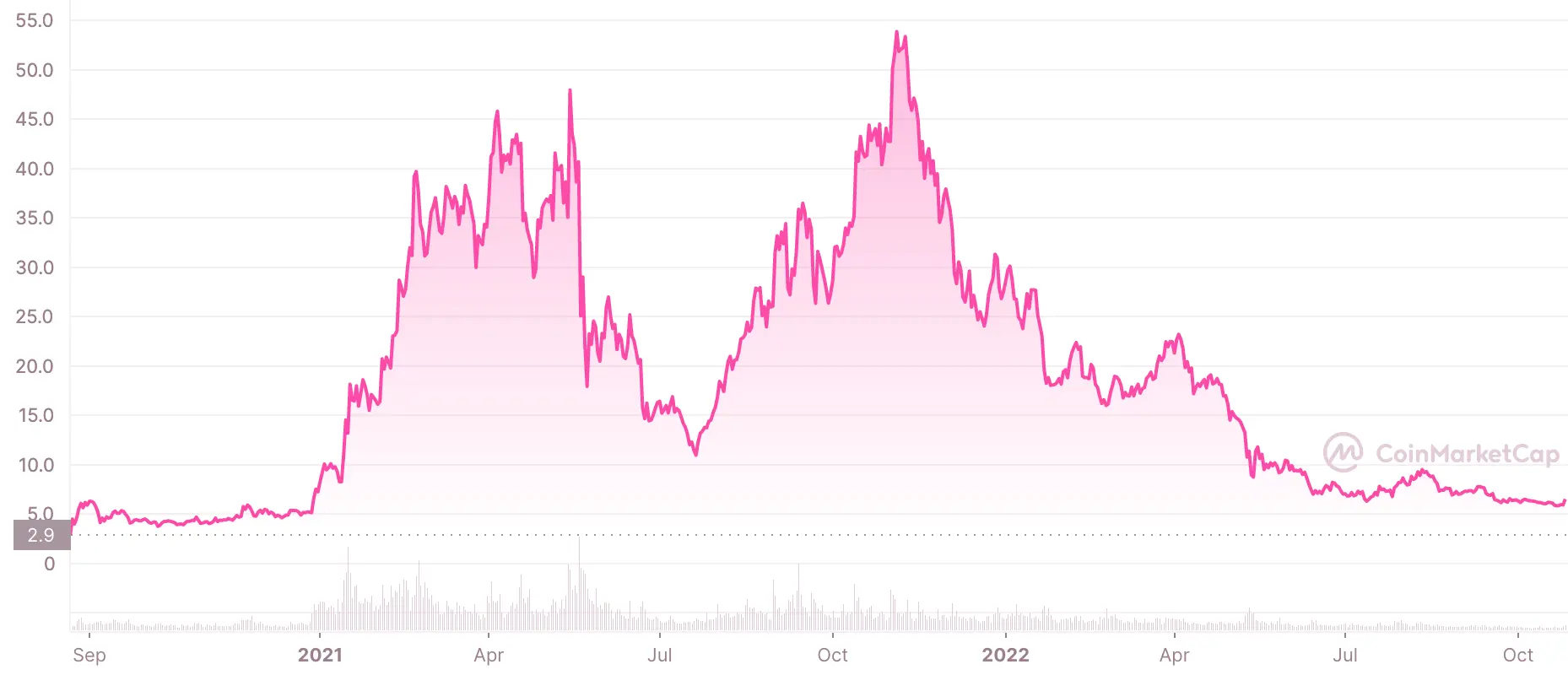 DOT token balances were unlocked in a planned update on August 18, 2020. At that time, the DOT coin holders evaluated the project to have almost $5 billion in capitalization.
Thus, DOT started right in the top 10. For most of 2020, it was being traded in the $4–6 range. In January 2021, the Bitcoin rally finally helped it take off the ground. The first leg up of its bull run took DOT to its first all-time high of $47.95 on May 15.
As first parachain auctions drew closer, DOT price even outperformed Bitcoin. On November 4, 2021, it reached its current ATH: $55. However, much like the rest of the crypto market, that would be the peak of the bull run.
Over the next six months, by March 2022, DOT pulled back to $16. A brief relief rally in April took Polkadot up to $22, but the subsequent drop brought the price floor to $5.7.
The price of DOT today is $6.51 at the time of writing. Its market capitalization is $7,361,397,984 which puts it at rank #12 on CoinMarketCap.
What Influences the Price of DOT?
Development
The other week, Polkadot has been all over the crypto news for two reasons: record developer activity and a new development plan.
The first positive sign comes from GitHub, which shows that the open-source Polkadot repository received 500 contributions daily in September. At the same time, Polkadot and its canary chain Kusama sent a record amount of messages across 66 supported chains.
As for the new features on the table, highlighted by the Polkadot founder Rob Habermeier, they are aimed at improving scalability. First of all, asynchronous backing will break the link between the extension of parachains and the relay chain. In other words, recording new parachain blocks will not require writing them on the Polkadot relay chain. Then there are pay-as-you-go parachains with production-ready smart contracts from the get-go, facilitating building on Kusama and Polkadot.
As of 2022, without the novelty of parachain auctions and euphoria on the market, steady development might be one of the few things that will keep Polkadot afloat. The high rank by market cap is a telling sign that this strategy is working.
Institutional Backing
Polkadot has one of the best fundamentals among the top coins on the crypto market. The research, development, and use cases of Polkadot made it attractive for institutional investors.
In 2021, SEBA, 21Shares, and VanEck Polkadot ETFs showed the best performance on European markets in comparison to other cryptocurrencies and even traditional finance.
The results are not surprising: Polkadot is ahead of the competition in a few essential metrics. For one, it is among the most environmentally friendly blockchains thanks to using Proof-of-Stake. And it is also thanks to PoS that DOT tokens offer the highest returns on staking, even exceeding post-merge Ethereum.
Nevertheless, some crypto community members take issue with VC backing and commercialization of crypto projects. At best, it is at odds with the ethos of early crypto adopters, and at worst, it poses a threat to decentralization and fairness. Perhaps this is why the news Gavin Wood will be stepping down from the CEO role of Parity Technologies made such waves. On the one hand, a spree of resignations can promise a fresh start for new talent, while the resignees stay on board and offer valuable input. On the other hand, the onset of another crypto winter might not be the best time for experienced leaders to jump ship.
Parachain Auctions
The news about parachain auctions historically moves Polkadot prices, for it is a huge deal in the community and even outside of it. This is a feature of the Polkadot network: to secure an individual chain in the ecosystem, backers have to compete. This factor has been in play for almost a year now. The earliest additions to the roster, for example, are Acala and Moonbeam, and the latest ones to lease a parachain are Polkadex and Coinversation.
Aside from buying pressure these auctions put on DOT, they also redistribute the circulating supply. Users can also participate by crowdfunding a project they feel confident in, which increases their chances of securing a chain lease.
Polkadot on Twitter
The real headline:@Polkadot development shop @ParityTech appoints its co-founder & skilled business leader Bjorn Wagner (@bjornwgnr) to CEO, allowing Polkadot founder & technical leader Gavin Wood (@gavofyork) to focus efforts on technical strategy, architecture, & development.

— Dan Reecer 🅰️ (@danreecer_) October 21, 2022
Dan Reecer of Acala Network is here to put the recent Polkadot news into perspective. Instead of Ethereum co-founder Gavin Wood, who stays as Chief Architect, Parity Technologies found a better-fitting CEO.
1/

What is the biggest problem of @Polkadot?
Maybe mass adoption? Lack of marketing? No awareness?

All of them.

and we know how to start the way to change it!

— Toma (@Toma_Sadova) October 26, 2022
Toma Sadova wrote an insightful thread how the lack of adoption hinders Polkadot's mission progress and how it can be fixed.
My next targets for #Polkadot pic.twitter.com/JVitv2HD8p

— Alejandro™ .DOT (@Pastore1314) October 26, 2022
Trader Alejandro.DOT provides TA-based Polkadot price prediction for EOY 2022. Next stops: $10 and $17, as long as DOT breaks out.
Polkadot Price Prediction 2022
Coinpedia authors think that upcoming updates will take the DOT price higher by the end of 2022. Their bullish target is at $8.05, more moderate prediction at $9.27, and a bearish target at $6.65. Another Polkadot forecast, courtesy of Crowd Wisdom, doesn't see DOT finishing 2022 above $11 and is more inclined to believe it will close at $7.41.
Bitnation's Polkadot technical analysis shows that from here on, it is going to switch the downtrend to the uptrend. The average price of DOT in 2022 is predicted to reach $9.72 and the maximum price is expected at $11.67.
However, considering that the average price of DOT in 2022 so far is $18 (between the yearly high of $30.32 and low of $5.73), in fact, this Polkadot prediction is not spelling a bullish near future.
Polkadot Price Prediction 2023–2024
The Longforecast agency predicts in a year, in November 2023, the price of DOT will be $4.77 on average. Incidentally, Q4 of 2023 will see the optimal buying opportunity for DOT in October, when it will dip to the yearly low of $2.56. After that, it will bounce back up and close the year at $3.04.
YouTuber Token Metrics uses an unconventional approach to predicting the future price of Polkadot. For his Polkadot price prediction, he takes GANN Analysis, which takes into account cycle highs and lows, but adjusts it to Polkadot's life span. As a result, he gets a target of $127 by March 2023 under the condition that the crypto market reaches a $10 trillion total market cap.
The DigitalCoinPrice agency analysis forecasts moderate volatility for DOT. 2024 will open with DOT at around $16.01 and close at $14.77. Another prediction algorithm, PricePrediction.net forecasts that in 2024 the price of DOT will stay in the range between $13.41 and $16.30.
Polkadot Price Prediction 2025
If Polkadot were to recover from the decline from the all-time high, in almost five years it can reach $11.33 or even $12.79, Coin Price Forecast claims. The gains would reach 98% if this prediction comes true.
CryptoNewsZ author David Cox refrains from giving an exact target for 2025, stating that trying to predict so far into the future is as good as guessing. His reasonable target of $46 for DOT can be easily explained by the fact that the crypto market moves in waves.
On the other hand, Wallet Investor is surprisingly bearish. In their calculations, 2025 will open anywhere between $0.135 and $0.4050 and close between $0.185 and $0.555.
Polkadot Price Prediction 2030
Cryptocurrencies are famously volatile. Even the stock and forex market predictions cannot account for every event that will have an influence on the price.
We can expect the Polkadot network to massively increase in value but supply will also almost double in ten years at the yearly rate of 10%. Nonetheless, Cryptocurrency Price Prediction gives a prediction that in 2030 DOT will grow to $200.24 and further to $262.61.
Polkadot (DOT) Price Prediction from ChangeHero
Considering the technological and groundbreaking potential it has, the fundamentals make Polkadot a great choice for the long term. With the advent of Web 3.0, Polkadot is set to become one of the leading platforms. However, it is worth remembering that DOT is inflationary and designed to be actively utilized on the platform as a utility token.
The ChangeHero team finds it hard to believe DOT can exceed $10 in 2022. Maybe, next year! It is better to be prepared that in the longer term it can be worth around $70–80.
How to get DOT on ChangeHero?
If you own some crypto, you can exchange it for DOT on ChangeHero in five simple steps:
Choose the currencies on the home page, amounts, and the type of exchange. Provide your wallet address in the next step and check the amounts;

Double-check the provided information, read and accept the Terms of Use and Privacy Policy;

Send in a single transaction the sum of the cryptocurrency you will be exchanging. Fixed Rate transactions have a 15-minute limit;

Done? Now let us take over: we will check the incoming transaction and make the exchange as soon as it arrives. The Best Rate transactions will use the rate current to the time when your funds arrive. The Fixed Rate will use the rate current to the transaction confirmation;

As soon as the exchange has been processed, your DOT is on its way to your wallet.
Our support service is available anytime in the chat on our website or through the email: [email protected].
Conclusion
Polkadot is one of the most promising crypto projects with solid development and a genuine community. If there are projects aimed at real change and not a quick fad — Polkadot has to be one.
We are supporting the Polkadot community on the road to Web 3.0 and will be sharing news about it in our blog. Sign up for ChangeHero's updates on social media: Twitter, Facebook, Reddit, and Telegram.
---
Frequently Asked Questions
What will be the price of Polkadot in 2025?
Various sources give a range between $0.135 and $46 in their DOT price prediction in 2025.
What will Polkadot be worth in 2022?
Different experts expect DOT to trade between $6.65 and $11.67 in their DOT price prediction for 2022.
How much will Polkadot be worth in 2030?
DOT price prediction for 2030 name figures from $200.24 to $262.61.
Can Polkadot reach $100 dollars?
Most DOT predictions, except for the ultra-bullish ones, do not see Polkadot price rising to three digits earlier than in 2030.
Will Polkadot reach $1,000 dollars?
For DOT to reach four-digit prices, it has to amass an impossible market cap, even in the long term thanks to the built-in supply inflation. Polkadot price reaching $1,000 is extremely unlikely under normal conditions.
Is DOT a good investment in 2022?
From the reviewed sources, the consensus regarding Polkadot price is that the bottom is in. However, no huge price swings are generally expected anytime soon either, especially not in the remainder of 2022.
Disclaimer
This article does not constitute financial or investing advice. No price prediction or forecast is guaranteed to provide exact information on the future price. Past performance is not indicative of future results.
When dealing with cryptocurrencies, remember that they are extremely volatile and thus, a high-risk investment. Always make sure to stay informed and be aware of those risks by conducting your own research. Consider investing in cryptocurrencies only after careful consideration and analysis and at your own risk.
Learn more:
Quick Links: